Strathroy's Clock Tower Inn has an old-world charm that's blended with modern amenities. Not to mention, the delicious Clock Tower Bistro!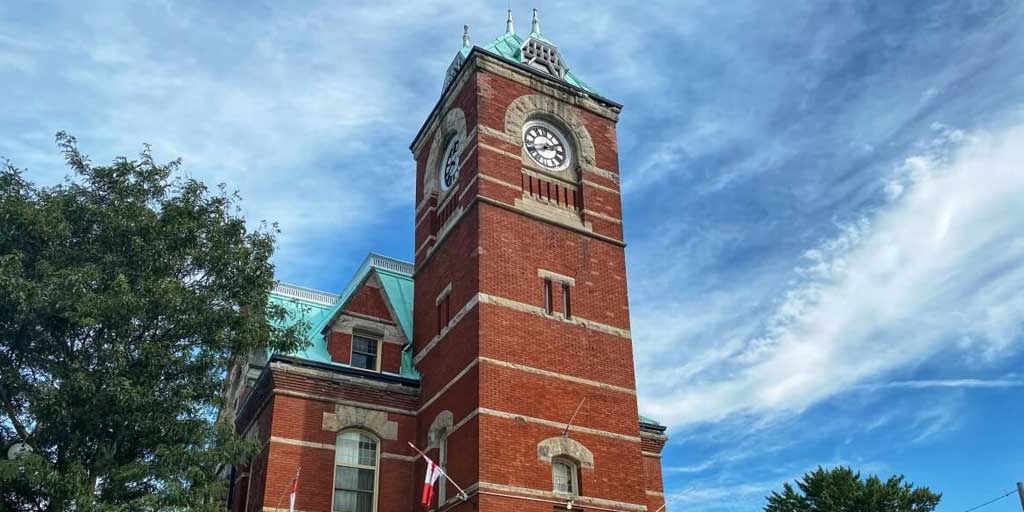 This province may not be that old in the grand scheme of things, but that doesn't mean we don't have a history worth celebrating. And, history isn't only found in cities like Kingston, Ottawa, or Toronto – it's just as prevalent, if not more so, in Ontario's small towns.
As I cruised into Strathroy, Ontario looking for the Clock Tower Inn, I didn't know quite what to expect. But as soon as I saw it, I thought to myself, "okay, this must be the Clock Tower Inn." And it's not because I'm particularly intuitive – the prominent four-face clock atop a tower was a dead giveaway.
I've got nothing against chain hotels or motels, particularly for families who need to stick to a strict budget, but there's no question that staying at a unique, historic property can really add to your trip.
The moment I arrived, I felt connected to a larger narrative, and one that goes right back to the origins of Canada itself. Let's talk about those origins for a moment, shall we?
The History of Strathroy's Clock Tower Inn
To start, we've got to go all the way back to 1889 when this building served as Strathroy, Ontario's original Post Office. Apparently, it was also home to the Custom House and Inland Revenue Office for the local area.
Perhaps the most interesting tidbit for Ontario history buffs, though, would be that this building was designed by the architect, Thomas Fuller. You may not know his name off the top of your head, but he was the chief architect for the parliament buildings in Ottawa.
Once you know that fact, I think it's easy to see the resemblance between the two buildings.
What I appreciate about the Clock Tower Inn is that they've managed to preserve and showcase that history, while ensuring that guests can enjoy modern amenities. I appreciate history as much as the next person, but I also appreciate a hot shower, and owner Mark Graham clearly understands that.
The Clock Tower Inn Today
Thanks to the restoration efforts of Mark Graham after he took ownership of the establishment, the historic building has now been fully restored.
The Clock Tower Inn offers 8 luxurious suites, and each of those suites comes with a private bath, fireplace, flat screen television, and access to wifi. I'm willing to bet Thomas Fuller couldn't have predicted that!
The suites play with Victorian design and motifs to bring you back to a past era but, as I said before, they also ensure you've got those present day comforts.
They've got one deluxe suite, the "Queen Victoria." Then they have three executive suites, the "King Edward," "Queen Mary," and "Prince Albert." Finally, they have four junior suites, the "Prince of Wales," "Queen Elizabeth," "King George," and "Princess of Wales."
For more details on rooms and rates, you can head here.
The Clocktower Bistro and Pub
It should be mentioned that the owner Mark Graham is more often called "Chef Mark Graham." Part of the reason that he bought this spot in the first place was to bring his 32 years of experience as a chef to this property, and make it a Ontario culinary destination.
Suffice to say, each menu item at the Clocktower Bistro is carefully crafted, and it's also worth mentioning that do their best to source local products from around Strathroy, Middlesex County, or provincially.
Currently, they're operating with a limited menu, but it's still remarkable. For lunch, you can get things such as pistachio crusted goat cheese, a smoked duck pizza, or their popular Thomas Fuller burger, which consists of local lean ground beef, peameal bacon, and Canadian white cheddar served on a toasted pretzel bun.
Anyone else's mouth watering?
For dinner, you may want to try their white cheddar and lobster orecchiette, or 10 oz. AAA Ontario steak with three maple garlic shrimp.
In short, if you're going to stay at Clock Tower Inn, you really ought to eat at the Clock Tower Bistro.
I was in a time crunch when I was in Middlesex, largely because I was also covering a nearby golf course, The Fox Golf Club, so I wasn't able to try their brunch on the Sunday when I was departing, and it still haunts me.
Staying in the King Edward Executive Suite
I was fortunate to be able to spend the night in the King Edward Executive Suite. The very first box that was checked for me was the king bed. I'm over 6 feet tall and over 200 pounds, which is why I'm sure everyone heard me dancing down the hall when I heard there was a king bed in the room.
The high ceiling gave the room a spacious feel, and I particularly adored the personal desk that was right beside the window. As you can imagine, that's a writer's delight.
The bed did indeed live up to the hype, and the sheets were soft as can be. It was an excellent sleep to say the least.
The true highlight of the room, at least to me, was the "spa shower in the vault." With the historical context of the building in mind, I'm quite sure that the phrasing they use there is quite literal. I'm pretty sure I had every nozzle and faucet going at once in that shower, and it was about as great as you'd imagine that would be.
Take a hot shower in the vault, then get into that king bed and try not to smile.
This Ontario Inn is a Win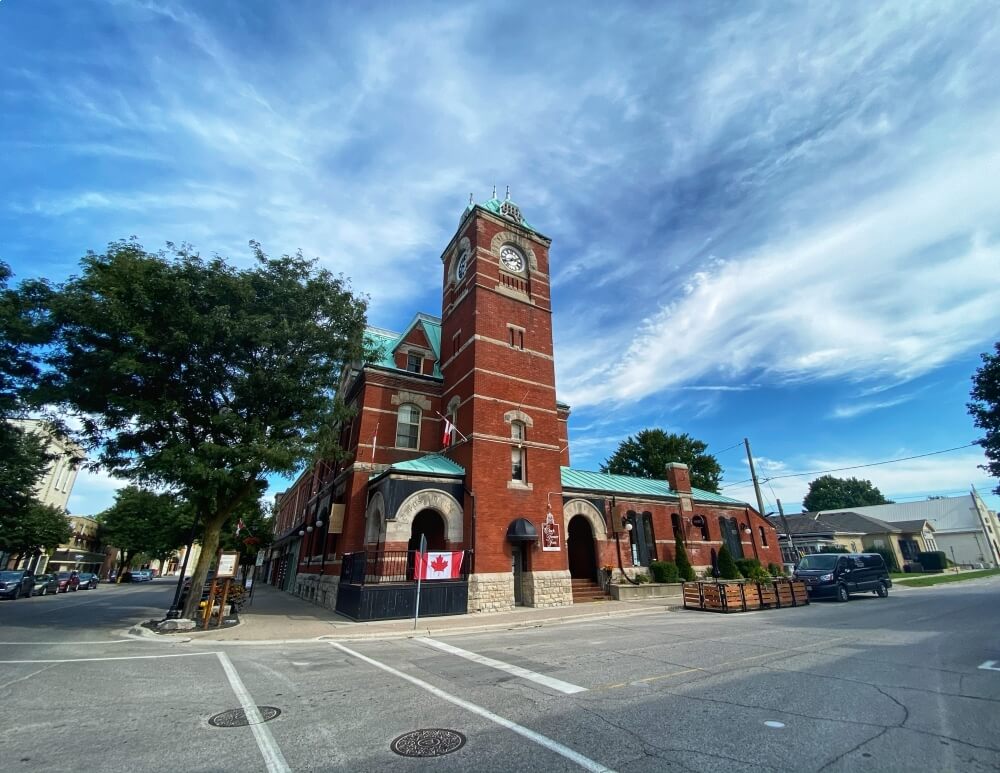 At Ultimate Ontario, we try to focus on Ontario accommodation with a story behind it, which was also certainly the case with our profile of the Hive Centre and Stay in York Durham Headwaters (near Orono).
With that in mind, the Clock Tower Inn in Strathroy was a natural fit, and a place that we're proud to profile. Small businesses and small business owners have a big place in our hearts, as we hope with have demonstrated with similar articles on places like MJ's Roadhouse in Lucan, Ontario, the businesses on the Lanark Chocolate Trail, or BUSL Cider in Mallorytown.
We hope that, like always, we're helping you to explore this wonderful province of ours, one lookout, campsite, experience and inn at a time.
Disclosure: I want to thank both Middlesex County Tourism and Ontario's Southwest for hosting me as media for this experience. Please note, my views and words are wholly my own.
Christopher Mitchell is the Cofounder of Ultimate Ontario. He's visited over 80 countries, and has lived on 4 continents, but now has his eyes set squarely on exploring this incredible province, and helping others do the same.