The St. Jacobs Country Playhouse is a distinctive theatre venue in Ontario where you're going to have a great view no matter where you're sitting, and you'll leave feeling like you were part of something special.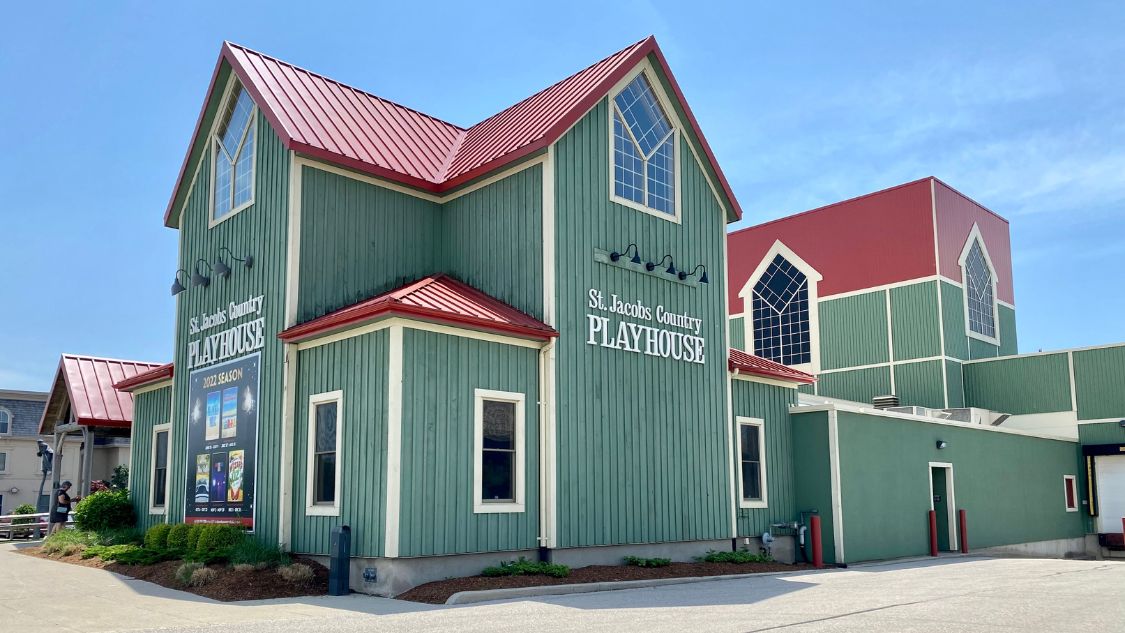 ---
It's no secret that we love the arts over here at Ultimate Ontario, but our bias aside, the St. Jacobs Country Playhouse is a spot that deserves a lot of appreciation.
It's one of the crown jewels of Drayton Entertainment, an award-winning not-for-profit that's dedicated to putting forth the best in Ontario theatre. They actually now have multiple locations across Southern Ontario, including Grand Bend, Drayton, Penetanguishene, and, of course, St. Jacobs and Waterloo Region at large. Believe it or not, Drayton is one the largest professional theatre companies in all of Canada.
Theatre is part of the lifeblood and identity of this province, and visiting a place like the St. Jacobs Playhouse is a way that you can intimately connect with that. It's not just the performance (the actors and actresses, the crowd etc.) either, it's also the ambiance and setting of the theatre itself, and knowing that you're creating new, worthwhile memories.
More About the St. Jacobs Country Playhouse
The St. Jacobs Country Playhouse is located in the heart of the St. Jacobs Market District. For those unfamiliar with the region, it's located right on Benjamin Road on the northern edge of Waterloo. You'd be wise to try to combine your visit to the St. Jacobs Playhouse with a visit to the St. Jacobs Farmers Market before or after, and the picturesque village of St. Jacobs as well!
The Playhouse is operated year-round, and it's a very distinctive venue in that it's very representative of iconic traditional Mennonite architecture. Most notably, you can see the turn-of-the-century masonry, as well as the heavy timber accents.
The theatre itself can house about 400 people, and it has what's known as a "raked layout," which is often implemented to ensure that all seats in the house have a quality view of the stage.
What's Playing?
This answer will, of course, always depend on when you're arriving to this article, but your question as to what's on stage can always be answered over on the Drayton Entertainment website right here. Typically, each season will feature a run of 5 different shows. You can click on any show and scroll to the bottom to look at ticket availability.
It's worth knowing that performances tend to be very popular here, so you want to book in advance as much as possible. If you'd rather not go the online route, you can typically grab tickets from the venue itself, or by calling the box office at 519-747-7788 or toll free at 1-866-985-0262.
We saw Mamma Mia, and it was just plain fun. It seemed like everybody who opened their mouth had a voice to swoon over and David Connolly's choreography was totally befitting of the whole ethos of Mamma Mia in that it made you want to stand up and join them. Simply put, it was hard not to have a smile throughout, and that was especially true after the intermission in the second half.
The rest of this season will feature The Sweet Delilah Swim Club, Driving Miss Daisy, American Son, and Wizard of Oz: The Panto. If you arrive at this article after the season is over, you can see what's on currently (and upcoming) at the St. Jacobs Country Playhouse and other Drayton Entertainment properties right here.
What Else Should You Know About the St. Jacobs Playhouse?
Here are a few more things that you might want to know before you attend a show here:
One nice thing about the St Jacobs Country Playhouse is that you'll find free theatre parking. There's parking all around the theatre, so you should have no problem getting yourself a spot.
We found it was nice to arrive a little early and hang out in the outdoor courtyard area. It was nice to be able to get a full understanding of the exterior of the St Jacobs Playhouse before entering and enjoying the show.
If you want, you can skip the line at intermission by pre-ordering any refreshments when you first arrive.
As it relates to accessibility, the St. Jacobs Country Playhouse notes that they are "committed to providing reasonable accommodations to patrons with disabilities. There are designated wheelchair spots available at each performance. Please contact our box office to book wheelchair seating in advance of the performance. We are pleased to offer infrared hearing devices at no charge. Patrons who require our wireless hearing assist system may pick up a personal device at the Box Office."
You're now able to bring snacks and beverages purchased in the lobby into the theatre with you.
The St. Jacobs Country Playhouse has an active Facebook page for those looking to follow along with the comings and goings.
If you're a fan of theatre, or you just want an excuse to do something a little different, the St. Jacobs Country Playhouse awaits. This is also a region of the province that is growing by leaps and bounds right now, so this is the ideal excuse to attend a show, stay overnight in Kitchener, Cambridge, St. Jacobs or Waterloo, and turn this into a little weekend away.
However and whenever you choose to visit, we hope, as always, you have a wonderful time. Remember, this province has no shortage of incredible adventures to take part in, it's all about deciding that you're going to intentionally explore and appreciate what's on offer, and the St. Jacobs Country Playhouse is certainly worth appreciating.
---
We want to humbly thank Waterloo Region for hosting us as media. All opinions are completely our own.
If you appreciated this article, you'll love our newsletter, as well as our Facebook group! Feel free to join, all are welcome.
Christopher Mitchell is the Cofounder of Ultimate Ontario. He's visited over 80 countries, and has lived on 4 continents, but now has his eyes set squarely on exploring this incredible province, and helping others do the same.