Manns Distillery, in Brantford, Ontario, is part tasting room, part cocktail lounge, and part remarkably creative laboratory. They source their ingredients for their food and their botanicals for their spirits locally, and you can taste the difference that makes.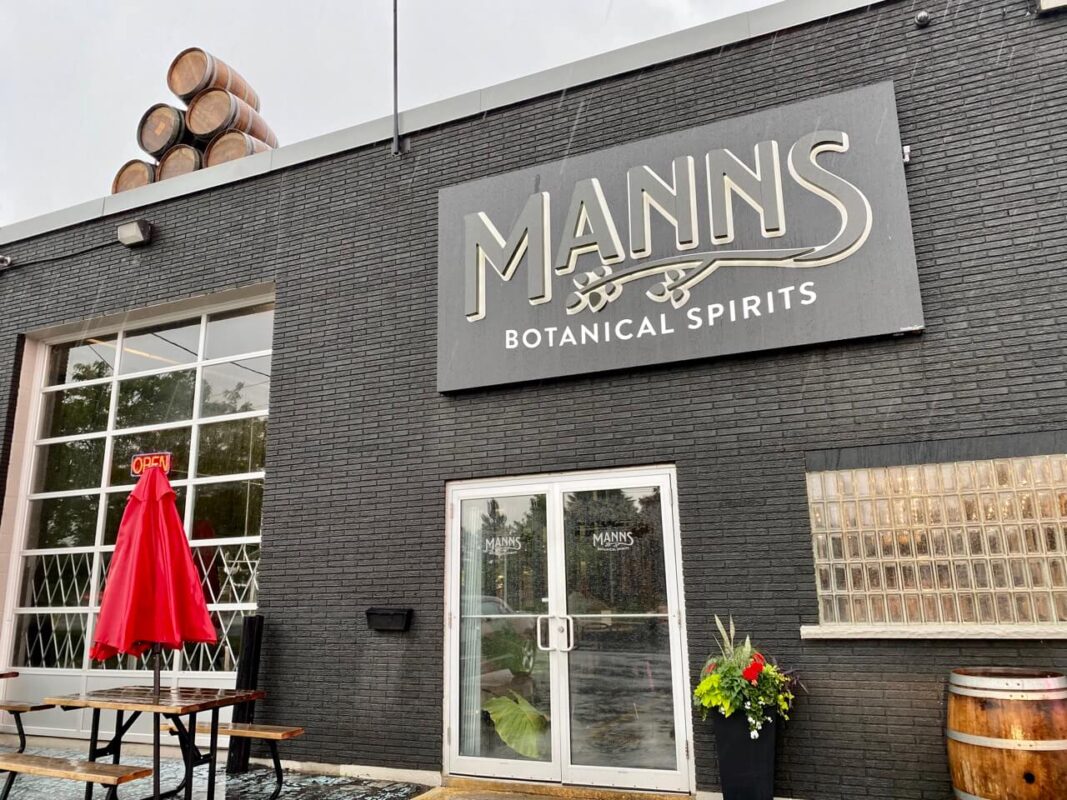 ---
When you walk into Manns Distillery, the first thing that you realize is that this place is ambitious. As I usually do, I sat down and asked what it was that they were known for in particular, so I could start there. In response, the server smiled, and handed me a long list of different spirts and noted that, at Manns Distillery, they do it all, so it's best to let preference guide you.
To put it in perspective, I had a "spirit flight" of sorts when I first arrived that included everything from White Tea Gin to Guava Rose Vodka, and from Haskap Liquer to Fennel Bitters.
The food, which I'll talk more about later, was the perfect accompaniment, and you quickly begin to realize that, when add their fresh, funky interior to the mix, this place could steal an afternoon or evening off your hands rather easily, and you'd have not one complaint.
More on Manns Distillery (aka Manns Botanical Spirits)
Craig Mann was the former owner and operator of Blue Dog Coffee Roasters (which had locations in Brantford and Paris, Ontario respectively), but he told me that he sold those locations and got into the distillery business largely for the challenge and the creative potential of it all.
It's not profit that's driving this venture, it's passion and creativity – and it shows.
"We love playing with different flavours – exploring new tastes and using a wide selection of botanicals. Botanicals include everything from a plant – the roots, the leaves, the stems, the seeds, the flowers, and the fruit.

Perfect. That's what we want. Botanical Spirits.

Imagine gin steeped with ginger or ginseng, macerate fresh strawberries, add pink peppercorns to a fermentation, vapour infused peaches…

The possibilities are endless.
What piqued my interest in particular is that the way they they utilize quality tea in their spirits. Their history with tea from owning a local cafe (and having taken tea blending courses in the past) gave them a leg up in using tea in their spirits.
Take, for example, their signature product – White Tea Gin. They use a white tea blend that features pomegranate, coconut, pineapple, safflower, cardamom, and papaya, and all of that comes shows itself in the gin in a different way.
The distillery itself includes a well decorated tasting room, a cocktail lounge, production areas, as well as some event and hangout space upstairs. As they note, "In our tasting room, you are able to sample all of our spirits with the assistance of our knowledgeable mixologists who will educate you on each spirit. Our multi- level cocktail lounge is a comfortable space to sit back and enjoy a cocktail with friends and family. The upper level is where our cocktail classes, group tastings, and competitions take place. Also, perfect for your next corporate event."
What Are They Pouring?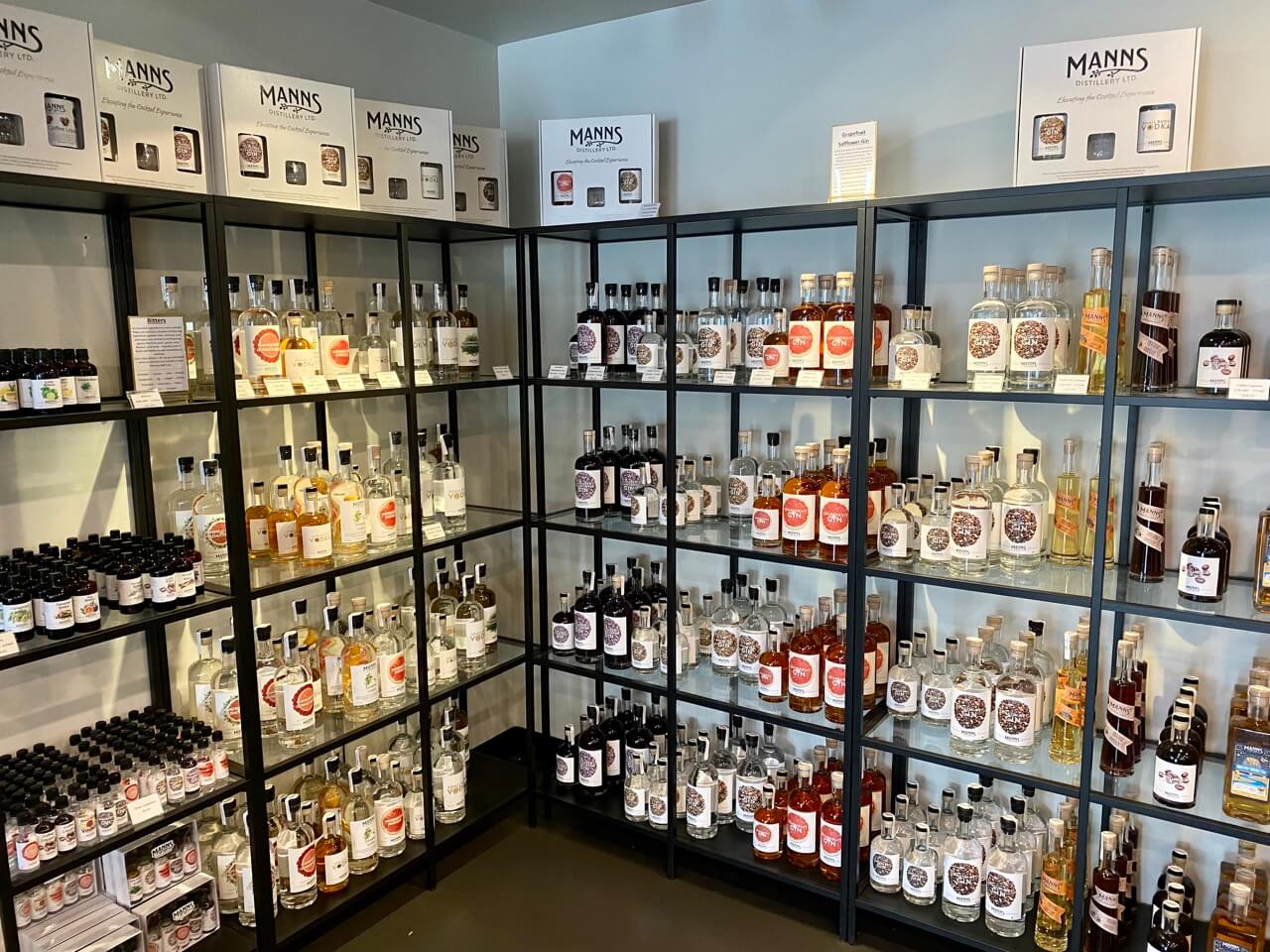 In short, a lot of different things, and all with their own unique flare and twist. If you can dream it in the world of spirits, Manns Distillery can probably make it, and perhaps already has.
I'll run through what was on offer while I was there, but do note that they've always got new products in the works, and you can keep tabs on that on their site. I know, for example, that they had a Ginseng Vodka distilling when I was there, so keep your eyes open for that.
White Tea Gin: The must try on their list that's worth having with a dash of their Orange Bitters in a G&T if you can!
Lavender Elderflower Gin: It turns out, this is steeped with local lavender and elderflower from Weir's Lane Lavender & Apiary in Dundas, Ontario. You can support local two times over with this spirit choice!
London Dry Gin: If you like a strong juniper flavour in your gin (and if you like gin generally, it's likely you do), then this is a great bet.
Grapefruit Gin: My server let me know that if I liked to drink Negronis, then I'd love this gin. I don't, so I didn't venture down that path, but this may be one to highlight if you appreciate a Negroni. I'm much more of an Old Fashioned sort of fellow, myself!
Strawberry Rhubarb Gin: Packed with local strawberries and rhubarb, this one is unique as it comes. It's delicious.
Small Batch Vodka: In the same way that I always recommend you start with a basic lager at a brewery to get a sense of their actual brewing process and talent, you could say the same for this Small Batch Vodka. It's void of any fruit or botanicals, yet still smooth as butter.
Guava Rose Vodka: This is a flavour I've never tasted in a vodka before, but it somehow worked perfectly. It's a little different on the palette, but definitely not in a bad way.
Watermelon Vodka: What's fun about a vodka like this at a place like Manns Distillery is you know, without question, that this isn't vodka that has some watermelon flavouring in it, it's quality vodka that was distilled with fresh watermelon.
Grapefruit Thyme Vodka: Somehow, someway the thyme acts as a sweetener or "neutralizer" that tones down the grapefruit. It's something to behold. I'd recommend sipping this one on its own before adding it to a cocktail just so you can savour the complexity.
Dill Pickle Vodka: The crowd favourite that is not for me personally, but would be beloved by many people I know. It's infused with dill pickle juice and dried dill for weeks on end. If you love caesars, then this is the vodka you need to leave Manns Distillery with.
Haskap Liqueur: They source their haskap berries from a farm just down the road. Again, this isn't well suited for my flavour profile, as it's a touch too sweet and tangy for me, but it may be your cup of tea.
Coffee Liqueur: I mean, you know someone who used to run a coffee shop and then opened up a distillery is going to make a mean coffee liqueur, right? It features a dark Brazilian roast from a local coffee roaster, of course.
Bitters: On offer, they have Aromatic, Orange, Lemon, Lime, Fig, Cardamom, Coffee, Chocolate, Ginger, Celery, Fennel, Rhubarb, Tarragon, Hot Pepper, and Tamarind.
We should note, in the interest of supporting deserving Ontario businesses, that you can choose to pickup or ship their spirits, bitters, mixers and garnish, and other merchandise and offerings right here.
The Cuisine at Manns Distillery
They've actually got a food truck with some great chefs working away out back. To me, this was the hidden gem of this place. They've got an ever-changing menu filled with local, fresh ingredients.
They make a point of changing things up, but if the Korean Fried Chicken is on the menu when you visit, then you simply have to get it. It was cooked and seasoned to perfection and, surprisingly, was a fun counter-play to the refreshing cocktail I was sipping.
I also tasted their Goat Cheese Egg Rolls and they too were excellent. Typically, they also have dishes available like Arancini Balls, Lamb Bao Buns, Smoked Ribs, and Sushi Nachos. Generally speaking, you can expect elevated and inspiring cuisine. Based on my experience, I'd be shocked if you ever arrived and their wasn't something intriguing on the menu to catch your eye.
As far as I understand, they typically offer a rotation of about 5 different dishes at a time.
Manns Botanical Spirits Awaits
On your next trip to Brantford, a city that has no shortage of spots to visit such as The Bell Homestead and more, you should also make a point of popping by Manns Distillery.
I've said this before, but at Ultimate Ontario, we want to do everything we can to appreciate the places that are taking a creative leap, and trying to do things a little differently, and that approach is very apparent here.
So, pop by sometime, taste for yourself, and make some new memories in a relatively new Ontario distillery that's making waves.
---
We want to humbly thank Discover Brantford for hosting us as media. All opinions are completely our own.
If you appreciated this article, you'll love our newsletter, as well as our Facebook group! Feel free to join, all are welcome.
Christopher Mitchell is the Cofounder of Ultimate Ontario. He's visited over 80 countries, and has lived on 4 continents, but now has his eyes set squarely on exploring this incredible province, and helping others do the same.