Check out this list of unique Ontario winter getaways. They're sure to cure any case of feeling blue. Get outside and have fun!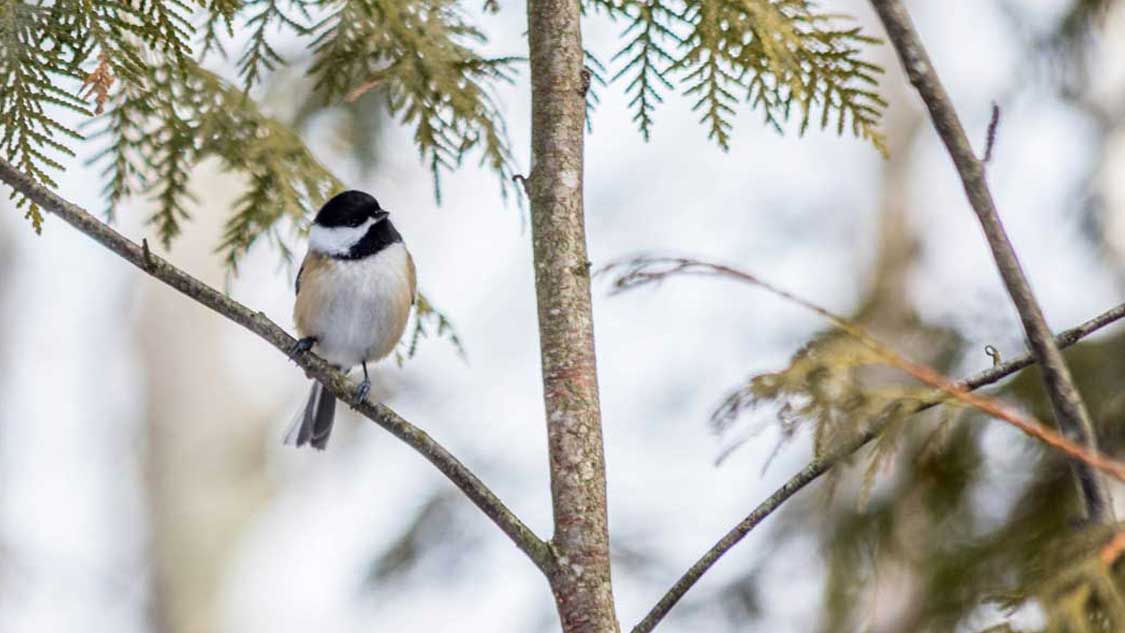 This province is filled with fantastic places to see and things to do – from visiting our quaint small towns to hiking in our beautiful forests. This holds true from the heat of summer to the cold of winter.
The right Ontario winter getaway will help you get the most out of the coldest season of the year this year. So if you're on the hunt for places to visit in Ontario in winter, we've put together this list of what we think are the best Ontario winter getaways around.
Ontario in winter is a special time, and one not to missed.
What You Should Bring on a Winter Getaway in Ontario
As the old Norwegian adage goes: "There's no such thing as bad weather, just bad clothing." When you're getting ready for your winter getaway in Ontario, packing the right clothing is the first step to a successful trip.
If you plan on doing some outdoor activities on your Ontario winter adventure, make sure you're packing several layers. The most important step here is to ensure that your layers are made of materials other than cotton. Cotton gets damp and wet easily, so it makes you colder if you wear it in cold temperatures. Taking a winter vacation in Ontario means that you'll likely be outside in the cold for a long period of time. This means packing layers that have wool, polyester or performance wicking materials.
Think about the type of Ontario winter getaway you'll be taking, and make sure you pack the right coat and possibly snow pants If you'll be snowboarding or tubing. More performance-oriented winter coats and snow pants are a must.
If you plan on spending more time indoors, then a stylish puffer jacket or streetwear coat is a better option. Whatever you bring, make sure it will keep you warm. You never know if you'll need to spend a little extra time outside. It's always better to be safe than sorry.
Make sure you pack a functional pair of winter gloves. Preferably ones with smartphone-friendly tips on their fingers. These types of gloves mean your hands can stay warm while you capture your Ontario winter getaway on your phone. You'll also want to pack a toque and a scarf.
Other extras to help keep you warm are hand warmers. They're a great option to throw in your boots or in your mittens. Some other useful items you might want to pack in the car can include a throw blanket, a magic carpet or a coffee thermos.
Last but not least, consider the best footwear for your trip. If you're headed to a place with a lot of snow or outdoor activities, winter boots that reach up to your calf are best. Ankle boots may be stylish, but they aren't very friendly on Ontario winter getaways with a lot of snow. You'll definitely be happier with boots that go up higher on your legs.
The Best Time to Go on an Ontario Winter Getaway
When you're planning your Ontario winter getaway, thinking about the right time to go is important. Your best bet is to arrange a trip during the less busy times of year. Places will be busier during school breaks. In Ontario, this means the winter break (mid-December to mid-January) and March Break (middle two weeks in March) will be busiest. If you can plan your winter getaway in Ontario outside of these times, you are good to go.
Beyond that, if it's possible for you to visit some of these destinations during the week, that would be the best possible way to see them. While winter weekend getaways in Ontario are fun, they're also far busier. Visiting places during the week is a great way to ensure a safe distance from yourself and other patrons. Nowadays, that is a really important factor to consider when you're travelling safely.
Ontario Winter Getaway Ideas
1. Check out the Northern Lights
You don't have to head to the Arctic Circle to see the Aurora Borealis. You can get up close and personal with the Northern Lights right here in Ontario. Make a weekend out of seeing this famous sight. You can rent one of many cute winter cabins in Ontario, or find an independent hotel or bed and breakfast and make a weekend of it.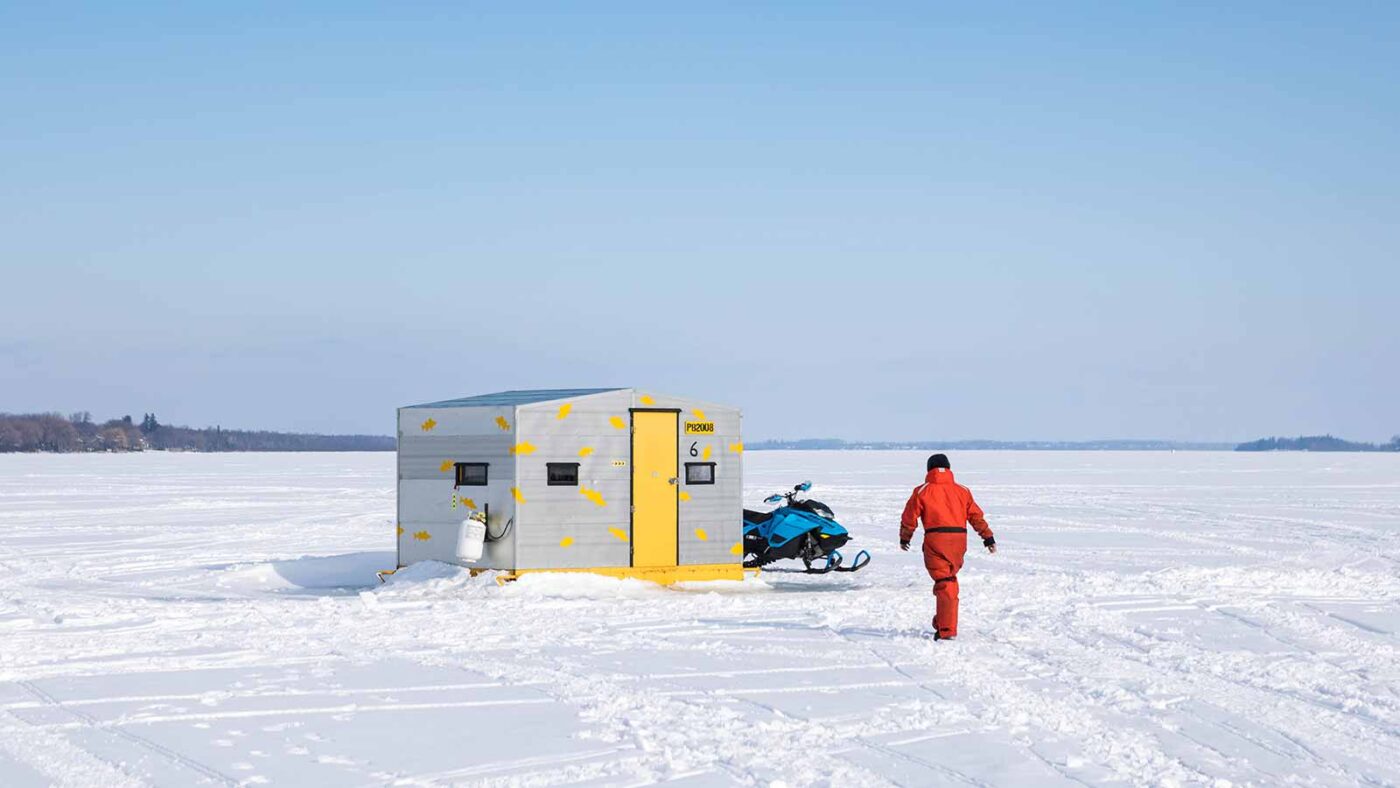 2. Try your Hand at Ice Fishing
This centuries-old activity is a truly Canadian one to try out. All across the province, lake fishing huts pop up on frozen lakes as soon as we've had a few steady weeks of deep freezing. If you're feeling a little stressed and are looking for an opportunity to find your zen, ice fishing is therapeutic. It truly makes for a unique Ontario winter getaway.
If you're looking for a starting point, heading to Ice Fishing on Lake Scugog makes for a great option. You can arrange a trip from the shores of Port Perry, just an hour outside of Toronto. For an overnight getaway, try The Piano Inn in Port Perry, or for something more in nature, check out The Hive Centre and Stay.
3. Skate on a Forest Trail
Over the past few years, many ice skating trails in Ontario have opened up. You can find a few in various large cities, like Toronto's trail at The Bentway or Brampton's Gage Park Skating Trail. But if you're looking for a great Ontario winter getaway, your best bet is to head to the forest.
There are several provincial parks in Ontario where you can skate through a forest. Arrowhead Provincial Park just outside of Huntsville is a great option. It has a scenic trail weaving through the forest, with its own on-site winery! If you're there in the evening, scenic lights line the path, too. It can get pretty packed, especially on weekends. Consider visiting on a week day and staying at Deerhurst Resort.
Some other lesser-known yet excellent options are MacGregor Point Provincial Park's Ice Trail and Kivi Park's "Nina's Way" in Sudbury. Both paths feature scenic skates through picturesque forested areas. On the perfect sunny winter day, a skate on these trails is a real treat.
4. Celebrate Winter in Canada's Capital
Ottawa is one of the coldest capital cities in the world, which makes it the perfect place for an Ontario winter getaway. Lace up your skates to skate down the world's largest skating rink on the Rideau Canal. Make sure you eat a famous Beaver Tail treat while you're on the ice. If you find yourself in Ottawa later in the season, Winterlude is Ottawa's winter festival. It takes place in February each year.
If you really want to top off this winter vacation in Ontario, plan a stay at the Chateau Laurier. It's the most famous and historic hotel in Ottawa.
5. Stay at one of the Best Winter Resorts in Ontario
Just because the temperatures drop doesn't mean that resorts lose their appeal in the winter. Some of the best places to visit in Ontario in winter are resorts. This is because resorts have everything you need right at your fingertips.
If you're looking for options near Toronto, Hockley Valley Resort is a great option. They have several ski runs, a delicious restaurant and they're situated right next door to a great winery. Deerhurst Resort in Huntsville is the gateway to Muskoka in the winter. Enjoy snowshoeing, cross-country skiing and more outdoor activities nearby. Sir Sam's Inn and Spa is also a great place to stay for skiing and outdoor activities in Haliburton County.
6. Try Dog Sledding
What was historically used as transportation in Arctic climes is now a popular activity. Dog sledding is a fun experience for the whole family. This Ontario winter getaway will take you to the Haliburton Highlands, where Winterdance Dogsled Tours operates. They are a well-regarded and highly rated company. You can book anything from a half- to multi-day trip. You can stay at either Sir Sam's Inn and Spa or Deerhurst Resort, but Sir Sam's is a lot closer.
7. Head to the Maple Syrup Capital of Ontario
Lanark County is the official capital of this tasty Canadian treat. Lanark County's Maple Trail is home to many award-winning maple syrup producers. You can visit the sugar bushes (maple syrup farms) year round for maple products or meals. But the seasonal maple sugar camps are open from mid-February to mid-April. This is the time of the year when the syrup is being produced.
You'll be delighted if you spend a few nights at the charming and historic Clyde Hall Bed and Breakfast. You could also rent out the Wheeler's Maple Farmhouse for a few nights on your visit to Lanark county.
8. Go snow tubing on one of Ontario's slopes
We all know about the great options Ontario presents for downhill skiing and snowboarding. But have you ever tried your hand at snow tubing before? This fun winter activity is a great Ontario winter getaway idea. It doesn't require any pricey rental equipment or prior experience.
Some great hills to try your hand at snow tubing are Horseshoe Resort in Barrie, Loch Lomond Tubing Park in Thunder Bay and Hike'n Tube at Blue Mountain in The Blue Mountains.
9. Skate in Ontario's Oldest Town Square
Kingston has been an important part of Ontario's history for centuries. Its downtown area has been in use since the 1600s. Plus, the site of Springer Market Square was in the town plans from the late 1700's. The modern day Market Square building and City Hall was built in the 1840's. Despite a fire and the natural weight of aging, several parts of the structure are still intact from when it was built then.
Skating at Springer Market Square is free, and an iconic thing to do in downtown Kingston. Make it a weekend by staying at the Rosemount Inn or the Woodview Inn. Both inns offer so much historic charm and will be the cherry on top of your stay.
10. Try Your Hand at Winter Camping
This option requires a little more planning and preparedness than several other Ontario winter getaways on this list. Winter camping is a great getaway idea for people who love camping in the summer and are looking to up their camping game.
Winter camping requires a proper winter tent. It's possible to use a summer-weather tent, but you're more likely to run into problems keeping warm. Depending on if you're in the backcountry or not, this can be very dangerous. A proper winter camping tent has an insulated stove built into it to warm up the inside of the tent and keep it warm.
If you want to try out this Ontario winter getaway, make sure you go with someone experienced. If gearing up for winter camping with a tent isn't for you, there are some great rustic cabin options at provincial parks. If you're curious about more information, Ontario Parks provides some great suggestions on their website.
There are also plenty of winter cabins in Ontario that are worth checking out.
11. Head to the Festival of Lights in Belleville
Belleville's Festival of Lights happens from November to January each year. This year, this winter getaway in Ontario will be run as a driving event so you can safely keep your distance from others, and enjoy it with your family. The festival began as a memorial for a tragic accident in the Belleville area. Since the 1950's, it's been meant to appeal to the young crowds and the young at heart.
Stay in downtown Belleville or nearby in Kingston to make a weekend of it.
Picking the Ontario Winter Getaway That's Right for You
This list of winter destinations in Ontario has a lot of variety. Many of these winter getaways in Ontario are perfect for a family vacation. Others are better suited for a romantic winter getaway for two, or for a trip with friends in your bubble.
Whichever getaway you choose, make sure you do some planning in advance. Nowadays, many activities require a pre-arranged reservation. This wasn't always the case, but during the pandemic it's an important way for businesses to track who is visiting.
Regardless of where you plan to spend your Ontario winter getaway, you will be sure to have a fantastic time in this wonderful province of ours.
Bri is an Ontario native who has spent many years living abroad, but has been happily reconnected with Ontario for the past three years.
She loves writing about travel experiences in our beautiful province including all things nature, food and culture.
You can find her canoeing and swimming across Ontario with a craft brew in her hand in the summer, and snowshoeing or curling up with a good book and an Ontarian Pinot Noir in the winter.