Firerock Golf Club, near London Ontario, offers an 18 hole course that is considered one of the top golf courses in Southwestern Ontario.
If there is a sport in Ontario that has risen in popularity more than golf as of late, I'm unaware of it.
And it makes sense. Who doesn't want a good excuse to spend hours and hours in the outdoors with a few friends?
In the past, I've covered the most prestigious golf courses in Ontario, but many courses on that list are private and exclusive, and I appreciate that FireRock is publicly accessible yet still very much a top-end course.
After playing a round of golf at their course, I feel like FireRock Golf Club, which calls Komoka, Ontario home, definitely lives up to its title of being one of the most exciting and enjoyable golf courses in Southwestern Ontario.
It's no secret that we have a deep appreciation for nature in Ontario on this site, and golf is another vehicle with which we can appreciate that aspect of the province. So we're all in.
The History of FireRock Golf Club
FireRock was conceived of back in 2003, and the course opened in 2004, which is a fairly quick turnaround in the golf world. Clearly Canadian architect Tom McBroom had a vivid picture of what he was trying to create.
It's a beautiful course, and it's also a very engaging play. Most holes beckon you to take the risk and go for it, and that can certainly pay off, but, as many golfers will know, it can also not pay off.
FireRock golf cours has an eleven thousand square foot clubhouse to go along with the par 72 course, which ranges from 5672 yards from the white tees to 7098 yards from the black tees.
One of the original investors, Walt Spivak, has his hands in the concrete business, so you'll find concrete paths to drive your cart on, which is rather convenient. At the same time, the course was highly intentional about planting environmentally protected wildflowers and herbs, along with acres and acres off prairie grass, so nature is absolutely at forefront of this Ontario golfing experience.
Frequently Asked Questions (FAQ) About FireRock Golf Club
Rates: the primetime rate is $85, the twilight rate (after 3 pm) is $65, the senior's rate (Mon-Wed, but no holidays) is also $65, and 9 holes after 4 pm is $55. The huge thing to mention here is that daily play rates include the use of a shared golf cart, driving range, and a GPS system.
Location: 10345 Oxbow Drive, Komoka, Ontario, N0L 1R0 (about 5 minutes west of the edge of London, Ontario)
Rain cheque policy: If you don't get through the first six holes because of the weather, you'll get a full rain check for 18 holes. If you complete between six and twelve, you'll get a nine-hole rain cheque, and if you're past thirteen, you won't get a rain cheque.
Dress code: No denim, cut off shorts, sweat pants, or t-shirts. Regular golf attire (collared, mock neck shirts, or turtlenecks) are acceptable.
Driving range: Thirty-minute sessions can be booked for thirty bucks plus tax. Sessions need to be booked ahead of time.
Cancellation policy: 24-hour cancellation policy in effect. If you need to cancel within 24 hours, you'll be charged and mailed passes for a round at a later date.
Booking tee times: Tee times for FireRock Golf Course can be booked up to 7 days in advance. You can book by calling the pro shop (519-471-3473) or visiting the website.
Highlights From a Round of Golf at FireRock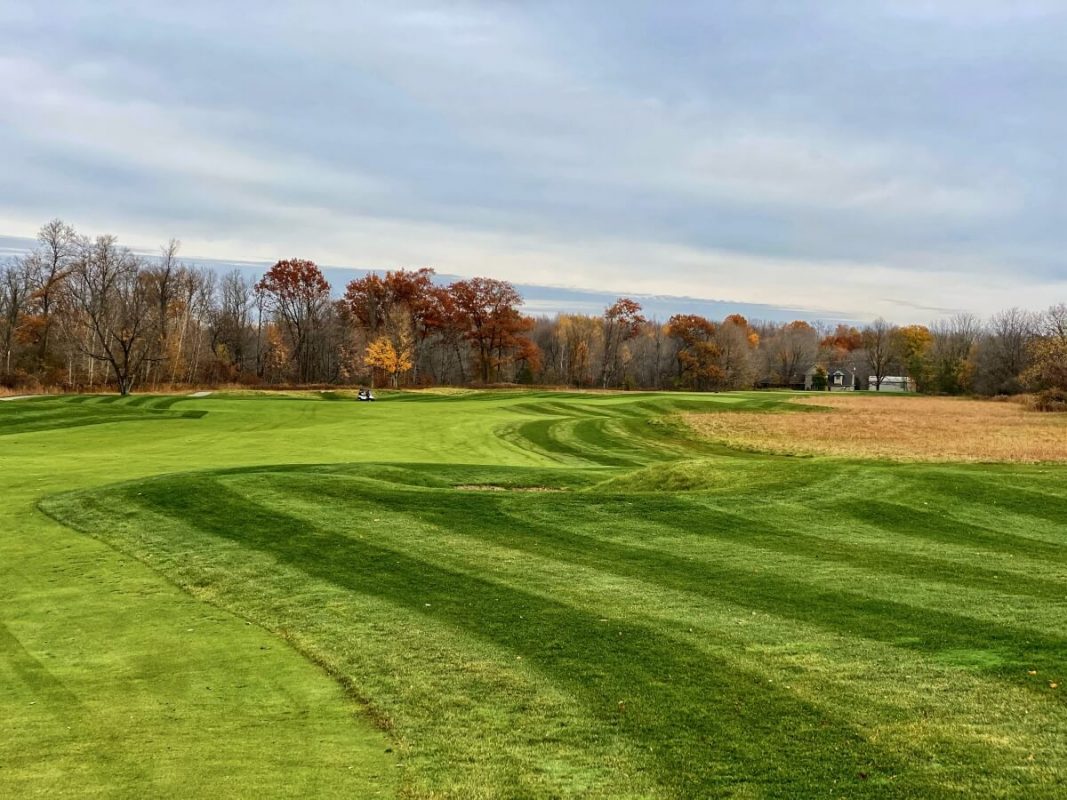 Before getting into what specifically makes FireRock Golf Course so intriguing, a big shoutout to Jim, Jim, and Doug is in order. These three fellas made the round infinitely more enjoyable, so thanks.
I originally thought I was going to be playing on my own, but at the tee blocks, one of them offered for me to join their foursome – though they did warn me that I may not want to.
That was the first laugh of many to be had on the day, and I appreciated getting to know them throughout the round, as they had brilliant stories to regale me with, as well as an array of tips to help me navigate the course.
Speaking of the course – at the start of the season, I played another course in the region, The Fox Golf Club. That's a course that I'd recommend for golfers who are still acquainting themselves with the game, or for folks who are looking for a less expensive round. However, there's no doubt that FireRock is on another level and has positioned itself as one of the premier golf courses near London, Ontario.
Hole 1: The Opening Drive
I love it when a golf course ensures that the first drive has a little pressure attached to it, and that's the case at FireRock. You've got an opening shot that's got to carry across the Oxbow River Valley. And that ensures that, from the very first moment, your heart rate is elevated just a touch.
You'll need to recognize that this is a double dogleg, with bunkers positioned on the right and left, so it's not the easiest start. One main goal with this course is just to survive the first few holes, and do remember that you can make up some strokes on the back 9!
Hole 2: A Microcosm for the Course
The second hole is worth mentioning because the way it plays is a real example of the ethos of the FireRock golf course at large.
An elevated tee is set up to beckon you to hit over the man-made lake and go for the gold. There is a lay up area, but it's not at all enticing compared to the prospect of where you'd be if you cleared the lake. So, in many ways, it's a dare.
There are these kinds of dares all over the course, and that can be a lot of fun for players who like a challenge.
Hole 6: A Creative Dogleg
In true FireRock style, most of doglegs on the course can be overcome with a little bravado. If you believe you can drive it about 250 yards over a devastating set of bunkers, then you're set.
I'm definitely one of those players, and love to drive for the fences, so I appreciated the chance to do on this hole, and many other holes on the course.
If not, you've got to put your tail between your legs and just place yourself on the fairway with a 4 iron, 3 wood, or hybrid. That's the smart move, but it's not the FireRock move.
The bunkers at FireRock are all painstakingly handmade, and rather difficult to get out of. You should avoid them at all costs, to be honest. I loved the course, but do feel they could likely do something to soften or maintain the sand a touch in the bunkers, since they were often as hard as the concrete paths, and unusually unforgiving.
Hole 8: Downright Picturesque
I will take a gorgeous elevated tee any day of the week. If you're going to take a picture together with your group, this certainly would't be a bad spot to do it.
It should be relatively easy for most golfers to clear the Oxbow River on this one, but there's almost no room for error on the approach to the green, or on the green itself.
Consider this a par 3 where getting a par is a real accomplishment.
Hole 11: In The Woods
This is another par 3, and one which apparently architect Thomas McBroom was particularly proud of.
The hole manages to put nature on centre stage again, but this time pointing your attention to the Black Maples, which are hundreds of years old. They beautifully and playfully frame what is a rather tiny green.
You've also got to deal with the river twice on this hole, which points to the cleverness of its design considering that, even from the back tees, you're sitting at less than 200 yards to the pin.
Hole 12: At Long Last, a Short Par 5!
It can be a bit windy, and it's uphill, but it's also the shortest par 5 on the course. You'll want to avoid the bunkers straddling both sides of the middle of the fairway, and then be careful with your approach as there are more bunkers up near the green.
It's not an easy hole, but you should be able score well, and then head into holes 13-15, which are all par 4s, with a little momentum.
Hole 15: That Sweet Savannah Grass
If you've played FireRock Golf Course before, you'll probably remember this hole because of its propensity to humble you. You need a long carry to get over the savannah grass, and that's easier said than done.
I don't think anybody loves to see this much savannah grass on a hole because of how difficult it makes the hole, but it is quite creative and unique when it comes to the world of Ontario golf.
Hole 18: The Masterpiece
In my humble opinion, this is Thomas McBroom's most remarkable hole on the course. The views are stunning, and each shot has its own challenge brought upon by the landscape.
You want to hit a mammoth first shot, so that you're in a good position to clear the Oxbow River on the second shot, and then you approach the elevated green which is no easy feat to stick.
But, with the Clubhouse right behind the hole, and all the beauty around you, it hardly matters. It is the icing on the cake, so to speak.
A challenging hole to finish up a challenging round, but "challenging" in a very reasonable and respectable way. It's a course that requires a lot of strategy and patience, but it's also sincerely enjoyable to play.
The Pub at FireRock Golf Club
It's not technically a part of the course, but it is a highlight for those who like to appreciate some food and perhaps a beer after their round.
The Pub has a large patio that many a golfer appreciated this season after their round. They've got all your pub classics like nachos, wings, quesadillas, and burgers, but also venture into the gourmet with dishes like the Crispy Thai Chicken Salad, the Tuscan Hoagie, and Asiago Chicken Penne.
Members of the local community also order online for pickup when the restaurant is operating, which is basically all seasons but winter.
---
We're blessed in this province to have the access to excellent golf that we do. Part of that is places like FireRock sprouting up and adding their own twist on how we can best create courses that showcase the diversity of the Ontario landscape.
I hope that this article was a hole in one for you, and remember that we've got no shortage of Ontario content to help you appreciate this province. Also, don't forget that we've got a growing newsletter and Facebook group that you're always more than welcome in.
Here's to many good rounds in the future, both on Ontario golf courses, and at Ontario pubs after the game is over.
Disclosure: I want to thank both London Tourism and the FireRockGolf Club for hosting me as media for this experience. Please note, my views and words are wholly our own.
Christopher Mitchell is the Cofounder of Ultimate Ontario. He's visited over 80 countries, and has lived on 4 continents, but now has his eyes set squarely on exploring this incredible province, and helping others do the same.