If you want to experience a joyous, upbeat celebration of puppetry and music, then look no further than the World in a Weekend Festival happening this summer in Stratford, Ontario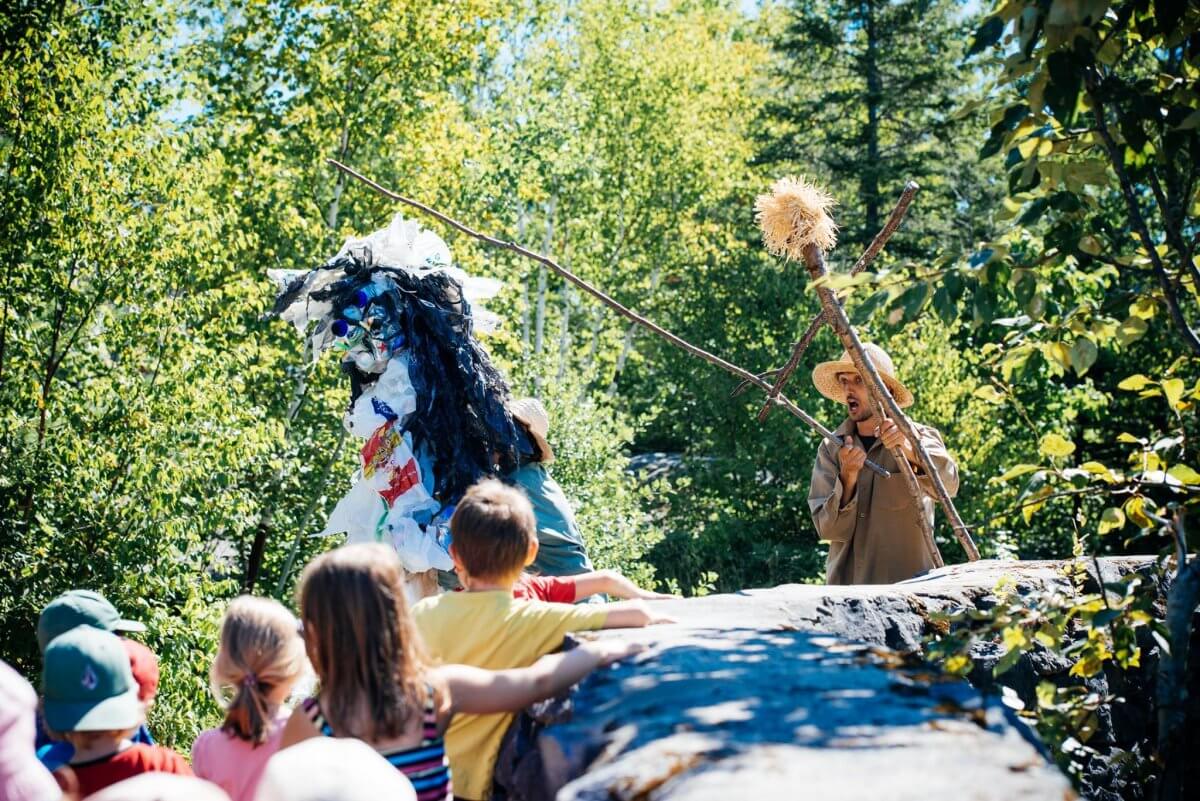 ---
There always seems to be something going on in Stratford, and this August is no different. Stratford will be welcoming the World in a Weekend Festival, which will be up and running between August 4th – August 7th, and it looks like a wonderful excuse to make your way back to Stratford if you've been looking for one!
The festival itself is presented by SpringWorks PuppetWorks! and Stratford Summer Music and you can expect the town to "come alive with stilt-walking creatures, free outdoor barge concerts on the banks of the Avon river, and unforgettable performances by world-class puppet artists and musicians."
We recently visited Stratford to cover the Stratford Festival, and it reaffirmed the fact that, with its mix of top-notch theatres and quaint downtown core, there are few better places to appreciate a festival in Ontario.
About the World in a Weekend Festival
The festival itself is very family oriented and features many free and inexpensive activities for families, "including hands-on play zones and a unique "pod pricing" model for the puppet shows, which allows up to five friends or family members to attend the show on a single $30 ticket."
We're actually thrilled to be giving away a "pod ticket" as part of a partnership with our friends at the World in a Weekend, and you can check our giveaway page for more details if you're reading this shortly after it's been published.
The pod ticket is for a performance called Tricykle which is "a creative and quirky tale oriented to older audiences (age 9+). The hero of this wordless puppet show is a renegade fairground carnival worker riding a magical tricycle pulling a trailer piled with junk, which is revealed to hide a treasure trove of stories. The tricycle transforms into a wheel of fortune, a Ferris wheel, and a punch clock, and the boxes in the trailer become cityscapes, back alleys, cargo ships, and fairgrounds as the carny shares his story." Of course, giveaway aside, all are welcome to purchase tickets if that sounds intriguing!
Live music is also a core feature of the festival, with an eclectic program of free and ticketed events ranging from an all-ages ukelele party and a string quartet to toe-tapping funk, world music — plus a showcase of top-flight Canadian jazz artists.
As SpringWorks PuppetWorks! Executive Director Eileen Smith has said:
"The World in a Weekend Festival is a fantastic opportunity to make summer memories and spend time together with the people you most care about."
How Can You Best Enjoy This Ontario Festival?
Below, we'll be sharing some tidbits from wonderfully outlined press release from our friends at the World in a Weekend Festival to ensure you're ready to go when August 4th – 7th comes around!
The festival kicks off on Thursday, August 4 with Sounding Thunder, a one-of-a-kind theatrical musical journey into the life of renowned Ojibwe WWI sniper Francis Pegahmagabow inspired by Ojibwe oral history, historical record, and Pegahmagabow family stories.
As a quick aside, we'll also be giving away two tickets to this performance over the next week. Again, even if you miss the time-sensitive giveaway, you can still purchase tickets and know you're supporting a fantastic event.
Also opening on Thursday is a highlight of the puppet show program: Metamorphosis, a magical tour-de-force created by Icelandic Master Puppeteer Bernd Ogrodnik. The show, which returns on Friday and Saturday, features intricately hand-carved wooden puppets as well as memorable characters created with only silk scarves and the hands and feet of the puppeteer.
"Bernd Ogrodnik is one of the best puppet artists in the world," said Smith. "He has won countless prizes and international awards for his work. He is also a gifted woodworker and actually made all the puppets in the show by hand."
The joyous celebration of puppetry and music will continue on Friday, Saturday, and Sunday in various venues along Veterans Drive and close by. On Saturday and Sunday, between 10 a.m. and 5 p.m., children can explore the Garden for Little Souls and other interactive play activities. At noon on both days, visitors can also enjoy a free performance of Jacques et Zèbrelle, featuring star-crossed 12-foot-tall stilt-walking lovers, as well as circus performers.
The weekend's other puppet shows include:
Cache Cache Puppet Walk – Take a playful journey through the forest with Puzzle Théâtre to discover unique and funny creatures hidden among the rocks and trees. Together you will give life to marionettes from objects found in the forest. Plus: at the end of the forest walk, kids are invited to make and befriend a wooden creature to bring home!
Wood/Bois – Puzzle Théâtre presents an atypical, colourful puppet show featuring surprising and hilarious and strangely human characters made from sticks.
Go Home Tiny Monster – A free, silly, and surprisingly poignant mix of puppetry, live music, interactive audience participation, and physical theatre from The Gottabees.
Ticketed concerts include:
The Ladom Ensemble – A sophisticated and wild blend of Western classical music, world rhythms, and alternative prog-rock. The group will perform two concerts, including one designed specifically to engage young audiences at Gallery Stratford, held outside with a limited audience for everyone's enjoyment.
The Thalea Quartet & The Shuffle Demons – Hear violinist Christopher Whitly play the the Taft Stradivarius , a violin from the 1700's. Then jam with the Shuffle Demons for a late night dance party in this eclectic mash up at Factory 163
Friday Night Live at Revival House – Featuring All Star Jazz musicians from around Canada, Jodi Proznick, Kelly Jefferson, Jim Doxas and Floriann Hoeffner all in the gorgeous environs of Revival House.
World in a Weekend also includes many free shows, including six barge concerts (sponsored by TD Bank) featuring Jazz Academy Allstars and traditional Andean music by The Imbayakunas. On Saturday, visitors can join a ukulele play along event led by Dayna Manning and her Folk Army. On Sunday, the festival closes with a free bandshell concert by recent Juno-winning Afro-Cuban musicians Okan.
Frequently Asked Questions
Here are a few things you may want to know:
You can find all tickets and info at worldinaweekend.ca
Tickets range from free to $75.
Venues: The Avondale, Factory163, Stratford-Perth Museum, Gallery Stratford, Revival House, MusicBarge, The Bandshell, Veterans Drive, Nancy Campbell Academy. Note: in the event of rain, outdoor programming will be relocated to Copperlight (formerly Knox Church).
For further information email [email protected] or

[email protected]

.
The Box Office is located at 19 Waterloo Street, and it's open from 10am to 4pm, Monday through Friday. The phone number is 519-271-2101.
We'll hope to see you there come August, and we're thrilled to put some extra eyes on a festival that exists to be a joyous celebration of puppetry and music. They'll be concerts, puppet shows and play/creation areas all over Stratford, so you can head this way if you want to take part in what sounds like it'll be a magical weekend in Ontario.
Christopher Mitchell is the Cofounder of Ultimate Ontario. He's visited over 80 countries, and has lived on 4 continents, but now has his eyes set squarely on exploring this incredible province, and helping others do the same.