Whether you're looking to dive into Kingston's rich history, or you're keen to explore the local culinary scene, there's a little something for everyone. We took part in Kingston's best tours to help you decide what tours to prioritize on your next visit.
---
When a city has a history and culture like Kingston's, it only make sense that there are going to be a plethora of tours to more deeply explore Canada's first capital. The last time we visited Kingston, we focused on accommodation (staying at the remarkable Smith Hotel), but this most recent trip was all about focusing on tours, and sharing how you can approach tours in Kingston.
What's particularly wonderful about the tour scene in Kingston is the diversity. There are more classic, history driven tours such as trolley tour, but there are also tours that focus on getting out on a boat, eating at some of Kingston's most intriguing restaurants, and an absolutely fantastic haunted walk.
The result is that you're given the context and information to more fully appreciate Kingston, a city we've often remarked is very underrated in the world of Ontario and Canada travel.
Please note that this article may contain affiliate links. Simply put, that just means that we may get a small commission from some of our recommendations at absolutely zero extra cost to you.
What Kingston Tours Should You Prioritize During Your Visit?
Below, we'll walkthrough some of our favourite tour offerings for Kingston. This is a city with many stories to tell, and many experts who are keen to tell and share those stories, and that makes it ideal for those interested in tours when they're exploring this province.
Kingston Trolley Tours
Kingston Trolley Tours offers a number of ways to see the city. They have a Ghost & Mystery Tour for those interested in the city's paranormal past, and also offer private charters, but our recommendation would be the City Trolley Tour.
The City Trolley Tour is a 1 hour guided tour that starts and ends at the Visitor Information Centre (209 Ontario Street). The tour aims to showcase "the best of Kingston," and covers Kingston most popular sites, while sharing key information about the city's history (which extends back over 300 years, we might add!).
You'll roll through the downtown core, but also make stops in places like Fort Henry, and the Royal Military College. The staff are also extremely knowledgable. We had Chris as our tour leader and he was seemingly an encyclopedia of knowledge on the city!
This is the first tour that we did upon arrival, and we'd recommend you do the same. You can find more information here.
Kingston Food Tours
Kingston Food Tours currently offers two tours, their signature tour, "Classic Kingston," and their "Tapas Tour," which features four stops with small plates that are paired with an alcoholic beverage.
We took, and would recommend taking, the Classic Kingston Tour, especially if you're not familiar with the city. It's a 2 hour tour that typically starts at 11am, and there are a handful of stops that cover a wide breadth of what Kingston has to offer from a culinary perspective. For those concerned with accessibility, the tour includes about 1.3 kilometres of walking.
We don't want to give too much away, but you'll be tasting everything from freshly made pasta to fish tacos, as well as tasting the wonders of pure olive oil, and even finishing it all off with some ice cream. Bring your appetite, as there's a fair bit on offer here, and it should also be noted that you'll get to taste some beer and wine as well.
Our pet peeve with tours like this is value, but they really delivered here with their offerings, and Jessica, our tour guide, did a marvellous job. Her knowledge and energy made it impossible not be present and engaged with the whole experience.
You can look at tour availability here.
Thousand Islands Boat Tours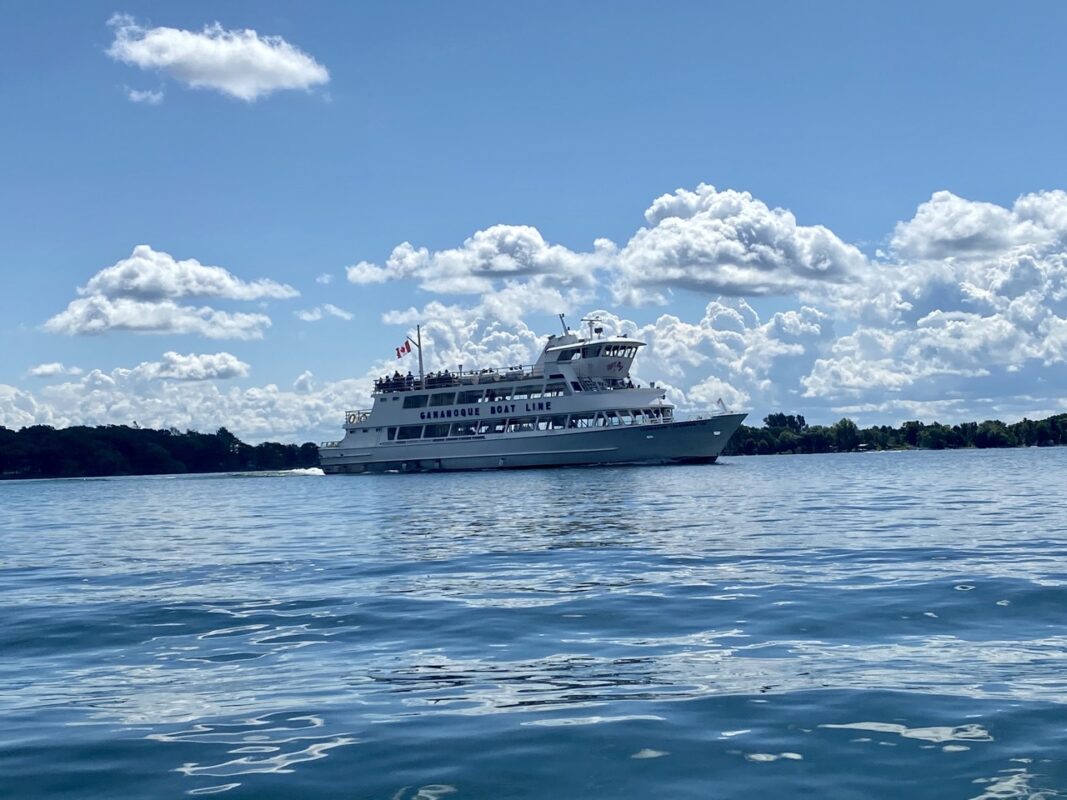 Kingston 1000 Islands Cruises offers a number of different tours that might be of interest to you. The Discovery Cruise is one hour in length, and it showcases the unique sights of the 1000 Islands, with a special focus on Kingston's waterfront. The Sunset Discovery Cruise is all about taking in the sights and sounds of the 1000 islands and Kingston's skyline with a beverage in hand, and a camera at your side.
The Heart of the Islands Cruise, our personal recommendation, takes you on a journey from downtown Kingston to the Admiralty Islands, which are known for their abundant small cottage islands and beautiful channels in the 1000 Islands region. It's widely considered to be the most comprehensive cruise available in the area, allowing you to immerse yourself in the picturesque landscape and experience the charm that has made the region famous worldwide.
You can look further at the tours on offer here.
Kingston Haunted Walks
The Haunted Walk has a number of tours that showcase Kingston's history. There's the "Ghosts of Fort Henry," "Investigation at the Mill of Kintail," "Ghosts of Queen's University," "Investigation at L'Original Jail," "Paranormal Investigations at the Historic SDG Jail," and more.
We'd recommend the "Original Haunted Walk of Kingston." This tour started all the way back in 1995, an it's an invitation to join a spooky outdoor tour in Kingston's old Sydenham Ward. Dressed in cloaks, the tour guides share spine-tingling ghost stories while exploring haunted hotels, hidden burial grounds, and other spooky locations.
The tour includes lanterns to light the way and will take visitors on a thrilling adventure to explore some of Kingston's most haunted spots, including the old courthouse and haunted courtyard. The tour is suitable for all ages, making it a favourite for family fun, curiosity-seekers, and paranormal enthusiasts.
The tour is also available in French. You can find out more about the tour here.
Kingston Penitentiary Tours
Most visitors choose the "Standard Tour," a guided tour of Canada's oldest penitentiary, where visitors can explore living and working areas that date back to the 1830s. The tour is led by former staff members who share personalized accounts of the prison's history and daily routines, including stories of escapes and riots. The tour lasts 1.5 hours and is available in French as well.
There's also a "Express Tour," which showcases the highlights of the Kingston Pen including the places like North Gate, and it lasts 45 minutes. The "Extended Tour," is a 2.5 hour tour which covers additional areas like the hospital, gymnasium and tour.
You can look at the tours available here, but we'd recommend the Standard Tour in particular.
1000 Islands Scenic Helicopter Tour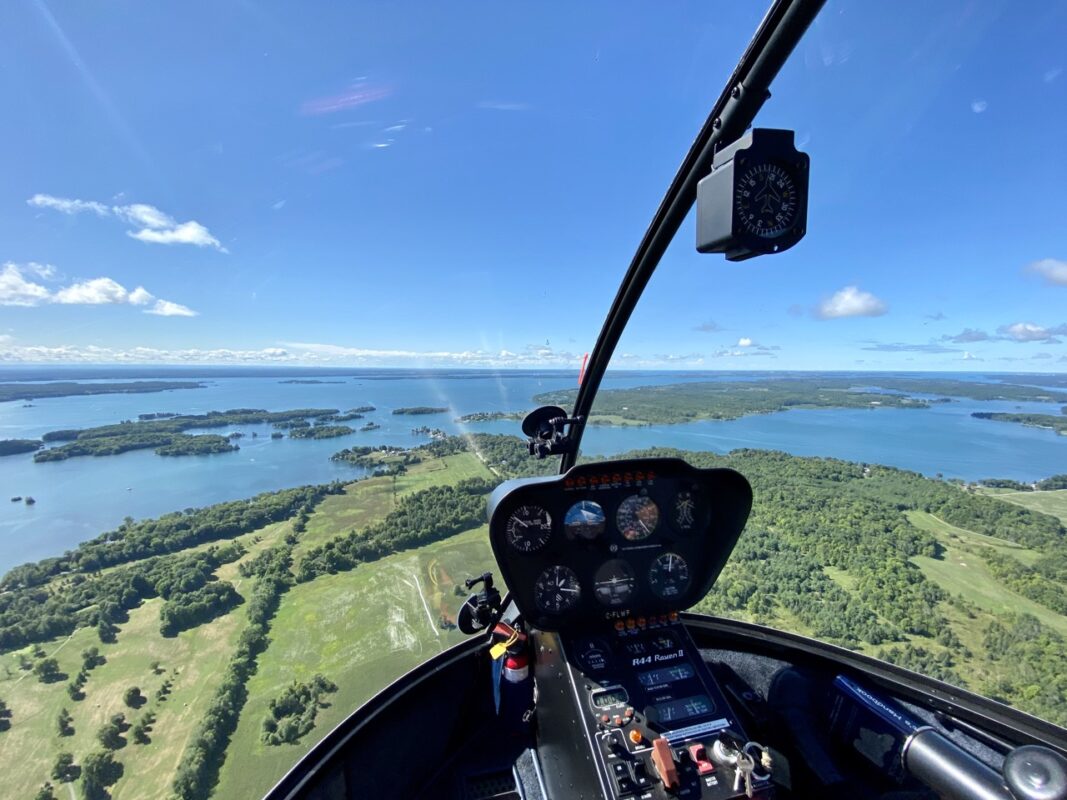 This, of course, isn't right in the heart of Kingston, but it's not a long drive away if you're looking for something a little different. Let's not forget that Kingston is indeed the hub South Eastern Ontario when it comes to travel, so you can base yourself here to do little excursions like this.
There are three tour options, ranging from 10 to 30 minutes, departing from Gananoque Heliport. Audio headsets with microphones are provided, and the pilot provides commentary in English or you can select a multilingual audio tour.
The tours offer aerial views of landmarks such as Boldt Castle, Ivy Lea Bridge, and Singer Castle, and the longest tour also includes sunken shipwrecks and nation-spanning bridges. The views that you'll experience from the helicopter are incredible, especially as you can clearly understand why the region is called "1000 islands."
The 10 minute tour offers a taste of the 1000 islands, the 20 minute tour includes flying over both the US and Canada, and the 30 minute focuses on the major sites, but also sunken shipwrecks that you can see from the air! You can take a look at tours here.
These Tours in Kingston Await!
Taking a tour in Kingston is the perfect way that you can get a deeper context as to what makes Kingston truly unique. It's one of the most historic cities in the country, but there's also a ton going on in the modern day. The diversity of tours ensures that there's a little something for everyone, and they work for visitors who are travelling solo, with a partner, or with their family.
There's no right or wrong way to approach Kingston tours, but we'd recommend doing as many as you can over a weekend, as you'll leave with a clear understanding of what makes Canada's first capital and special city to visit.
---
We want to humbly thank Visit Kingston for hosting us as media. All opinions are completely our own.
If you appreciated this article, you'll love our newsletter, as well as our Facebook group! Feel free to join, all are welcome. If you've got any questions or comments, add them below, and I'll be sure to get back to you.
Christopher Mitchell is the Cofounder of Ultimate Ontario. He's visited over 80 countries, and has lived on 4 continents, but now has his eyes set squarely on exploring this incredible province, and helping others do the same.