Visiting the best parks in Toronto is the perfect way to make sure you make the most of the warm weather while it's here. We've got Toronto based writer Erin Hynes here today to walk us through which Toronto parks should be on our list!
---
With summer just around the corner, it's time to start planning how you'll spend those humid Toronto afternoons. While Toronto is known for being urban, it's easy to overlook the fact it's actually one of the world's greenest cities on the planet (and there is even some great hiking in Toronto).
While there's plenty of access to amazing Ontario Parks that are just an hour from Toronto, there are plenty of beautiful parks within Toronto that can be accessed by foot, public transport, car, or bicycle. In the spring and throughout summer, Toronto's many parks become alive with activity.
You'll find picnickers, dogs, movie screenings, farmer's markets, and more!
Read on to learn about 7 of Toronto's must-visit parks.
The Best Toronto Parks to Visit When the Weather Warms Up
Of course, you can visit any of these Toronto parks at any time, but these are some of the best parks in Toronto to spend some time in when the weather starts to get a little warmer. As many Toronto residents will already know, when the temperature rises, our parks start buzzing and become community hubs across the city.
Riverdale East Park
Riverdale East Park is an 18-hectare park near Danforth Avenue and Broadview Avenue, in the east end of Toronto. Inside Riverdale Park, there are plenty of amenities for sports and activities, like baseball diamonds and a running track. And at the west end of the park is Riverdale Farm, a city-operated and publicly accessible farm.
But what Riverdale Park is most known for is its huge hill which creates a sloping lawn that is perfect for lounging on. The park's hill also makes Riverdale East one of the most popular spots in the city for watching sunsets. From the top of the hill, you have an unforgettable view of the downtown Toronto skyline, which becomes beautifully lit up as the sun goes down.
Things to do in Riverdale East Park:
Visit the Riverdale Farm for free, to learn about urban farming.
Have a sunset picnic on the slopes of the park's hill.
Spend a sunny day making use of the park's free swimming pool.
Trinity Bellwoods Park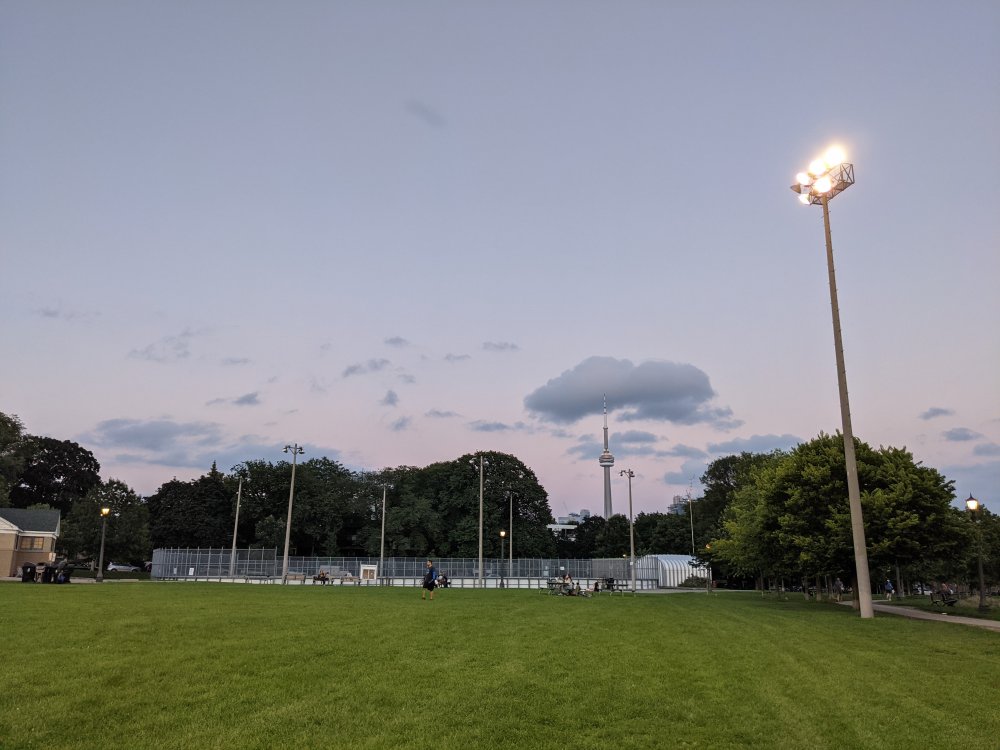 Trinity Bellwoods Park is the largest park in the downtown core of Toronto.
It's a city-operated 14.6 hectare (36 acre) public park which extends north from the Trinity Gates on Queen Street West. Trinity Bellwoods has over 400 young and old-growth trees, several ball diamonds, tennis courts, volleyball courts, an off-leash dog area, a wading pool, and more.
Trinity Bellwoods is known for its vibrancy and community, and with restaurants and breweries very close by, it's the perfect spot to spend a lazy afternoon.
This is exactly why on summer weekends, the park is always packed with friends, kids, and of course, dogs. Watching the dogs playing in the off-leash area, known as the "dog bowl," is always entertaining. On the western edge of the park is Bellwoods Brewery. Named after the park, this microbrewery is the perfect spot to enjoy a craft beer before or after hanging out in Trinity Bellwoods. They make a sour called "Jelly King" which is one of the most famous beers in the province.
Things to do in Trinity Bellwoods:
Do some shopping at the Trinity Bellwoods Farmers' Market.
Swing by one of the local restaurants on nearby Queen St. to pick up takeout for a picnic in the park.
Spend an afternoon on your slackline using the park's slackline poles
The Toronto Islands
The Toronto Islands aren't exactly a defined park, but they are one of the city's best green spaces. The Islands are out on Lake Ontario. They are a group of 15 small islands that are all interconnected, making it possible to walk or cycle from one end of the collective Island to the other. The islands have beaches, cycling and walking trails, a 200 year old lighthouse, and even an amusement park.
To access the islands, you'll grab the ferry or a water taxi from Jack Layton Ferry Terminal. The trip across is quick and convenient, lasting about 13 minutes. The best part is, on your way across to the Islands you'll be treated to beautiful views of the Toronto cityscape.
Things to do in the Toronto Islands:
Etienne Brule Park
Etienne Brule Park is actually very historically significant. The park rests alongside the Humber River, which at one time was a major trade route used by the area's First Nations. Later, the park was named after Etienne Brule, a French explorer who ventured beyond the St. Lawrence River and into Upper Canada (Ontario).
Etienne Brule Park stretches along the Humber River, starting near the Old Mill. The park has a ball diamond, picnic areas, and plenty of spots where you can access the Humber River. It's possible to spend hours wandering along the river, following interpretive signage that covers the history of the area as well as traditional uses. And, it's convenient to get to this park because it's accessible from the TTC Subway line 2.
Things to do in Etienne Brule Park:
Rent a kayak, canoe, or SUP board to go paddling down the Humber River.
Find a quiet spot along the banks of the Humber River to go fishing.
Walk the Humber River Recreation Trail.
High Park
High Park is in the west end of Toronto, and it's easily accessible by public transport. At over 161 hectares, it's Toronto's largest green space.
While exploring the massive park, you feel like you've teleported out of the city and out into the woods. One-third of the park is natural forest, and you'll also find ponds, cycling trails, walking trails, and even a zoo! High Park Zoo is home to bison, llamas, peacocks, and more, and it's free to visit.
High Park has a unique claim to fame; its sakura trees. The first Japanese Somei-Yoshino Cherry Tree was planted in High Park in 1959, presented by the citizens of Tokyo. Also known as cherry blossom trees, these trees are known for their beautiful flowers. High Park's cherry blossom trees bloom in the spring, but their blooming periods are very short.
If you'd like to visit them while they are in bloom, plan for the first week of May.
Things to do in High Park:
Get a bite to eat at the Grenadier Cafe, which is within High park.
Watch the ducks swimming and playing at the Duck Pond.
Stroll through the High Park Zoo.
Trillium Park
Trillium Park and William G. Davis Trail are 7.5 acres of green space that's on the waterfront of Toronto's west end.
At one time the land was used as a parking lot, but it has since been developed into a park as part of a revitalization plan for Ontario Place. Now, it's a lively green space that offers up beautiful views of Lake Ontario and the city. Inside the park is a 1.3 kilometre paved trail that was named after Bill Davis, who was the Premier when Ontario Place first opened in 1971.
Since Trillium Park is on redeveloped land, it has a unique look to it which was inspired by the landscapes of Ontario. The park was designed in consultation with Ontario's First Nations, including the Mississaugas of the Credit First Nation. As a result, it's filled with native trees, plants, and areas of rocks and boulders. Because this park is right on the edge of Lake Ontario, it's one of the best spots in the city to capture a beautiful sunrise or sunset.
Things to do in Trillium Park:
Watch the sunset over Lake Ontario and Toronto skyline.
Spot the park's marker trees, which are shaped in a way that points toward landmarks. They were historically used by Ontario's First Nations to help with navigation.
Reserve the park's fire pit for an evening bonfire with friends.
Christie Pits Park
The history of Christie Pits Park is quite interesting!
In the early 1900s, the park was known as The Christie Sand Pits. It was a pit being excavated for sand, gravel, and clay deposits left over from the last ice age. These deposits were excavated in the late 1800s and early 1900s and used to build many of Toronto's first roads and public buildings.
Christie Pits has since been developed into a popular park in the west end of Toronto. The park is accessible by the TTC subway (it's right by Christie Station) and is also in a very residential area, which makes Christie Pits a hub of activity in the summer. Inside the park is a free public swimming pool, baseball diamonds, a children's playground,
Christie Pits is also famous for its summer film program, the Christie Pits Film Festival. On Sunday evenings, locals gather to watch a themed film program. Be sure to come early because prior to the film, local food trucks set up shop to feed all the movie-goers!
Things to do in Christie Pits:
Spend an evening watching a movie under the stars, at the Christie Pits Film Festival.
Bring your children to play in the park's renovated playground.
Play a game of baseball in the park's baseball diamond, or ping pong on the park's outdoor ping pong tables.
Spend Time This Summer at the Best Parks in Toronto
Toronto's parks are always filled with energy and life throughout summer. It's where Toronto residents and visitors from all over go to gather, relax, and enjoy the warm sun and humid evenings.
You'll always find a community feel in the parks that are really special. We're lucky to have so much accessible green space in Toronto, so take advantage of it this summer!
---
If you appreciated this article, you'll love our newsletter, as well as our Facebook group! Feel free to join, all are welcome.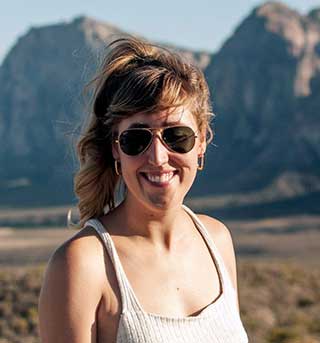 Erin Hynes is the travel blogger behind Pina Travels and the host of Alpaca My Bags podcast. Having lived and travelled in over 30 countries, Erin aims to inspire others not only to travel but to do so responsibly.