A definitive list of the best Ontario breweries from some of Ontario's top bloggers. Check out some of the best breweries in Ontario!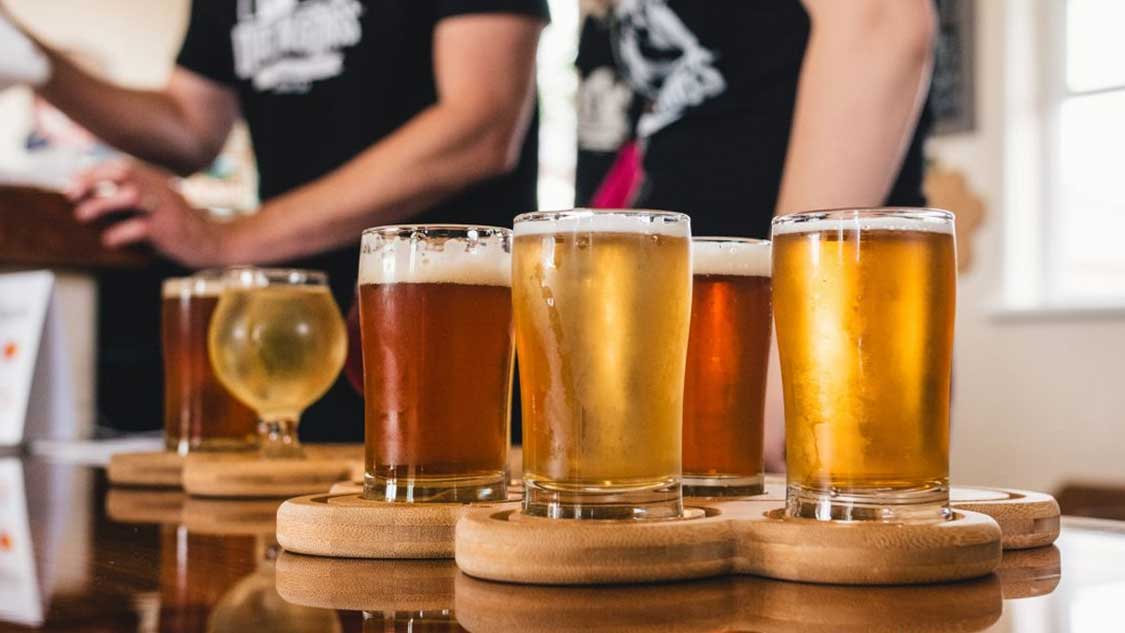 In recent years, the Ontario brewery scene has exploded with talented beer makers and brands. Breweries, in many ways, have become the new place to go for Ontarians, and also a way to establish a connection to the local scene. Talk about a fun way to support local!
Instead of just listing our favourite breweries in Ontario, one by one, we wanted to tap some of favourite Ontario travel writers and bloggers on the shoulder, and ask them their favourite brewery.
We've ended up with a list that spans the province, and we hope that you find a moment in the future to have a cold one in a few new locations across Ontario.
Note: During this time, please check the respective websites for the following breweries in order to get up to date information on how best to safely visit and/or try their great Ontario beer.
Here Are Some of the Best Breweries in Ontario!
As of 2019, there were over 250 licensed Ontario breweries, so there are no shortage of breweries to choose from. The list, we know, could be about ten times longer, but today we're passing the baton to others in Ontario travel to share their absolute favourite brewery.
Big breweries, craft breweries, micro breweries – there's a bit of everything!
Refined Fool Brewing Company
Sharon Mendelaoui from Daily Dream 360:
The Refined Fool Brewery was born with ten friends and a couple of propane burners in a backyard in Sarnia, Ontario. Each of them put their expertise into the business – creative marketers and graphic designers, entrepreneurs, musicians and pastors, all infusing they're spirt into the creative brews.
They opened their first location in downtown Sarnia, Ontario to a lot of support from the community they love. A craft brewery filled with brews for every taste bud, with their current collection featuring brown, red and pale ales, as well as a chai stout and several lagers.
Exploring the creative names of their brews is part of the fun, and you know that these friends are sitting around brainstorming the names. There appears to be a "shirtless" theme happening in their brews today. You'll find: "Shirtless in the Mufflerman Waiting Room," "Shirtless at the Chinese Buffet" and "Shirtless At Your Mother-In-Law's Retirement Party" sitting on their shelves. The tradition of crazy names has been part of their creative process, and you can see their past beers on their website as well.
Murder of the Crows is a popular favourite and remains on the menu today. When I was there years ago, I asked them -" so was the red wedding any inspiration here?" I got a very distinct feeling that this beer was thought up by the group during an episode of Game of Thrones.
There are now two locations in Sarnia where you can explore the world of the Refined Fool, the original downtown spot and a new midtown brewery.
The Second Wedge Brewing Co.
Sarah Antonio from We Choose Today:
The Second Wedge is the coolest brewery in Uxbridge, Ontario. Well, it's the only brewery in Uxbridge, actually.
​It's the little things you'll notice that makes the brewery so unique, a box of carefully selected vinyl records sits at the foot of the bar, friendly staff switching up the music and overall vibe every now and then. You can also admire the rotating local artwork on display, maybe you'll find a perfect piece for your home? It has that great small town watering hole feel.
​Founded by husband and wife team Joanne Ritcher and Rob Garrard after their 9 to 5 jobs didn't do it for them anymore, they've quickly become the town's go-to for beautifully brewed creations. You can tell just how passionate they are about craft beer and making your visit to the brewery memorable.
Second Wedge have a great selection on tap – Elgin Blonde (American blonde ale), Monday Night Piper (Scottish style ale), Rain Maker (Porter), 3 Rocks (IPA), Witch's Hat (Black IPA) and their seasonal Day Tripper (Pale Ale).
Their beloved 'Sweater Weather' cask has even won first place at a Society of Beer Drinking Ladies bevy. It's a beautiful, delicious, dark saison with aromas of orange peel and chocolate, along with notes of coffee and raisins. Perfect for the winter season! With such diversity, there is really something for everyone.
The Second Wedge always keeps things interesting, and from the taste of their brews – they're also most likely keeping nearby breweries on their toes!
Brimstone Brewing
Lisa Vanderpol, author of The New Bucket List:
Brimstone Brewing is located in Ridgeway, Ontario, just west of Fort Erie. The venue, ironically a former church, shares the space below the Sanctuary for the Arts, a once popular event space. This brewery is close to the Niagara Friendship Bike Trail, so it's easy to stop by for some food and drink along the way.
Brimstone brews in small batches allowing them to experiment, so they'll often have something new and possibly unusual for you to taste. This also give them the freedom to have many different styles on tap at a time. Brewing small batches also allows the brewmaster to really utilize seasonal ingredients to the fullest. The beer is always fresh! The brews are even named in the same theme as the brewery. You will find beers such as Sinister Minister IPA and Enlightenment Blond Ale on the menu.
In addition to fresh beer, they also have a great food menu to pair with your beverage of choice. There are your classic pub favourites with a twist as well as vegetarian options. A little something for everyone!
They have indoor seating and a beautiful patio. This is truly a hidden gem. If you're on your way to Buffalo or hitting the Niagara Friendship Bike Trail, drop by Brimstone Brewing!
Walkerville Brewery
Arienne Parzei from See You Soon:
If you're in the Windsor area, you have to visit Walkerville Brewery.
Located in the trendy Walkerville district of Windsor (not far from Ford City), the Walkerville Brewery can trace its heritage all the way back to 1885. It was founded by Hiram Walker, a prominent man in the Windsor area who was better known as a whiskey distiller before turning his attention to brewing beer.
Today, the brewery produces quality small batch beer made from 100% malted grains and everything is brewed and packaged onsite. Their roster of beers include flagship staples like the Honest Lager, Purity Pilsener, Geronimo IPA, and the Easy Stout, plus seasonal and specialty brews.
In additional to brewery amazing, award-winning beers, The Walkerville brewery prides itself on being a part of the local community, and in the past regularly hosted community and charity events. The staff are friendly and the beer is some of the best in the region! Check their site for details on how best to visit and try their beer.
Blood Brothers Brewing
Casey Palmer from Casey Palmer:
Let me tell you about my favourite beer in the history of the beverage and why I'm so sad that Blood Brothers Brewing doesn't make it anymore.
It was the fall of 2019, and I was still in my earlier days of exploring craft beers and figuring out where I really wanted to shop. (Let's just say that the pandemic got me MUCH more knowledgeable about this.) I'd often try breweries close to my friends' places, and that's how I wound up on Toronto's Geary Avenue at Blood Brothers Brewing – who hasn't steered me wrong for sours in the past.
And that's when I tried it—a blend of passionfruit, dragonfruit and Carolina Reapers that goes down tart and finishes with a kick! Blood Brothers' Passion of the Spice left a memorable mark on my palette and I've been craving it ever since.
If you're into sours, Blood Brothers won't fail you—they're continually experimenting with different flavours and pushing the envelope with what's possible. I just wish they'd bring back a few gems from the past sometimes for those of us who know what we want.
Blood Brothers. Make sure to check them out!
Stonepicker Brewing Company
Mar Ward from To & Fro:
It all started with a bucket used for picking stones, an old turkey burner, water, hops, yeast and malt. Using this basic equipment has made Stonepicker Brewing Company Inc. what it is today.
Located in Plympton-Wyoming, Ontario (along Highway 21, just 4km south of Forest), this family-owned brewery sits on what once used to be an operating pig farm. (For those that don't know, Plympton-Wyoming is a very small and very beautiful pocket of southwestern Ontario, located between London and Sarnia on the shore of Lake Huron.) After retiring from the pig business, the Donkers family put their love of brewing beer to work, planting grain on the farm and eventually opening a brewery in one of the farm's barns.
Stonepicker's beer selection includes lager, blonde, amber, IPA, stout and more, all with fun farm-related names like "Crop Tour" (lager), Farmer's Tan (blonde) and Stonpicker 21 (amber). My personal favourite is "Oops it Fell Out", a 5.2% lager with grapefruit and peach notes. On a recent trip to the brewery, I learned that "Oops", as its affectionately called, got its name because it was essentially a brewing mistake turned success. It is now their second most popular beer!
Not only is Stonepicker's beer really good, one of my favourite things about this brewery is the environment. From its location on a family-farm, to the farm decor and the welcoming, small town feel, it is a brewery you must check out if you find yourself cruising through Plympton-Wyoming.
Counterpoint Brewing Company
Lindsay Davies from I've Been Bit! Travel Blog:
Since Kitchener-Waterloo is home to the largest Oktoberfest celebration outside of Germany, it shouldn't come as a surprise that we have some seriously good craft beer. Breweries are constantly appearing, but one in particular is doing things a little differently. The brain child of a musician and an entrepreneur, Counterpoint Brewing is creating high-quality small-batch beers you can't find anywhere else. Owners Rich and Graeme put their heart and soul into ever brew they craft – and it shows.
When I say small-batch, I mean it. It's not uncommon for their brews to be gone in a week, sometimes even a day! From strawberry sours brewed with multiple flats of fresh local berries to German chocolate cake stouts that taste like a liquid dessert, you'll be blown away by these beer flavours! They might be the new kids on the block, but Counterpoint Brewing doesn't mess around. If you're going to visit any of the breweries in Kitchener-Waterloo, they're my top pick hands down!
Brock Street Brewing Company
Jerry Godinho from Four Columns of a Balanced Life:
Brock St. Brewing Company was established by four best friends who are passionate about craft beer, and giving back to the community. Brock St. opened in April 2015, and in April 2019 expanded into downtown Whitby, Ontario. It has galvanized Whitby's historic downtown by building a 17,000 square foot production facility, sampling bar, and banquet facility at the corner of Brock & Dunlop St.
The German trained brew master takes great pride making the beers in small batches. It is this passion and love for beer that has made this brewery win countless awards at many competitions.
My favorite is the Blonde Lagered Ale. Water, barley, hops and yeast are used to evoke an unbelievable fresh malt bouquet with an elegant and effortless finish. The brew master is a maestro balancing the Willamette hops for the fragrance. The Ale won the bronze medal at the 2017 OBA's.
Brock St. is a destination place. The architecture stays pure to its roots. If you just want to purchase beer, there is a separate store. There is an amazing restaurant that offers delicious cuisine with all the various beer offerings. The banquet hall upstairs has become the place to get married and have your reception.
Take the #410 exit on the 401 and head north and the amazing building is on the left at 244 Brock St. South in Whitby.
Head down to the brewery and try the Bohemian Pilsner, Traditional Irish Red, 3:10 to Yakima West Coast IPA, Chocolate Milk Stout, Amber Lagered Ale and Strong Scotch Ale.
Beau's All Natural Brewing Company
If you're looking for a place to stand and a place to grow in Ontari-ari-ari-o…ok sure live your best life. However if you're like me, you tend to sit with friends and boast best breweries. In that case you've gotta tip your glass to Vankleek Hill's own, Beau's Brewing Co. The tranquil brewery itself is located in a peaceful area not too far from the provincial border with Quebec, so if you're looking for a serene spot to hash out your hockey differences over a cold one I'd suggest this location for a summit.
Long known for their environmentally responsible localized approach to brewing, their recently announced newest beer 'Local Organic' has been hailed as Canada's most sustainable beer. It'll be certified carbon neutral so drinkers never again have to worry about choosing between local, sustainably brewed or organic. The deep misty gold of the beer adds to their already stacked lineup from their go to hoppy Lug Tread IPA to the Irish Red Ale 'Strong Patrick' to The Belgian Tripel 'New Lang Syne'. Too many to list for this post but be assured that you're more than likely to find a cure for what ales you.
We'd be remiss to not mention the quaint food menu if visiting and that on their tours they also feature a beer stein holding competition which can prove a good laugh. The passion for beers and their commitment to their community and clean ethos makes this a must visit spot when in the area and a worthy range to pick up from your local beer store.
Collective Arts Brewing
Yashy Murphy from Parenting To Go:
If you're a fan of craft beer and art, Collective Arts is sure to please all your senses. This brewery based in Hamilton, Ontario has recently opened a brew shop in downtown Toronto and they deliver their delicious brews right to your Ontario doorstep as well. Their mission is one most of us can appreciate: "to promote artists and raise creative consciousness through the sociability of craft beer."
What I love most about this Ontario brewery is that they create unique craft beers to match the creativity of the artwork on their labels. Each of their lines feature limited-edition works of art. Collective Arts has produced and compensated over 650 artists and musicians for appearing on their limited edition cans and bottle labels. If you're an artist, keep an eye out for their bi-yearly Calls for Art and I hope to enjoy a brew with your artwork on it one day soon!
I am a huge fan of their sour beers, gose, saisons and porters. Some of their beers also have fun names likes "Stranger than Coffee and Oat Milk", "Origin of Darkness", "Trading Tales" and "Jam Up". They even have a sour beer called "El Mo'" honouring the El Mocambo, one of the Toronto's iconic live music venues. If you enjoy well made imaginative beers full of unique flavours, I highly recommend you trying a few of their beers.
Just ensure you stock up on your favourites because limited releases rarely make a re-appearance!
Northern Maverick Brewery
Kathryn Dickson from Kathryn Anywhere:
For downtown core Toronto dwellers, moving to the area didn't initially include a full-service restaurant attached to a brewery across the street from one of the oldest and most gorgeous churches in the city, but that's exactly what we were lucky enough to get!
Northern Maverick Brewery is suspended over the parking garage of luxury cars in a high-end condominium on Bathurst Street, just north of King Street West. It's a hop, skip and a jump away from my front door and I couldn't be more pleased to have that patio to people watch, enjoy a cold, delicious pint and hang with friends in the summertime.
The huge brewpub opened in the summer of 2017 and has captured my heart and my taste bus with their beers. Their brews, made right there on-site feature their handcrafted Vienna Lager and a variety of seasonal tastes.
My personal recommendations? Obviously the Vienna lager with a touch of citrus and caramel tasting notes. The Enforcer IPA, which is made with citria, mosaic and amarillo hops, brewed with the flavour combination of citrus and tropical fruits. Also, the Gose-zilla, which is a german style raspberry, blackberry, blueberry beer with a touch of tartness in taste, in season during the summer and fall. For a fan of the sour beers, this is right up there as one of the best you can find in all of Toronto. Don't believe me? Head over there this summer and see for yourself!
Jobsite Brewing Company
Stephanie Mayo from The World As I See It:
If you're looking for a fabulous craft beer then head to Jobsite Brewing Company in Stratford, Ontario in Perth County. The brewery was founded by two long-time beer enthusiasts and friends who decided to take their passion for construction and beer to the next level. In 2018, Buhler and Oldenburger launched their quirky construction-themed brewery in one of Stratford's historic buildings. The building couldn't have been more fitting as it was an old lumber yard. Also in the same building is another staple in Stratford, Junction 56 Distillery.
One of the top things to do in Stratford is to eat and drink, and a great place to do both is at Jobsite Brewing Company. This family-friendly brewery offers up some of the best pizza in Stratford, baked fresh to order in their wood-fired pizza oven. And what pairs well with a good pizza? A pint of beer!
Jobsite offers a range of craft beers on tap or you can try a sampling with their flight by choosing from colour coded nails that represent individual beers. Running with the construction theme you'll love their fun names like 2×4 Cream Ale and Wrong Nail Amber Ale. So, if you're looking for a great brewery that's family-friendly, has a fun atmosphere, tasty food, and excellent craft beer then be sure to hit up Jobsite Brewing Company.
Left Field Brewery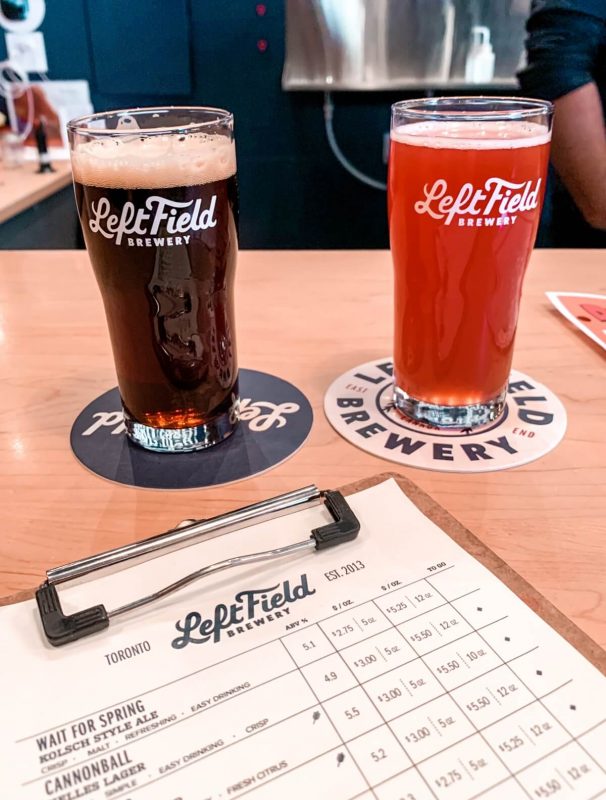 Teri Yeung from Teriaki Talks:
Even if you're not a huge baseball fanatic, there's plenty to love about Left Field Brewery.
Personally, what I know about baseball wouldn't fill a teacup. Nonetheless, the minute I wandered into this beloved neighbourhood watering hole, I was hit with a wave of nostalgia for idyllic school trips to the Sky Dome (it will always be the Sky Dome to me), cheering for the Jays.
Left Field Brewery celebrates everything craft beer and baseball, from the retro logo (a baseball with wheat stitching by CODO Design) to the massive vintage scoreboard installed at its Leslieville location.
Even the names of their bold and distinctly flavoured brews are baseball-inspired! For example, one of their signature dark beers — the Eephesus oatmeal brown ale — is named for a tricky pitch meant to catch the batter off-guard. With a full, malty flavour that is creamy yet refreshing, it's sure to be a home run for your tastebuds.
If you prefer a lighter beer, try their bright and juicy Squeeze Play, a pink lemonade sour that will have you longing for picnic weather.
Can't choose between an IPA and a saison? A pilsner and a porter? Or maybe you just don't know the difference. Whatever the case may be, ordering a flight is a great way to sample what they have on tap.
Despite the stark industrial space, Left Field has established a welcoming vibe that puts it in a league of its own. Not only is the brewery kid-friendly (parents like to drink too!) but dog-friendly. What better way to relax than with a pint in one hand and petting a pup with the other?
Toboggan Brewing Company
Margarita Ibbott from DownshiftingPRO:
Located in downtown London, Toboggan Brewing Company has been brewing pints since 2015. An addition to popular sister bars and eateries, Joe Kool's and Fellini Koolini's this microbrewery has become a very popular stop for both locals and visitors to The Forest City. With beer's like Lunatic Fridge IPA and Mr. Insurance Man (a riff on London being an insurance town), you will also find other microbrewery offerings on their menu. They have the beer wall to prove it.
The food menu is more gastro-pub than traditional pub food with a wide-open kitchen for you to watch the chefs cook your food. The atmosphere is relaxed and the patio a treat in the summer. If you loved your pint enough to take some home, they have a beer & gear store onsite to pick up a growler (a 64 oz shareable beast).
My second suggestion is Storm Stayed on Wharncliffe Ave. located just south of downtown. This small microbrewery has become popular with local residents because it offered a variety of brews and games. With fruit and floral varieties such as Shook: Apricot & Mango or Paradise a double-dry hopped IPA, you'll find variety here. The menu is pretty sparse but the board games are plentiful. This is a great stop for a social visit with friends without it getting too noisy.
Other Breweries in Ontario to Consider:
Each Ontario based blogger that we tapped on the shoulder gave their pick, but we'd like to add a few more to the list if we might, largely because there are just so many Ontario breweries worth visiting.
Charlotteville Brewing Company in Simcoe, Ontario
Badlands Brewing Company in Caledon, Ontario
Bellwoods Brewery in Toronto, Ontario
Clifford Brewing Company in Hamilton, Ontario
Third Moon Brewing Company in Milton, Ontario
Dominion City Brewing Co. in Gloucester, Ontario
Barncat Artisan Ales in Cambridge, Ontario
Willibald Farm Brewery in Ayr, Ontario
Godspeed Brewery in Toronto, Ontario
Half Hours on Earth in Seaforth, Ontario
Rouge River Brewing Company in Markham, Ontario
Counterpart Brewing in Niagara Falls, Ontario
Short Finger Brewing Co. in Kitchener, Ontario
Rorschach Brewing Co. in Toronto, Ontario
Elora Brewing in Guelph, Ontario
Anderson Craft Ales in London, Ontario
Oast House in Niagara, Ontario
Sleeping Giant in Thunder Bay, Ontario
Old Flame Brewing Co. in Port Perry, Ontario
---
We want to thank everyone for their contributions and sharing their favourite brewery in Ontario. Remember that you can always continue the conversation by commenting below, or posting in our welcoming Facebook group, "Ultimate Ontario – A Community for Amazing Ontario Experiences."
And don't forget about our hugely popular Ultimate Ontario newsletter, bringing the best of Ontario right to your inbox.
Christopher Mitchell is the Cofounder of Ultimate Ontario. He's visited over 80 countries, and has lived on 4 continents, but now has his eyes set squarely on exploring this incredible province, and helping others do the same.