Our Ontario Farmers' Markets are a staple of what makes this province unique and special. We're focusing on 15 of the best farmers' markets in Ontario that we think you should add to your bucket-list!
---
In Ontario, we're downright blessed with the amount of farmers markets on offer – and each with their own unique offerings and way of doing things.
They're nothing new, but their popularity has only grown as Ontarians become more and more focused on sourcing their food locally. Of course, at Ultimate Ontario, that's something we adamantly support.
And really, why not?
We're certainly not the only place (or province for that matter) that is so keen on the idea of the farmer's market, but I do think that it's very much a part of our culture, and is really engrained in the experience of living in this province.
Whether you're based in a bigger city like Toronto, Kingston, or Ottawa, or happen to find yourself in a small town in Ontario, it's likely there's a farmers' market nearby, especially if it's spring, summer, or fall (though winter indoor farmers' markets are certainly increasingly in popularity, too).
This article is all about highlighting an Ontario farmers' market that you perhaps didn't have on your radar, and encouraging folks like yourself to go farmers' market hopping with the understanding that your favourite farmers' market in Ontario may just be one you haven't found yet.
So, What Are the Best Farmers' Markets in Ontario?
First and foremost, we want to mention that, if we could, we'd include every farmers' market in the province, but that wouldn't be a very helpful article.
So, we've focused on the Ontario farmers' markets that are particularly well known, or that we have an affinity for.
But, we fully acknowledge that there are some wonderful farmers' markets that may not be on this list, and very well could be. In fact, if you don't see your favourite farmers' market in Ontario on this list, then feel free to comment below, and then we can go and visit!
It should be mentioned that they're listed below in no particular order. They all equally deserve to be on the list.
Wellington Farmers' Market
The Wellington Farmers' Market opens up May 14th, and will run Saturdays from 8am-1pm, rain or shine.
This coming year, they've got a new location, and that's the Eddie Hotel and Farm in Prince Edward County. Their Instagram account is a good place to follow for any updates or announcements about their market, by the way.
In short, this is a community farmers' market that is located right in the heart of Prince Edward County, and where you can find everything from gourmet food to delicious treats to collectables and gifts.
As they note on their site, "The Wellington Farmers' Market of Prince Edward County gives local vendors and farmers a place to come together and celebrate good, hard, honest work – the work done by the hands of our neighbours.
Come join us at our Community Market and help us grow."
If you're looking to make a day of it, check out some of the top breweries in Prince Edward County after you've done some shopping!
Peterborough Farmers' Market
The Peterborough Farmers' Market is open year-round, and operate from 7am-1pm at Morrow Park.
They note that they want to "contribute to the sustainability of agriculture by enhancing access to fresh, local Ontario produce and goods, and by fostering a lively and diverse market that inspires relationships between farmers, entrepreneurs and the community," and that their vision is to "be a prospering year-round marketplace destination that educates consumers and connects them with a network of new and generational food growers and producers."
From May 1st – October 31st, they feature 100+ vendors at their outdoor market. From November 1st – April 30th, you'll find the market has moved indoors.
We really appreciate their "what's in season" section on their site, so you know what to be buying when.
After you visit the market, why not explore Peterborough? If you're somehow still hungry after visiting the market, you might also want to grab a bite to eat at one of Peterborough's great restaurants.
The Covent Garden Market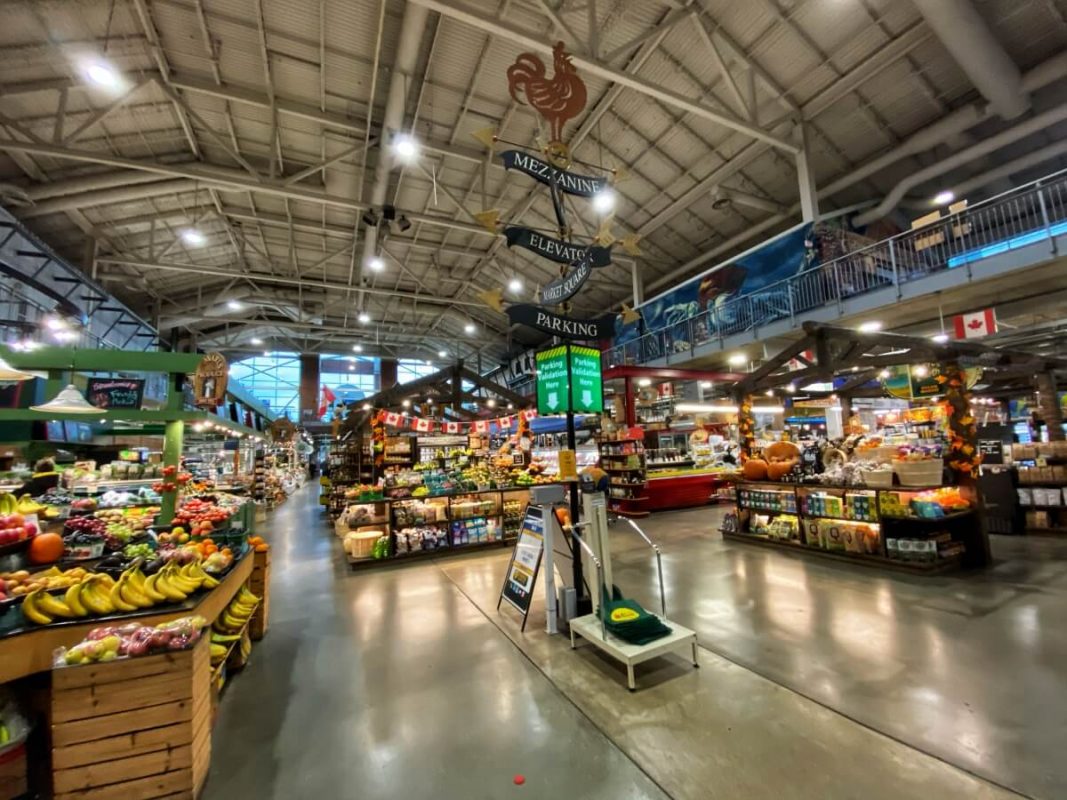 The Covent Garden Market is located in London, Ontario, and it's one of the most historic farmers' markets in Ontario since it was established all the way back in 1845.
It's a 6 day a week market that is located right in the heart of the city, and is a big part of what makes London, London.
So, the indoor market is rocking and rolling most of the time, but they also have a Saturday Farmers' Market that runs in February and March from 9am-1pm indoors on the Market Mezzanine, and outside on the Rotary Square from Easter on through to December (8am-1pm).
They note that their "Farmers' Market is a true Farmers' Market! This means that all of our vendors produce the products they sell at the market, and at least half of those vendors are farmers. We believe this allows for ultimate transparency!
Our farmers' market is a place to meet your farmers and meet your makers, and ask them all the burning questions you want answered."
Brampton Farmers' Market
The Brampton Farmers' Market, like so many other Ontario farmer's markets, operates on Saturdays, with hours from 8am-1pm. It runs from June 11th to October 8th.
The market is located in Gage Park, as well as Wellington Street West. The full list of vendors will be released closer to opening, but it should be a great collection of local businesses.
You might want to use a visit to this market as an excuse to visit Brampton. Not a lot of Ontarians think of Brampton from a tourist perspective, but there's actually a fair bit to do, especially if you're a fan of the outdoors.
Welland Farmers' Market
The Welland Farmers' Market is located at 70 Young Street, and their hours of operation are Saturday from 7am to noon. This market, then, is perfect for any early risers as they open about an hour before most other Ontario farmers' markets.
This is the largest farmers' market in the Niagara Region, and it's been running strong since 1907. It's one of the most famous in the province, without a doubt.
There's always a ton of good stuff here, but you can see their list of current vendors if you're keen to know who may be there before hand.
They note that they feel it's their mission to "provide a community marketplace that encourages patrons to support a 'Buy Local' philosophy, while allowing them to experience the rich tradition of the Welland Farmers' Market" and "to raise community awareness about the benefits of eating healthy, and the importance of supporting a sustainable agricultural community."
One phrase we saw from their end that we just love is the following – "some old-fashioned ideas never go out of style."
Indeed! Farmers' markets are as in vogue as they've ever been.
Sorauren Farmers' Market
The Sorauren Farmers' Market takes place in Sorauren Park in Toronto. For those unfamiliar with Toronto, it's located in the west end, not all that far from Roncesvalles and Little Portugal.
The market opens up for the outdoor season on May 23rd, and as far as we last heard, it will be running on Mondays from 3-7pm.
They note that the "Sorauren Farmers' Market is a non profit organization and a welcoming hub providing wholesome fresh food and community connection since 2008. We provide support to local sustainable farmers and producers and work opportunities for those marginalized from the labour market. Generating relationships and dialogue around gardening, sustainable farming and healthy food and implementing measures to lessen the Market's environmental impact are core aims."
Besides the Farmers' Market, in Sorauren Park you'll also find a dog walking park, community pizza oven, as well as children's sports programming. They also recently started doing some outdoor movie nights!
Ottawa Farmers' Market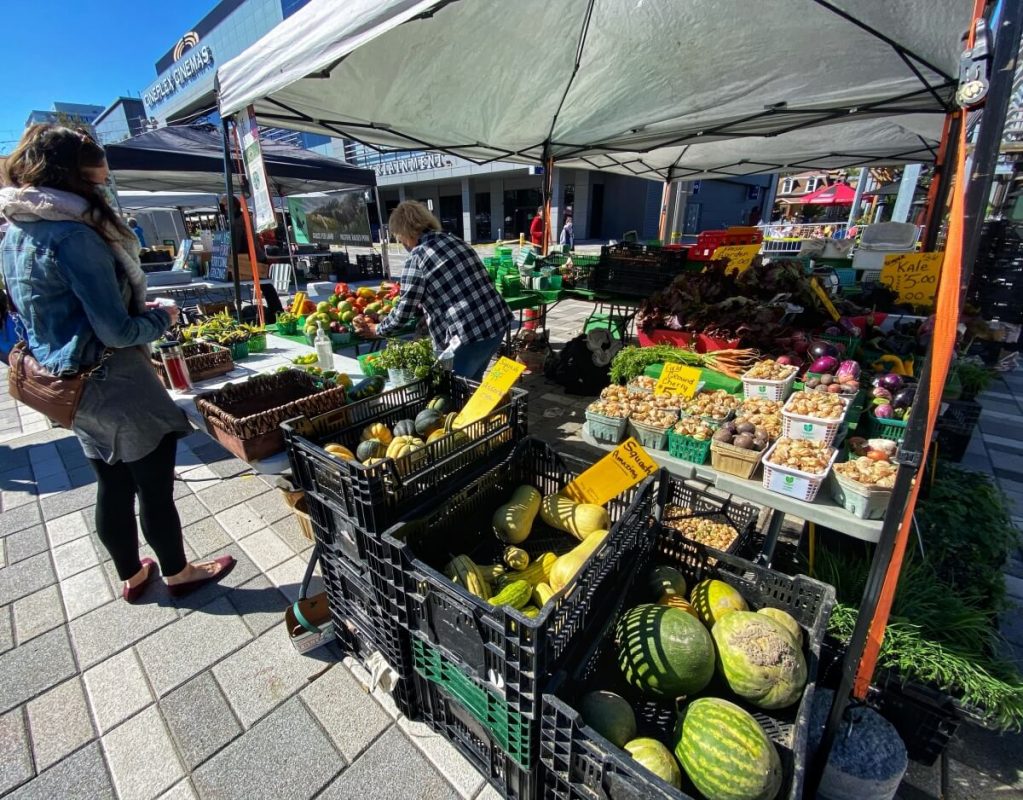 The Ottawa Farmers' Market is much more a collective of markets across the city than any one market. They also have markets that operate in the winter, as well as the summer.
The four main markets are the Landsdowne Market, Orleáns Market, Westboro Market, and Barrhaven Market. Most of these markets open up towards the end of May. If you want to learn more about each individual market, you can head to their website.
In sum, the Ottawa Farmers' Market is a producer-run organization that features over 150 vendors that are located within 100 kilometres of Ottawa.
We'd recommend starting with the Lansdowne Park Market since it's a fun atmosphere with ample vendors. These markets are well oiled machines done the right way, so you're not going to go wrong however you approach this.
The Mill Market
The Mill Market is also colloquially called the Mill Market Sault Ste. Marie, which should give you the indication that this market is located a little more north, up in Sault Ste. Marie!
The Mill Market is open Saturdays year-round from 9am-2pm.
They describe themselves well when noting that the "Mill Market Farmers' Market is conveniently located right off the Hub Trail, just steps away from the Ontario locks and the scenic St. Mary's River waterfront. Grown, raised or crafted by Northern Ontario's farmers, ranchers, fishermen, artists and artisans; Mill Market brings the best of our lakes, fields and forests to the heart of the historic Canal District in downtown Sault Ste. Marie.
From farm to table, Mill Market connects Northern Ontario farmers to local consumers strengthening the local food economy and nurturing healthy communities."
If you're still hungry after the market, feel free to check out our article on the best restaurants in Sault Ste. Marie!
Hamilton Farmers' Market
The Hamilton Farmers' Market is one of the most historic farmers' markets in Ontario, having been established all the way back in 1837.
This market is open year-round, and regardless of season, they tend to have at least 50 vendors at the ready for you to choose from. They're open Tuesday, Thursday, and Friday from 9am-4pm, and Saturday from 8am-4pm.
They note that you can "choose from local, national and international foods including produce, meat, fish, poultry, eggs, deli, baked goods, flowers, specialty foods, and artisan handmade products."
It's located in central Hamilton, right beside Jackson Square, and not far from the central branch of the Hamilton Public Library.
If you're already headed out that way to experience the market, you might want to check out some of the other amazing things to do in Hamilton afterwards.
Gravenhurst Farmers' Market
The Gravenhurst Farmers' Market is a little younger than some of the other markets that we've mentioned here, having only opened up shop in 1992, but it's since grown into an incredibly popular outing for Ontarians.
Their big sell is that you can come here to "savour the flavour of Muskoka." And apparently that sell is working, as apparently nearly 100,000 people come to check out this market annually.
This market is a little different than other farmers' markets in Ontario in that they only upon on June 1st. They run until late October from there, and are open from 9am to 2pm every Wednesday.
Their emphasis, and rightfully so, is on locally grown Muskoka farm products, so that they can support producers of the region. They do a nice job of featuring their vendors on their site, so feel free to check out who you might run into if you decide to visit!
St. Lawrence Market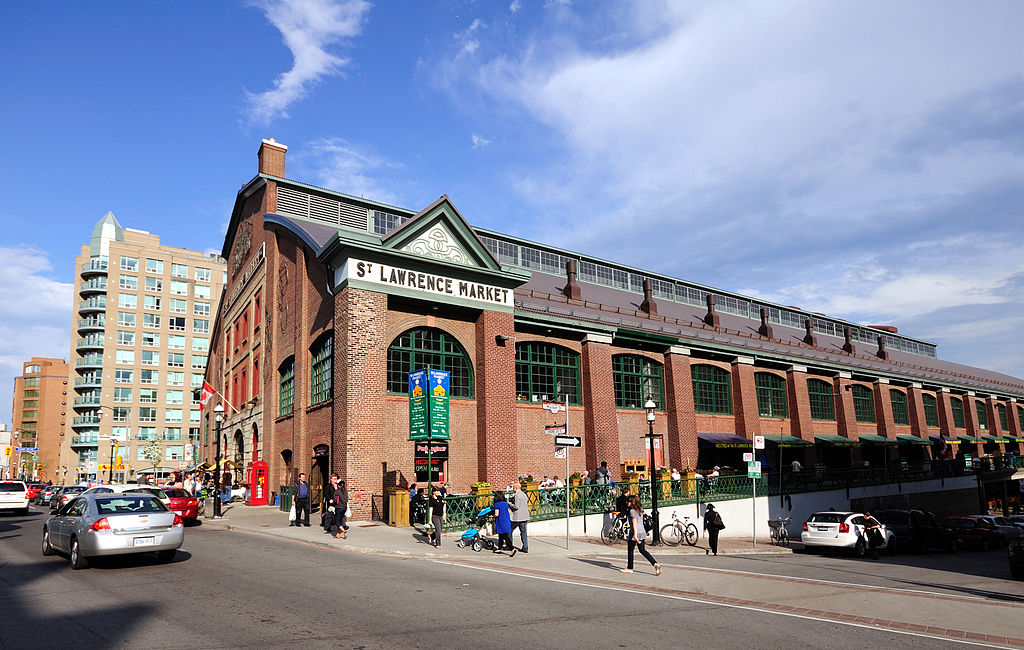 The St. Lawrence Market has been a staple in Toronto for over 200 years. That isn't one of our fun facts about Toronto, but perhaps we need to add it to the list!
The St. Lawrence Market encompasses a few different markets. The North Market is their Farmers' Market, but they also have the South Market as well as the Antiques Market.
The North Market is open Saturday from 5am to 3pm. The South Market is open Tuesday to Friday from 9am to 5pm, and Saturday from 5am to 4pm. Finally, the Antiques Market is open on Sundays from 5am to 5pm.
To give a bit more information in case that's confusing at all, the South Market is the big tourist draw. It features over 120 specialty vendors with everything from meat and vegetables, to grains and fresh baked goods. The North Market, as we alluded to above, is primarily known for its Saturday Farmers' Market. Basically, producers from Southern Ontario set up shop to sell their seasonal produce, which has been a tradition since 1803.
Then, on Sundays, around 80 antique dealers fill the North Market and surrounding area, and visitors come to peruse their offerings.
As they like to say, "the Market is a place where the authenticity of truly great food and shopkeepers who care reign above all else."
Kingston Public Market
Welcome to the oldest market in Ontario, which makes sense considering Kingston was Canada's first capital!
This market was established all the way back in 1801, believe it or not! It's located in the historic downtown core of the city, right behind the City Hall. The market is open Tuesday, Thursday, and Saturday, and runs April through November. The market hours are from 9am to 6pm, although they make a point of noting that some vendors may arrive earlier than that, or leave earlier.
Fun fact, it was actually in the Kingston Market Square that the proclamation of Confederation and the formation of the Dominion of Canada occurred.
They do a lovely job of describing themselves when noting that "the Kingston Public Market is full of vendors selling the highest quality local produce, prepared foods, garden plants and flowers, and handmade crafts.
On a typical market day in the summer you can find a huge variety of goods such as beautiful heirloom tomatoes that were left to ripen on the vine and just picked that morning, delicious homemade cinnamon buns still warm from the oven or a one-of-a-kind handmade jewelry pieces made with stones from the Kingston area. Whatever you came for, you will leave with a smile on your face and the feeling of satisfaction that comes from buying food and goods from the people who produce them."
We're sold. How about you?!
Byward Market's York Street Farmers' Market
The York Street Farmers' Market, located right by the Byward Market (Ottawa's top tourist attraction), runs down the north and south side of York Street. It will be opening back up on May 7th and then can be enjoyed on Saturdays from 9am-2pm.
Of course, indoor vending at the Byward Market is also open 7 days a week.
The Byward Market, in its modern form, was established shortly after Bytown was renamed Ottawa in 1855. It was immensely popular from the onset, which forced the city to buy four more plots of land for the market space. A large bell was purchased to mark the opening of the market, and you can still see that bell there today (and it's still run in the morning by locals and visitors).
The market that stands today can trace its direct roots back to the market that opened in 1876, and was designed by James Mather. in 1926, there was a fire that destroyed the building, but it was rebuilt, and now is over 100 years old.
It's one of the coolest markets in Ontario.
Guelph Farmers' Market
The Guelph Farmers' Market has been a cornerstone of that city for ages. In fact, since it opened its doors all the way back in 1827.
The market runs on Saturdays from 7am to noon, and is located at 2 Gordon Street, right in the heart of downtown Guelph. More specifically, head to the corner of Wilson and Gordon.
It's a place that you can find fresh fruit and vegetables, try special goods, sample local wine, beer and cider, and more.
They note that it's "one of Guelph's oldest and well-loved community spaces offers fresh local food, artisanal products and a friendly, welcoming atmosphere year round. Guelph Farmers' Market continues a tradition of pride and community building supporting the local economy, sustainability and entrepreneurship."
St. Jacobs Farmers' Market
The St. Jacobs Farmers' Market is a farmers' market and flea market that you'll find not far from St. Jacobs, Ontario. It's a massive draw from Ontarians, as well as tourists from around the world, largely because it is the largest year-round farmer's market in Canada!
You simply couldn't have a list of the best farmers' markets in Ontario without including the St. Jacobs Farmers' Market.
It was established back in 1975, and is open now, year-round, on Thursdays and Saturdays from 7am to 3:30pm. At its peak, this market draws about a million visitors annually, so it's a legitimate tourist draw for this province.
There are three main buildings with more than 250 vendors, so we'd recommend that you allot some extra time for your visit here. When Bri and I went, we dedicated a whole morning to exploring, and we weren't bored for a second. The international cuisine on offer here is also exceptional, as we had some great Mexican and Egyptian food for lunch before taking off.
If you can imagine it, it's probably here. There are ample indoor and outdoor vendors that have some unique and interesting products and produce on offer.
The St. Jacobs Farmers' Market is a must visit for Ontario travellers in our humble opinion.
So Many Ontario Farmers' Markets to Choose From
It can be a bit overwhelming when there are so many different options, but we'd recommend starting with a farmer's market that's near you, and getting to know your local vendors and businesses. Yes, of course you should use this list as well to guide you to some of the best in the province, but it also makes sense to start small, and support what's around you.
If you there isn't one mentioned above that's right in your neck of the woods, we want to give an honourable mention to a few more:
The Kitchener Market
Humber Bay Shores Farmers' Market (in Etobicoke)
Elora Farmers' Market
St. Catherines Farmers' Market
Goderich BIA Farmers' Market
Milton Farmers' Market
Woodstock Farmers' Market
Carp Farmers' Market (in Ottawa)
Cobourg Farmers' Market
Greater Napanee Hometown Market (in Napanee)
Cornwall Kinsmen Farmers' Market
Orangeville Farmers' Market
Merrickville Mid-Week Market
Cambridge Farmers' Market
If you're a fan of Ontario Farmers' markets and you don't see your favourite market on the list, then feel free to comment below and let us know. We want this list to be as helpful for our readership as possible.
We hope you use this list to do some exploring, and to interact with and support some deserving vendors along the way!
---
If you appreciated this article, you'll love our newsletter, as well as our Facebook group!
Feel free to join, all are welcome.
Christopher Mitchell is the Cofounder of Ultimate Ontario. He's visited over 80 countries, and has lived on 4 continents, but now has his eyes set squarely on exploring this incredible province, and helping others do the same.