These exciting things to do in Brampton will help you explore the third-largest city in "The Golden Horseshoe." There's a lot going on here, and Ontario travel writer Erin Robinson is sharing all her top tips and tricks for exploring this city.
---
The Peel Region is made up of three major suburbs – Brampton, Mississauga, and Caledon, all of which are part of the Greater Toronto Area.
Peel region is located just west of Toronto, about 30-45 minutes from downtown with no traffic. As the second-largest municipality in Ontario, the Region of Peel's population is growing quickly thanks to immigration and transportation accessibility.
Peel Region offers access to natural surroundings and outdoor adventures as well as many indoor activities to keep families of all ages engaged and having fun as they explore.
I am a self-proclaimed expert on the Region as I have lived for over 25 years in both Brampton and Mississauga!
About Brampton, Ontario
Situated under an hour west of Toronto, Brampton offers diverse restaurants, live theatre, outdoor attractions, and lots of entertainment options.
Brampton is one of the fastest-growing cities in Canada. The rich farming history of the city and notoriety as the "Flower City of Canada" highlight its large presence in agriculture and the greenhouse industry. Although Brampton is located in Canada its name originated from Brampton in Cumberland, England.
Brampton was a small village when it was founded back in 1853. It was anointed as a town in 1873 and finally graduated to the City of Brampton in 1974. Brampton currently has a population of over 600,000 residents and is known for its cultural and ethnic diversity as demographics show over 26 different languages are spoken by local residents.
Now Brampton isn't known for being a tourist spot like its neighbour Toronto, however, if you are looking for outdoor winter activities or fun summer staycations to keep families busy, then this broad list of attractions in Brampton offers it all!
Indigenous peoples have inhabited the Brampton area for thousands of years, and modern-day Brampton is situated on the traditional territory of the Huron-Wendat, Anishinaabeg, as well as Haudenosaunee.
Exciting Things To Do In Brampton
This comprehensive guide to the best things to do in Brampton is based on my own personal experiences within the city over the years, some I experienced as a child myself and some as a parent with my own kids.
Pick your favourite spots based on your interests and enjoy exploring everything that Brampton has to offer. You'll soon learn why so many people have decided to call it home! I hope that you can use this guide to plan your visit to the best Brampton things to do – including local parks, museums, and attractions.
Check Out These Brampton's Museums
PAMA Museum Archives (9 Wellington St E, Brampton)
Peel Art Gallery and Museum Archives is located in the old Peel County Courthouse and Jail which makes up the historic Peel Heritage Complex. The Museum is home to over 12,000 historical artifacts that were important in the history of Peel Region dating back as old as the 1800s.
The museum collection shows the development of Peel as a region and the innovation and development of the community through time and features everyday objects including agricultural tools, clothing, and furniture.
If you're visiting with kids make sure to check out the full sensory experience and activities in Manning Square.
The art gallery is currently featuring a brand new exhibit opening in February 2022, called "Power Play: Hockey in Contemporary Art". It focuses on the idea that hockey is stereotyped to be part of the Canadian identity.
The exhibit features 45 works of art from 13 artists looking at the relationship between the Canadian Identity and hockey through a collection of objects and art including some borrowed from the Hockey Hall of Fame.
The PAMA is currently closed while undergoing renovations but is scheduled to have a limited re-opening in April 2022 and a full re-opening with new exhibits in winter 2022.
Great War Flying Museum (13961 McLaughlin Rd, Brampton, ON)
Open May through to September every year, the Great War Flying Museum is home to the Brampton Flying Club and also is a museum to honour those who flew through the Great War of 1914-1918.
The hangar building that is used as a museum contains aircraft and structures to replicate those used in airfield flights in the First World War. So if you are a history buff and enjoy learning more about military life in World War I then you will enjoy the collection of flags, uniforms, photographs, and even 5 replica planes.
While you're visiting you may also want to stop for a bite to eat at Wings Flight Grille for breakfast or lunch. It is a unique experience to eat while watching small craft land and take off right outside the window.
Take A Stroll Through Historic Downtown Brampton
Take a walk through Brampton's downtown core and enjoy the Farmer's market that runs from June until October, local restaurants, small local shops, or even a visit to Gage Park.
The historical heart of Brampton is the intersection of Queen and Main Street known as "Four Corners." The centrepiece of Brampton's downtown core is now Garden Square. This hub of activity is located at the Four Corners and offers a community outdoor space often used for free entertainment and local festivals including the Brampton Christmas Market.
Downtown Brampton is home to many heritage buildings and historic architecture that allows you to explore the city's history and to understand how Brampton got the nickname of the "Flower City of Canada."
If you're interested in more information, check out the "Downtown Heritage Walking Tour." There are 42 stops along the heritage tour including churches, armoury, rail stations, old factories, and much more to truly understand Brampton's past.
Downtown Brampton and The Brampton Business Association (BIA) host many local events downtown including an annual culinary event called "The Taste of Brampton" that features discounted food offerings and runs yearly in March and October. Personally, some of my favourite local spots to grab a treat include Dolcezza, Das Bretzle Haus, Macronz, and Segovia Coffee.
Spend Some Time at Chinguacousy Park
Chinguacousy Park, known by locals as "Ching Park," is the largest urban park in Brampton.
It's over 100 acres in size and offers a full day of entertainment to families year-round. Chinguacousy Park has a variety of amenities including multiple playgrounds, a splash pad and wading pool in the summer, a skate park, a petting zoo, and even a tropical garden to explore.
When the weather turns cold, the park transforms into a winter wonderland, offering skating on a canal-shaped ice surface, as well as skiing and snowboarding, as well as tubing at Mount Chinguacousy.
Stroll Through Gage Park
Gage Park is Brampton's oldest park. This popular destination in the downtown core offers recreation opportunities all year-round. This includes outdoor skating and light displays in the winter or visit in the summer and enjoy the brand new splash pad and playground that features accessible play structures, and a walking path for rollerblading or jogging.
Gage Park is also home to many festivals and celebrations including Rib Fest, the Saturday Farmers' Market, and New Years Eve Celebrations.
Take a Deep Breath at the Heartlake Conservation Area
Escape from city life at Heartlake Conservation area, as the beautiful scenery and forest setting offers a tranquil space to escape for the day and enjoy outdoor activities.
The park offers multiple hiking trails, picnic spots, fishing, playgrounds, and even a fitness circuit. It's also a popular destination for mountain bikers with a number of exciting trails.
In the summer, the Heart Lake Conservation Area offers a splash pad and one of my favourite pools, as it is a beach-style sloped entry that is excellent for little kids. If you want to truly embrace the nature of the park then you can get into the trees, and zipline over the lake with Brampton Treetop Trekking.
Appreciate the Brampton Public Art Displays
Enjoy some local Public art, as in 2021 the City of Brampton Cultural Department created a public art display using vacant storefronts in the downtown core.
Keep your eyes out for the piece Main Street titled "Beyond the Plate," which celebrates the vibrant variety of cuisines found in Brampton.
Some of my other favourites in Downtown Brampton include the "Urban Bouquet" located at 20 George Street North, or "Cycling Through Time" on Vivian Lane.
Pop Into the Rose Theatre
If you are looking for entertainment, then check the schedule for the Rose Theatre before your visit.
The Rose Theatre is an iconic feature that offers guests the opportunity to watch world-class concerts, bands, and performing arts in the art of Downtown Brampton. The Rose Theatres performance options match the mosaic of Brampton's local residents, offering a variety of world-class entertainment.
Visit the Brampton Beach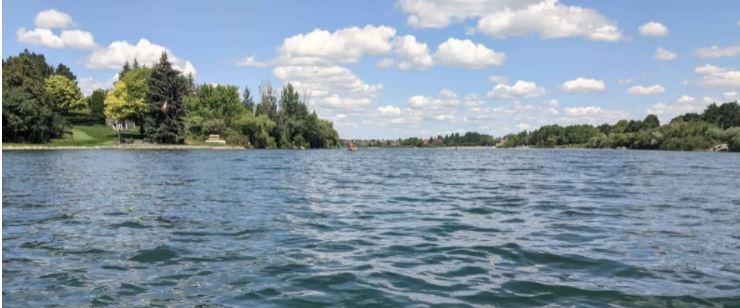 Enjoy a day at the beach within the city limits as Brampton is home to Professor's Lake.
This exciting urban park offers residents and visitors the chance to try out non-motorized water sports including kayaks, canoes, stand-up paddleboards. There are rentals on-site for those who don't have their own.
You can enjoy some sandcastle building, swimming, fishing, and volleyball right on the beach.
If you're not ready to get into the water then enjoy the walking trail that surrounds the lake and offers a leisurely stroll through beautiful nature trails.
Set Off on the Etobicoke Creek Trail
Brampton is home to the 20km-long Etobicoke Creek Trail.
It offers a comfortable paved surface for strollers, rollerblading, biking, or just simply walking your dog. The trail is mostly shaded and has several bridges and underpasses that you will cross as you wind your way through Brampton along the creek.
The Etobicoke Creek was integral to the growth and development of Brampton, as the slow creek could never sustain milling operations in the past so instead, Brampton grew more as a settlement rather than a location for industry.
The trail begins downtown Brampton and travels near many of the other activities I have suggested above. You can find a map here.
And Those Are the Best Things to Do in Brampton!
Brampton is a unique place to take a day trip with the family! You will find a variety of things to do in Brampton and throughout Peel Region, no matter the season. With outdoor adventures, historic landmarks, local museums, and water activities – there is something for everyone to enjoy in Brampton. We hope this guide helps you identify the Best Places in Brampton to visit.
Erin didn't let motherhood slow her down, and since becoming a mom has focused on exploring local activities in Brampton, Mississauga, and Southwest Ontario with her two young kids and sharing those adventures at The Exploring Family with her blog partner Katie. The Exploring Family is a go-to resource for families in Peel and Halton Region looking for fun and accessible activities, local events, playgrounds, and much more!