If you're looking to head to Waterloo and to sip on a beer or two, then this list of Waterloo breweries should serve you well in your quest!
---
One of our favourite things to do as a publication is to head to a region and visit its respective breweries in what can only be described as the best fact finding mission around.
Behind every beer that's made is a story. The story of an owner who took a chance to start something new, or a brewmaster who wants to do something a little different, or perhaps a community who realized that visiting an Ontario brewery offers a certain warmth and intimacy that you won't find in the rather impersonal, often overwhelming beer section of the LCBO.
In the case of breweries in Waterloo Region, there's an especially large feather in their cap that we can point to. Namely, that Waterloo Brewing can trace its roots all the way back to 1984, which makes them Ontario's first craft brewer. You can quite easily argue that they paved the way for many of the Ontario breweries that we've come to know and love since.
However, we're not writing about Waterloo's breweries from a past perspective, we're writing about them in the present, because, ultimately, we want you to be able to use this article to do your own little brewery crawl in Waterloo. As always, we just throw in that little reminder that if you're visiting many breweries in one day, you should have a designated driver on hand, plans to take public transportation, or utilize a taxi or ride sharing app.
Which Breweries in Waterloo Region Should be on Your Radar?
There's not necessarily a right or wrong choice to how you visit the breweries listed below, or what you order when you arrive there. So much of beer tasting in general is about preference. That being said, we'll aim to give an overview of each Waterloo brewery below, and point out which of their beers you might want to try when you visit or grab some to go.
Block Three Brewing Company
You'll find this lovely little microbrewery in the village of St. Jacobs, which readers might know is a very quaint and picturesque place. It's going to be well worth your time to walk up and down the main strip, but before or after you do that, you ought to treat yourself to a quality beer.
We had the chance to speak with Graham Spence, one of the founders of Block Three, when we visited, and the first thing he mentioned to us was that Block Three was "a community brewery." That became readily apparent when you noticed all the pottery mugs that adorned the walls of Block Three for their regulars.
Block Three is not scared at all to be adventurous, so they tackle styles and utilize some brewing processes that you may not see everywhere else in the Ontario brewery scene. For starters, they make an excellent Helles. Helles, for those who don't know, is a traditional pale German lager that you can find in many a Munich beer hall. Their Hollinger Helles is top-notch, especially if you're looking for something refreshing on a warmer day.
If you want something more classic to add to your flight, look towards the Mo Money Mo Problems Mosaic. It's a flavourful and refreshing single hop American IPA that fans of mosaic hops are going to adore.
The atmosphere here is also to be appreciated. They've got a front patio, a nice area indoors by the bar, and a side-patio; plus the whole design aesthetic of the front of the building itself is definitely to be appreciated.
Before taking off, we asked Graham what he felt was Block Three's calling card. Without hesitation he said, "I think we make really good beer. Plus, it's a hangout spot, you can come here to try different style beers and relax."
Counterpoint Brewing Co.
Counterpoint is an Ontario fan favourite hailing from Kitchener. It was started almost a decade ago now by Rich Hrytzak, a local musician, and Graeme Kobayashi, a local entrepreneur. As it says on their site, "recognizing a shared passion in each other, the two decided to brew together and the result laid the foundation for Counterpoint Brewing Company. Inspired and impressed by one-another, they looked to share the deliciousness they had made with everyone…their brewery is a place where melodies come together to create harmony."
But, of course, you can't sip on their beautiful story, so what can you sip on when you arrive?
Their beer is beloved. If you look online, the reviews are borderline sensational, and kudos to Counterpoint's hard work, because the recognition is well deserved.
In our eyes, you're fine to chase whatever beer style you prefer, but we find they make especially good stouts and porters. Their Black Cello, for example, is a coffee stout that's brewed with Brazilian coffee beans that are roasted locally at Contrabean Roasting Company. It's a fan favourite. We'd also recommend their Song Circle; a porter that was aged on toasted oak, a process that certainly adds a unique dimension to the beer.
Pop by, or order online. They offer free delivery to most of Southwestern Ontario.
Four Fathers Brewing Company
One day, four hockey dads were watching their four sons play some puck, and they had an idea. Four Fathers Brewing Company, located in Cambridge, was born. As they note on their site, "Artist, entrepreneur, corporate exec and maverick, they gathered around a shared love of the hand crafted and authentic, and a vision of producing high quality craft beers that could combine artistry and accessibility."
One thing we need to mention here beyond just this feel good story up above is that 4 Fathers really is about "standing 4 something." They regularly support local and regional initiatives, and they're deeply connected to the surrounding community.
Beyond all that, they also happen to make some mighty fine craft beer. There's a nice interplay between a baseline of tradition and quality, and experimentation and creativity. Our personal favourite was the It Takes a Village lager. It's a very clean, crisp lager that's balanced in a way that we think most beer drinkers could connect with it.
Whether it'll be on the taps when you arrive is another question altogether, but if it's a nice warm day and they have the Lime Light Lager on tap, you don't want to miss your chance to taste that. Fresh lime, no doubt about that. The Mermicorn, what's known as a "Brett Beer," is also quite tasty and a little something different. It's just the right amount of fruity and funky.
Honestly though, we're sure most of what they brew is a delight. Their food is also pretty tasty if you're hankering for a bite.
Foundry Brewing
Located in Cambridge, Foundry was a brewery that was really starting to get its wings underneath it when the pandemic struck. Everything was going smoothly, until it wasn't. Yet, our conversation with Geoff Wiseman, the head brewmaster there, gave us the sense that nothing was going to get in the way of their collective vision.
Foundry Brewing is more of a complex than just a brewery itself. We were able to take a seat on their pop-up patio, but their Instagram account seems to suggest they've closed that now while they build what they're calling "The Foundry Tavern." We also know they've got an event space functioning and a whole lot more as well.
All that aside, they make really damn good beer, and they also make some mean hardwater (aka seltzer).
Geoff took the time to walk us through some of his beers, and his passion was downright infectious. He's the kind of guy you feel like you shouldn't bet against, because, somehow, someway, he's going to ensure things come up aces.
In the realm of beer tasting, it's the lager that is typically going to tell you the most about the brewing process (much more so than a fruit laden IPA, for example), so that's where we started at Foundry. The Foundry Lager passed with flying colours. It's a lager that's nice and smooth, and you can tell is made with quality and care.
The notes of banana and clove that come through in their Beautiful Aurelia (a hefeweizen named after Geoff's wife) were also impressive to say the least. It was both balanced and bold.
We're excited to see what the future holds for this brewery, and would urge folks in Waterloo Region and Ontario at large to keep an eye on what they're up to. You can learn more about their Flight School (3 months of boxes containing beer and other goodies), and their Beer Club (a mix pack 24 that's delivered) on their website.
Waterloo Brewing
You'll find Waterloo Brewing right across from Bingemans in Kitchener.
In the world of Ontario breweries, a little respect has to be paid to Waterloo Brewing, which, as we mentioned above, has the important designation of Ontario's first craft brewery and can trade their history all the way back to the mid-1980s. When we arrived at the Taphouse, it was easy to see that Waterloo Brewing served an important role as a community hub. People were coming in and out of the beer store, and the restaurant was as busy as can be.
Along with trying a flight or two, we also couldn't resist getting a bite to eat here. If you're looking for a different kind of appetizer, get the Dill Pickle Antojitos, which is a flour tortilla stuffed with with cream cheese, dill pickles, cheddar cheese and fresh dill, and it's all served with a Sriracha sour cream. Yes, it's as good as it sounds. We'd also throw a vote behind the Brisket Tacos. With that meal choice, you're getting house smoked brisket that's cooked to perfection.
As far as the beer goes, our favourite that we sipped on would probably be the Waterloo IPA, a classic Canadian IPA that's quite hop forward, with just a touch of bitterness on the tail end of the sip.
Generally speaking, the brewery that is named after the region at large is a good bet to visit. If you're on a bit of brewery crawl in Waterloo Region, then this is the spot where it's going to make sense to take a bit of an extended lunch break. If the weather is on the warmer side, then we'd recommend doing that on their patio!
Descendants Beer & Beverage Co.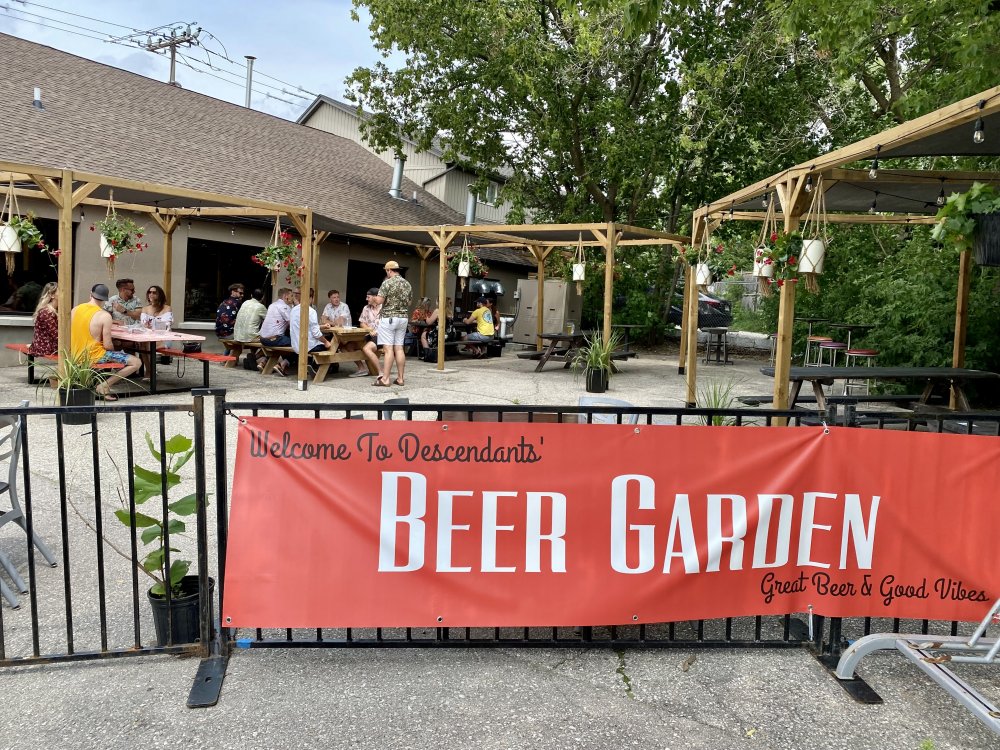 When we arrived at Descendants, we headed straight for the back patio, and apparently we weren't the only one with that bright idea. There was a hum of positive energy as people put back a beer or two and enjoyed the music out there. It was, in truth, nice to feel a part of something after what the recent past has held for us.
Descendants is the brainchild of Robin Molloy, an Irish transplant who arrived in Kitchener in 1990, but moved to Berlin to become a certified brewmaster in 2012. In 2016, he opened the doors to Descendants, and the rest is history. On their site, Descendants talks about their beers as if they were characters, with each beer playing a role in the greater story of the brewery.
They try to do some interesting things with their beer, and add their own flare to it. Not all their beers suited our pallet, but we respected their efforts to be a bit different. We particularly liked their Victoria Park, which is the hefeweizen they've got on tap, so perhaps you can start there, then fill out the rest of your flight based on preference.
Realistically, we'd be fine with just about any beer if it means getting to enjoy that little back patio area; a space that feels nice and removed from the rest of the city.
Abe Erb Brewing Company
Abe Erb actually has brewpubs in Uptown Waterloo, Downtown Kitchener, and the Village of Ayr. We ended up at the Kitchener location, which was a great place to grab a beer and bite. When you first walk in, they've got this neat little signage connected to the ceiling that says, simply, "Blood, Sweat, Beers."
"Food" may not be labeled on the ceiling, but they have a solid upscale pub menu. The Fried Chicken & Waffles are a fan favourite, but you're not going to go wrong with any of their burgers or handhelds either.
What's on tap will depend on the location, but they'll usually have 4-6 beers on tap for your visit. The beer that I wouldn't leave without sipping on is the Transatlantic Pale Ale. It's juicy, with ample fruit coming through on each taste, and utterly delicious. That's a style that can be rather overdone in this day and age, but they absolutely nailed it.
Their Buggywhip American IPA is also decidedly crushable. Heavy citrus notes come in on the backend, but it finishes sweet, not sour. The bitterness is perfectly balanced as well.
If we're only choosing two from Abe Erb, it'd be those, but you wouldn't go wrong with their very easy drinking Abe Light American Light Lager either if push came to shove.
What Other Waterloo Breweries Should be on Your Radar?
Firstly, we should note that the list below isn't by any means a list that "didn't make the cut." We just simply haven't had the chance to visit yet, so we can't write about them in-depth. That being said, we're big on research here at Ultimate Ontario, and we wouldn't be doing our job if we didn't mention these other breweries in Waterloo Region that are clearly beloved by the surrounding area and community.
Stockyards Brewing (Kitchener, Ontario): Stockyards deserves a mention because their core series is quite literally inspired by the history and people of Waterloo Region. They've got names like "St.Jacobs," "Belmont Village," and the "Iron Horse Trail." Brett Croft, their brewmaster, is a second generation beer baron who likes to say that "he pretty much grew up in a brewery. Make time to try his brews the next time you're in Kitchener!
Bitte Schön Brauhaus (New Hamburg, Ontario): They opened their doors back in 2016, and since then have been a proud member of the Waterloo brewing community. You'll find New Hamburg just about 20 kilometres from Kitchener-Waterloo, which should make it an easy stop on your Waterloo brewery adventure.
Short Finger Brewing Co. (Kitchener, Ontario): The reviews of this spot are off-the-charts. As far as we can gather, they're not only a brewery, but also a small, independently owned homebrew supply store that is aiding Waterloo Region in their beer brewing dreams. We can't wait to get the chance to stop by!
As you can see, Waterloo Region has a wealth of breweries that all have a different story, and a different approach to beer. That is, after all, what makes visiting breweries across an entire region so enjoyable. You can see some similarities (perhaps in their use of local hops and other ingredients), but you can also notice how each brewery aims to set themselves apart. Furthermore, there's no right or wrong answer when it comes to breweries.
Your favourite may be our least favourite, and vice versa. That too is part of the fun. In the end, we hope this article serves as an impetus for you to explore and support these great local Ontario breweries and businesses. May your beers be cold, your smiles be wide, and your the conversations be fruitful.
Cheers!
---
We want to humbly thank Waterloo Region for hosting us as media. All opinions are completely our own.
If you appreciated this article, you'll love our newsletter, as well as our Facebook group! Feel free to join, all are welcome.
Christopher Mitchell is the Cofounder of Ultimate Ontario. He's visited over 80 countries, and has lived on 4 continents, but now has his eyes set squarely on exploring this incredible province, and helping others do the same.