Especially historic places sometimes call for a walking tour to get the full story! We took the brand new St. Jacobs Walking Tour from Stroll Walking Tours, and write below about both the village of St. Jacobs, and key details about the tour.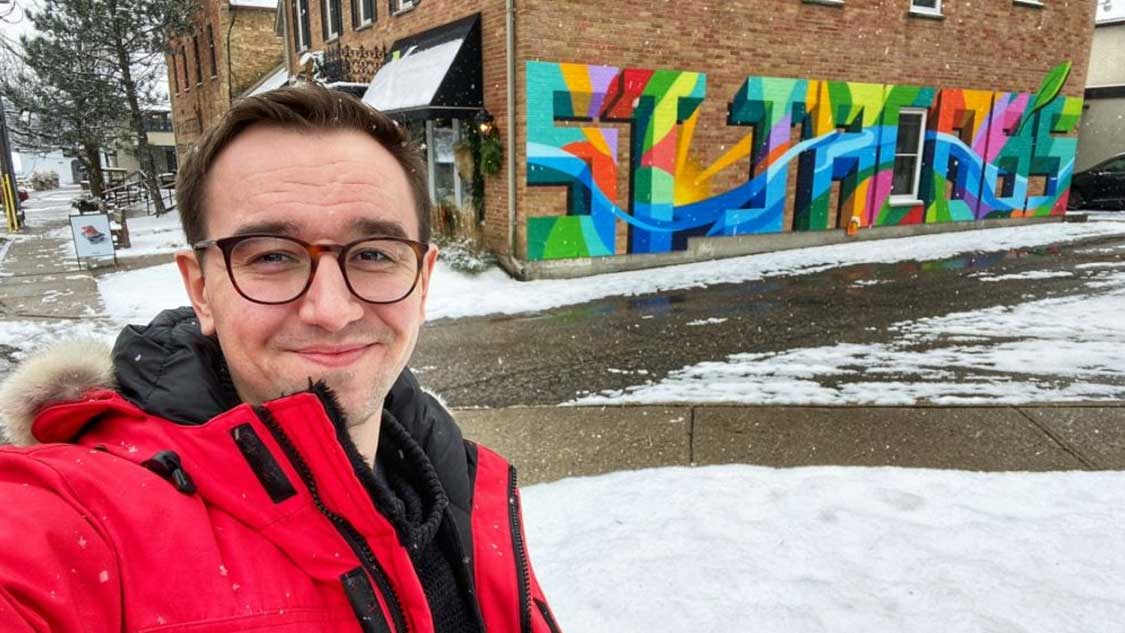 ---
When I first discovered St. Jacobs, Ontario, I was immediately struck by how utterly quaint and charming it was. Quite honestly, I remember thinking to myself, "this place has been an hour or so away from me all this time, and I never knew?!"
When you arrive in the village of St. Jacobs, you're also aware that there's a history here that's worth diving further into. St. Jacobs has done a marvellous job of preserving and pointing to its storied past, while keeping its eyes firmly on what this place can be in the present and future (through breweries, restaurants, shops and more).
After a couple of visits, I made the decision that I wanted to get better acquainted with that aforementioned history so that I truly had the context I needed to properly understand just what it was that made this place so special. When I got word that Stroll Walking Tours had launched a brand new St. Jacobs Walking Tour, I felt it was the perfect opportunity to do just that.
Longtime readers may remember that Bri and I actually did their Mural Arts and Outdoor Gallery Tour of downtown Kitchener this past summer as well, so I'm happy to say that I already had gotten to know the founder, Juanita Metzger, before this tour. As longtime readers will also know, at Ultimate Ontario, we're all about supporting Ontario small businesses, especially something such as walking tours which encourage Ontarians to get out and explore, and to better understand (and support) communities across this province.
Stroll focuses on the hyperlocal, and we love that.
What to Know About St. Jacobs, Ontario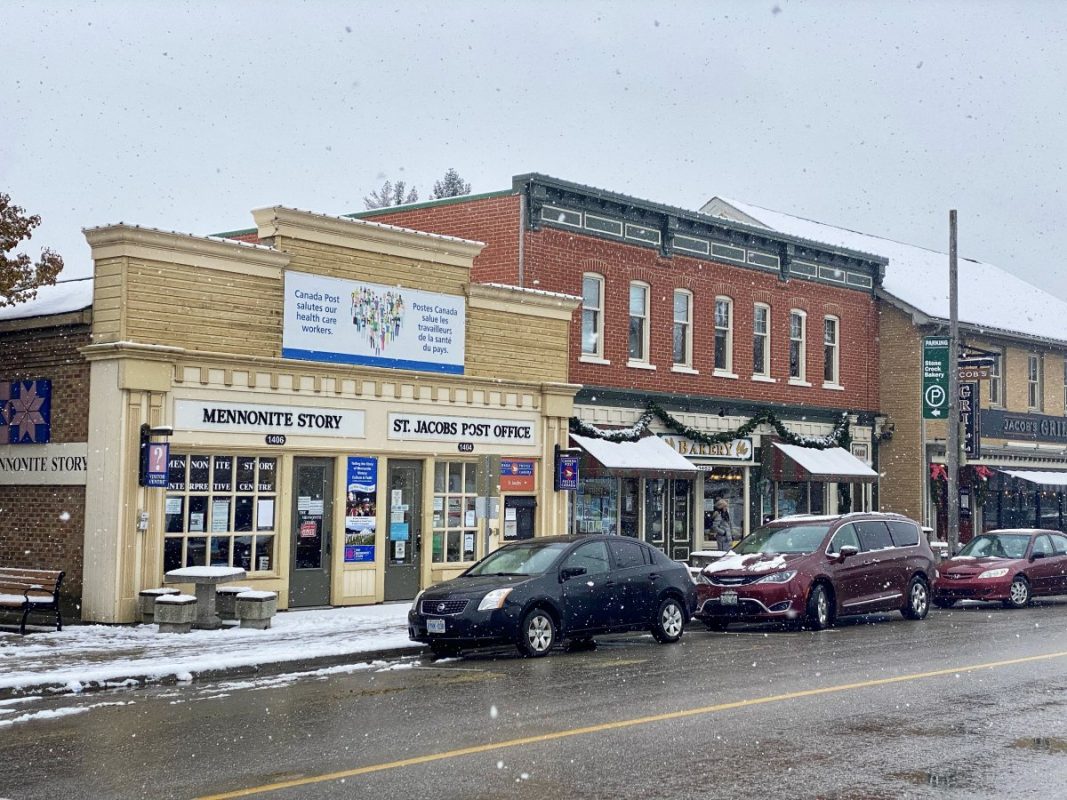 St. Jacobs is located in Waterloo Region, not far from the city of Waterloo. It's probably best known for its rich Mennonite history, exemplified by the fact that you'll find a little museum/interpretive centre called "The Mennonite Story," right on the heart of King Street. At this time, it's only open from 1-5pm on Saturdays, but I'm told they're aiming to be open more in the near future.
Of course, that story exists in more than just a museum. The surrounding area is home to the largest population of Old Order Mennonites in Canada, so you certainly shouldn't be surprised to see a horse and buggy or two on your visit. Do remember to be respectful in such a situation, and don't immediately grab for a camera to take a photograph. It's worth remembering that it is us who are ultimately visiting their community.
The villages original mills (built around the 1850s) were powered by the Conestogo River which, of course, still runs right through the town. It's gorgeous in all seasons it seems, but especially so in the winter and the fall.
Our tour started roughly 200 years ago, when the village began to be settled and slowly take formation, and followed that history all the way up to the present day.
The St. Jacobs Walking Tour
The walking tour is, as they note on their website, all about providing a closer look at a "small village that blends the modern and traditional but always stays connected to its roots."
One thing that's clear is that this tour aims to bring the history of the village to life through specific, local stories and tales that enable you to empathize and identify with that history. Of course, we learned about when and where St. Jacobs got its name, and fun facts such as St. Jacobs being the first small village in Ontario to get hydro electrical power and so forth. Naturally, someone like myself loves those sorts of facts.
However, it was stories such as how someone from Sierra Leone became the schoolteacher in the late 1800s, and how the postal worker delivered mail for decades via horse, and how Home Hardware connects to St. Jacobs – it was those stories that humanized the town for me, while also reminding me that the history of St. Jacobs is multifaceted and multidimensional, and there are a number of narratives that we can explore.
A Few Key Details About the Tour
The tour tends to run around 75 minutes. It can run a little longer as well. I believe our tour ended up being an hour and a half in all. It total, it covers a little over 1 kilometre in distance. The route is accessible for those with scooters and wheelchairs.

The price is $25 per person. Tickets need to be purchased in advance.

Typically, the tour runs Thursday at 2:30pm, and Sunday at 11:30am. A maximum of 20 people can come on each walk. These hours apply mostly to the warmer months, so do check availability. In the winter months, you can still book a private tour as long as you have a minimum of 4 people. You can contact Stroll for more information here.

The walk begins and ends at the parkette beside The Mennonite Story. As Juanita likes to say, "it runs rain, sunshine or snow!"

Individuals should bring a mask or face covering with them due to some of the narrow sidewalks.
St. Jacobs Today
Let's be clear – St. Jacobs is far from a some sort of historical relic. There's a ton to do here, and so much going on. I honestly can't think of another town of roughly 2000 people in Ontario that offers this much to its visitors.
I'd encourage you to take your time and walk up and down King Street, popping into the places that catch your eye. Personally, as a lover of good breweries, I think you'd be remiss not to stop into Block 3 Brewing Co. I'm a particularly big fan of their "Mo Money Mo Problems Mosaic," as well as their "Hollinger Helles." Feel free to ask Juanita why this spot is called "Block 3," and what "Hollinger" refers to! I'm also keen to try the Village Biergarten, as I've heard great things, but haven't had the chance to visit just yet. If you've been, feel free to comment below and let us know how it was!
To fuel your wandering before or after your tour, you'll also want to get a cup of something at EcoCafe. Besides having excellent coffee and tea, they also make mean muffins and scones.
Again though, this is very much choose-your-own-adventure. Your heart might be won by Hamel Brooms, ToySoup or anything in between. Give yourself time to wander and explore before or after your tour, that's my main advice. You may even want to sit down for a meal at the Stone Crock Restaurant.
Events in St. Jacobs
There may be something going on in St. Jacobs when you're visiting, so it's worth taking a peek at their events page.
In the late fall and early winter, they're well known for St. Jacobs Sparkles, which features an array of sparkling lights, a visiting santa, carolling, horse-drawn trolley tours and more. If you've missed it this year, that's no problem, as it's a yearly event for them.
I do know they're busy planning other events and activities, so it's worth bookmarking that page if you're keen to track that. You can also very easily follow them on social media at @stjacobsvillage.
Come Tour St. Jacobs, Ontario!
There isn't another place quite like the Village of St.Jacobs in Ontario, and we need to celebrate places like this in our province as far as I'm concerned. I've tried to note, through my eyes, what makes this spot worth visiting, but I also feel it's a village and area where you're going to have the opportunity to build your own connection to it.
Of course, you can also build this into an Ontario weekend getaway, and visit the nearby St. Jacobs Market, perhaps a few other breweries in Waterloo Region, or anything in between. If you're anything like me, once you arrive, you'll know that this is a spot that you'll return to again and again and, if that's the case, I'd encourage you to do a walking tour so you can fully grasp this past, present, and future of St. Jacobs!
---
We want to humbly thank the Village of St.Jacobs for hosting us as media. All opinions are completely our own.
If you appreciated this article, you'll love our newsletter, as well as our Facebook group! Feel free to join, all are welcome.
Christopher Mitchell is the Cofounder of Ultimate Ontario. He's visited over 80 countries, and has lived on 4 continents, but now has his eyes set squarely on exploring this incredible province, and helping others do the same.