Peterborough & the Kawarthas is overflowing with ways to get in touch with your creative side this fall. Below, we take you to the best art galleries in Peterborough, studio tours, and art classes that you can enjoy on your next fall visit to the region.
As we shift into the cooler months of fall, this is the perfect time of year to dive a little more deeply into appreciating art in local communities. Peterborough & the Kawarthas is an excellent place to start when it comes to tapping into your creative side this fall.
While you're discovering so many amazing things to do in Peterborough & the Kawarthas, delicious restaurants to dine at in Peterborough, and ways to enjoy the outdoors in the autumn on a fall picnic road trip through the region, why not carve out some time to discover the beautiful creations of local artists in this part of Ontario, too?
There are so many great ways to lean into appreciating art in the region this fall, so let's get into it!
Head to the Art Gallery of Peterborough
The Art Gallery of Peterborough is an excellent place to begin any art-focused tour of Peterborough & the Kawarthas. Not only is it situated on the beautiful shores of Little Lake, but it's a completely free museum to visit.
The gallery is committed to showcasing work from a diverse array of artists, with a special focus on art created by artists in and around the region. They are also responsible for a lot of local initiatives, like selecting, training and sponsoring artists from local high schools, and bringing in pieces created by local community members.
The Art Gallery of Peterborough is also the first stop on the Kawartha Autumn Studio Tour, and showcases pieces from the artists on this tour throughout the fall months. The gallery will be celebrating its 50th anniversary in 2024, so stay tuned for much to celebrate next year!
Support Local Artists and Find Inspiration on an Autumn Studio Tour
Peterborough & the Kawarthas is home to so many local and talented artists, and it's no surprise why. With the inspiring surroundings of countless lakes, rivers, forests and rocky terrain, inspiration flows from every corner of this region. The autumn studio tours are an excellent way to meet and learn from artists all across the region.
The first tour is the Apsley Autumn Studio Tour. It's running on September 16 and 17, 2023, from 10am to 5pm each day. This community-run studio tour has been operating for 30 years, and features a diverse range of artists and artistic forms.
The local artists who are on this year's Apsley Autumn Studio Tour span in age from 18 years old to 90. The tour is an excellent way to learn from local artists and visit their inspiring studios. Each stop on the tour features the work of a few different artists, specializing in methods like wood burning, painting, glassblowing, ceramics, mosaics, sculpture, tapestry, textile art and metal work.
Plan to see artist demonstrations, find opportunities to purchase local artists' work, and make connections with people who care very deeply for community through a tour like this. You can find the complete map linked here to visit all the studios throughout the region, or download the 2023 tour app here.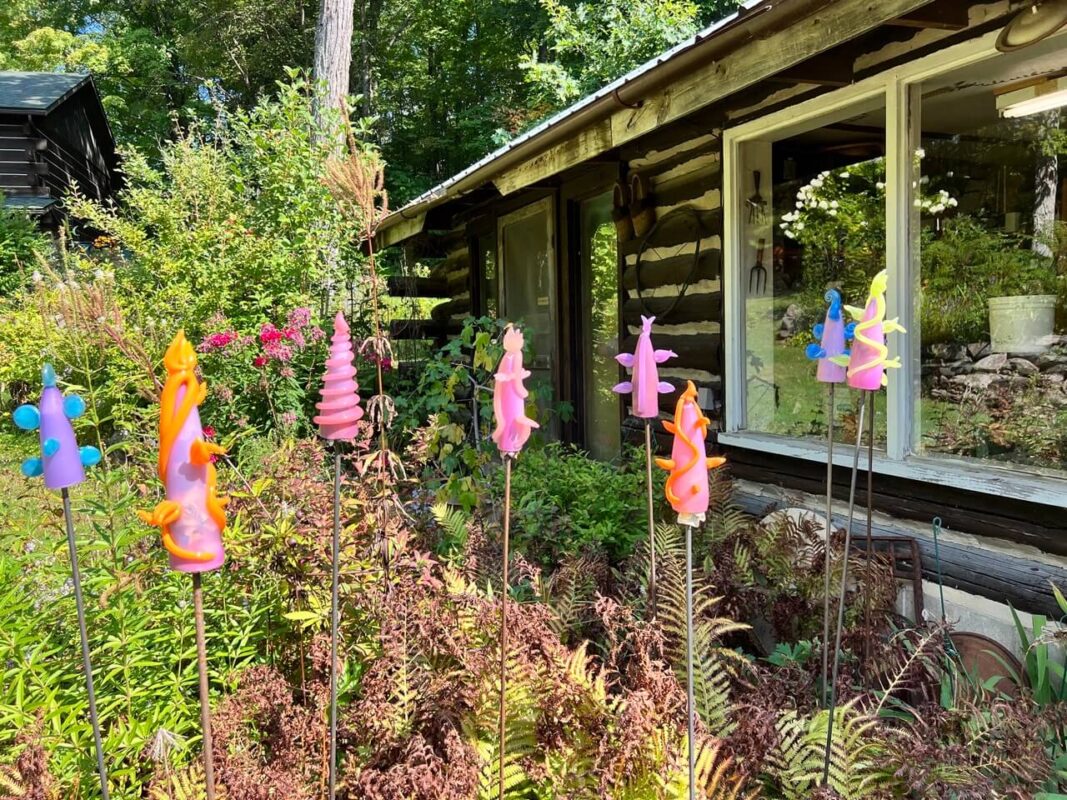 The second tour running this month is the Kawartha Autumn Studio Tour. It's running from September 23-24 this year, also from 10am to 5pm each day. It's one of the longest continually running studio tours in Canada, and will be celebrating its 40th anniversary in 2024.
Although studio tours are a choose-your-own-adventure experience, the starting point for this tour is technically the Art Gallery of Peterborough. You can begin the tour by walking through the gallery. Make sure you check out the work done by each of the artists on the tour this year.
You can also visit the gallery in advance of the studio tour to help decide which studios you might be more interested in visiting. There are nearly 50 studios on the tour, so you can plan your weekend out accordingly.
Like the Apsley tour, the Kawartha Autumn Studio Tour also features work and art in a variety of different forms. It's an excellent way to connect with local artists in the community, and find inspiration for your next piece of art, or a gift for a loved one.
Take a Walk Along Peterborough's "Renaissance on Hunter"
The downtown Peterborough and the Hunter Street Café District is a treat for any art lover in the spring, summer and fall months. It's the perfect excuse to stroll along the shops, restaurants and cafes in this picturesque part of town.
You can stroll along the "Renaissance on Hunter" pedestrian area of Hunter Street between George St. North and Aylmer St., and pause to admire the murals painted along the walkway.
Local artists bid for the opportunity to paint these street murals annually, so you can count on newly minted, brightly coloured murals each year. There are also Poetry Gardens along the Renaissance on Hunter footpaths for visitors to enjoy little doses of poetry as they walk along the street.
Take a Pottery Class
Tapping into your creative side and taking an art class is an excellent way to lean into your arts tour of Peterborough & the Kawarthas. The Village of Lakefield is a short distance from Peterborough, and it has a potter who's been known to offer exceptional classes to the community for over a decade.
Gail West, more colloquially known as The English Potter, is an expert potter, who was trained in England before moving to Canada. She has been creating inventive pottery and sculpture for several years, and is revered by the local arts community.
Gail offers small, private classes out of her potter's studio in the centre of town. She is a patient and warm instructor, and you won't regret taking one of her integrative classes. Classes are typically done in two sessions, the first taking about two hours to create your work of art with clay, followed by a one hour session to return to bake and glaze your creation after Gail has fired it up in the kiln.
If you don't have time to take a class while you're in town, plan to at least stop by the shop at The English Potter. Gail's inventive pottery which she creates to commemorate loved ones and furry friends is available for purchase, along from work by other artists in the co-op.
Take a Stroll to See Public Art
If you're looking for a nice way to get outside and enjoy public art across the City of Peterborough, then there are plenty of ways to do it.
From the Art Gallery of Peterborough is a path along the Trans Canada Trail which runs alongside the Otonabee River. Begin at the gallery and head north through Del Crary Park and continue up the path to the northern end of Milennium Park. It's a peaceful walk that takes you around Little Lake, and up the river, with public sculptures scattered throughout the walk.
From the top of Millennium Park, you can cut across to Water Street between Simcoe and Hunter to see the vivid mural created by Kathryn Durst in the alley beside the storefront for Watson & Lou.
Another public art walk to take is a little north from the centre of town through the picturesque Trent University Campus. This is an excellent way to explore all that Trent has to offer on its scenic campus, with some public art scattered throughout the walk, too. There is a series of local sculptures that you can visit on your own using this self-guided walking tour map, like this sculpture called "Portal" by artist David James.
Forest Bathe on an Inspiring Walk Through Jackson Park
Jackson Park is to Peterborough what Central Park is to New York City. This scenic park has a series of beautiful paths to take you on a nature-filled walk in the heart of the city.
It's an excellent park to visit on foot, but if you're cycling through town there are also several paths you can take that go as far as the town of Lindsay.
A highlight on any trip through Jackson Park is to stop at The Pagoda Bridge along Jackson Creek. It's a reconstructed Victorian bridge that sits on a wide opening of the river, with paths and benches all around it. It's the perfect place to come for a fall stroll, or sit, meditate and allow your creative juices to flow.
For anyone looking to bring their paint set, the willow trees scattered along the river and Pagoda Bridge would make for a beautiful subject in a landscape scene.
Shop Local Art and Curated Goods in the Region
While this one isn't exactly an art gallery in Peterborough or a creative class, there are so many creative and locally sourced shops in and around Peterborough.
Some great places to stop for a unique gift, or simply to support local artists are:
Watson & Lou
This woman-owned store and creator space has been in the City of Peterborough for six years. It's your one-stop-shop for thoughtful gifts and creative items made my local artists in Peterborough & the Kawarthas.
Some of the artists featured on the autumn studio tours have their work for sale at this store. They also have a wonderful selection of jewellery, greeting cards, bath and body products, books, clothing, accessories and housewares, and the list goes on!
Watson & Lou actually does have a gallery and studio space at the back of the store, so make sure you visit this section when you come in.
The Neighbourhood Vintage
This collective is another woman-owned business in Peterborough, and while there might not be art available for purchase, there's no doubt it's a whimsical and inspiring space to shop for vintage clothing.
They have clothing for all colour palettes, shapes and sizes, so make sure you plan to spend some time combing through this beautifully curated shop for your next great vintage find.
The English Potter
This shop in Lakefield offers a beautiful selection of artwork for purchase. The shop displays the works of local artists who are part of this co-op, with everything from vases, plate ware, jewellery and custom textile clothing, and accessories available for purchase, too.
Art Gallery of Peterborough Gift Shop
The Art Gallery of Peterborough isn't only a great gallery in town, but it has a wonderfully curated gift shop for visitors to check out. Their gift shop offers a lot of locally made art and unique gifts. You'll definitely find something you hadn't planned for when you shop here.
Bri was born and raised in Ontario. She spent many years living abroad, but returned to Ontario a few years ago, and is very happy to be back exploring.
She loves writing about travel experiences in our beautiful province, including unique accommodations, memorable meals and adventurous activities.
You can find her canoeing and swimming across Ontario with a craft brew in her hand in the summer, and snowshoeing or curling up with a good book and an Ontarian Pinot Noir in the winter.