Along the shores of Lake Ontario lies some of the best wine in Ontario. Discover the best wineries in Niagara-on-the-Lake.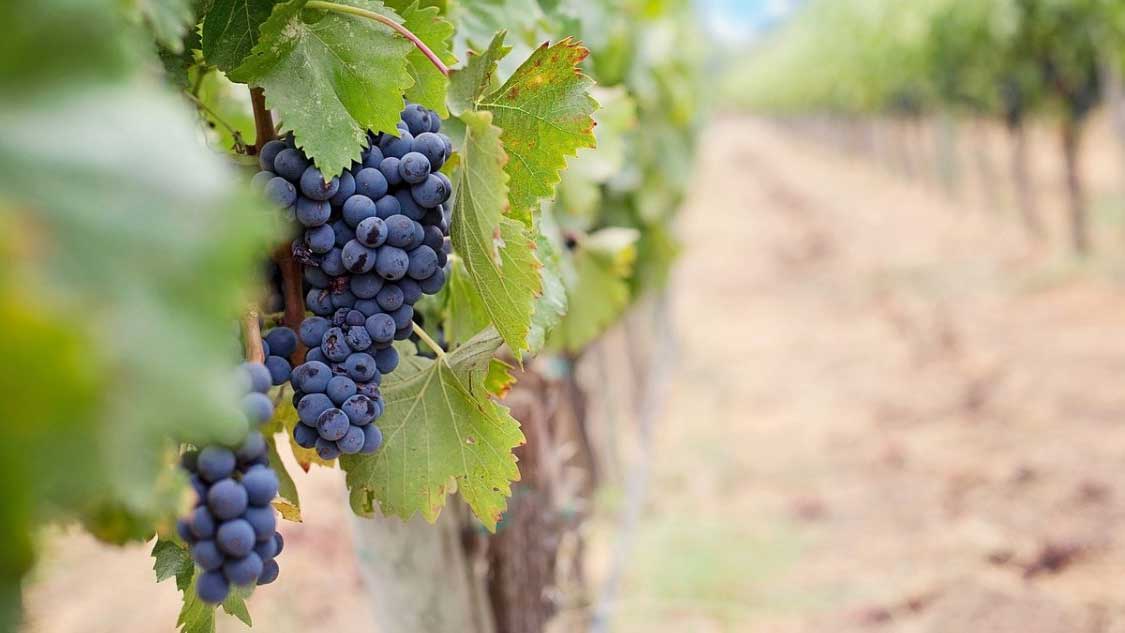 We're spoiled for choice in Ontario when it comes to our choice of alcoholic drinks. Some of the world's best wines, craft beers, and specialty spirits are all brewed and crafted right here in our province.
Along the shores of Lake Ontario lies the second-oldest and most established of all of the wine regions in the province, and I'm here to help you discover the best Niagara-on-the-Lake wineries to help you plan a regional wine-tasting tour.
Wineries in Ontario root themselves in three principal regions. To the southeast lies the region of Prince Edward County. To the southwest sits Ontario's Lake Erie North Shore region. Nestled between the two sits the Niagara peninsula, and this romantic region is where we'll be focused on today.
The Special Wineries Of Niagara-on-the-Lake
Within the Niagara wine peninsula sits the charming little region of Niagara-on-the-Lake.
The Niagara-on-the-Lake vineyards make for a special trip. You'll find they're very different from their touristy neighbour of Niagara Falls. These add to the flavors of the spectacular restaurants of Niagara Falls and the surrounding area.
A good problem to have in this area is trying to decide which are the best wineries in Niagara-on-the-Lake. With more than 20 wineries in the region, if you're visiting for the day or even the weekend, that's an overwhelming amount to cover.
In order to help you narrow down your choice of the best wineries to visit in Niagara-on-the-Lake, we've put together a list of the top 10 wineries in Niagara-on-the-Lake so you can limit your options and make the most of your time spent there.
Choosing the Best Wineries in Niagara-on-the-Lake for Your Visit
Our list of the best wineries in Niagara-on-the-Lake is written in alphabetical order. Any other order wouldn't quite be fair when it comes to choosing wineries!
With such a variety of the top wineries in Niagara-on-the-Lake, this is more of a choose-your-own-adventure jumping-off point.
If you're interested in someone else doing the planning for you on this winery trip to Niagara-on-the-Lake, then you can book a spot on your own half-day guided tour of the vineyards in the region.
Here are some things you should consider when deciding which Niagara-on-the-Lake wineries are right for you:
Sizes and Types of the Wineries in Niagara-on-the-Lake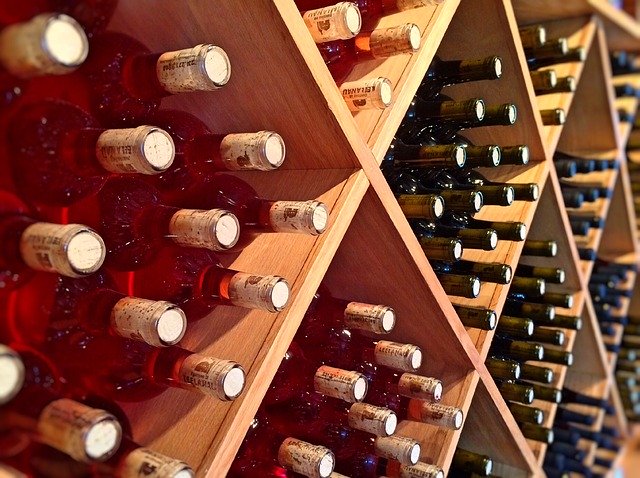 Niagara-on-the-Lake has some of Ontario's largest estate wineries, dating back several decades to the earlier days of Ontario winemaking. They offer huge vineyards, large tasting rooms, and giant dining and entertaining spaces.
These large wineries are often where large tourist groups come to experience the wines in Niagara, especially on the weekends.
Niagara-on-the-Lake also has smaller, family-run wineries. They're located on smaller plots of land, offering more intimate settings.
Wineries come in all shapes and sizes, so when you're visiting some of the best wineries in Niagara, these are important notes to consider.
Some of the wineries in this region are more relaxed and laidback, whereas others have more "Instagrammable" and experiential opportunities on-site to enjoy.
I'd recommend blending in a mix of different types of Niagara-on-the-Lake wineries into your tour.
Types of Wines in Niagara-on-the-Lake
Niagara-on-the-Lake boasts a wide variety of types of wine. You can find everything from Chardonnay and Riesling to Pinot Noir and Cabernet Franc.
If you're interested in more of a regional specialty, the famed ice wines are native to the Niagara region. This is something that sets apart the wineries in Niagara-on-the-Lake when compared to other parts of Ontario.
Ice wine gets its name from the way the wine is produced. The wine grapes are harvested later in the growing season and have been naturally frozen overnight on the vine. Ice wines are a typical dessert wine that local and international travellers come from all over to experience in Niagara-on-the-Lake.
The Best Wineries in Niagara-on-the-Lake
Between the Lines Winery
Beginning this list of best wineries in Niagara-on-the-Lake is Between The Lines Winery. Between the Lines prides itself on being a "family estate winery."
Owned and operated by the Wertsch brothers, Greg and Yannick. The brothers came to Ontario from Germany at a young age. They were accustomed to the family winemaking business before beginning their own winery. They've now been open for seven years.
These Niagara-on-the-Lake winemakers are inventive and always looking toward the next best thing in winemaking. Their Outset wine, for example, is Canada's first sparkling wine in a can–perfect for sipping in the summer.
In their Red Barn Collection, they also have a variety of icewines, tasty whites and barrel-aged (yet mildly fruity) reds. They also have an impressive Reserves Collection if you're looking for something extra special.
On a visit to Between the Lines winery, you'll have the chance to explore their rustic-modern barn. This serves as their tasting room and event space. They have many events ongoing throughout the year, including anything from cheese pairings to yoga, to keep you intrigued.
Big Head Wines
Newer in operation than some of the wineries on this list, Big Head Wines was started by longtime winemaker Andrzej Lipinski. He began the project after making wine for several award-winning Ontario wineries, such as Burning Kiln Winery in Norfolk County and Organized Crime in Niagara.
What began as an online business opened up to a proper wine and tasting cellar at Hunter Farms in Niagara-on-the-Lake, where the tasting takes place today.
Lipinski's wine is a nod to the winemaking process started in Norfolk County, in Ontario's Lake Eerie North Shore region. He uses old tobacco kilns (from the rich tobacco-farming history of Norfolk) to dry out the grapes prior to pressing them.
The result of this process makes for a wonderful arrangement of wines. They place particular emphasis on their full-bodied reds but offer some impressive sparkling wines, chardonnays, and other whites as well.
A visit to the Hunter Farms tasting room will greet you with the feeling of a small and true winery making great wines. This isn't to be missed when planning your visit to top wineries in Niagara-on-the-Lake.
Palatine Hills Estate Winery
Sitting on the property of the Neufeld family for over forty years, Palatine Hills prides itself on still being family-owned and operated. The Neufeld family began as grape growers in the Niagara region, and then expanded to wine production later on in their running of the farm.
With everything from Gewurztraminer and Chardonnay to Cabernet Sauvignon and Cabernet Francs, along with Icewine and Sparkling Wine, the Neufeld family has curated quite the selection of wines for you to sample and enjoy on their property.
Visiting their wine-tasting space, you'll be greeted by the industrial-rustic and comfortable atmosphere of their tasting room, with a large garage door opening out onto their scenic patio overlooking the vineyards.
Pillitteri Estates Winery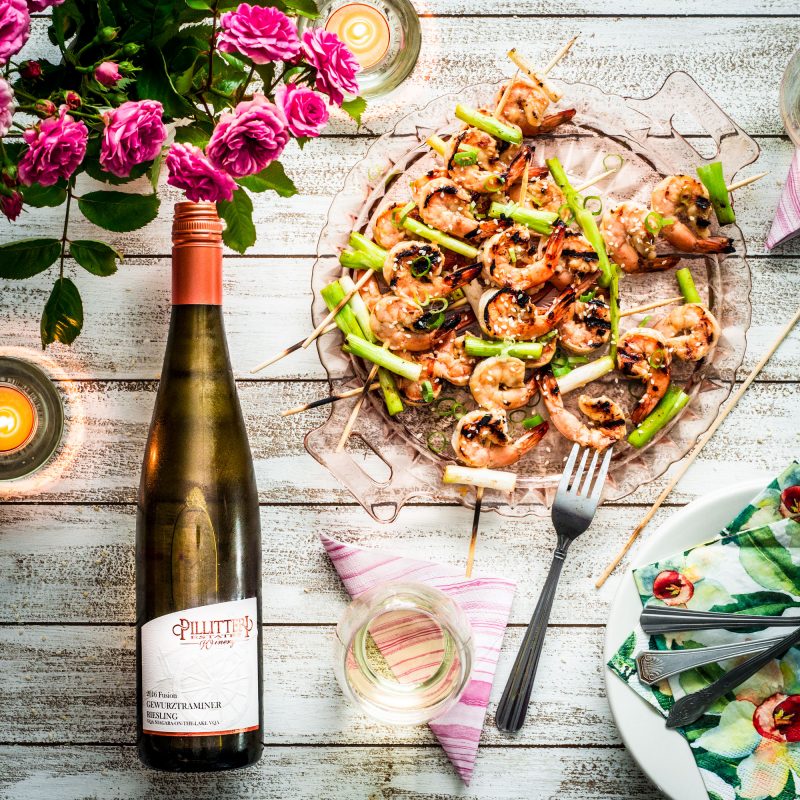 Pillitteri Estates has a family history of grape growers and winemakers hailing from Sicily, who made their home in Niagara in the late 1940s. The Pillitteri family grew fruits and produce for many years in Niagara-on-the-Lake before opening their winery in 1993.
Consisting of 5 vineyards, Pillitteri offers an array of different wines to choose from, including several of their signature vintage wines from the many different excellent growing seasons they've had.
They've won over 800 awards in Canadian and international competitions, and they offer many different types of reds, whites, sparkling and ice wines.
Pillitteri is also a sustainable winery and has recently become the Official Wine Partner of the Canadian Olympic Team.
A visit to this esteemed winery will embrace you in their rustic-chique feel at their winery and tasting rooms, and tasting cellars. Seeing as this winery is larger than some on the list, you'll be met with several options upon arrival.
Small Talk Vineyards
This special winery in Niagara-on-the-Lake sits on 27 acres of land and produces 11 varieties of grapes. Small Talk may be a charming little winery, but it makes up for its smaller size with its big taste and personality.
The Small Talk Vineyards property has been in the Hunse family since the 1950s when they farmed fruit and poultry. Over the years, they planted grapes to grow wine. They officially opened under their current name in 2009.
This unique winery offers everything from their Chardonnay, hailing from 30-year-old grape vines, to their new venture since 2014, which is their Shiny Apple Cider. They even offer a Pinot Noir cider, so you're sure to find something tasty and special when you visit.
Visiting the tasting room here, you'll be met with cute, vibrant colours left and right. It's the perfect spot for an ideal Instagram photo op. They have a patio outside near the vineyard, as well as their tasting room inside.
Southbrook Vineyards
With a long history of farming in their family, the Redelmeiers began Southbrook Vineyards because of their passion for gourmet foods and wines in 1991. Since then, they've expanded their production and won several awards for their wines along the way, which is why they're on this list of the best Niagara-on-the-Lake vineyards.
From whites, reds, and rosés, to dessert wines, they literally have it all at this large winery and in abundance. They even have an award-winning orange wine, a unique white for the Niagara-on-the-Lake wine region.
You will be met with modern, clean, and bright rooms on a visit to the expansive Southbrook winery for a tasting. Their tasting room looks out to the surrounding vineyards for you to enjoy as you sip.
Stratus Vineyards
Another one of the top wineries in Niagara-on-the-Lake is located just outside of the historic centre. Stratus Vineyards is a modern and innovative winery. They operate using gravity-flow with their wines and are one of the few "pump-free" wineries worldwide. Witnessing this up-to-date practice makes the experience that much more exciting for their patrons.
Their head winemaker, J-L (Jean-Laurent) Groux, is from the Loire Valley of France. He came to Stratus after expanding his training in both Bordeaux and Burgundy.
Stratus produces an impressive range of wines, specializing in white, red, and ice wine, using their gravity-flow techniques specific to the winery. From their "top-tier" wines for a special event to their more affordable "second-tier" wines for a weeknight (under the labels Wildass, Tollgate, and Kabang), there is a range of delicious wines to choose from here.
A visit to Stratus Vineyards is not to be missed. Their large, two-floor facilities (essential to the gravity-flow method) include several modern and sleek public and private tasting rooms. They also have an outdoor patio to enjoy while you sip.
The Hare Wine Co.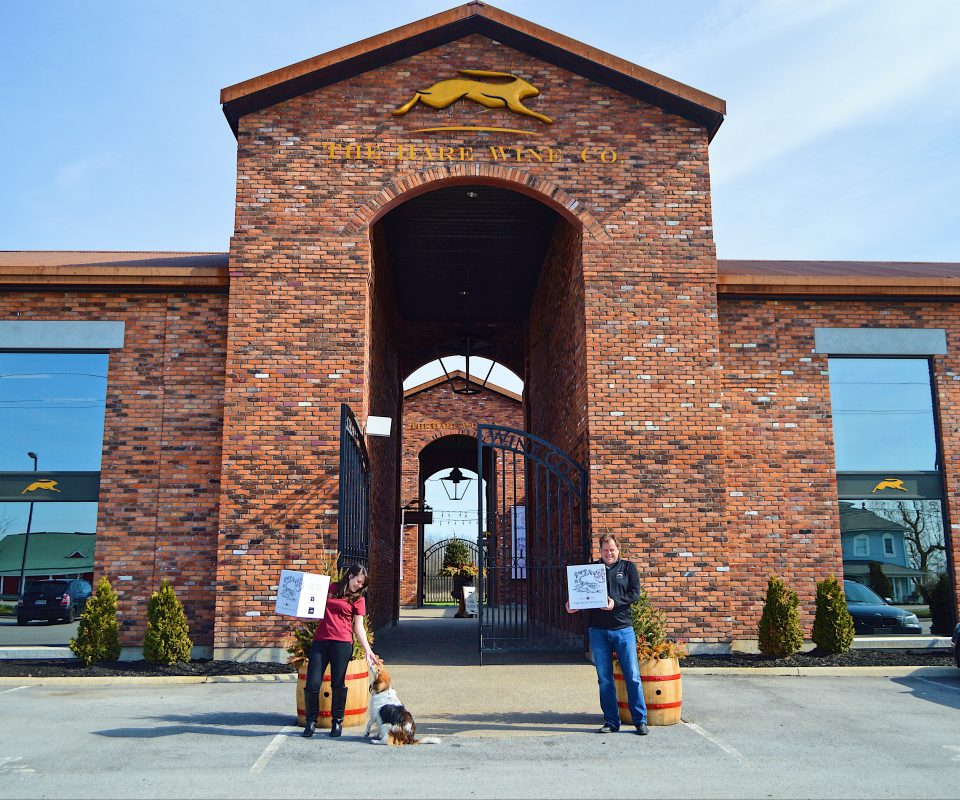 Another one of the best wineries in Niagara-on-the-Lake is The Hare Wine Co. Named for both an apt symbol for the winery and the last name of owner John Hare, they specialize in producing 100% VQA small-batch wines.
Their wines are split up into four quadrants. These include their Jack Rabbit Series, which is "fresh and fruit-forward," and their Crown Land Series, which is a homage to the founding farmers on their land. They also have their Frontier Collection, known for being "complex and ageable," and their Noble Collection revered as their "most premium wines."
You'll be greeted by a rustic red-brick ambiance when you visit The Hare. You can choose to stay inside to enjoy a tasting or sit out on their patio overlooking the vineyards. You may be tempted to stay for one of their brick-oven pizzas, too!
Trius Winery
Another Niagara-on-the-Lake winery making this list of the best wineries in the Niagara region is Trius Winery. They've been making wine for over 40 years at Trius Winery, so it's safe to say they know what they're doing. They put themselves (and Canada) on the map by winning the Best Red Wine award in the world in 1993, a first for any Canadian Vintage wine.
One of the larger wineries on this list, Trius has a very large selection of wines to choose from. Their Trius Series of wines showcases the depth and breadth of wines they craft. If you're looking for something a little extra special, the Trius Showcase Series of wines consists of small-batch, "true luxury" wines.
Trius is also a pioneer of Icewine, which is a specialty in the Niagara wine region and for Ontario wine. If that's something you're interested in, it would be a good idea to try some here.
A visit to the large and stately Trius winery offers their outside area, with beautiful vistas of the vineyards and modern surroundings. They also host a variety of unique events throughout the year, from farm-to-table dinners to film screenings and music festivals in the vineyard.
Two Sisters Vineyards Estate
Located near the Niagara River, Two Sisters Vineyards sits on large estate grounds. It provides great conditions for grapes growing in Niagara-on-the-Lake, which makes them fittingly on this list of best wineries in Niagara.
As the unique terroir of the Niagara region dictates, Two Sisters offers a bounty of wines to choose from. Their Cabernet Franc is especially delightful, bold, and delicious.
This is a large winery that sees many tourists on a daily basis. The large tasting rooms and expansive terraces overlooking the vineyards offer ample opportunities to sample their wine or take a tour.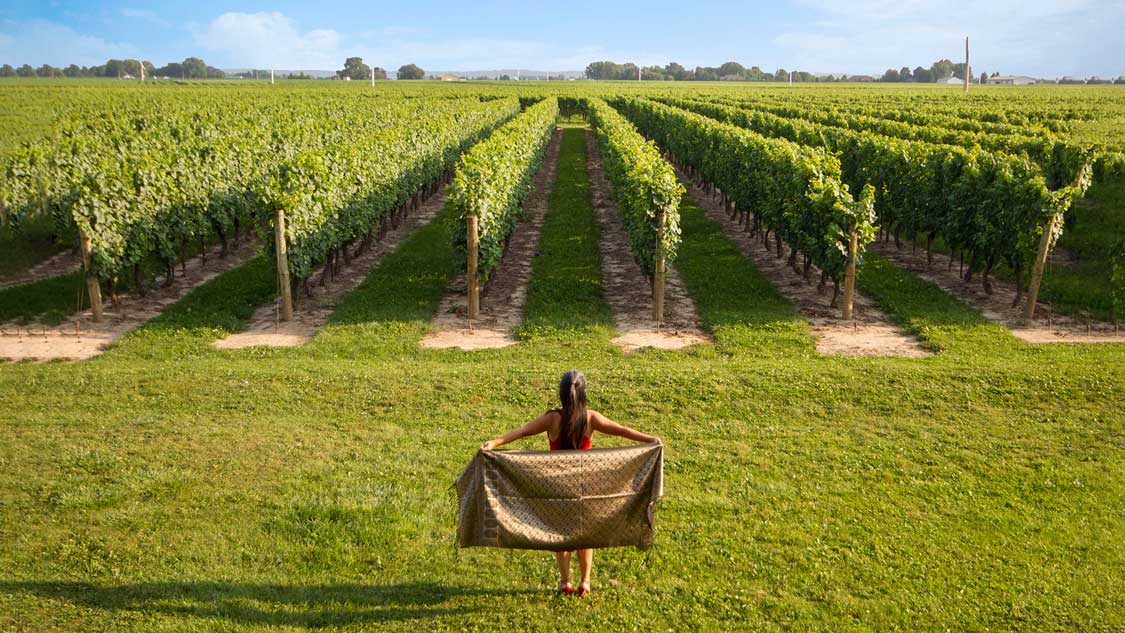 Konzelmann Estate Winery: Lakefront Winery
Due to its outstanding production of wine dating back over 30 years, coupled with its unique characteristics, Konzelmann Estate Winery is one of the best wineries in Niagara-on-the-Lake.
Directly located on the shores of Lake Ontario, Konzelmann Estate Winery offers unblocked water views, permitting a serene ambiance. The beautiful setting produces an enchanting backdrop for wine tastings and events.
Renowned for its commitment to cool-climate grape varieties, such as Riesling, Pinot Noir, and Chardonnay, Konzelmann wines showcase the unique terroir of the Niagara Peninsula. The result is elegant and nuanced flavors that capture the essence of Niagara on the Lake.
Konzelman's emphasis on sustainability follows eco-friendly practices, including responsible vineyard management and energy-efficient production methods, minimizing its ecological footprint.
The winery offers an array of experiences for visitors to engage in, such as guided tours and tastings vineyard picnics, and culinary events. These experiences allow visitors to delve into the world of wine, in turn enhancing their understanding and appreciation of fine wine.
Numerous awards and accolades solidify Konzelman's reputation as a producer of top-quality wines. Recognition from industry experts makes Konzelmanns a sought-after destination for wine enthusiasts.
With its stunning location, focus on cool-climate varieties, sustainable practices, engaging experiences, and esteemed reputation, Konzelmann Estate Winery truly stands out as a unique and exceptional winery in the Niagara-on-the-Lake region.
Wayne Gretzky Estates Winery: The Great One
The greatness of hockey legend Wayne Gretzky, combined with the art of winemaking, makes Wayne Gretzky Estate Winery a truly unique and exceptional experience in Niagara on the Lake. This collaboration alone sets Wayne Gretzky apart as one of the best wineries in Niagara on the Lake.
A stand-out feature in Wayne Gretzky Winery is the commitment to crafting wines that reflect excellence and craftsmanship, synonymous with The Great One himself. With a diverse selection of wines, including classic varietals and innovative blends, the wines are carefully crafted and capture the essence of the Niagara Peninsula.
Adding to its appeal, Wayne Gretzky Winery is Situated on a picturesque property with panoramic views of its rolling vineyards. Equipped with a stunning backdrop for tastings, events, and gatherings, Wayne Gretzky Winery creates an unforgettable experience for all its visitors.
Wayne Gretzky Estates produces premium Whisky along with its renowned wines, showcasing the art of distillation alongside the winemaking process. Numerous activities are available for visitors. While visiting, you may take guided tours, partake in tastings, and even play a friendly game of hockey at the outdoor rink located onsite.
Being recognized for its award-winning wines and spirits proves Wayne Gretzky Estates' commitment to quality and excellence, cementing its spot as one of the best wineries in Niagara-on-the-Lake.
Reif Estate Winery: One of Niagara-on-the-Lake's Founding Wineries
With a history of over 40 years and boasting a legacy of winemaking expertise, Reif Estate Winery in Niagara-on-the-Lake is a standout destination. As one of the greatest wineries in the region due to its commitment to producing exceptional wine offerings, it showcases the terroir of the Niagara Peninsula.
Sustainable winemaking practices set Reif Estate Winery apart from the rest. With environmentally friendly techniques that consist of organic farming methods and water conservation measures, Reif ensures the preservation of the land while still producing high-quality, environmentally conscious wines.
Nestled among lush vineyards, visitors can appreciate stunning views of the Niagara River as they explore the estate's beautiful ground. Reif Estate Winery is also acknowledged for its diverse range of grape varietals. Selections range from Riesling and Chardonnay to lesser-known varietals, offering visitors a wide array of wines to gratify any palate's preference.
While visiting Reif Estate Winery, wine connoisseurs can participate in programs and guided tours, allowing the opportunity to learn about the winemaking process, participate in tastings, and gain further wine appreciation.
Inniskillin Winery
Due to its unique features and exceptional wine production, Inniskillin Winery is a standout winery in Niagara-on-the-Lake. Inniskillin pioneered ice wine production in Canada as it was the first winery in the country to produce ice wine successfully. Who doesn't appreciate a sweet dessert wine made from grapes frozen on the vine, with exquisite flavors and a luscious mouthfeel?
Commitment to quality is evident in all aspects of operation in Inniskillin Winery. Meticulously hand-selecting grapes for ice wine production and utilizing traditional winemaking techniques proves this. Maintaining a standard of excellence is so important to Inniskillin so visitors can embark on captivating winery tours and gain insights into the intricate process of ice wine production. Visitors will also enjoy tasting their world-class wines.
Nestled in the heart of Niagara on the lake, Inniskillin's picturesque location offers visitors the vineyard's breathtaking countryside views. The whole setting provides an idyllic atmosphere for tourists and wine enthusiasts alike. To further solidify its reputation as one of the best wineries in Niagara on the Lake, Inniskillin's wines have received many accolades and numerous awards, attesting to the winery's commitment to producing memorable vintages.
Also, Inniskillin Winery employs eco-friendly practices, such as water conservation and responsible vineyard management. This ensures a harmonious coexistence with nature and preserving the region's natural beauty. Inniskillin Winery is a unique and perfect destination for wine lovers seeking an unforgettable experience.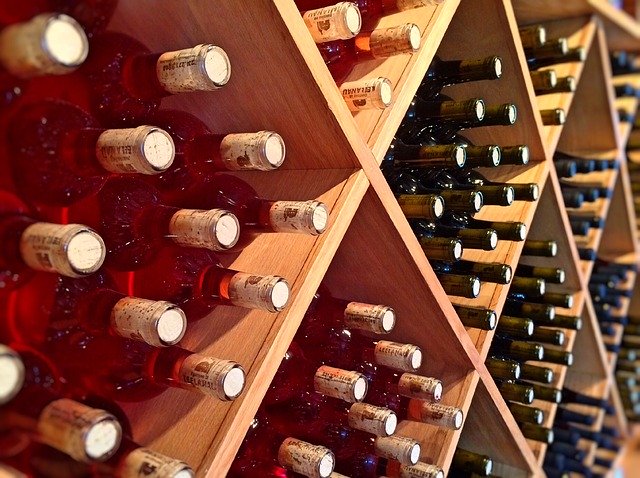 Peller Estates Winery
Thanks to its extraordinary wine offerings and unique characteristics, Peller Estates Winery stands out as one of the best winery destinations in Niagara-on-the-Lake. Boasting over 50 years of winemaking expertise, with a commitment to producing premium wines that showcase the region's terroir, Peller Estates Winery proves why it is one of the best wineries in Niagara on the Lake.
Peller Estates Winery is dedicated to innovation and experimentation. Peller consistently pushes boundaries by introducing new grape varieties and innovative winemaking techniques. The results are a diverse range of high-quality wines catering to many palates and preferences.
With beautifully manicured gardens and vineyards, Peller Estate's gorgeous property provides a captivating setting. Beyond wine tasting at The Peller Estates Winery, it also offers vineyard tours, interactive culinary experiences, and a rooftop patio with panoramic views, creating a memorable visit..
Also known for its commitment to sustainability, Peller implements environmentally friendly practices, such as organic farming, energy conservation, and waste reduction, ensuring the preservation of the land and the production of eco-conscious wines.
Also known as a renowned culinary destination, Peller Estates Winery features a restaurant showcasing locally sourced ingredients masterfully paired with their wines, elevating the dining experience.
Peller Estates Winery consistently receives recognition at national and international wine competitions through the numerous awards it wins, proving its excellence and solidifying its reputation as a top-quality wine producer.
More Wineries In Niagara-on-the-Lake To Experience
There are more amazing Niagara-on-the-Lake wineries worth experiencing for yourself than we can list in just one article. If you've got some extra time to spend in the region, don't miss these Niagara region wineries as well.
Flat Rock Cellars
Joseph's Estate WInes
Jackson Triggs Estate Winery
Strewn Winery
Palatine Hills Estate Winery
Marynissen Estates Winery
Riverview Cellars
Lailey Winery
Niagara-on-the-Lake Hotels To Complete Your Niagara Winecation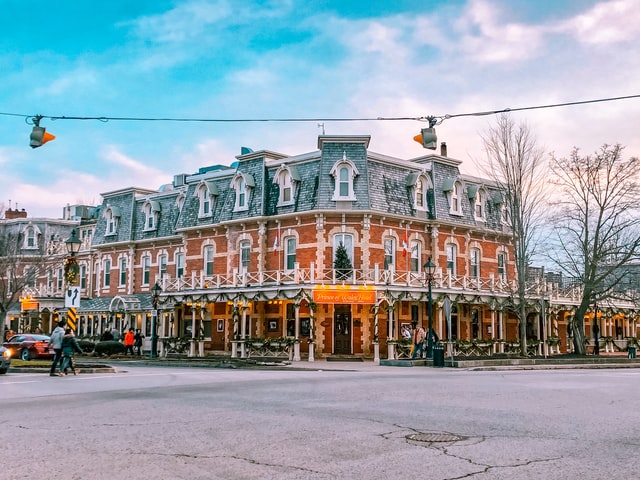 No one wants to come home from a winecation in Niagara-on-the-Lake, so why not extend your stay at some of these beautiful Niagara-on-the-Lake hotels?
Prince of Wales Hotel
Rich in Victorian charm, the Prince of Wales Hotel offers an enchanting getaway in Niagara-on-the-Lake. Not only does the Prince of Wales have luxurious rooms and suites, it is also equipped with a full-service spa. Also, exceptional dining options create a truly indulgent stay. Enjoy afternoon tea in the tearoom and explore the historic town. This hotel immerses guests in a world of refined elegance.
124 on Queen Hotel and Spa
Providing a boutique experience with a personalized experience, located in the heart of Niagara-on-the-Lake is 124 on Queen Hotel and Spa. The intimate setting and stylishly appointed rooms present a comfortable and relaxing atmosphere. Enjoy rejuvenating treatments at the on-site spa. Its convenient location near local attractions, shops, and restaurants makes it an ideal choice for travelers looking for a cozy and indulgent stay.
Queen's Landing
Situated on the waterfront, Queen's Landing Vintage Hotel offers a grand and sophisticated experience in Niagara-on-the-Lake. The Georgian-style architecture and luxurious accommodations provide a timeless charm, while the marina and outdoor pool add to the overall allure. With its gourmet restaurant serving delectable cuisine, Queen's Landing offers a perfect blend of elegance and relaxation for a memorable stay in this picturesque town.
White Oaks Resort & Spa
White Oaks Resort & Spa is conveniently located near the outlet malls in Niagara-on-the-Lake, and is a large hotel with a delightful spa, fitness centre and indoor pool. It's great for families, and it also offers many different spa and welcome packages that you can indulge in during your stay.
Your Niagara-on-the-Lake Winery Experience
So there you have it. A list of the best wineries in Niagara-on-the-Lake.
There's an excellent variety of wineries on this list. This will help inform you of which Niagara-on-the-Lake wineries to choose from to help you get your wine delivery to Toronto or other parts of Ontario.
It doesn't matter if your experience will be virtual during the COVID-19 pandemic or in person. Either way, the best wineries in Niagara-on-the-Lake will deliver that same taste and quality in your home or on site.
I hope you've enjoyed the list. Be sure to leave a comment if you found this article helpful. If you have any Niagara-on-the-Lake wineries you feel should have made it on the list, feel free to let us know too!
Bri was born and raised in Ontario. She spent many years living abroad, but returned to Ontario a few years ago, and is very happy to be back exploring.
She loves writing about travel experiences in our beautiful province, including unique accommodations, memorable meals and adventurous activities.
You can find her canoeing and swimming across Ontario with a craft brew in her hand in the summer, and snowshoeing or curling up with a good book and an Ontarian Pinot Noir in the winter.