Covering the top Ontario ice fishing opportunities, plus safety recommendations, and the best lakes for ice fishing in Ontario.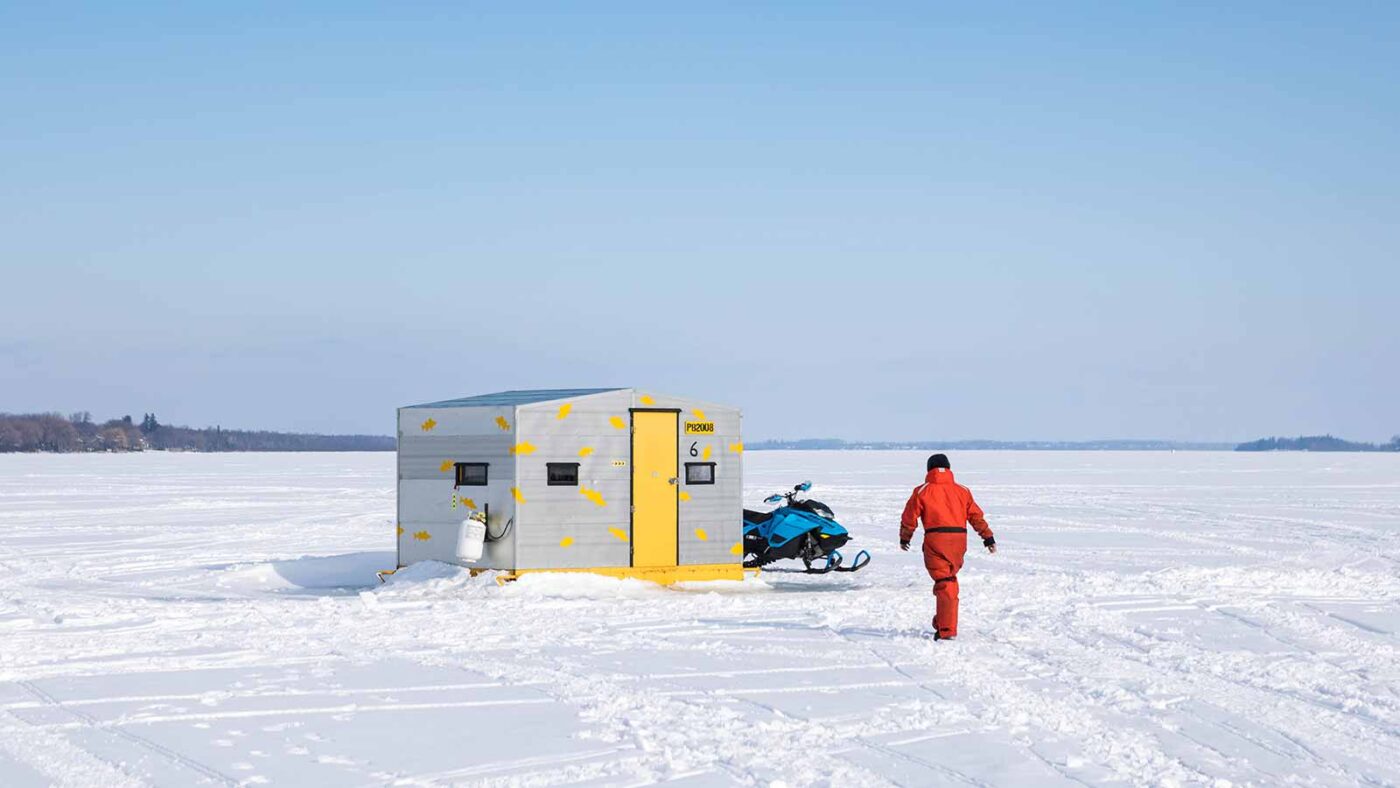 Whether you know it or not, Ontario ice fishing is about as good as it gets. With our abundance of lakes, a variety of desirable fish, as well as operators who know how to make sure you're going to have the best time possible, ice fishing in Ontario is about as good as you can find anywhere in the world.
Ontario ice fishing is something that's steeped in tradition. This outdoor sport has a long history, but it's actually never been more popular than it is right now. That's largely because ice fishing is all about disconnecting from the notifications that plague our modern lives, and finding a moment to catch your collective breaths (and hopefully a fish or two as well).
That's what people may not understand about ice fishing. Sometimes, the best ice fishing in Ontario has nothing to do with the number of fish that you caught, but rather the time and companionship taht you had while pretending that you cared if you caught a fish. It's not unlike golfing, where it's more about being outdoors and having a great time than actually accomplishing anything.
Heck, we've seen ice fishing huts decked out with little TVs. I mean you have to ensure that you don't miss the Sens playing the Leafs on Saturday night, right?
Here at Ultimate Ontario, we want to get you prepared for the winter season, and to remind folks that there's plenty of great times to be had if you know where to look. We've already noted a few epic Ontario winter light shows, some Ontario winter getaways, and skating trails in Ontario, but today it's all things ice fishing.
Ontario Ice Fishing Rules and Regulations
For each of the lakes that we'll mention in this article, we'll aim to include operators on that lake which can help you tackle (no pun intended) some of the knowhow and bureaucracy around ice fishing.
However, for those who aim to do this on their own, we'll provide an overview of the rules that you need to follow. You can find a full list of the rules here, but we'll summarize below.
You must have a valid fishing license. They're relatively easy to obtain online now, and you can create an account and purchase the Ontario fishing license you'll need here. In some cases, a one day license will suffice.
Take note of the local open and closed seasons, and any limitations around catching. It's a bit of a dense document, but those interested can dive a little deeper into the Ontario Fishing Regulations Summary, an annual guide to recreational fishing in Ontario.
In Fisheries Management Zones 9-12 and 14-20, you need to register your ice hut. That registration number needs to be displayed on the outside of the ice hut. You'll also need to agree upon a date when your ice hut will be removed. This is to ensure that it's not left there indefinitely. You can use the same number on all ice huts that you own, and you don't need to re-register if you already have an ice hut number.
Registering ice huts is free, but you'll need to create a profile on the Natural Resources Registry.
If all of this sounds like the headache you never wanted, do remember that there are plenty of folks whose business it is to do all the dirty work for you, so you can just get out there and enjoy some Ontario ice fishing. As mentioned above, we will mention those service providers for each respective lake where we can.
How to be Safe on the Ice
Ice fishing is a ton of fun, but the risks associated with it need to be respected. It's an activity where you need to do your due diligence in preparing for obvious reasons.
You should always have someone experienced there with you. This person should understand what to look for in terms of ice thickness and a whole host of other factors.
This is not to scare you away by any means (let's not forget that we can drive trucks across many of our lakes, after all), but it never hurts to understand what safe Ontario ice fishing looks like, so let's go over a few practical tips.
It's best not to go ice fishing alone.
Whenever you head out, be sure to let someone know of your plans, even if that just means you're sending a quick text to your partner, family member, or a caring friend.
Dress in layers. When your ice fishing hut gets good and toasty, you can always take layers off, but you can't add the layers that you didn't bring.
Consider a flotation suit. They're like a full-bodied life jacket. A lot of Ontario ice fishers joke that they're basically life saving onesies.
Ice picks should be worn while out on the hard water in case of a worst case scenario. Ice chisels or spud bars are also crucial if you're the person who is checking the thickness of the ice. This is something best left to professionals, or experienced ice fishers.
In terms of driving on ice, snowmobiles need at least 8 inches of clear blue ice and light passenger vehicles need at least 12 inches.
Ice near the shore is often safer and thicker than ice that is away from the shore, and that's especially true at the beginning of the season.
For reference, clear blue ice is strong, and white ice tends to be much weaker.
Let's now talk about where to go ice fishing in Ontario. It's no secret that we've got a lot of lakes, and here are a few that offer quality fishing, but also tend to have an ice fishing infrastructure/ecosystem around them – making it easy to rent huts and so forth.
What Are the Best Lakes for Ice Fishing in Ontario?
There is no shortage of lakes worth fishing on in this province, and that holds true in all seasons. The best spot for you might be the lake your family grew up on, but for our purposes, we'll look at the well-known ice fishing lakes that people have coveted for a long, long while.
Lake Simcoe
It would be very hard to imagine that any list covering the best ice fishing in this province would not include Lake Simcoe. One of the biggest reasons that ice fishing on Lake Simcoe is so popular is because of the sheer diversity of fish that you can catch.
You can catch Herring, White Fish, and a whole slew of other species here. However, it might be best known for catching enormous Yellow Perch. If you're into this sport, you've probably seen a few videos floating around YouTube of the Perch here.
You can find a list of ice hut rental providers here. Tim Hales Fish Huts, Lucky's Sons Ice Huts, Floyd Hales Fish Huts – they're all good choices.
Lake Scugog
Just an hour outside of Toronto, right beside Port Perry, is where you'll find Lake Scugog. It's a very popular ice fishing destination, and especially if you're fishing for Black Crappie. Like many other lakes here, there's also no shortage of perch as well.
If you're based in Toronto and looking to try out this sport for the first time, Lake Scugog is a nice place to start. We'd strongly recommend hiring the services of Scugog Ice Adventures, as they'll set up everything for you, so all you have to do is arrive with a smile. You can reach them on their Facebook page, or at [email protected].
Feel free to read all about our experience doing a little Lake Scugog Ice Fishing as well if you want more details.
Do not leave Port Perry without getting an apple fritter from Hank's Pastries. They're life changing. Better yet, pick a few up on the way to your ice fishing hut!
Lake Ontario (Bay of Quinte)
Lake Ontario, as you'll well know, is massive, so just to make it more clear, we're specifically recommending the Bay of Quinte area.
Generally speaking, in the Ontario ice fishing world, the Bay of Quinte is known for being one of the spots in the province to catch Walleye. It's also a good spot, we might add, for bass, pike, and panfish.
Trenton Bay is probably your best bet if it's walleye you're after, but Belleville Bay is likely just as good. Other spots include the Telegraph Narrows and Hay Bay. The region, as you might have already gathered, offers up some of the best ice fishing in Ontario.
Merland Park is a great ice fishing outfitter in the area, and you can find their site and information here. Muddy Waters Outfitters also offers packages that include lunch with a full day of guiding for those interested.
Wawa Lake
Wawa, located on the northeastern shore of Lake Superior, is one of the ice fishing capitals of Ontario. For reference, it's about a 2.5-hour drive northeast from Sault Ste. Marie.
Wawa hosts one of the most famous ice fishing derbies in the province. In fact, in the past, the annual ice fishing derby that they host has exceeded $150,000 in cash and prizes! Ice fishing forums talk non-stop about this derby, by the way.
Wawa Lake is ideal for ice fishing, especially if you fancy pike and trout, but this is really a region at large that offers exceptional ice fishing opportunities at your finger tips. Nearby Hawk Lake and Manitowik Lake, for example, are every bit as enticing as Wawa Lake.
We haven't used any specific outfitters there, but have heard good things about Outlaw Tackle Company.
Hamilton Harbour
Hamilton Harbour doesn't necessarily have the best ice fishing in Ontario, but it's such an easy road trip from Toronto, we feel it's worth mentioning.
Since the Walleye populations have come back full throttle, more and more ice fishing huts have been gracing Hamilton Harbour, and now it's a full-blown movement.
They don't quite have the infrastructure set-up around here in terms of guides and rentals, so this is more an option for those who are have their own hut and know what they're doing out on the ice.
We're willing to bet though that as this sport gains in popularity, you're going to find more and more outfitters in Hamilton to fill the demand for ice fishing huts, etc. You can check out more things to do in Hamilton here.
Rice Lake
Many will know Rice Lake for its reputation as a playground for lovers of summer in Ontario, but it's got an equally impressive reputation for those who love to celebrate winter.
In particular, Rice Lake is known to be a spot to nab yourself some larger than average Carp as well as Pickerel and Muskie. If you want to turn this into a larger adventure, Golden Beach Resort (in Roseneath, Ontario) offers multi-day packages that include your heated ice hut rental, with all the bait, poles, etc. that you'll need.
So, basically, you're fishing in the ice hut during the day, but sleeping in a two bedroom place at night. If you want to explore that Ontario ice fishing package, then head here for their contact info.
Please note that a reader kindly let us know that, during the winter months, only pan fish (crappie, perch, blue gill, pumpkin seed ) are legally allowed to be caught, so make sure you're abiding by the set rules whenever you're fishing on Rice Lake, or any Ontario lake for that matter.
Windy Lake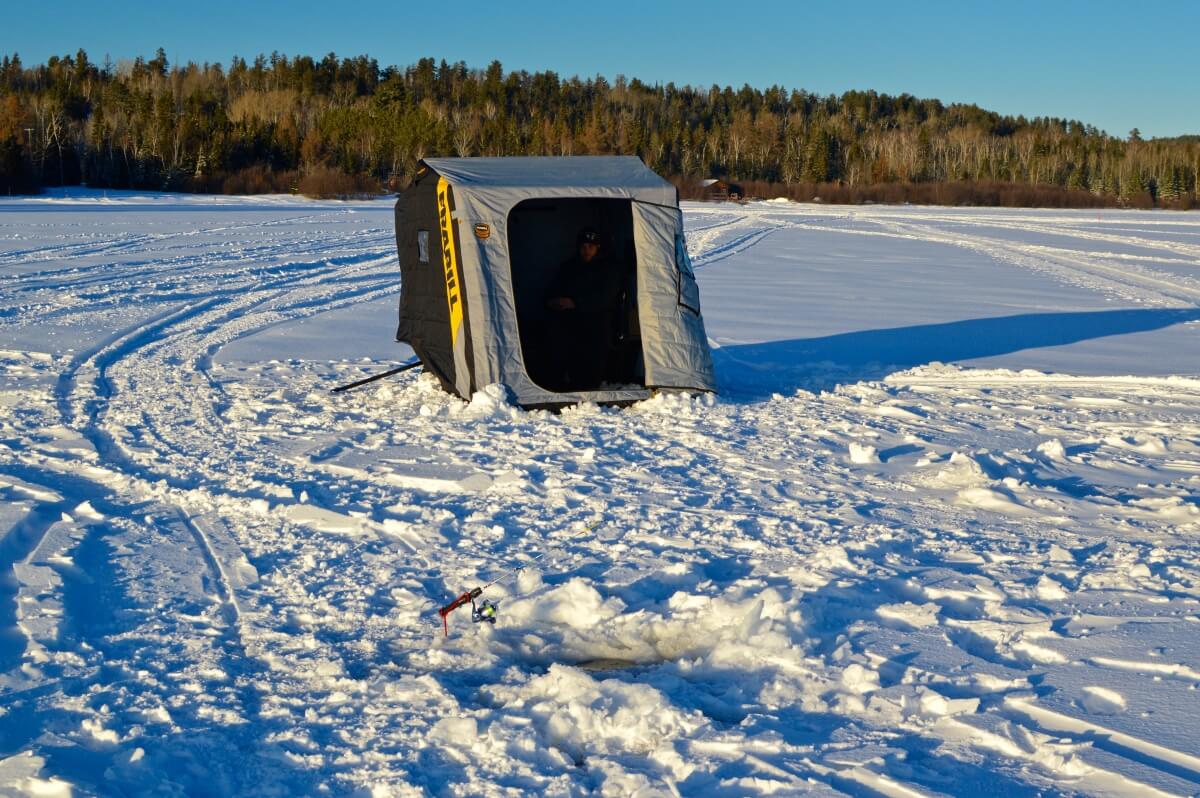 Windy Lake is great spot for ice fishing for sure, but we're largely including it to remind people that there are fantastic ice fishing opportunities to be had through Ontario Parks.
You'll need to book early, but Ontario Parks has packages now which include a stay at a winter cabin, plus they supply all the ice fishing equipment. Previously, I was able to do just that at Windy Lake Provincial Park and also fit in some cross-country skiing.
Windy Lake is known in particular for its Trout and Whitefish during the winter months.
Other provincial parks which are well known for their ice fishing include Frontenac Provincial Park, Quetico Provincial Park, Sibbald Point Provincial Park, and Silent Lake Provincial Park.
Lac Des Mille Lacs
Located a little over 150km northwest of Thunder Bay, Lac Des Mille Lacs is absolutely massive, spanning an area of nearly 250 kilometres squared.
It's the winter Walleye capital of Ontario, and the lake also has a reputation for being quite the Pike haven. For those interested in a multi-day affair, Pine Point Resort is a docking point for many ice fishers who want a heated ice fishing tent, but like to rest their head in a warm bed at night.
Otherwise, consider Sugar Shack Rentals which is run through Archie's Fishing Charters, and they have 3, 4, and 5 person huts with either a wood stove or propane furnace. You can find out more here.
Three Mile Lake
Located in Muskoka, Three Mile Lake is known for its Pickerel, Perch and Smallmouth and Largemouth Bass.
We're including Three Mile Lake largely to bring Muskoka into the mix here. Whether you do choose to fish on Three Mile Lake, Lake Rousseau, Lake Joseph or Lake Muskoka is up to you, but it's largely just worth noting that there is some mean Ontario ice fishing to be had in Muskoka.
Muskoka Stay N Play Tours offers guided snowmobile and ice fishing adventures that are very popular. They have one package which includes 1.5 hours of snowmobiling per day, and then a whole bunch of fishing in between. You can find out more about them here, or check out Muskoka Shores Ice Hut Rentals, here.
Lake Erie
There are two folks in particular on Lake Erie that put together a nice package for those interested in catching some fine fish in the wintry weather.
Firstly, Bayside Ice Fishing in St. Williams, Ontario is all about providing a relaxing experience for those newer to the sport. As they say, they try to cater to "those who seek the fun of fishing, and the heat of shelter." They primarily fish the inner bay of Long Point, which is arguably the Perch capital of Ontario. Find out more here, if you'd like.
Primarily setting up huts on Long Point Bay as well, Jimmy Riggin' Fishing Charters has this down to an art form at this point. They've got a very professional rundown of what they include, as well as very reasonable prices for what they offer.
Lake Erie winter fishing is all about Perch and Pike, but especially the former.
What Other Fishing Spots Should You Consider?
This article could, in all likelihood, be endless. That's how good we have it in this province. We'll go ahead and name a few more spots to consider for you.
Crystal Lake near Atikokan
Lake of the Woods near Kenora
Collingwood Harbour near Collingwood
Dunlop Lake near Elliot Lake
The Ottawa River
Lake Superior
Diver's Nook near Parry Sound
Lake Nipissing
Lake Temagami near Sudbury
Canyon Lake near Vermilion Bay
As always, we hope this helps you explore our beautiful province and, in this case, to find some moments to separate from the hustle, bustle, and also routine of daily life.
Ice fishing is a time honoured tradition, and one we think will only continue to get more popular. Done right, it's a way that we can connect with the land, and respect what incredible biodiversity we have.
We're proud to be your headquarters for Ontario travel. For more, join our Ultimate Ontario Facebook Group, or our highly popular newsletter, which offers no shortage of ideas for the best way to appreciate this province.
Christopher Mitchell is the Cofounder of Ultimate Ontario. He's visited over 80 countries, and has lived on 4 continents, but now has his eyes set squarely on exploring this incredible province, and helping others do the same.