A thorough rundown of the top restaurants in Gananoque, Ontario. Highlighting the best Gananoque restaurants around!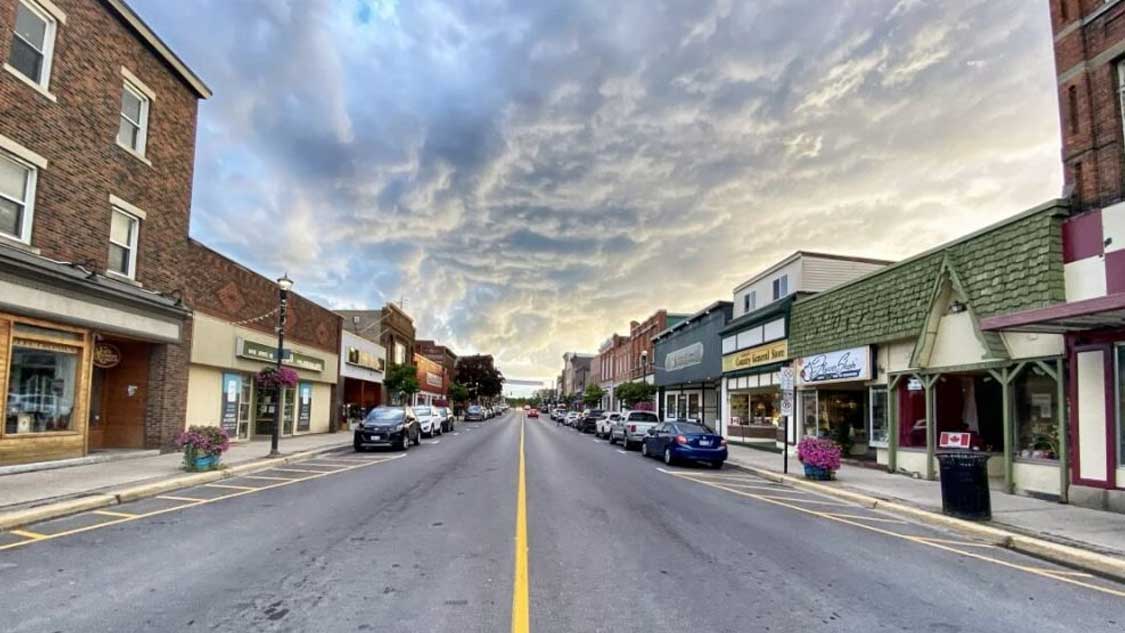 Anybody who has been to Gananoque knows precisely why it's so beloved across the province. And yet, all things considered, it's still not as widely known as it should be. Especially when considering the fantastic offering of restaurants in Gananoque.
The name "Gananoque" is an aboriginal name which fittingly means "town on two rivers." Gananoque's proximity to water is certainly part of its charm and appeal.
However, its small town Ontario charm doesn't stop there, and a huge part of what makes Ganonoque well worth a visit or road trip is the restaurant scene. Many people visit Gananoque simply to use it as a jumping-off point to explore the popular 1000 Islands,. But it would be a mistake not to spend the appropriate time appreciating the town itself.
If you're curious about how to pronounce "Gananoque," there's an old phrase that folks use to exemplify its pronunciation, and I'm a fan. They say there's "the right way, the wrong way, and the Gananoque."
The right way to explore Gananoque involves a lot good food, so let's get to it.
Which Gananoque Restaurants Should Be on Your List?
Below, we'll include a mixture of restaurants in Gananoque that span a variety of price ranges and cuisines. We'll also include some restaurants better suited to lunch, in case you're just briefly rolling through the town.
Maple Leaf Restaurant
Located on King Street, which may as well be called "restaurant boulevard," this is an unassuming spot that isn't flashy, but does homey Czech cuisine, really, really well.
Canadian fare is available if you want it, but I'd strongly encourage you to go Czech, and particularly not to miss their schnitzel. If you're a fan of mushrooms and enjoy savoury dishes, get their Rahm Schnitzel (pictured above. It's the classic pork schnitzel with creamy mushroom sauce, and you can get a side of either roast potatoes or spaetzle.
Maple Leaf also has imported Czech beer on tap (including Czechvar & Pilsner Urquell), which is a huge plus if you're a beer lover. If you want a hearty meal and a cold beer, you'd be hard pressed to find another restaurant in Gananoque better able to fit the bill.
Laverne's Eatery
They're well known for their sandwiches, quesadillas, salads and specialty coffee drinks, so in my books, this is an ideal place to circle for lunch in Gananoque. That being said, they do serve craft beer as well, so if you'd like to go for dinner, that's certainly an option.
Or you can have a beer at lunch. I mean, you do you.
When you're in Gananoque, I'd recommend actually following their Instagram account, as they post their daily specials there, as many look too good to pass up. It's a local spot that sources local ingredients, and has their local customer base in mind.
As Chef Ray so aptly says, it's a "healthy twist on diner food."
Riva
Also on King Street, but on the other side of the bridge from most Gananoque restaurants, is Riva.
With its tastefully renovated historic exterior, Riva would be hard to miss, even if you wanted to. Whether you're inside near the grand fireplace, having a beverage at the warm and welcoming bar area, or enjoying the garden patio to the fullest, you're in for a treat.
Bri and I shared two dishes.
First, we tried the Roast Chicken Supreme with porcini mushroom sauce, which came with fingerling potatoes and speck. Then, we shared the Garganelli with pecorino-black pepper cream that was accompanied by local vegetables and speck.
Both dishes were bursting with flavour, and, quite frankly, we savoured each bite until, sadly, there was nothing left.
Riva also has an exhaustive wine list if you're a lover of Ontario wine. Furthermore, they have a takeout menu, for those that would prefer to try Riva that way.
Panache Bakery & Cafe
In the heart of downtown is where you'll find this Gananoque bakery.
Their homemade soups are killer, and same with their chili. That being said, they make everything with care, so if you decide you've got a bit of a sweet tooth while you're in Gananoque, then this is also your spot to get a delectable pastry with a cappuccino.
The place smells like heaven itself, as per the mixture of fresh daily baked bread, sweet rolls, cakes, quiche, and whatever else they're whipping up fresh. It's best suited for breakfast or lunch, as opposed to dinner.
Their store hours are a bit in flux, so may be best to check their site for information, or give them a call with the number at the bottom.
Muskie Jake's Tap & Grill
Firstly, the views from the patio of the waterfront were great to take in while we had our meal. And, I should note that this is one of the few Gananoque restaurants I'll be mentioning that's not on King Street!
To be totally upfront, prior to visiting Muskie Jake's, I had read a review or two that made me curious about whether this spot would be for us, but our experience was excellent.
Our server was kind and attentive, and they were even able to rush the food to ensure we didn't miss our 1000 Islands boat tour.
I'd recommend The Gananoque Inn Salad, which includes mixed greens, berries, feta cheese, avocado, red onion, pine nuts and a homemade mustard vinaigrette.
As you might have gathered from the name, they're also well known for their fish, so we had the 1PC Fish and Chips. It's hand-dipped and beer battered haddock served with fries and tartar sauce. Both Bri and I thought it was great, and we're fish and chips snobs, sometimes!
The Purple House Cafe
We didn't get the chance to dine inside here, but that didn't stop us from ordering up a pizza pies to go. The Purple House Cafe, you see, is famous for their wood-fired pizzas, and they get pretty inventive. That, of course, is what makes them one of the best restaurants in Gananoque.
My suggestion here is to order something that you normally wouldn't. For us, that meant that we went with the Steak Pizza, which has cheddar, steak, caramelized onions, sautéed mushrooms, mixed peppers, and a drizzling of chipotle aioli. It was exactly as good as you're currently thinking it might be.
Next time, we'll likely try the Butter Chicken Pizza, or perhaps the Pulled Pork or Shrimp.
Again, don't travel all this way just to get a cheese pizza – get something exciting that you couldn't get elsewhere in Ontario.
What Other Gananoque Restaurants Should You Consider?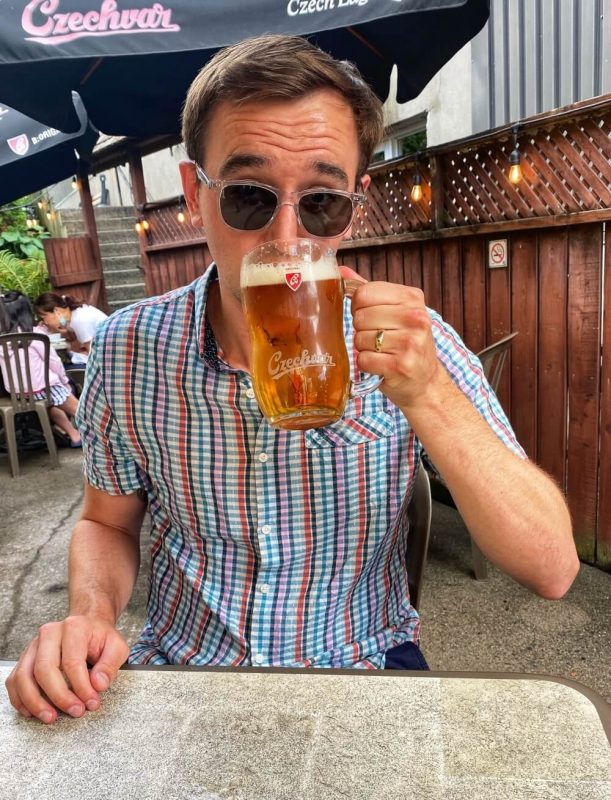 The following restaurants are spots that make the "honourable mentions" list in terms of restaurants in Gananoque.
These are the places that you may not be able to visit if you've only got a day or two in the area, but that you should consider visiting if you're spending a little while around here. They're all well regarded and reviewed, so I wouldn't count any of them out!
Stonewater Gastro Pub & Cafe
The Stonewater is a bit of an institution. It's essentially a bed & breakfast that has a penchant for craft beer and live music. They serve playful and elevated pub fare. If you're looking for something a little different, go for the Korean Fried Cauliflower.
The Ivy Restaurant
You won't get much better views of the St. Lawrence with your meal than you will here. I'd personally recommend going for their Sunday lunch (which is served until 2:30pm). You won't go wrong with their Chicken & Waffle, Lobster Roll, or Shipman's Burger.
1000 Curry
If you're looking for something a little different, 1000 Curry is a crowd favourite in Gananoque. If the weather is cold, you may just want to warm up with a Tomato Coconut Soup or a spicy Chicken Balti.
Grekos Pizzeria
This pizzeria has been a mainstay on King Street since 1991! Last I checked, they're currently doing takeout and delivery only, but you'll still get a chance to try their pie. You've got to go with the Grekos Special, which has pepperoni, mushrooms, green pepper, onion, and bacon. If you're feeling extra hungry, get an Italian Poutine, and thank me later.
Well, if you're going to visit Gananoque, you'll now know that you'll have no shortage of options when it comes to what you'll be able to eat.
If you're coming from Toronto, I'd recommend you stop in at BUSL Cider on the way down as well. Finally, make sure that along with your favourite sweater, you also ensure that you bring your appetite!
Disclosure: I want to thank 1000 Islands Tourism for hosting me as media for this experience. Please note, my views and words are wholly my own.
Christopher Mitchell is the Cofounder of Ultimate Ontario. He's visited over 80 countries, and has lived on 4 continents, but now has his eyes set squarely on exploring this incredible province, and helping others do the same.