Hy-Hope is a family farm that has changed a lot in its nearly 50 years of operation, and is now known as a Durham Region hotspot for a fun golf experience, incredible baked goods, and a healthy supply of fresh fruits and vegetables.
---
You'll find Hy-Hope Farm and Golf Course in Ashburn, Ontario, and not all that far from the ski resorts that have people driving this way in droves in the winter (especially from Toronto). However, this is an area that is gorgeous pretty much year-round, and playing a little golf out here is a might fine reminder of that.
Hy-Hope, however, is a lot more than just a golf course. We're going to double-click on this hidden gem in Durham Region, and let you know how you can make the most of your visit there.
The Story of Hy-Hope
We can trace the history of Hy-Hope all the way back to 1972, when it was known as "Spencer Farm." A couple of years later, it was renamed "Hy Hope Farm," and Dave and Carol Bibb got to work!
They started off by focusing on farming the land and growing vegetables, but on Grey Cup Weekend in 1980, Carol decided that they would start to bake and sell pies at the end of their driveway and the rest, as they say, is history.
As they note on their site:
"Over the past 40, years Hy-Hope Farm has seen many changes from a folding table at the side of the road to a year round farm market. There's something for every season, from fruits and vegetables in the summer, tobogganing in the winter and our year round freshly baked goods, jams and preserves. And, don't forget the 18-hole executive golf course."
The golf course, we're told, was Dave's idea, and what a great idea it was.
What's On Offer at Hy-Hope?
As noted above – a few different things. We'll expand on them a bit so you can understand how to best enjoy them.
The Golf Course
It seems only right to quote the owners here. They're noted as saying that "from the beginning we have been a family friendly place for parents to bring their children to learn how to play golf in a relaxed atmosphere. We value the idea of a place where people can learn how to play golf with little stress and pressure."
Hy-Hope is indeed a great place to have some fun on the course. It's not the airtight country club experience that can be off putting to those who aren't as familiar with the game, or are perhaps entirely brand new to it.
It started off as a six-hole course, but has now expanded into an executive 18 hole course that comes in at 3256 yards from the back tees.
It's quite a scenic round as well. There's picturesque farmland, gardens and orchards all around, and we felt the course was nicely maintained as well for our visit. The rates aren't exorbitant (you can see prices here), especially when it comes to their Ten Round Value Packs (just 100 bucks for a Junior).
The Bakery and Store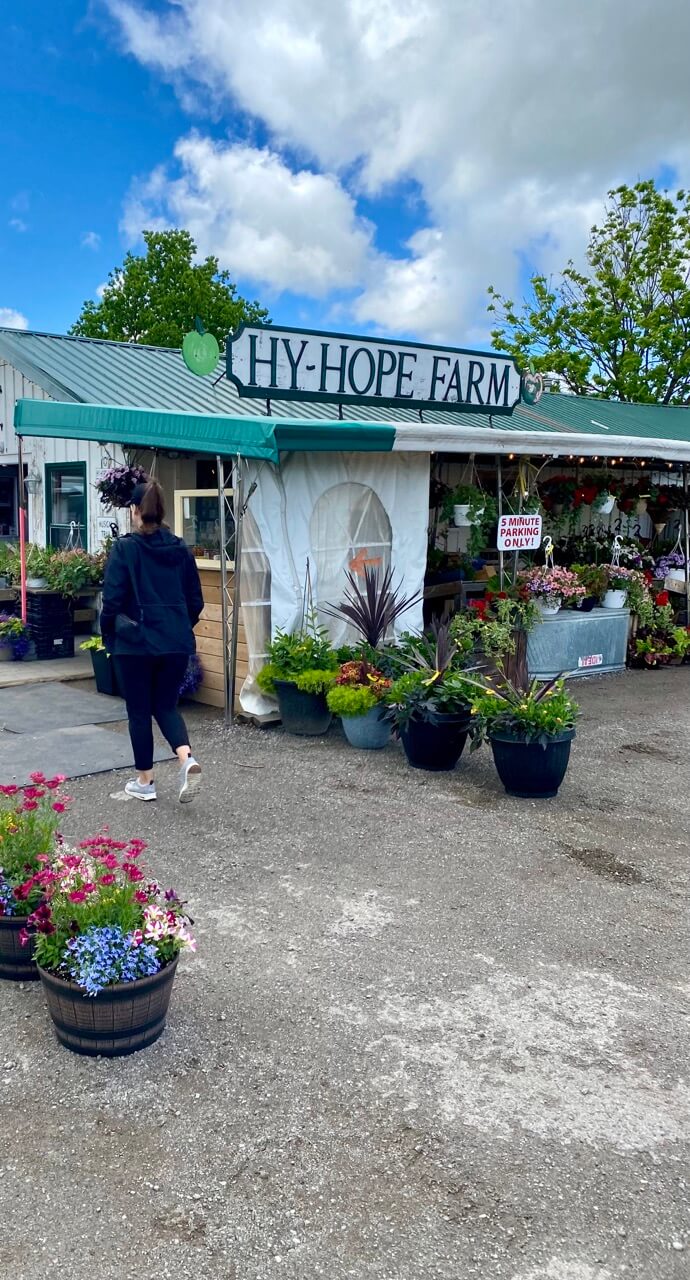 It smells delicious in this place, and we think that may have something to do with the pies. That being said, the butter tarts and fresh bread doesn't exactly put a damper on the incredible smells either.
The key to their baked goods? Everything is made from scratch using traditional methods, and real butter.
"Our pies are baked using our homemade pie fillings, from fruit grown on our own farm or other local farms. Our pastry is made from scratch, hand rolled to create a flaky tender crust. We have eight different types of pies, from our most popular apple to strawberry and rhubarb to less common varieties such as plum or strawberry and red currant."
They also make their own jams and preserves on site if you'd like something to bring home and pad the pantry cupboard with.
A major draw during the summer months is the fruits and vegetables that they have on sale in the market as you enter the store. They offer a little bit of everything. From "apples to zucchinis," Hy-Hope notes. They've got all your favourite root vegetables and during peak harvest, something like 15 different types of apples!
You can also bring home some freshly cut flowers if you'd like to surprise a special someone.
Hy-Hope Awaits
If you're looking to hit the links, be sure to check out their Tee Times on offer, but we want to remind folks that they should plan their day so that they can appreciate all sides of Hy-Hope. We arrived early, for example, to grab a coffee as well as a rather large assortment of baked good (no regrets on that front!).
We played our round under some bright Ontario skies, and then also had lunch there after the game. There was actually a chef specializing in South American cuisine who was doing a little pop-up at the small building beside the opening tee blocks. We sat there and watched others golf in the distance, and ate to our hearts' content.
Visiting Hy-Hope offers a little something different because you're combining a fun and casual golf experience with some top-notch baking, and the enjoyment that comes from visiting a local market in the first place. If you're nearby and haven't been just yet, this article may just be your calling!
---
We want to humbly thank Durham Tourism for hosting us as media. All opinions are completely our own.
If you appreciated this article, you'll love our newsletter, as well as our Facebook group! Feel free to join, all are welcome.
Christopher Mitchell is the Cofounder of Ultimate Ontario. He's visited over 80 countries, and has lived on 4 continents, but now has his eyes set squarely on exploring this incredible province, and helping others do the same.