THEMUSEUM, at its core, aims to be a place where a million different ideas can co-exist, and each visitor, young or old, can establish a personal connection to them in their own way. It's a place where families can go to experience a very different kind of kid-friendly museum.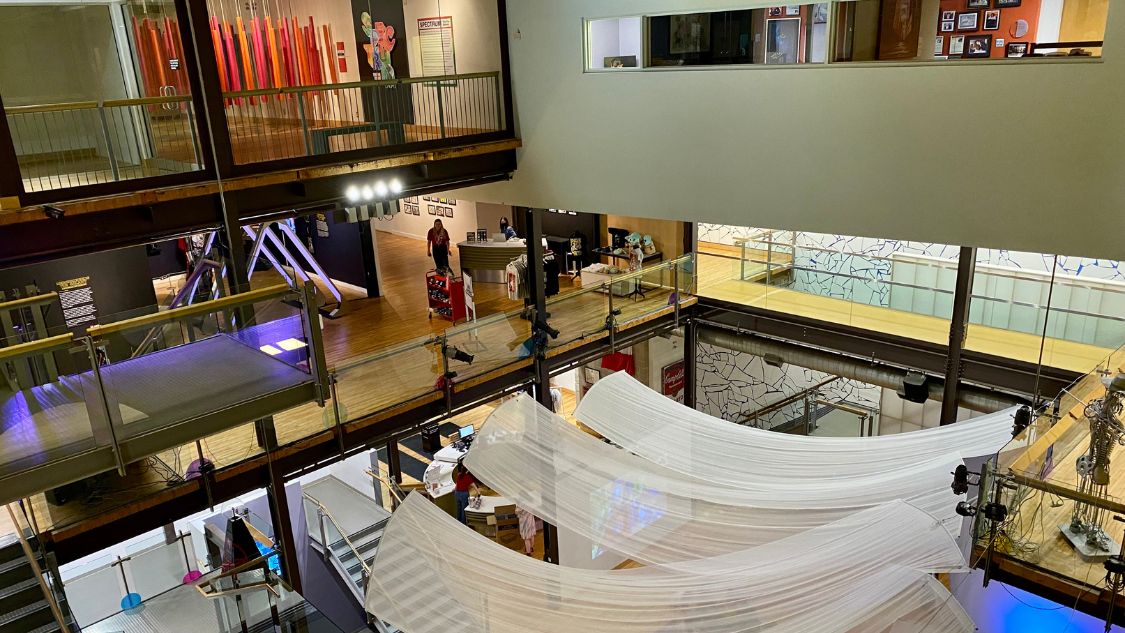 ---
In our most recent visit to Waterloo Region, our focus was on continuing to visit places that we felt made the region unique – largely so we could experience them and share them with you, of course.
We caught a lovely little performance at the St. Jacobs Country Playhouse, cycled along the newly established Farmers' Market Trail, and, of course, put in some work to update our best breweries in Waterloo article!
However, we also wanted to ensure that we made time for a visit to THEMUSEUM. Many of you may remember that this museum opened in 2003, and at that time it was called the Waterloo Regional Children's Museum. In 2010, they rebranded to "THEMUSEUM," partly as a bold demonstration of their commitment to being a different kind of museum.
Kitchener's "THEMUSEUM" – A Different Kind of Museum to Explore
First and foremost, we want to direct you to how THEMUSEUM sees itself, as we feel that's an accurate indication of what you and your family can hope to experience. This is from their site:
"We are THEMUSEUM – ONEWORDUPPERCASE. We are a new kind of experiential museum – one of maverick ideas and unexpected intersections. No dusty objects and no velvet ropes. We are a premier cultural destination dedicated to presenting fresh, inspired content from around the globe in unique and immersive ways designed to showcase art & technology at play."
Their goal is to feature a wide, diverse range of cultural content that is awe-inspiring, and can broaden the horizons of both parents and children who visit. One thing we've noted is that there's almost always a buzz about an upcoming exhibition. They've focused on some huge names in the past – Andy Warhol, Jane Goodhall, Yoko Ono…you name it!
You may have heard about THEMUSEUM during its run of Rolling Stones | Unzipped in Kitchener, as well.
The space features five floors and 55,000 feet of exhibitions, almost all of which are heavily centred on the idea of being interactive, creative, and thought-provoking. THEMUSEUM typically attracts over 100,000 visitors annually, and has come to be a signifier of Kitchener's downtown revitalization. Last we heard, they were aiming to purchase 2 King Street West in Kitchener (right next door) in an effort to expand and, ultimately, to have an even greater impact on the community at large.
Experiencing THEMUSEUM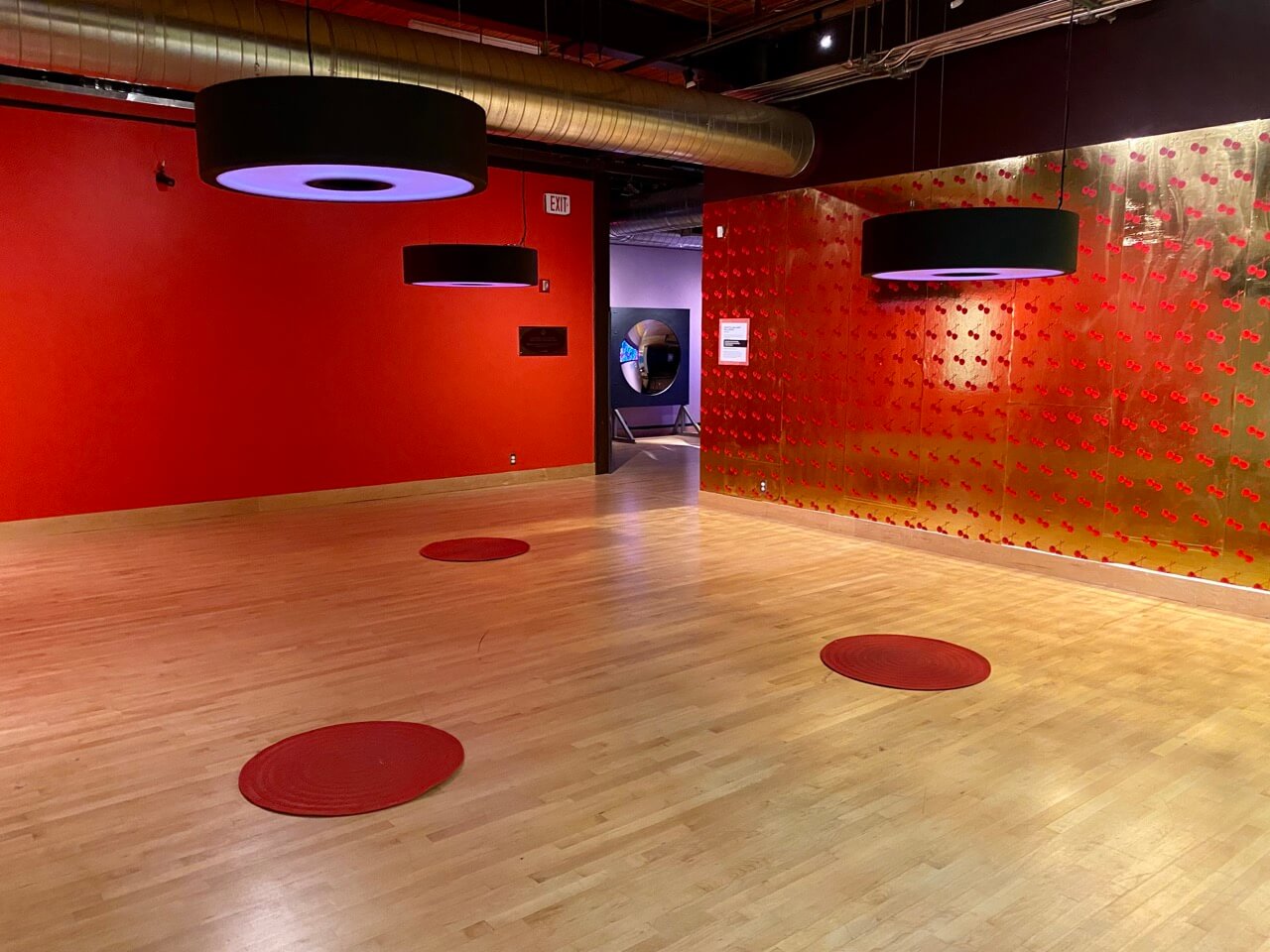 Before visiting, you should take a moment to look at their list of current exhibitions. To give you a sense of what sort of exhibitions THEMUSEUM aims to showcase, we'll briefly run through what's on now, but just note that you'll want to check that link right up above to note what will be on for your visit, whenever that is.
Traveller, many hidden moons ago…: An outdoor exhibit by Toronto-based artist Akshata Naik, inspired by thoughts of movement, travel, and escape during the pandemic.
SPECTRUM | The Five Senses: This exhibit is on until January 15th, 2023, and it's a fun one. The exhibit offers a deliberately multi-sensory experience that is sure to delight. We saw families here having a ball, and it was also the sort of exhibit that is going to offer you the chance to capture a ton of wonderful photos and video. They describe the exhibit as "an instagrammable experience that ignites all five senses," and that seems right on the money.
Climate Refugees Exhibition: This exhibition features photography from Vlad Sokhin and aims to bring attention to the way that climate change has forced people to leave their homes (or embark on "involuntary migrations," as he notes). We appreciate THEMUSEUM showcasing an exhibition like this – one that is a medium for education and empathy for visitors of all ages.
MERCHANDISING THE GALAXY: Certainly the most extensive collection of Star Wars memorabilia that we've ever set eyes on. It's the remarkable collection of Syd Bolton, an Ontario Star Wars fanatic and tech aficionado who sadly passed away in 2018. His wife, Jennifer, worked with THEMUSEUM to put together this display, and they did a great job of it.
Whether or not these exhibitions are still on when you visit or not, you can expect that, due to how eclectic and wide-reaching their exhibitions typically are, they'll be something here for you to appreciate when you visit. You can feel fairly confident in just coming on over to THEMUSEUM on a whim with the family and seeing where the day takes you. Here are some of the past exhibitions, by the way.
In terms of their permanent exhibitions, you can spend time at the Animation Station, Tot Spot, Beat Bender, Bed of Nails, Shadow Play, Geo-Terraces, The Urban Streetscape Project, and the Sol LeWitt Art Installation.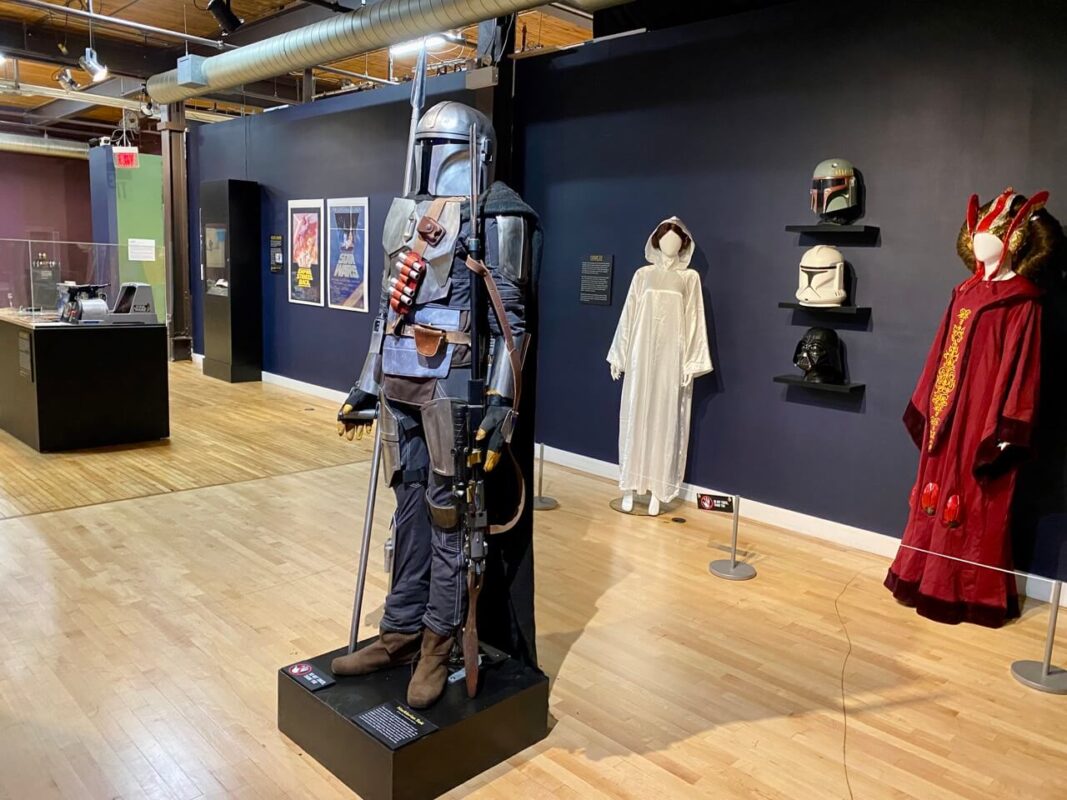 Planning Your Visit
Here's what you may want to know, and what we're only too happy to share with you to ensure you're all set for a great visit.
Regular hours here are 10am – 4pm from Tuesday to Saturday, and Wednesday's hours are extended from 10am – 7pm. (Need assistance? Call 519.749.9387 ext.221 or email to [email protected])
You can buy tickets here. Adult tickets are around $15, children (3-12) come in around $11. Infants under 3 are free. You'll want to know that on Wednesday's admission is currently only $7.99. The Family Pass (which includes 2 adult tickets and 2 child tickets) may be your best bet as it's around $40. They have seniors' rates as well, which are noted in the "55 & Better" category. Can we just mention how much we love that they use the term "better," instead of "older?"
THEMUSEUM is completely stroller and wheelchair accessible. Furthermore, there's a free rental wheelchair available should you or anyone in your party require it, and it's located at Visitor Services.
Generally speaking, visitors typically spend about an hour or so at THEMUSEUM. That being said, you're welcome to stay as long as you like. We noticed some areas where parents were working with kids on different crafts and projects, and they seemed like their visit to THEMUSEUM was their big activity for the day, and they were going to make the most of it.
If you plan on visiting more than once, it's likely worth looking into a membership. A family membership for the year, for example, comes in around $150. You can find out more information here.
Teachers with a valid OCT membership are always free at THEMUSEUM for general admission. Speaking of education, THEMUSEUM actually offers mini day camps on PD Days (as well as summer camps), and you can find out more information about that here.
If you want to stay up to date on the comings and goings of THEMUSEUM, be sure to sign up or their newsletter.
Finally, if you're keen to, you can learn more about donating and supporting the efforts of THEMUSEUM right here.
We sincerely hope this serves you well in either your decision to visit THEMUSEUM or in making the mosts of your visit there. We like to showcase places that are focused on making a positive impact in Ontario communities and this institution certainly fits the bill. Enjoy your visit!
---
We want to humbly thank Explore Waterloo Region for hosting us as media. All opinions are completely our own.
If you appreciated this article, you'll love our newsletter, as well as our Facebook group! Feel free to join, all are welcome.
Christopher Mitchell is the Cofounder of Ultimate Ontario. He's visited over 80 countries, and has lived on 4 continents, but now has his eyes set squarely on exploring this incredible province, and helping others do the same.