Tucked behind the charming little intersection of historic Goodwood, Ontario, there lies a family-owned bakery and cafe that is the perfect place to stop during a trip around Durham Region, or to visit as a destination in itself.
---
Here at Ultimate Ontario, we are big fans of local cafes, and we know you'll be a big fan of this one.
Annina's Bakeshop in Goodwood is full of all sorts of delights that are sure to brighten your day. They have everything from breakfast pastries and wraps to lunch options and a full catering menu.
Their location has a spacious indoor dining area upstairs for lunch and breakfast, and they also have a large outdoor patio with many picnic tables and umbrellas on their front lawn. Whether you're grabbing and going or staying to savour, Annina's is a treat to visit during some time spent exploring in Durham Region.
It's also a stronghold for cyclists who are looking to stop and refuel during their ride, and is very bike friendly.
The History of Annina's Bakeshop
This bakery and cafe is named after the family who runs it: the Annina family. At the helm of all the culinary delights is Chef Marco Cassano.
Marco was born and raised into the family bakery and restaurant business in his early years growing up in Stouffville. He learned to grow vegetables in the garden and take care of the animals at the family farm, and was soon cooking meals by himself at the age of 12.
After attending George Brown Culinary College, he and his brother bought and ran another restaurant in Stouffville for several years, before opening the location in Goodwood in 2007.
Today, Annina's only location is in Goodwood, Ontario, and business has certainly flourished. People come from far and wide to try the assortment of delicious offerings at Annina's, and it isn't surprising why they do.
Annina's Bakeshop and Schitt's Creek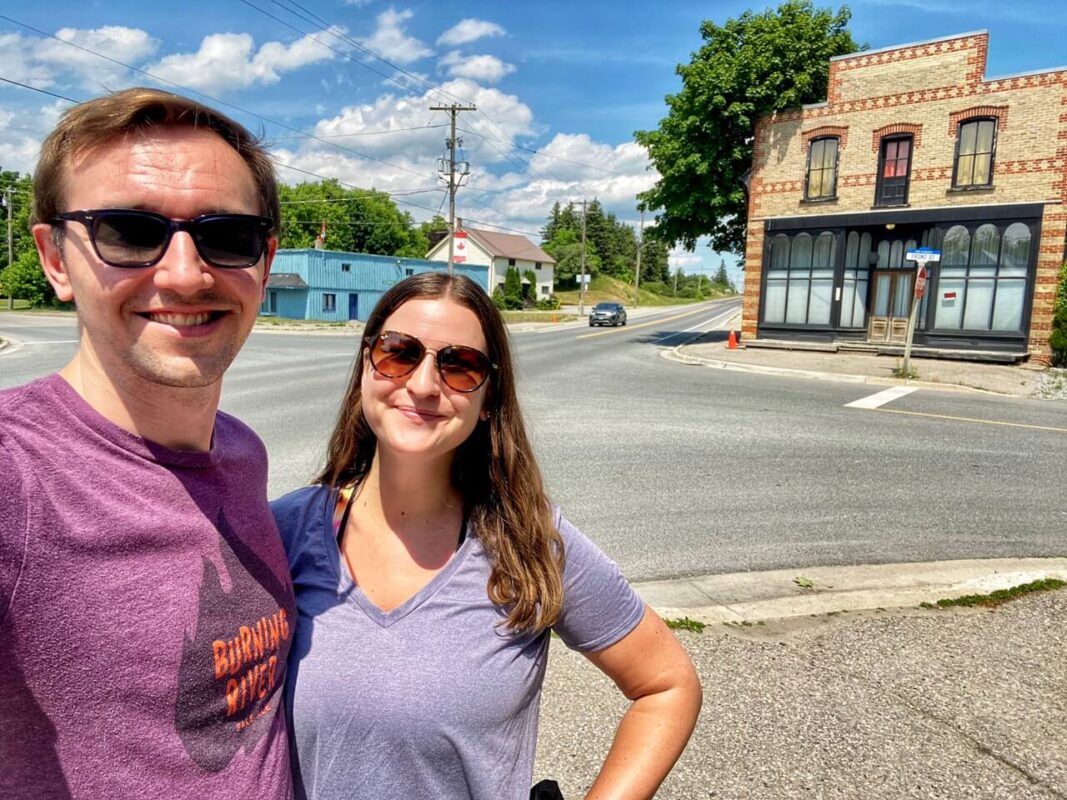 For those of you who have visited Goodwood, Ontario before, it might not be surprising that the cast of Schitt's Creek has openly declared their love for Annina's Bakeshop on multiple occasions.
The bakery is located directly across the street from real-life "Schitt's Creek". Just beyond their outdoor seating area, you can see Cafe Tropical, Bob's Garage and Rose Apothecary.
The historic centre of Goodwood, Ontario is where all of the outdoor scenes with the exception of the motel (which is near Orangeville) were filmed. Since it was so close, Annina's catered five of the six seasons of the show for all of the cast and crew.
In fact Annie Murphy, who played Alexis Rose on the show, is "obsessed" with the butter tarts at Annina's. Dan Levy (David Rose) has also been photographed enjoying sweet treats from the bakery. Eugene Levy (Johnny Rose) would often buy meat pies from the store, too.
During your stop at Annina's, you'll have to see how their dishes measure up for yourselves. But let's just say, you won't be disappointed.
Things to Try at Annina's Bakeshop, Cafe and Catering
It goes without saying that there is no weak link in the abundance of delicious things to try at Annina's, but here are a few dishes you'll likely want to sample while you're there.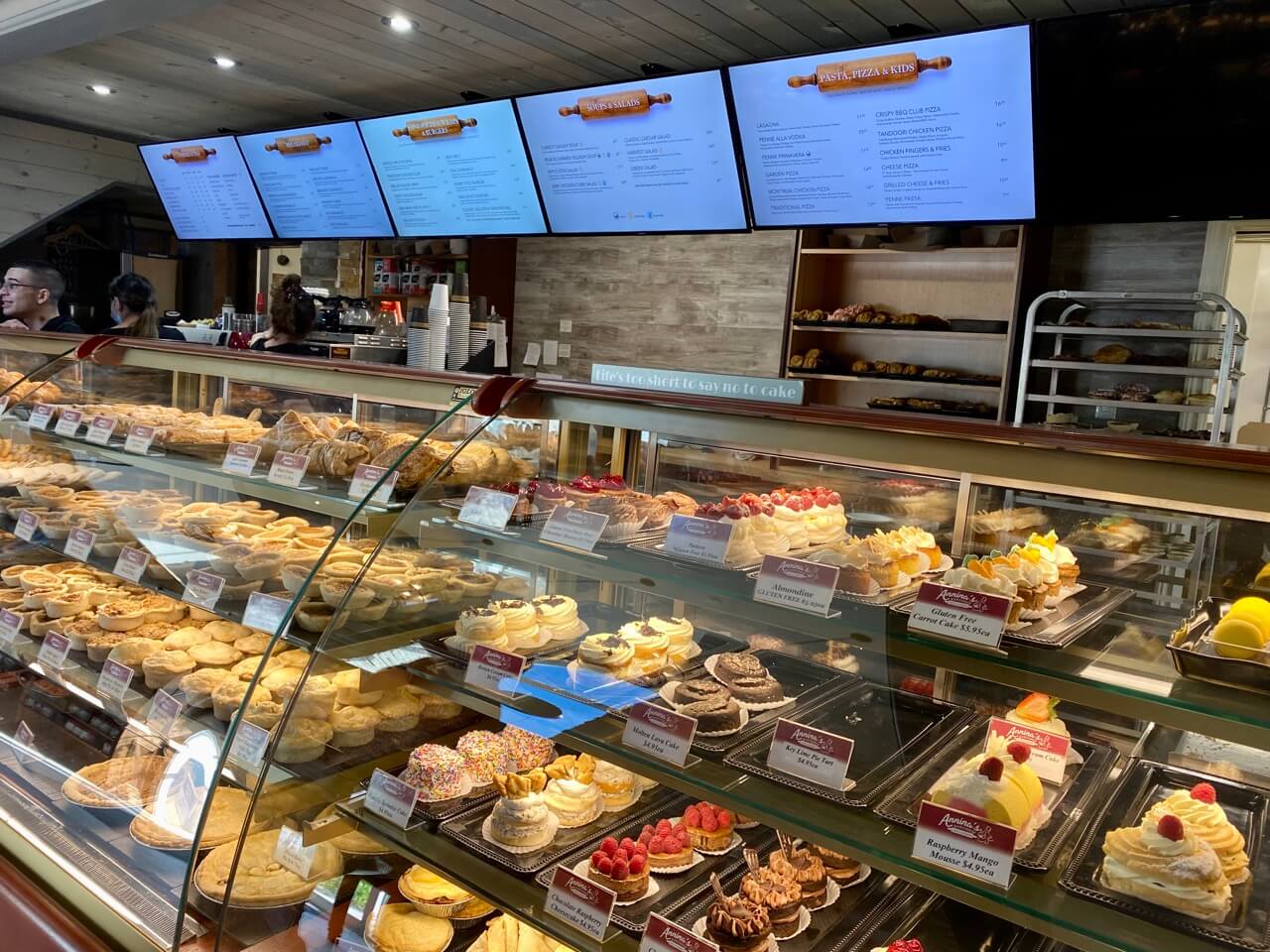 Breakfast
If you find yourself visiting around breakfast time before heading off to explore one of the many trails in the area for a morning stroll, you'll want to fuel up with one of Annina's breakfast sandwiches or quiche. They also have an impressive selection of pastries, like freshly baked muffins with a rotating choice of flavours, or scones.
Lunch
Taking a moment to sit down and savour lunch in Annina's upstairs dining room is a treat. They have an excellent selection of sandwiches, soups and salad.
We'd recommend trying their Veal Sandwich, Jerk Wrap, or Mad Dave's Burger if you're looking to go more of the sandwich route.
On the soup and sandwich end of things, you can't go wrong with their Carrot Ginger Soup or their Apple Feta Salad. Their Greek Salad is also a delight.
They also have a few house-made pasta staples, like Lasagna and Penne Primavera for you to choose from, if you're thinking of going on more of the traditional Italian route.
Ready-Made and Just for Fun
In addition to all of their delectable treats during breakfasts or lunches, they are known equally well for their catering and ready-made business.
Their gourmet, family-sized Meat Pies and Quiches are excellent options to take away and enjoy at home. They also have family-sized meals like Eggplant Parmesan, Meat Lasagna or Chili to take home with you. There are several other options to take home for dinner, so make sure you check out their frozen section during your visit, too.
It would be remiss not to share that Annina's Bakeshop is also known for their gourmet donuts, cakes and strudels. It's a little overwhelming for anyone with a sweet tooth (guilty, as charged), so you're either going to want to do your homework, or give yourself a solid ten minutes to decide which delectable desserts will be yours to try during your visit to Annina's.
Things to Do Near Annina's Bakeshop
While you're in the area there are a few activities we'd recommend doing.
We'd highly recommend checking out the outdoor filming locations of Schitt's Creek, but please keep in mind and be respectful of the fact that Goodwood, Ontario is a small town, with residents who deserve privacy. Please don't walk on private lawns or take pictures of their private properties.
Aside from that, we'd recommend taking a walk, hike or bike along one of the Uxbridge Trail Hub trails. You can learn more about Trail Hub on their website, which has access to different maps and ways to explore the region.
After your time in Goodwood, you can continue on to visit another one of the charming nearby towns in Durham Region. Port Perry, Uxbridge and Brooklin are all great areas to walk around, especially along their main downtown streets.
If you're keen for some outdoor adventures, you could go ice fishing or kayaking near Lake Scugog, or golfing at Hy-Hope Farm.
Supporting Local Businesses Like Annina's Bakeshop and Small Towns like Goodwood, Ontario
If we've learned anything over the past few years, it's that buying and supporting local businesses should be our priority while we're exploring Ontario.
Small businesses like Annina's and small towns like Goodwood, Ontario are so grateful when people from out of town come to enjoy what they offer.
After all, one of the best parts of visiting small towns across Ontario is to learn about and recognize just how many offerings a place that seems so small can truly have when you take a moment to open your eyes.
---
We want to humbly thank Durham Tourism for hosting us as media. All opinions are completely our own.
If you appreciated this article, you'll love our newsletter, as well as our Facebook group! Feel free to join, all are welcome.
Bri was born and raised in Ontario. She spent many years living abroad, but returned to Ontario a few years ago, and is very happy to be back exploring.
She loves writing about travel experiences in our beautiful province, including unique accommodations, memorable meals and adventurous activities.
You can find her canoeing and swimming across Ontario with a craft brew in her hand in the summer, and snowshoeing or curling up with a good book and an Ontarian Pinot Noir in the winter.