MJ's Roadhouse in Lucan, Ontario is the ideal spot in Middlesex County to eat creative pub food alongside Ontario craft beer and cocktails.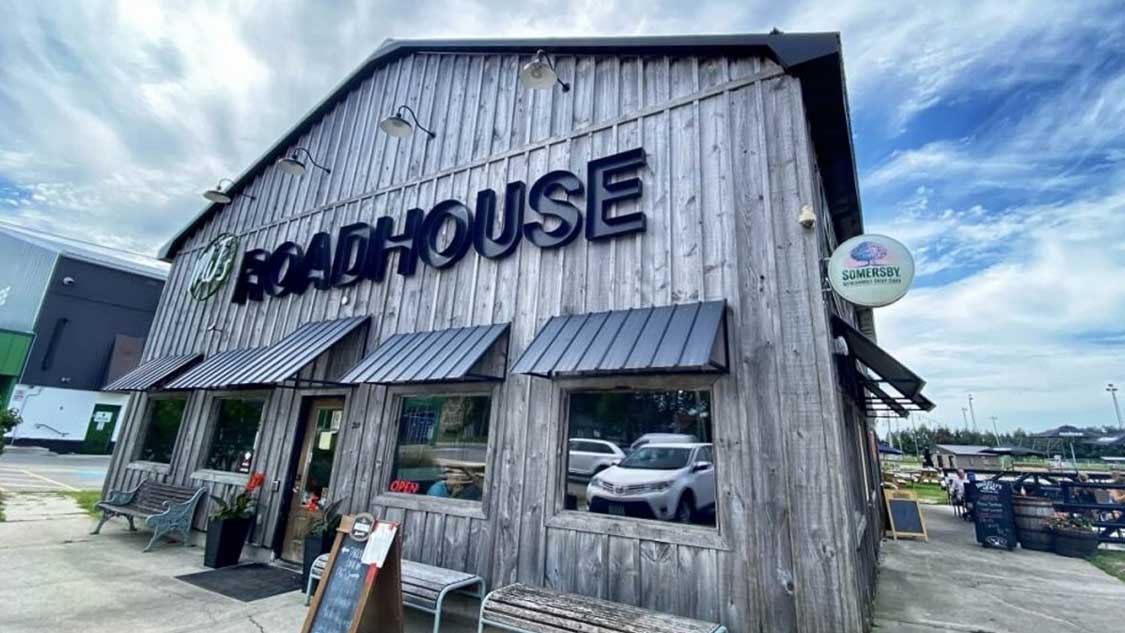 There aren't many restaurants in Ontario that I'd try for dinner, and then somehow wind up back there for lunch the following day. But, MJ's Roadhouse in Lucan, Ontario is indeed one of those restaurants, and I've got precisely zero regrets about it.
It's the sort of restaurant that, even if it's your first time there, it all feels kind of pleasantly familiar.
And they check all the boxes as well – an indoor area with ample space, an enormous outdoor area with picnic tables galore, delicious and inventive cuisine, local craft beer, and a seriously enticing cocktail list.
We've talked a lot as of late about really thinking outside of the box as far as all we can experience in Ontario, and I think a stop at MJ's Roadhouse could be the perfect addition to any Ontario staycation or Ontario road trip, assuming you're heading towards Ontario's Southwest, that is.
Where Exactly is MJ's Roadhouse?
You'll find MJ's Roadhouse on Main Street (Highway 4), with Lucan Architectural (a place my friend in the region says is worth popping into for knick knacks), and the Lucan Community Memorial Centre on either side.
Lucan is a part of Middlesex County which is, in turn, a part of Ontario's Southwest. Its population tops out at a few thousand, and it's a pleasant little town.
I have to say I noticed that people were coming from all around Middlesex County and beyond simply to visit MJ's Roadhouse. So, I suppose this fairly new Ontario restaurant is living up to its name as a roadhouse, after all.
In terms of a nearby major Ontario city, it's about 22km northwest of London. If you're driving, there's a fair bit of free parking right out front. With the size of the lot, my guess is you'll have no trouble finding a spot.
What's on the Menu at this Lucan, Ontario Restaurant?
As the title of the article suggests, it's pub-style food, but they've put their own twist on it, which I think makes it a cut above.
Food at MJ's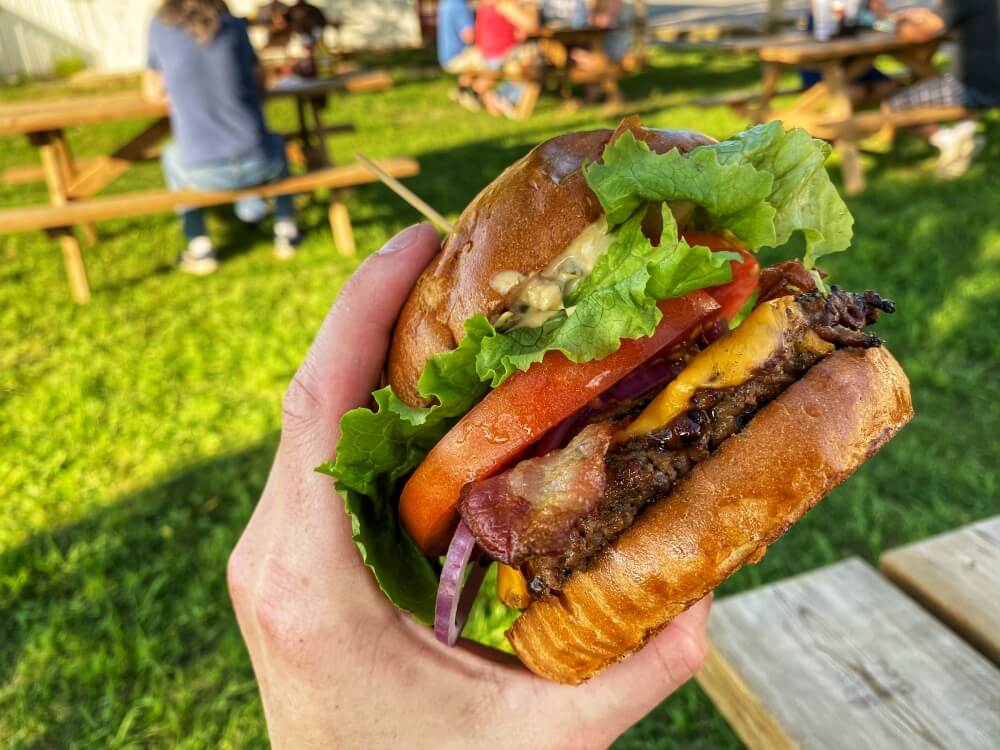 They've got appetizers that include some Canadian classics like poutine and wings, but also some unique dishes such as the Jalapeno Popper Flatbread. I also saw some tables sharing the Appy Share Platter, and I was jealous to say the least.
They feature a few salads as well for those looking to eat lighter, and the locally sourced Hayter's Roasted Turkey Cobb Salad definitely caught my eye. That being said, I couldn't bring myself to order a salad when I saw what else was on the menu, but that's just me.
Though MJ's Roadhouse is relatively new in the Middlesex County restaurant scene, they've made a name for themselves with their burgers. In particular, people rave over the Hogtown Burger and the Roadhouse Burger, both of which feature bacon rather prominently (the Roadhouse with candied bacon, and the Hogtown with homemade bacon relish).
They've also got footlong hot dogs, some classic sandwiches, and then full-fledged dinner plates. So, you can get yourself some Ontario fish & chips here if that's what you're looking for, but you could also go more on the wild side and try their Root Beer BBQ Rib Dinner, which they're quickly becoming known for.
Drinks at MJ's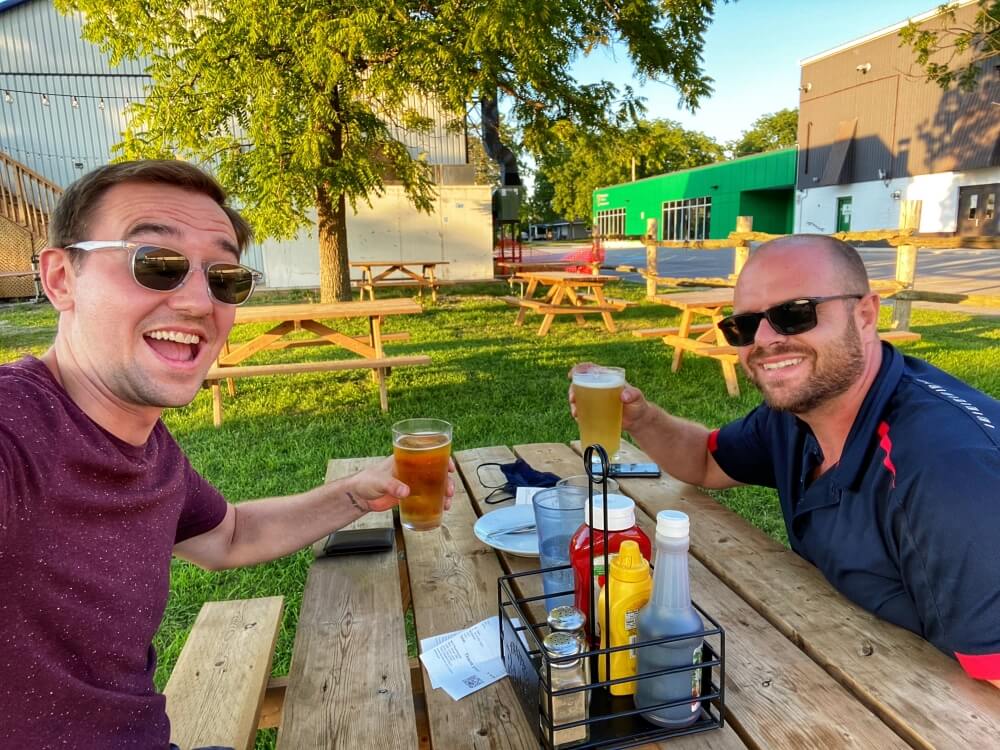 They've got hand crafted cocktails as well, and their Caesar and Electric Lemonade appeared to be particularly popular.
In terms of craft beer, they had the usual suspects, but I'd recommend with getting yourself an Ontario craft beer. They've got a few beers from Muskoka on their taps, but I purposely stuck with the beers from Black Donnelly's Brewing Company, since that was local. If they've got it on tap, their craft ale was crisp and refreshing.
Their menu may not be updated on their website, but you can see it here if you want to dive in further. They've also got a very active Facebook page if you'd like to follow specials, deals and events.
What I Tried (& What I Loved) at MJ's Roadhouse
I wanted to give you an overview of the menu at MJ's above, but I thought I'd also briefly walkthrough what I tried personally. This way, when you arrive at this Ontario roadside restaurant you'll be ready to dive-in.
And, I went twice within pretty much 18 hours and definitely ate my fill. Hey, it's all for you guys, right?! (that's what I'm pretending, anyhow)
Roadhouse Thick Cut Onion Rings with Southwest Aioli: Yeah, pretty much as delicious as you'd think this would be. The kind of onion rings that'll actually fill you up, and you know you're eating onion and not just batter.
Jalapeno Popper Flatbread: I've got a new addiction, and it's the Jalapeno Popper Flatbread at MJ's Roadhouse. A cream cheese base, bacon, jalapenos, cheddar cheese – enough said. I ate this all to myself before my meal, but I do believe it was made to share as an appetizer.
Roadhouse Burger: Whenever the restaurant names a burger after itself, that's a good bet for it being delicious. You've got BBQ sauce, candied bacon, cheddar, crisp jalapenos, and the rest of your regular burger fixings.
Harvest Turkey Club on Cranberry Ciabatta: What sold me on this was the fact that it was locally sourced Turkey from Hayter's Farm. It also had candied bacon, lettuce, tomato, and honey dijon. The fries were also fantastic.
They've also got dessert here, but I actually drove down the street to DairyLovers (33406 Richmond St., Lucan, ON), and got a scoop of Nanaimo Bar Ice Cream. If you're travelling with kids, that could be the cherry on top of the meal!
Perhaps the best part of eating here was that I was also joined by one of my best friends on the planet, as well as his lovely wife and daughter, and her family. The large picnic benches ensured that we all had ample space in the outdoors to responsibly interact.
This is one of those restaurants in Ontario where you're going to eat there, and then instantly begin thinking about when the next time you're going to eat there will be.
It's a great roadhouse restaurant that's fun whether you're on your own, with a friend or partner, or bringing the whole family.
Disclosure: I want to thank both Middlesex County Tourism and Ontario's Southwest for hosting me as media for this experience. Please note, my views and words are wholly my own.
Christopher Mitchell is the Cofounder of Ultimate Ontario. He's visited over 80 countries, and has lived on 4 continents, but now has his eyes set squarely on exploring this incredible province, and helping others do the same.