Looking for Ontario staycation ideas? We have some of the best tips for local vacations in Ontario right here. From glamping to wine tours and more.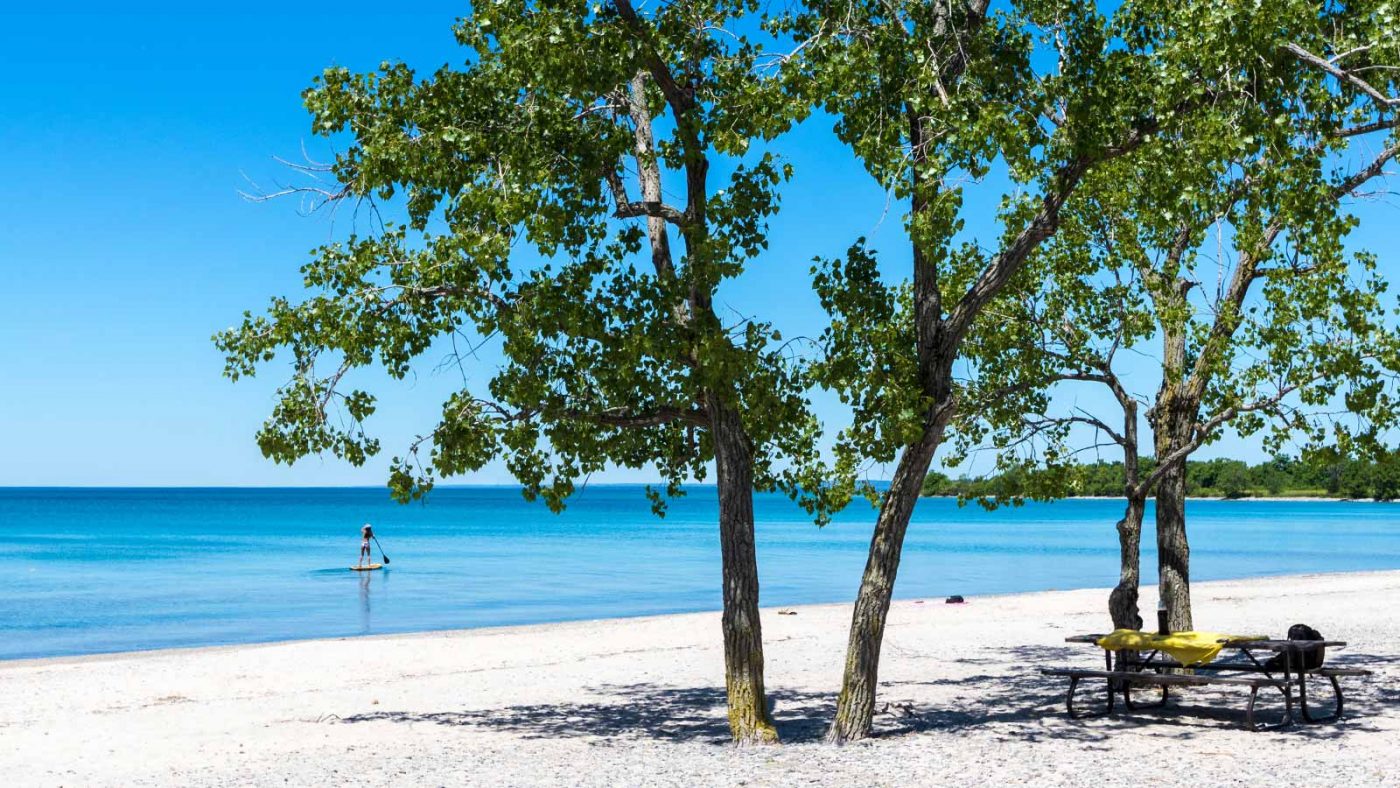 Ontario is AWESOME! In fact, here at Ultimate Ontario, we think this province is so great that we built a whole website around showing off the best things to do and see here. And with the summer coming into full swing, Ontario staycation ideas have never been more popular.
With social distancing and health-conscious travel in full-effect, Ontario staycations offer a way to relax, unwind, and get a taste of what this big beautiful province has to offer.
A staycation in Ontario offers a budget-friendly alternative to international vacations. And whether you're looking for spectacular Ontario landscapes, charming small-town bed and breakfasts, or pampered romantic getaways, this list of Ontario staycation ideas will help you plan a vacation in your own backyard.
Ontario Summer Staycation Ideas
If you're planning to un-travel for your Ontario staycation this summer, here are a few ideas that will jump start that creative brain of yours and help you plan a local trip in Ontario.
Some of these are great ideas for family weekends out, while others are perfect for those girls' getaways or bachelor parties.
But no matter who you're staycationing with, you'll find something that suits your fancy in Ontario.
If you're leaving from Toronto, you can also plan your driving routes to include some of these amazing Ontario road trips along the way.
Lap In Rustic Luxury At Some Of These Ontario Glamping Destinations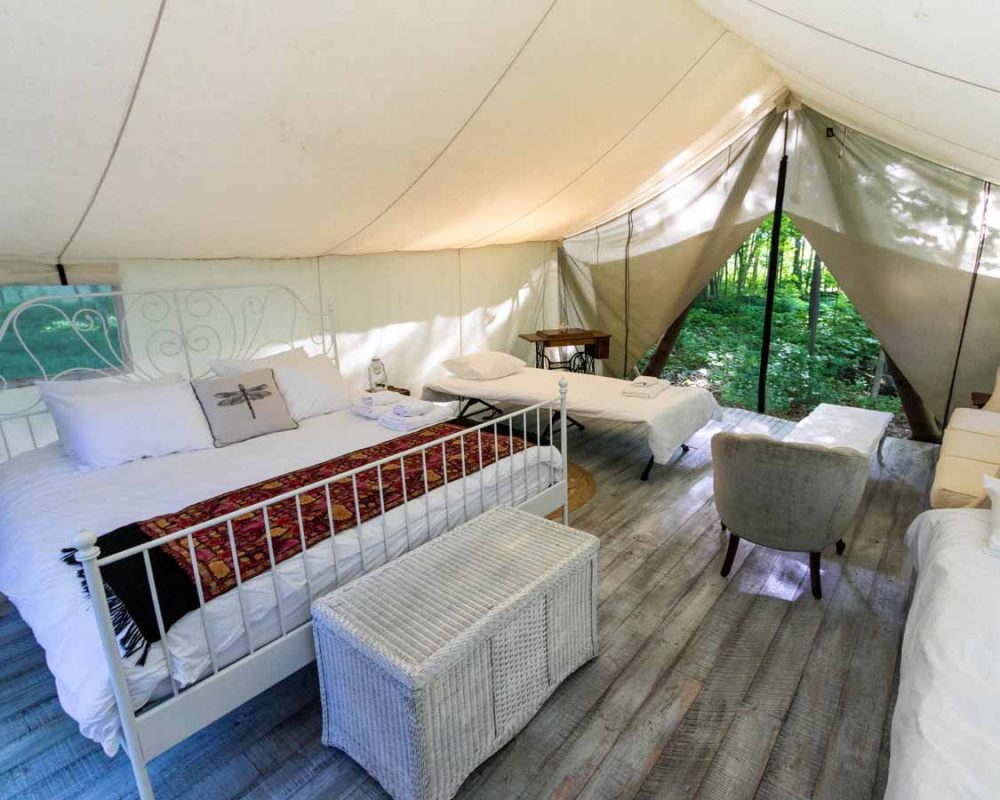 One of the best ways to combine social distancing with with an Ontario staycation is by experiencing one of the provinces incredible glamping properties.
What's glamping you ask? Well, think of luxurious camping. Most Ontario glamping properties include a secluded tent or tepee. These are usually paired with a cozy bed, outdoor kitchen, outdoor shower, and enough privacy to feel like you have the whole property to yourselves.
And for those looking for an Ontario staycation, you'll be excited to know that there are some absolutely incredible glamping spots in Ontario. Spots like Bartlett Lodge in Algonquin Park and Fronterra Farm in Prince Edward County offer that perfect near-local getaway.
If you're looking for something cozy but without all the luxurious trimmings, you can also consider cabins in many of the Ontario provincial parks or the tent-like yurts on offer in the Ontario National Park system.
In Norfolk County, you may also want to check out Long Point Eco-Adventures, which is conveniently located across the street from one of our favourite wineries in the province, Burning Kiln Winery. If you do visit, try their "Kiln Hanger." It's a rich, full-bodied red wine.
Speaking of Ontario wine…
Sip Your Way Through An Ontario Wine Tour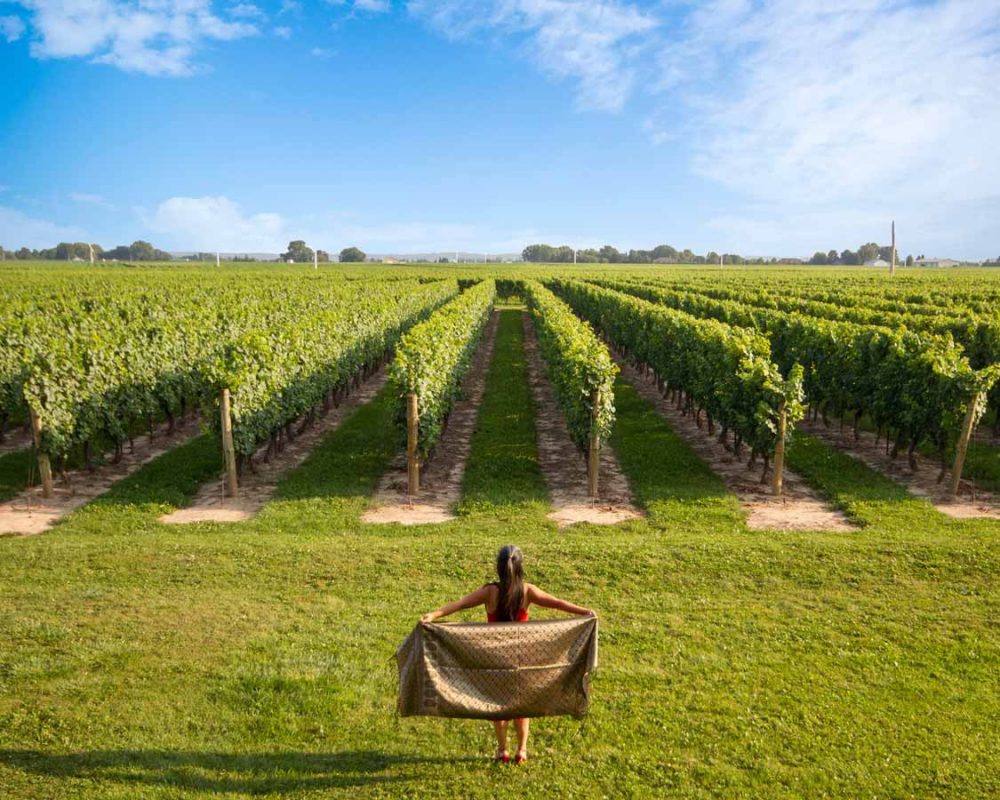 Ontario is fast becoming a great escape for wine lovers from around the world. With 4 unique wine regions, Ontario wines offer some great variety. And the vineyards in the province can offer an experience for everyone from those new to tasting right up to the complete wine snob.
For your best wine-fueled Ontario staycation, make a choice between Prince Edward County, Niagara, or Pelee Island in the south of the province. Prince Edward County offers a quaint assortment of small towns, and two of Ontario's best beaches.
The Niagara region is home to two of the provinces wine regions, the Niagara bench and Niagara-on-the-Lake wineries. You'll find some of the provinces most picturesque vineyards, historic hotels, and of course, the majestic Niagara Falls.
If you're looking to explore a little bit of Ontario's deep south, a trip down to Windsor-Essex and Pelee Island is the Ontario staycation for you. This unique spot in Ontario has dozens of small to mid-sized wineries with fascinating regional-specific flavours.
Norfolk County is also an up and coming wine region that you should keep on your radar. Here are some of the top wineries and breweries in Norfolk County.
Add A Theme To Your Ontario Staycation With These Themed Hotels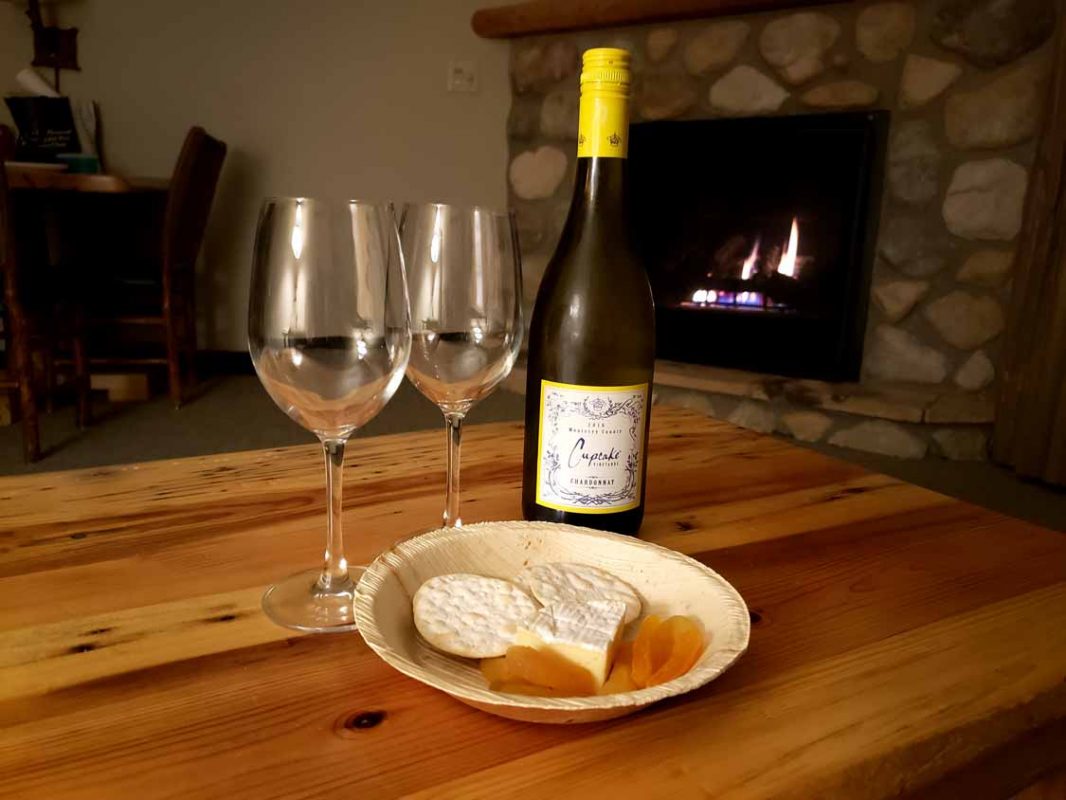 Whether you're looking for silly or fun, there are plenty of themed hotels in Ontario to shake off the ordinary and give you a taste of adventure.
From the classic kid-friendly camp rooms of Great Wolf Lodge in Niagara Falls to the out of this world space-themes and Rolls Royces of the Fireside Inn in Kingston, you'll feel like you've travelled to a parallel universe.
For a taste of something a little more classic, consider the Drake Motor Inn in Wellington. This 50's inspired motor-inn offers the perfect escape to combine with a tour of craft breweries in The County.
Snorkel Among Shipwrecks In Tobermory On The Bruce Peninsula
A quick look out at the blue waters of Tobermory, Ontario and you'll know why this is one of Ontario's best staycation ideas. With its sparkling surface, you might think you've gone to the Caribbean.
Just beneath the surface of Lake Huron lurks a magical wonderland of historic ships that have been scuttled or lost on the rocky bottoms of this beautiful great lake.
Hundreds of shipwrecks lie on the bottom of Lake Huron. Some of them are visible from the town shores in Little Tub and Big Tub harbour. So head over to Divers Den, the local Tobermory dive shop to rent some snorkel gear. Soon you'll be floating just a few meters above some of Ontario's coolest shipwrecks.
Combine your visit with a glass-bottom boat tour to Flowerpot Island. Or skip over on the Chi Cheemaun Ferry to Manitoulin Island for some of the best stargazing in Ontario at Gordon's Park.
Chase Waterfalls In Hamilton, Ontario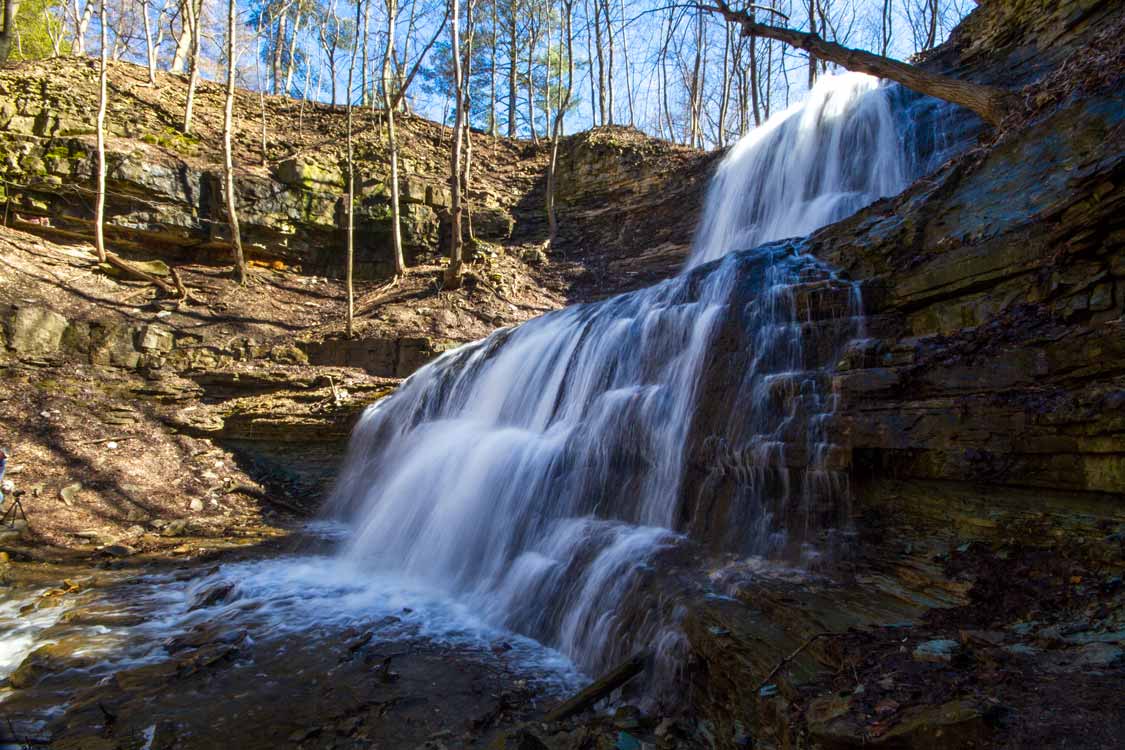 This province is blessed with some absolutely stunning waterfalls. And if you're looking for waterfalls in Ontario, the area around Hamilton will give you the best bang for your buck.
In fact, there are over a hundred waterfalls sprinkled throughout the escarpment in Hamilton. Some are big and bold such as the Devil's Punchbowl and Webster Falls. While others are tall and elegant such as Tiffany Falls.
You can easily make a weekend out of waterfall watching in Hamilton. And spread out the fun by taking in some of the cities great locally-run restaurants like Merit Brewing Company or Mezcal Tacos & Tequila Bar.
The fun doesn't have to end after the sun goes down either. Head over to the local Starlite drive-in and catch a double-feature. You can find this and other great drive-ins in Ontario here.
Rent A Houseboat And Cruise The Trent Severn Waterway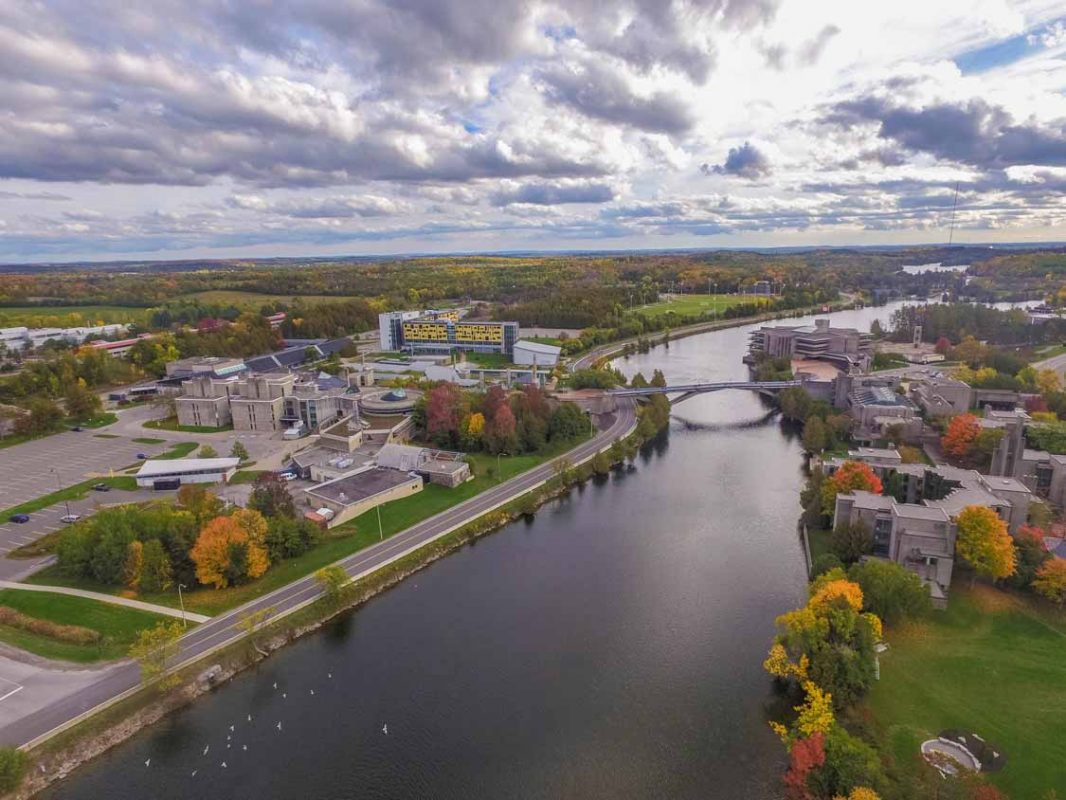 Ontario has loads of magnificent boating destinations. You can pick the Rideau Canal, the Muskoka Lakes, or even boat along the shores of one of the provinces Great Lakes.
But one of the most classic Ontario staycation ideas is renting a boat and cruising the Trent Severn Waterway through some of Ontario's best small towns.
There's something absolutely magical about exploring the amazing lock system in towns such as Peterborough and Fenelon Falls. Life on the water rolls at a different pace than it does on land.
Getting on the water is super easy too. You just need to apply for a boater's license (which is a lifetime license), and connect with one of the countless marina's throughout the province to find that boat that's perfect for your outing.
Join One Of The Amazing Food Tours In Toronto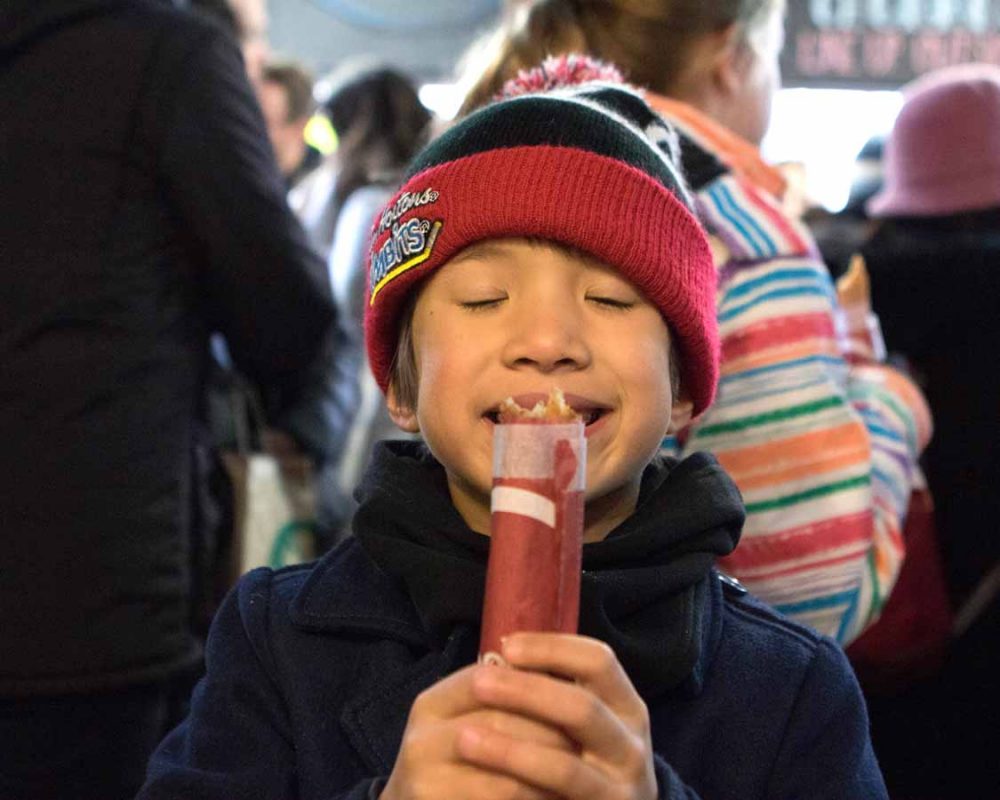 There's no getting around it. Toronto is home to some of the best food in the world.
Toronto is of the most culturally diverse cities on the planet. And all of these cultures have blended, harmonised, and given birth to some of the most brilliant flavours imaginable.
Year after year new and exciting restaurants explode onto the Toronto food scene. You'll find everything from Greek, Somali, Nepalese, and even incredible Indigenous-themed restaurants in Toronto.
For one of the best Ontario staycation ideas, join one of the local food tours through local guides such as Tasty Tours, Culinary Adventure Co., and Travel Mammal to experience both the flavours and the history of the Toronto food scene.
Live Life To Its Cheesy Best At Clifton Hill In Niagara Falls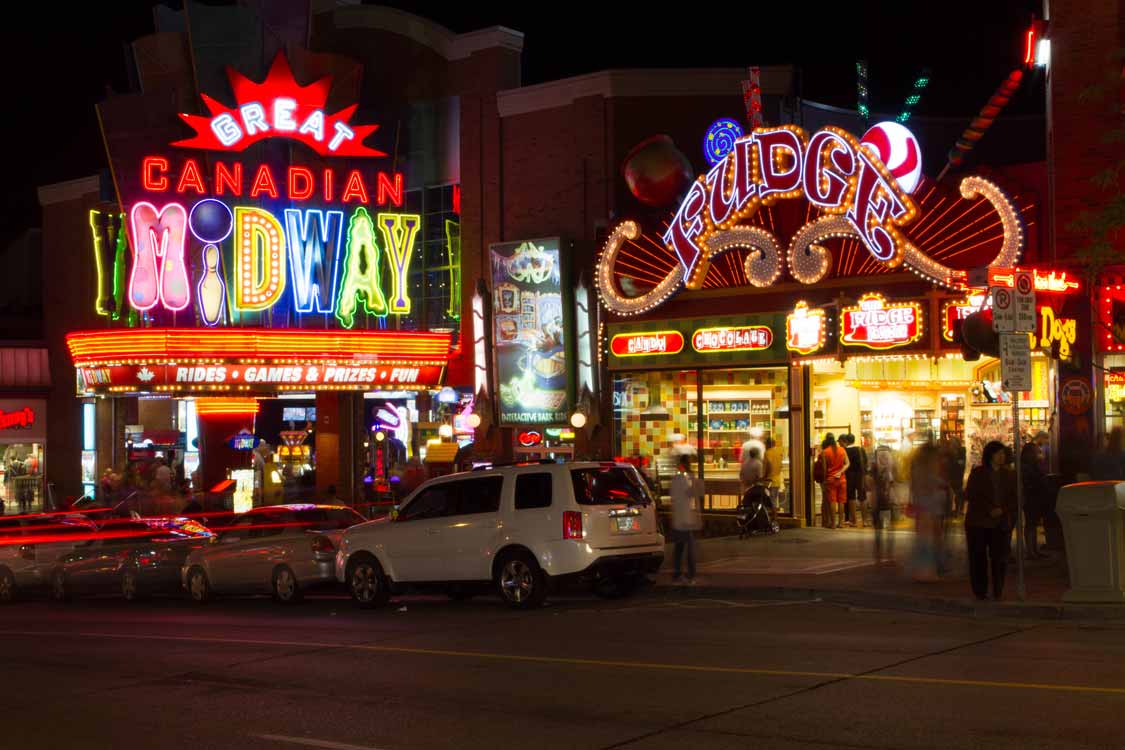 Sometimes the best staycations in Ontario mean getting a little crazy and feeling like a kid again. And there is no place where you let your maturity slide more than on Clifton Hill in Niagara Falls.
Along Clifton Hill you'll find every possible form of entertainment imaginable. Wax museums, haunted houses, mirror mazes, arcades, and more. You can spend hours visiting the Ripley's Believe it or Not Museum and enjoying a game of Jurassic Park mini-golf. Or take in the views of the falls from the Niagara Sky Wheel.
If you want to make a wild weekend out of it, include dinner at the Table Rock restaurant overlooking the Falls before taking on a sunset zipline. In the morning, head down towards the Whirlpool Golf Course and brave the Niagara Adventure Course. It's sure to get your adrenaline pumping.
Even if cheesy fun isn't your style, there are loads of things to do in Niagara Falls for all ages. Enjoy hiking the escarpment, picnic among the Dufferin Islands, or, you know, you can look at that little waterfall they have there too.
Pamper Yourself At One Of Ontario's Incredible Resorts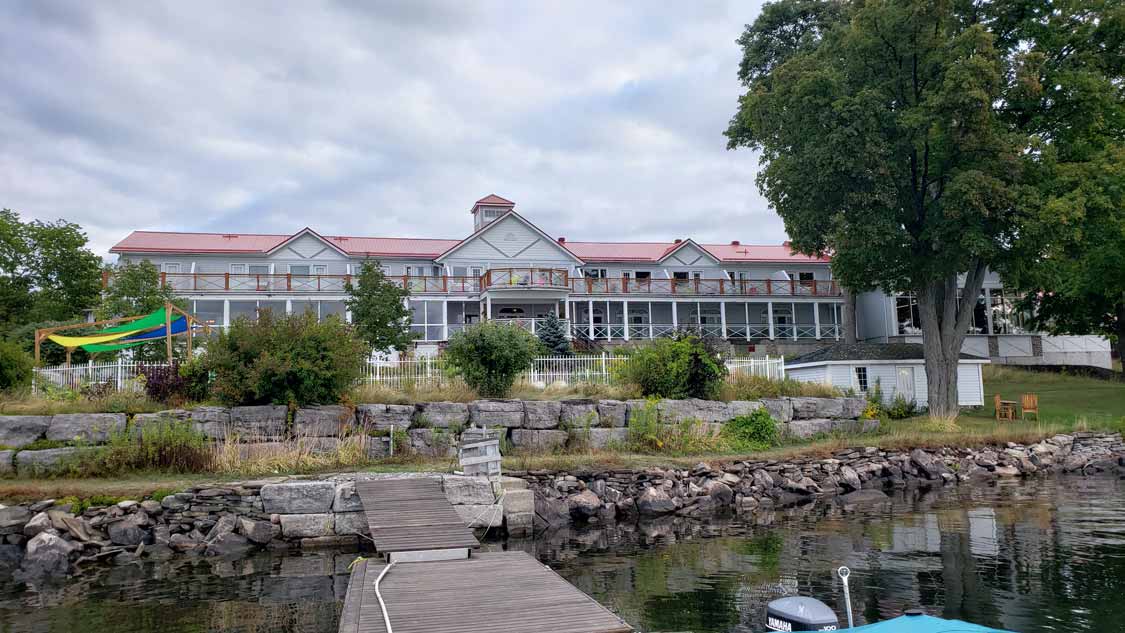 Sometimes, the best Ontario staycations mean getting away from it all. Tucking yourself away in a spa or resort, and living in luxury for a few days. There's no better way to tune out the world than at some of Ontario's best resorts.
There are a number of very popular resorts. Langdon Hall in Cambridge is a place for pampering and special occasions. Surrounded by 75-acres of forest, and with rooms that include a wood-burning fireplace, you may not want to leave.
Deerhurst Resort in Huntsville offers the perfect combination for those who love to stay active, but also want a little pampering. Enjoy the great outdoors with boating, kayaking, or hiking, and follow it up with a complete spa treatment onsite.
If you're looking for more great Ontario resorts, check out our guide to the best romantic getaways in Ontario.
Take An Historic Steamship Cruise Through The Muskokas
The Muskoka lakes are world-renowned for their beauty. But there's loads of history in this part of Ontario to experience as well. By heading up to Gravenhurst, you can combine a little bit of both with a Lake Muskoka steamship cruise.
As far as Ontario staycation ideas, this is one of my all-time favourites. I've done this with my kids, and I've experienced it with my wife. And every time it's a fun Ontario day trip.
Lake Muskoka Steamships has a fleet of 2 lake cruisers. One of them is the RMS Segwun, a 130-year-old steamship that's been around almost as long as Canada has.
You can also spend some time enjoying the beautiful Gravenhurst shorelines. Lake Muskoka Steamships also runs the Muskoka Discovery Centre which houses a fantastic museum and a flotilla of classic boats. It's the perfect escape for the naval junkie.
Do you have your own favourite Ontario staycation ideas? Swing over to the Ultimate Ontario Facebook community and share it with the crowd. Or visit our Instagram Page for more amazing Ontario travel ideas.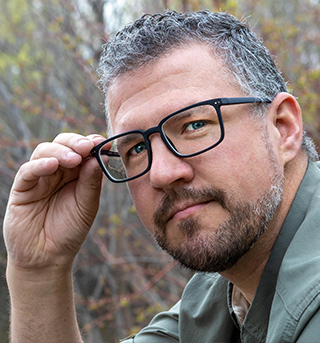 Kevin Wagar is a founder and editor of Ultimate Ontario. He has been working in the travel media industry since 2015 when he founded his family travel website Wandering Wagars – Adventure Family Travel.
Over the years Kevin has developed a deep love for his home province of Ontario and aims to showcase the incredible experiences and amazing small businesses found within it.