Butchie's Restaurant has been bringing delicious Soul Food to the Durham Region for years. In this article, Bri Mitchell dives deeper into the story of how Butchie's Whitby came to be, and reminds us of the importance of supporting this incredible local business.
Of all the restaurants in Whitby, Ontario to try, Butchie's Restaurant has become a staple in Durham Region since it opened its doors nearly seven years ago.
Butchie's Whitby is a popular destination for foodies because of its impressive menu, dedicated staff and relaxed and inviting atmosphere.
We love telling the stories of restaurants who are doing right by their customers across the province, like in Toronto, Niagara Falls, and Sudbury, to name a few.
But Butchie's Restaurant is more than just a delicious foodie destination. It's a restaurant brimming with family traditions, a vision to reimagine the culinary landscape of Whitby, and it's putting itself on the map as a place to reconnect with friends, family and loved ones in Durham Region.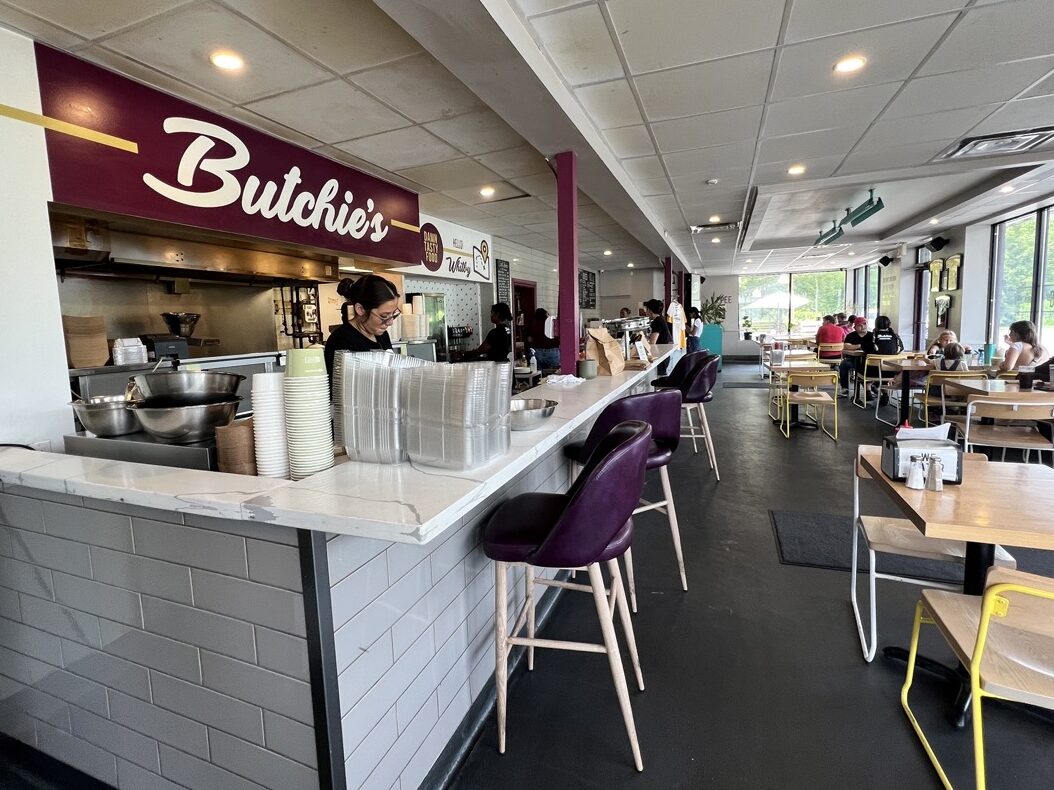 The Magic Behind Butchie's Restaurant: Chef Andrea Nicholson
Owner and visionary of Butchie's, Andrea Nicholson, is a seasoned chef. She brings 20 years of experience to every venture she sets her sights on.
She fell in love with the hospitality industry when she began working in it when she was thirteen years old and living in Toronto. Years later, she graduated from George Brown Culinary School, and her talents have brought her through kitchens and TV screens around the world.
Andrea holds an impressive and diverse array of accolades. She is a certified Pizzaiuoli, and a Food Network Canada personality. She's hosted, competed and judged shows like Restaurant Takeover, Top Chef Canada All Stars and Fire Masters.
Perhaps most importantly, Andrea is dedicated to creating a meaningful experience for everyone she cooks for. She supports sustainability efforts and farmers in Canada by focusing on local and seasonal dishes, which are really at the forefront of everything that's being brought to the table at Butchie's.
How Butchie's Restaurant Came to Be
Andrea opened Butchie's nearly seven years ago, with the idea of bringing incredible food to the city of Whitby. She noticed a gap in homemade, locally sourced, independent restaurants at the time, and wanted to steer patrons of Durham Region away from big-box eateries.
When she came across the property where Butchie's stands today, the ideas began to swirl in her head. She had recently moved to Durham Region from Toronto, and came across this roadside, family-owned restaurant where people would park their vintage cars on a Sunday, and relax with an ice cream in hand.
When the original owners put the restaurant up for sale, Andrea realized this was the perfect place for her roadside Soul Food restauranteur dreams to become a reality. She had always set herself the goal of independently owning a restaurant by the time she was 30, and between the flow of traffic on this stretch of Highway 2 and the ample indoor space and green space outside, she knew this is where it was meant to be.
When it came time to open the restaurant, Andrea knew that she wanted it to represent the generations of hardworking, dedicated and supportive family members she always had standing in her corner. These people embodied everything Andrea has been able to enact in her career, and in her commitment to the hospitality industry.
She landed on the name "Butchie's", after her dad's nickname. Andrea proudly shares that he represented "everything that was hospitality", and would do anything he could for those around him.
What You Can Expect on a Visit to Butchie's Whitby
When you visit Butchie's, you'll be greeted by warm and welcoming staff at the front of the house, and know that there are talented chefs working behind the scenes in this gourmet eatery. Andrea maintains that she is nothing without the team she has built out over the years at Butchie's
There's no doubt that Butchie's is doing it differently in the world of culinary delights here in Durham Region.
Not only are they ensuring that their menu offerings are seasonal and locally sourced, but they're also constantly updating and rotating their local beer, cider and wine selection from Ontarian businesses. They even have their own in-house beer, Butchie's Lager, which is delightful for sipping on with a side of barbecued goodness.
Their "Meat + Three" approach at Butchie's stems from the cafeteria-style of Soul Food restaurants in the American South. They offer made-to-order portions at Butchie's, so your food is always freshly prepared to perfection with quality ingredients.
Meats and Sides to Try at Butchie's Restaurant
The opportunities are endless at Butchie's when you select your Meat + Threes (or in my case, "Twos").
I sampled from three different combos on my visit, each of which combined the range of dishes available at Butchie's so nicely.
Combo #1
You really can't go wrong when you pick your meat at Butchie's, but their Chicken Fingers are their most popular item. They are fried to perfection and lightly breaded, with a great balance of softness and crunch.
I opted for Devilled Eggs and Fries to go along with my chicken fingers, which was a great balance to this protein-packed and delicious meal.
It's also worth nothing that they make all of their own sauces and dips at Butchie's, so I added Plum Sauce and their House Hot Sauce to this combo.
Combo #2
Next I tried their Smoked Chicken Wings, which were perfectly crispy and delicious.
They paired so nicely with the house made Mac & Cheese, and possibly my favourite side salad, which was their Baba's Cucumber Salad. This salad is a nod to Andrea's Ukrainian roots, since this was her grandmother's recipe.
I got their Alabama White Sauce, which is a horseradish mayo, and their House BBQ Sauce to pair with this combo.
Combo #3
Finally, I tried the Grilled Salmon, which was cooked to perfection. Both the salmon and their famous Hush Puppies paired nicely with Butchie's Remy dipping sauce.
Having a Caesar Salad with House Caesar dressing on the side created such a well-balanced and delicious flavour combination for this meal.
A Little About Desserts at Butchie's
If there's anywhere you could potentially go wrong on a visit to Butchie's (and there aren't many ways to do this), then it's by not saving room for dessert.
There are delicious homemade pies and a selection of Kawartha Dairy ice cream to choose from when you visit.
In keeping with the tradition of never forgetting their roots, Butchie's also serves up their Banana's Ice Cream Sandwiches on homemade cookies for the dessert enthusiasts. Don't get it confused though, there are no bananas on these sandwiches.
Much like "Butchie", "Banana" was Andrea's mom's nickname, and this line of delicious ice cream sandwiches on their homemade cookies is a nod to her. Don't leave Butchie's without trying a Banana's Sandwich!
Catering in Whitby with Butchie's Restaurant
If you're looking to amplify your next work or private event, then the fact that Butchie's also offers catering to the community is a bonus.
They cater for many well-known brands in the Greater Toronto Area, the Toronto Blue Jays being one of them.
Not only does Butchie's cater from their incredible list of foods for your event, but they also own and operate the event space Dish Play in Whitby, too.
You can attend one of their monthly community events like Drag Bingo or Trivia Nights, book a cooking class, or host an event of your own in the space.
The Importance of Restaurants Like Butchie's
The emergence of restaurants bringing good food to communities like Whitby is such an important reminder that it shouldn't take much of an effort to find tasty food. Unfortunately, that hasn't always been the case.
When you decide to treat yourself and your family or friends to a good meal, supporting local restaurants who are doing the right things to build up their community and bring the best of ingredients to their customers is always the right decision.
Butchie's reminds us that a casual dining experience doesn't need to be complicated. Leaving a meal with a smile on your face, and feeling like you really slowed down to connect with those around you over good food is what Butchie's is all about.
I want to thank Butchie's and York Durham Headwaters Tourism for hosting me as media. All opinions in this article are completely my own. If you're looking for more unique restaurants and local businesses to support in these regions, make sure you visit the YDH website.
Bri was born and raised in Ontario. She spent many years living abroad, but returned to Ontario a few years ago, and is very happy to be back exploring.
She loves writing about travel experiences in our beautiful province, including unique accommodations, memorable meals and adventurous activities.
You can find her canoeing and swimming across Ontario with a craft brew in her hand in the summer, and snowshoeing or curling up with a good book and an Ontarian Pinot Noir in the winter.