Cycling in Cornwall is an excellent activity to enjoy in Ontario. In this article, Bri Mitchell takes you through how to spend a weekend cycling in Cornwall, Ontario, including the best cycling routes to choose from while you're in town.
I'll admit, when I first planned a biking trip to southeastern Ontario, I had no idea how many Cornwall cycle routes there were to choose from.
There are so many incredible and diverse cycling destinations in Ontario, like in and around the city of Hamilton, the Georgian Trail in South Georgian Bay, and Kivi Park in Sudbury. Cornwall is another destination worth adding to a growing list of places to bike across the province.
Cornwall, Ontario is quickly becoming a cycling destination because of its access to uninterrupted bike paths throughout the city and the surrounding regions of Stormont, Dundas and Glengarry Counties.
Whether you are an avid cyclist or just looking for smaller routes to explore recreationally in Ontario, then Cornwall is the perfect destination for adults and kids alike.
Where to Stay on a Cornwall Bike Trip
If you're planning a biking trip to Cornwall for yourself and a few friends, then centrally located Chesley's Inn is a great place to stay. This is because it's close to the bike trails that run along the St. Lawrence River, which connect you to all of the routes in and around the city.
It also has a locked garage if you want to ensure your bikes are safe overnight during your stay. If you would like to book a stay at Chesley's Inn for your biking trip to Cornwall, click here.
There are a few other options for when you stay in Cornwall that connect to the paths running more along the north end of the city. The Ramada, the Best Western, and the Super 8 by Wyndham are also good options for a weekend spent biking in Cornwall.
Renting a Bike in Cornwall
If you're coming for a a biking trip in Cornwall without your own bike, you can rent one easily in town. Head to the bike rental shop at Marina 200 in Lamoureux Park. They have differnet bikes to choose from.
You can show up spontaneously and hope they'll have one ready for you, but it's highly recommended to reserve one on their website. They also have bike locks and helmets to rent.
Rates and availability for reservations can be found here.
Biking Infrastructure in Cornwall
As someone who has cycled all over the province, I was particularly impressed by how many stretches of uninterrupted, dedicated bike paths exist in Cornwall.
There are bike paths all over the city, and many residents of Cornwall don't even have a vehicle because the bike paths are so extensive.
Beyond the city limits, many sections of road where you need to share with motorized vehicles are well-labelled, and cars are very generous about giving you the space you need to feel comfortable.
The mature cycling infrastructure in Cornwall is great as a visitor to the area, because you feel and extra level of comfort and safety than you may feel cycling in other new areas to you in the province.
Delicious Places to Eat and Stop to Refuel in and Around Cornwall
Fortunately, a biking trip to Cornwall means it's likely that the routes you'll take both begin and end in the city. Since some of these cycle routes are on the longer side, stops along the way in Stormont, Dundas and Glengarry Counties might be necessary. With excellent options to stop at both in and out of town, you can't go wrong.
Let me outline the best places to stop and refuel on your weekend cycling trip both in and outside of the city.
ESCA Pizza
This is a neighbourhood staple, located a little north on Pitt Street in downtown Cornwall. They of course have pizzas on the menu, but they also have some incredible charcuterie boards, sandwiches, salads and entrees like chicken marsala.
It's a varied menu, and you're sure to find the right choice for you when you visit for lunch or dinner.
Schnitzels European Flavours
Another classic meal stop, and the perfect place to refuel after a long bike ride, Schnitzels is an independent business in Cornwall with all sorts of lunch and dinner options. Think classic and inventive schnitzels, pizzas, sandwiches and entrees. They have a creative and detailed menu that you're sure to find something you enjoy on.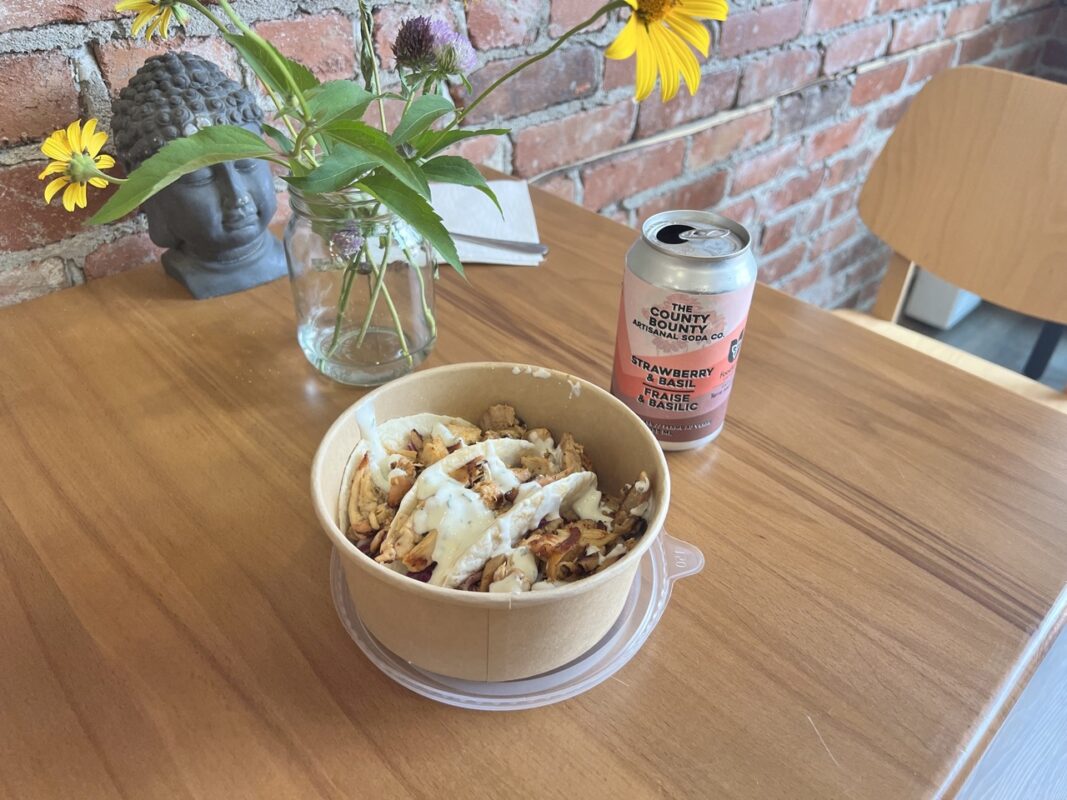 EK Market
This little spot on Pitt Street is the perfect place to grab some delicious food on-the-go. You can also enjoy it in their cute eating area, or on their French-inspired patio.
Their small but mighty menu boats some delicious options like nutritious salads, power bowls, and tacos. They also have an incredible pre-made freezer section, and local products like Prince Edward County seltzers, local beer, farm fresh veggies, and local honeys and cheeses.
Carrots'n'Dates
This is a new vegan restaurant in town serving up power bowls, sandwiches and breakfasts, if you come at the right time. They also have a variety of sweet and sustaining treats to take with you when you hit the road on your bike.
Archie's Golf and Mini Putt
This might sound like a bit of an odd suggestion when it comes to fuelling up on a biking trip, but it's been a family owned and operated business since the 1950's in Cornwall. In addition to having a fun mini putt course and driving range for the family to enjoy, they also serve refreshing ice cream and cold beer.
Archie's is on both the Cornwall Urban and Long Sault Parkway/To the Beach loops listed below, so it makes for a nice stop during your ride on the latter half of these rides.
Glengarry Cheese
This might sound like another unusual stop on a cycling trip, but this award-winning cheese shop has some excellent snacks to score midway through the aptly named "Cheese'n'Crankers" loop listed below. It's located in Glengarry, which is about 25kms from Cornwall.
The perfect midway snack to share with some friends on a cycling day is a package of their delicious, old fashioned cheese curds. They have all kinds of incredible flavours to choose from on your stop here.
The Best Cornwall Cycle Routes to Take on Your Trip
There are countless loops and routes that you can take on a cycling in Cornwall trip and Stormont, Dundas and Glengarry Counties. 680kms of cycling routes, in fact! The area is so well known for cycling that the Great Waterfront Trail Adventure is concluding here in 2023; a celebratory end after six days biking.
You can find the complete list of cycling routes on the Stormont, Dundas and Glengarry Counties website, linked here.
As overwhelming as nearly 700kms of routes might sound, I've taken the guesswork out of planning your weekend biking trip to Cornwall by zeroing in on the best routes that will allow you to explore all corners of Cornwall and surrounding SDG regions below.
The Cornwall Urban Loop
The Cornwall Urban Loop takes you around the perimeter of the city of Cornwall. This loop is 27km, and about 75% of it is on its own protected bike paths.
Begin your cycle through Cornwall in Lamoureux Park. If you need to fill up your water bottle before taking off, you can head to the Cornwall Visitor Centre in the park.
After taking some time to soak in the breeze coming off of the St. Lawrence River, head west along the riverside path on completely dedicated bike paths under the bridge to the U.S.A., and the Cornwall Canal. Continue west to the Saunders Hydro Dam Visitor Centre, which is a great place to learn about hydroelectricity and the history of the second largest dam in Ontario, and refill your water bottle, too.
From Saunders, head north on more protected paths that connect with Power Dam Drive. Once you reach Power Dam Drive, head east until the path connects at Vincent Massey Drive. You'll share the road briefly for this section of the bike. This is also a great opportunity to stop at Archie's Golf and Mini Putt for ice cream.
From Archie's, continue east on Vincent Massey for a short distance, and make a left on Oran and a right on Laflin, until you reach Brookdale. Cross Brookdale on foot, and connect with the Pipeline Trail, which runs parallel to Fifteenth Street on another large and protected path to take you across town.
Take the trail as far east as it goes, and connect with Highway 15 at Industrial Park Drive. This will be the largest section of the loop where you'll share the road with motorized vehicles. Take Industrial Park to Boundary, and head south down Boundary road until you reach Gray's Creek Conservation Area, which is a beautiful place to stop and catch your breath or have a snack.
From Gray's Creek, take the protected bike path that brings you along Montreal Road, and connect with the Waterfront Trail bringing you back to Lamoureux Park.
Finish the ride by heading for lunch along Pitt Street at EK Market, Schnitzels European Flavours, ESCA Pizza or Carrots'n'Dates.
If you'd like to print out a PDF of this route, you can find it here. To download the full Ride with GPS map, click here.
The "Cheese'n'Crankers" Loop
This is a fun loop that takes you through rivers, conservation areas and stunning landscapes. It's a 56km loop bringing you to plenty of towns, businesses and stops that will take you through a complete day biking around Cornwall, Stormont, Dundas and Glengarry Counties.
It will also be a highlight for those participating in the 2023 Great Waterfront Trail Adventure.
Begin at Lamoureux Park, but this time start by heading east of Cornwall towards Summerstown. You'll be led along both protected bike paths at the start of the ride, and shared bike lanes as you get further outside of the city.
Country Road 2 runs parallel to the St. Lawrence River, bringing you right along the edge of the river with beautiful views all around you. Consider stopping at Sheep's Head Bistro or Blue Anchor for a snack or drink in the early stages of this ride to enjoy the view. Both are about 10km outside of Cornwall.
After a break, continue heading east along County Road 2 until you leave the river behind for a little bit. You'll come up to another beautiful place to stop and catch your breath on this section of the bike, at Cooper Marsh Conservation Area.
From there, head further east to South Lancaster. It's worth taking a brief detour from the loop to appreciate the brightly coloured boathouses on the water, and take in the quaint and narrow streets of this historic riverside town.
From there, head north on Highway 34 for lunch in Lancaster. The South Glengarry Restaurant, Sheehan's Pub & Pizza or Loretta's Chip Wagon are all solid options.
From there, head north to the beacon of this ride, Glengarry Cheesemaking. This award-winning cheese shop is the perfect place to grab some cheese curds for the road to fuel you for the cycle back to Cornwall.
The ride home on this loop takes you to more diverse and stunning vistas. Head south back to Pine Street, and take a right to bring you west. The road eventually meets up with the scenic Raisin River, where you'll cross at the iconic bridge to meet up with Loyalist Road.
Take Loyalist Road to County Road 27, and head southwest through the rural countryside to make your way back to Cornwall.
For the Ride with GPS map for this ride, click here.
The Long Sault Conservation Area and Beaches in Cornwall, Ontario Loops
This combination of routes is an excellent challenge, taking you to beaches in Cornwall, Ontario, and extending to the Long Sault Conservation Area.
The initial "To The Beach" loop is 36km round trip from Cornwall, and brings you to the best beach on the Long Sault Parkway, Milles Roches Beach.
Begin this loop the same way you began The Cornwall Urban Loop. Go from Lamoureux Park to Saunders Visitor Centre, and continue north to Power Dam Drive. Where you turn right on the urban loop, this time veer left to connect with the protected bike paths that run through Guindon Park.
Bike through Guindon Park and continue on protected paths to the Lost Villages Museum. This is an interesting museum that explains the complicated history behind the creation of the Cornwall Canal. You can see the buildings that were rescued and transported from the villages that were flooded to make way for the dam.
Continue west along the protected bike path until you merge with motorized vehicles along County Road 2. Turn left on the Long Sault Parkway, and follow signs leading you to Mille Roches Beach. This is a great way to celebrate the halfway mark at this scenic beach, and possibly even go for a swim.
At the end of your time at the beach, you can retrace your steps and make a small detour at Archie's for a refreshing cone before wrapping it up for the day.
For a PDF of the "To The Beach" loop, click here. For the Ride with GPS map of the route, click here.
If you're craving a bit of a longer trip through Long Sault Conservation Area and potentially stopping at some breweries along the way, then the "Tour de Brew" loop offers some extra length to this trip, bringing you along the entire Long Sault Parkway, and stopping at three breweries throughout the trip.
Wrapping Up Your Time Cycling Through Cornwall
After putting plenty of extra kilometres on your bike, you'll feel well worked and satisfied after a cycling trip to Cornwall. With its access to some of the best protected paths in the province, and an extensive system that rides alongside the St. Lawrence River and the Great Waterfront Trail, you really can't go wrong.
Remember that with every cycling trip you take, not only does it offer new routes and ways to explore the province, but it also helps you find new local businesses to support. Here at Ultimate Ontario, we are big believers in supporting local.
Biking your way through regions like Cornwall and Stormont, Dundas and Glengarry Counties, you'll find local businesses and restaurants that you'll want to come back to again and again.
Remember that this list of cycling routes for a weekend is by no means exhaustive. There are so many ways to discover this area that you could come back for one weekend a month and still find a new route to take each time.
Bri was born and raised in Ontario. She spent many years living abroad, but returned to Ontario a few years ago, and is very happy to be back exploring.
She loves writing about travel experiences in our beautiful province, including unique accommodations, memorable meals and adventurous activities.
You can find her canoeing and swimming across Ontario with a craft brew in her hand in the summer, and snowshoeing or curling up with a good book and an Ontarian Pinot Noir in the winter.