The Roost Cafe in King City makes a mean cup of coffee, but that's really only the beginning. If you're a fan of fresh and local, and you want to find an Ontario cafe where it's awfully easy to feel like family, then this might be your new favourite spot.
---
When Bri and I arrived at The Roost Cafe, the first thing that we noticed was how warm, inviting, and almost familiar the cafe felt. In a sense, it felt like we were returning to a place that we'd actually never been to.
Later, I would learn that this "feeling" is something that The Roost Cafe is very intentional in cultivating. They want the experience to feel emotionally like putting on a warm sweater on a winter's day – to have people feel completely comfortable.
They call themselves "King City's neighbourhood coffee house," and that feels like a very apt description. Even more apt, they note that a visit to the Roost Cafe is "an irresistible community experience." The coffee is stellar, the food is spectacular, but it's community that is at the heart of it all.
It's places like this that we all longed for during some of those darker days of seperation. To be in a room that's filled with the background hum of conversation, with coffee being ground, and food being plated.
"We are a magical oasis to gather with friends, meet with business associates, settle in with a book or simply enjoy our beautiful backyard ravine view."
About King City's Roost Cafe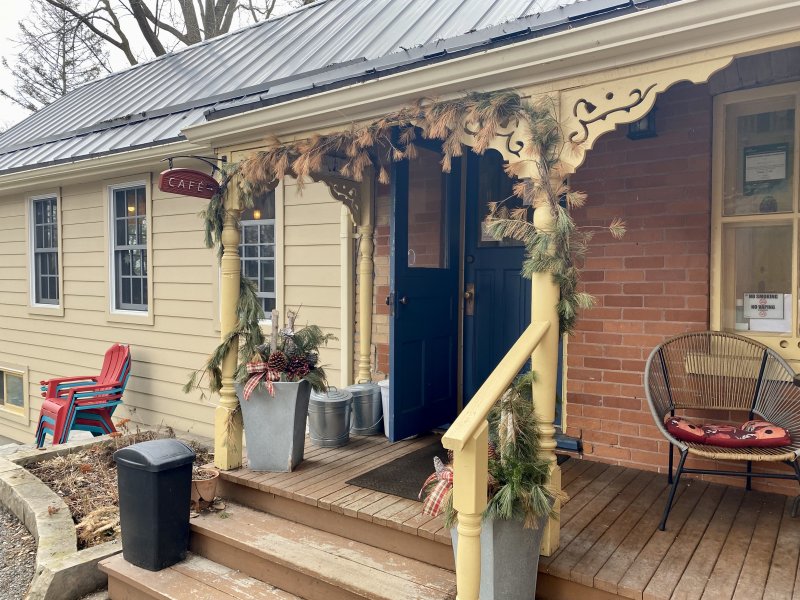 The first thing to note about The Roost Cafe is that a lot of the cozy feel is derived from the fact that the cafe is located in a beautiful old century home. They're situated right in the heart of King City, not all that far from the intersection of Keele Street and King Road.
You'll find the entrance to the cafe to the left of the home, and honestly you might hear the cafe before you fully see it if the back patio is in full swing.
They have no qualms about publicly stating that they serve the best coffee in King City and, as far as we can tell, nobody has tried to dispute that claim.
Their food, which will talk about in more depth below, clearly demonstrates a commitment to showcasing fresh, local ingredients, and that's something we try to champion here at Ultimate Ontario. It's why we've also featured cafes like The Lodge in Bath, Ontario, and why we write about Ontario farmers' markets, unique meaderies, and spots that do cider the right way.
They also make a point of ensuring their food doesn't contain preservatives, GMO, or hormones and, quite honestly, I think that comes through in the taste, and the way in which the smoothies, bowls, soups, salads and paninis energize you.
For our readers who have a gluten intolerance or allergies, they have ample alternatives, so do please do ahead and ask for any modifications with your order, and I'm sure the staff there will do their best.
Before we talk more about what's on offer from a food and drink perspective, we did want to mention a couple of other things that make The Roost Cafe what it is. Firstly, they actively support local youth through both hiring and mentoring, as well as giving youth a safe space to spent time and grow. It's programs like that which showcase The Roost's real commitment to community.
Finally, they're environmentally conscious. They source locally where they can, prioritize biodegradable and recyclable products, and take steps to limit their garbage output.
Their current hours of operation are 8am – 4pm, Tuesday to Sunday.
What's On Offer at This Cozy Ontario Cafe?
So, the short answer is a lot.
We'll break things down for you below, so you can have some ideas about what you might like to have before you get there.
Drinks at The Roost
For starters, they've got all the coffee options you could want. From drip coffee to cappuccinos, machiattos to mocha lattes. They source their coffee from Barocco Coffee Company, which uses traditional coffee roasting methods from Italy that were popular at the turn of the century.
I, for one, am a great lover of quality loose leaf tea, so it was nice to see Toronto based Pluck Tea on the menu. They also do tea lattes as well, for those interested. Next time I go back, I'd like to try either the Matcha Tea Latte or one of their medicinal lattes (turmeric, beet, reishi, chaga), or perhaps even a medicinal hot chocolate.
They also do a nice assortment of iced drinks (including lemonade), but it's their smoothies that people really rave about. There are currently 4 different kinds of smoothies on offer – green mango, green-a-colada, banana cocao hemp, and PB + J.
What's this King City Cafe Cookin'?
One note with the food, this is a place that always has a daily special on that could be worth trying. So we'd recommend you always look to see what's unique. It's also a good reason to keep coming back!
Bri and I came here most recently for breakfast. They've got your standard assortment of toast and bagels if you like to keep things simple, but I'd recommend going a little more adventurous. The breakfast sandwich with bacon and avocado was exceptional, for example, and we paired that with avocado toast with sprouts. They're well known for their power pancakes which are packed with protein, as well as their seasonal overnight oats and supercharged overnight oats (which feature goji berries, cashews, sunflower seeds and spirulina).
If you're looking for something lighter to accompany your coffee, know they've got tons of freshly made croissants, muffins, and breakfast cookies on offer. The breakfast cookies are fantastic, and pack a nice punch.
For lunch, the first thing you should do is find out what their daily soup is, which is always made in-house. They've got paninis and wraps, but I'd recommend having a bowl, whether that's a quinoa power bowl, a white bean pesto bowl, or kale and cranberry salad bowl. You're not going to make a bad choice, so let preference guide the way here.
As for treats, they offer a wide array of cookies (even chickpea cookies), energy bites, brownies (which we can confirm are both gluten free and delicious), and then squares ranging from date to oat. Not to mention, some butter tarts, and their famous carrot cake and coffee cake.
Events, Online Ordering & More
While events aren't currently running to our knowledge (at least at the time of publication), you should keep your eye on their events calendar to see if anything pops up. In the past, they did everything from live music to nights centred around pizza and painting.
If you would prefer to order takeout ahead, you can do that here. You'll also see options there from breakfast + treat boxes that they deliver locally, so it may be worth seeing if you're in their jurisdiction! Finally, if you visit, and you just love it, you can share your love by buying a gift card for a friend!
They also have a newsletter that you can signup for on the bottom of their homepage.
This King City Cafe Awaits!
The Roost Cafe talks a lot about being a place that has "something for everyone," and I think that's very true. They're very cognizant of having a nice variance of food and drinks that ensures that everyone arrives with excited, and leaves happy.
If you want to try something different, and you've got work flexibility, this might even be a nice place to spend your morning sipping on coffee and having breakfast here accompanied by an array of treats. However you decide to go about it, we wanted to write about this spot because we know that when our readers arrive, they'll be in good hands.
---
We want to humbly thank York Durham Headwaters for hosting us as media. All opinions are completely our own.
If you appreciated this article, you'll love our newsletter, as well as our Facebook group! Feel free to join, all are welcome.
Christopher Mitchell is the Cofounder of Ultimate Ontario. He's visited over 80 countries, and has lived on 4 continents, but now has his eyes set squarely on exploring this incredible province, and helping others do the same.