West Avenue Cider House was in the Ontario cider game before it was cool to be in the cider game. They've firmly solidified themselves as one of the top cideries in Ontario, and all signs point to them continuing to blaze forward and pad their award chest.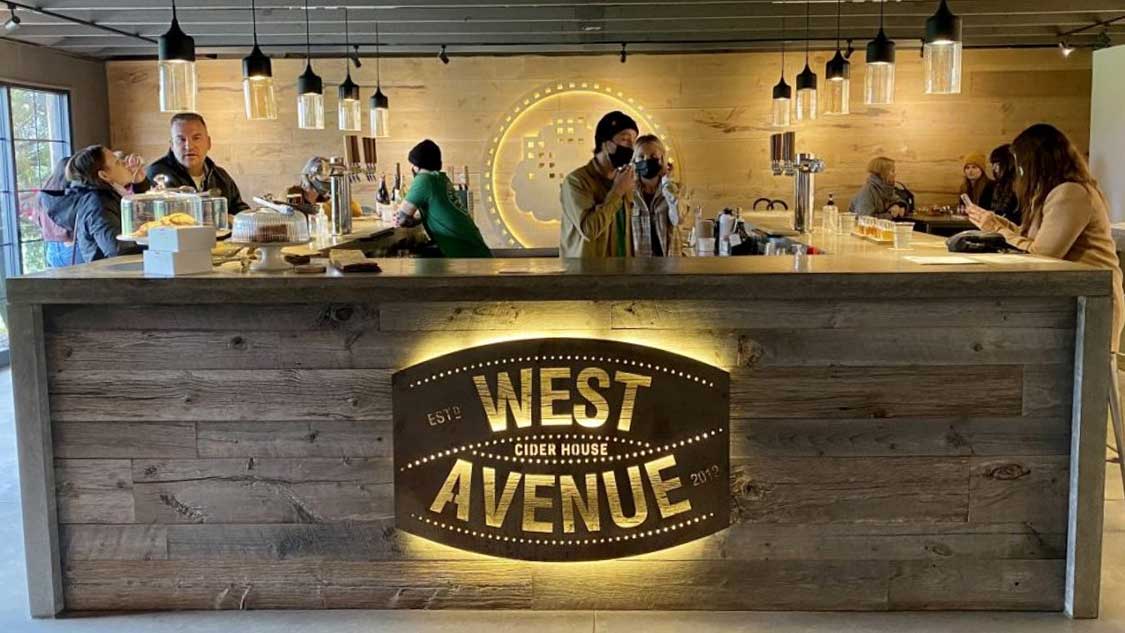 ---
One thing is for sure, it's an awfully good time to be a fan of cider in Ontario. It's not that just cideries are popping up all over the province, it's that good cideries are popping up all over the province, and "the cidery" has very much become a destination.
Ultimately, it makes a lot of sense that Ontario should become a cider destination – we've got no shortage of great soil and land for growing, and no shortage of ambitious entrepreneurs who want to take a swing at starting a cidery. However, starting a cidery or a brewery is one of those things that sounds fun in principle, but pulling it off is enormously difficult in practice.
After our visit to West Avenue Cider House in the Hamilton Halton Brant Region, we're very comfortable saying they've pulled it off and then some. From the flavours and creativity of their ciders, to the atmosphere and allure of their cider house, West Avenue Cider House needs to be added to the bucket-list of any cider lover in this province.
We actually decided to come here since we were staying for more than two nights in the Burlington area, so we qualified for their Stay Tripping offer (which has just been extended until March 25th, 2022), where you get a $100 gift card for staying two consecutive nights. We decided to put part of that towards quality Ontario cider!
The Story of West Avenue Cider House
West Avenue Cider House was started about a decade ago by Amy Robson and Chris Haworth. Chris is actually from the UK and has a culinary background, so he brought that passion with him to the Great White North.
When we asked about the name, Amy let us know that it's actually named after the street that they used to live on in the east end of Toronto, West Avenue.
Where they're located now, in Freelton, is a noted apple growing region in Ontario. Their goal was to replant heritage crops that actually grew out of favour all the way back in the Prohibition days. Since they began, they've reportedly planted over 100 types of heritage apple trees!
On their site they noted, "we only use the best ingredients, coupled with a slow fermentation process, so every batch of our cider is characteristic of the orchard's terroir. Because heritage apples are rare in Canada, we planted thousands of trees in our Orchard to ensure that our Heritage Ciders remain authentic forever."
This focus on the small-batch production of heritage apples is part of what sets them apart. You can see the moment you walk into West Avenue Cider House that quality is at the forefront of their operation in all respects.
The Cider House itself, located at what they've called "Somerset Orchards," opened its doors about 5 years ago, and it seems to have become something of a community hub if our visit was any indication. It was filled with people enjoying cider, as well as appreciating the local food options on offer, including some incredibly photogenic and delectable charcuterie boards.
It's the sort of place that, once you arrive, you really don't want to leave. We were half tempted to ask if they had availability at their Somerset Cottage so we could park ourselves there all day!
The Cider at West Avenue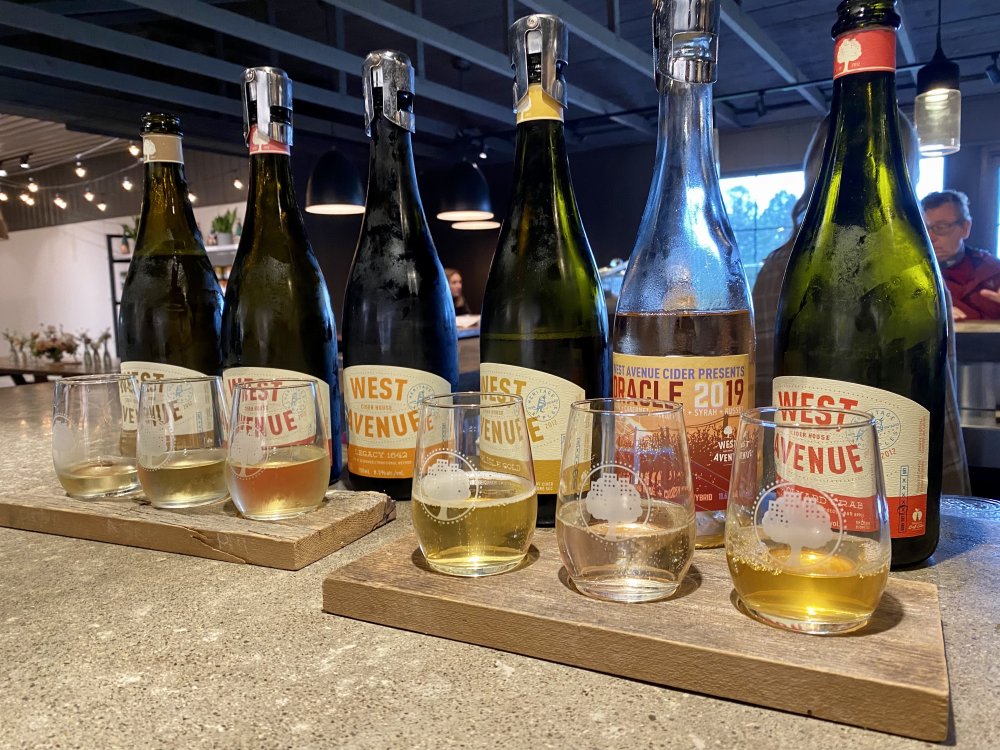 West Avenue talks about their cider as giving a nod to traditional country flavours in cider, but with a bit of a modern or unique twist. They've got a real variety of cider that, to us, showcases their ability to not only produce the highly drinkable year-round staples, but master and incorporate barrel-aged and cask-conditioned ciders as well.
They talk about themselves as leading a "local cider renaissance," and it's hard to argue they're not.
On tap, you'll always find that they've got their two most popular ciders readily available, and that is their Heritage Dry and their Cherriosity. The Heritage Dry is a great introduction to heritage apples, as it's dry, but not too dry, tart, or acidic for those unfamiliar with heritage apples in the first place. The Cherriosity is a little sweeter (noted as "medium dry"), and the flavour of Niagara Montmorency cherries comes in nicely.
Those two ciders are a good place to start, and if we're not mistaken, they're also currently available in LCBOs across the province.
On Tap at West Avenue Cider House
Beyond those two, they'll typically got six rotating taps that often features the cider they've just released. When we visited, they were featuring the Strawberry Catalyst, Wentworth County, Pear Tarte Tatin, and Georgie Black Currant Cider.
The flavour and dryness varies enough that you'll likely have some you adore, and others that may not be quite as much to your liking, but variance is a good thing in cider. Sometimes you arrive at a cidery and they've got essentially one cider that they've branded six different ways. This is not the case here, and we celebrate that.
To us, the Wentworth County was the absolute perfect dryness, and the Strawberry Catalyst was absolutely bursting with flavour. Those two take the cake, with the Strawberry Catalyst being the cider of the day for us.
What Are They Bottling?
Note that it's not a guarantee that everything listed below will be available when you visit, but they had a fair amount of bottles in stock at the cider house when we visited. We'd recommend coming and trying a few of their ciders on tap, but to certainly not neglect what they have in bottle, since that's where you're going to find their ice ciders, as well as barrel aged varieties.
You'll also likely find some bottles available that aren't listed here where they've done a small batch of something interesting. That's part of the fun of West Avenue.
---
HERITAGE DRY / 473ml / 6.5%
100% Ontario heritage apples.
CHERRIOSITY / 473ml / 6.5%
Niagara Montmorency cherry cider.
AUTUMN / 750ml / 7.5%
Fermented with wild yeast. Unfiltered and unpasteurized. Gold winner, GLINTCAP 2019.

BARRETT FULLER'S SECRET / 750ml / 9%
Kentucky bourbon barrel aged cider.

CARLISLE GOLD / 750ml / 8.4%
Pétillant naturel/methode ancestrale cider.
GOLD DUST / 750ml / 8.5%
Barrel aged single variety Golden Russet.
LEGACY 1642 / 750ml / 8.5%
Vin de Scudamore/traditional method cider.
LEGEND OF THE FALL / 750ml / 6.9%
Spanish style sour cider.
ORACLE / 750ml / 12.5%
Sparkling wine and cider hybrid with Golden Russet, Chardonnay Musqué and Vidal.
SOMERSET ORCHARDS / 7.5%
2018 vintage apples from our own orchards. Wild and oak-aged.
WILD OAK / 750ml / 6.9%
Barrel-fermented and bottle-conditioned heritage cider.
NORTH BY WEST / 375ml / 11.2%
Ice cider.
NORTHERN LIGHTS / 375ml / 10.8%
Cognac barrel aged ice cider.
FIRECRACKER / 375ml / 8.5%
Fire cider—condensed by maple syrup evaporator prior to fermentation.
PIPPIN / 750ml / NON-ALCOHOLIC
Non-alcoholic sparkling cider with heritage apples.
CHERRY PIPPIN / 750ml / NON-ALCOHOLIC
Non-alcoholic sparkling cider with heritage apples and Montmorency cherries.
---
Of those listed above, we were especially big fans of the Autumn and the Oracle. The Autumn because the fermentation with wild yeast leads to a pure and powerful flavour, and the Oracle because of the way it challenges what both sparkling wine and cider can be because it's essentially a hybrid.
Beyond that, when we were there they featured a Schoolyard Crab cider that was both ingenious and delightful. It featured barrel-aged dolgo crab apples, and we honestly did not even know that crab apples could be used for cider, let alone to make amazing cider.
They've won innumerable awards since they've opened their doors. Most of the time, they walk away with golds in a number of different categories, and that's an attestation to the time, thought, and care they put into each and every batch.
What Else Should You Know About the West Avenue Cider House?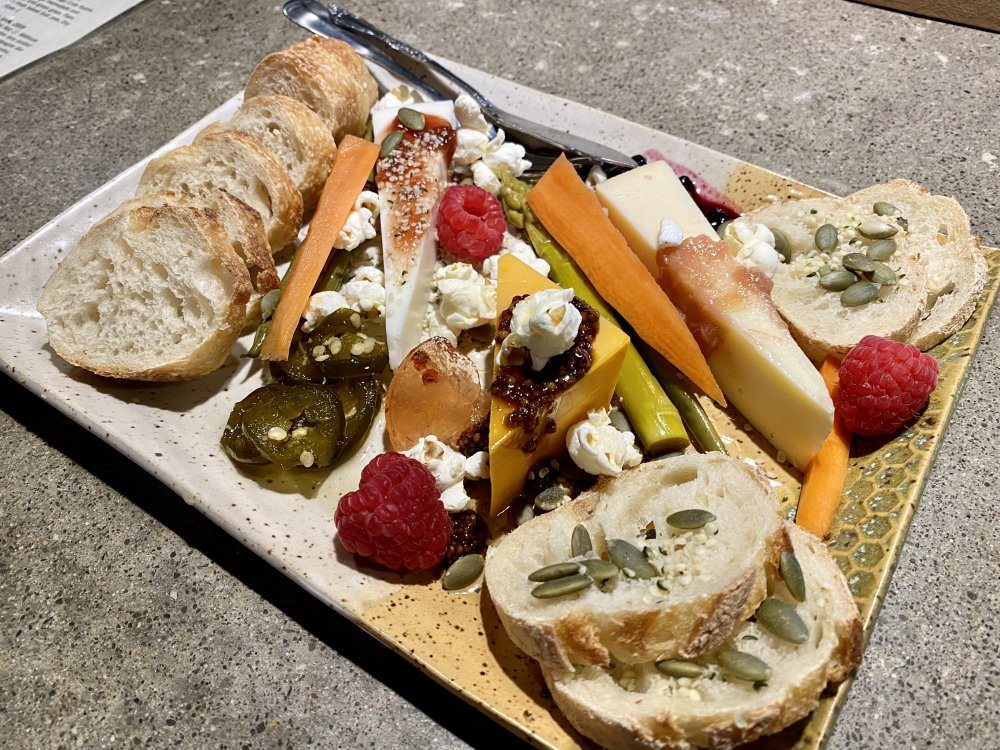 There's a few things that we feel are worth noting before you head their way!
On the property, they've got what's known as the Somerset Cottage. In 2018, they renovated an existing outbuilding into a gorgeous 3 bedroom cottage for guests who are visiting the cider house, or happen to travelling in the Hamilton Halton Brant Region (which many will know colloquially as "the Heart of Ontario.") It can host up to 6 guests, and you can find full details here.

When we were visiting, we came across a wedding about to take place, and the barn/nearby building was set up like something out of a fairytale. If you've keen to host a wedding or event here, we're told you should contact [email protected]

After Thanksgiving and before the May Long Weekend, their hours are Friday to Sunday 12-6. After the May Long Weekend and before Thanksgiving, their hours are daily from 12-6.

Reservations are not required, but you may want to reserve a picnic table at one of the outdoor fire-pits in the meadow. As of October, they offered the opportunity to sit at your own private fire for an additional $20 charge to the group bill. You can, of course, also reserve a table indoors. You can find out more information about that here. If you do decide to go the fire route, it's worth noting that they sell a S'mores Kit for 10 bucks!

Dogs aren't allowed indoors, but can be leashed outside, or can hang out with you by the fire-pit or what have you.

They have an onsite bakery that offers a variety baked goods, as well as sausage rolls and pies. They also apparently offer sandwiches in the summer, soup in the winter, and food trucks on the weekends. They've got fridges full of great local meats and cheeses, as well as pickles and preserves. We walked out with some candied jalepenos that are divine! We'd strongly recommend the Ontario Cheese Box, which comes with sourdough bread, pickles, chutney, grainy mustard, estate honey with pumpkin seeds and popcorn, as well as cheese from 3 types of local cheese.

They have an online store, and deliver locally for free on order of over $50. You can check here if you live nearby and want to see if you'd be in their delivery sphere.
Come Appreciate This Cidery Located in the Heart of Ontario
If you know that you'll be headed out to Hamilton, Burlington, or have heeded our recent recommendation to visit the Royal Botanical Gardens and want to add a little something else to your trip, we'd definitely recommend West Avenue Cider House. Beyond their excellent cider, it's just a lovely place to spend an afternoon or an evening. Also, having met Amy and spoken to her, we love what they're trying to do, and the energy they have for this project, as well as their emphasis on giving back to the community.
We've got some excellent cideries in the province, but West Avenue is right up there with the best of them, and we already can't wait to go back.
---
We want to humbly thank Hamilton Halton Brant for hosting us as media. All opinions are completely our own.
If you appreciated this article, you'll love our newsletter, as well as our Facebook group! Feel free to join, all are welcome.
Christopher Mitchell is the Cofounder of Ultimate Ontario. He's visited over 80 countries, and has lived on 4 continents, but now has his eyes set squarely on exploring this incredible province, and helping others do the same.