This Emmy-award-winning is a hit in Canada. Explore the best Schitt's Creek filming locations in Ontario right here.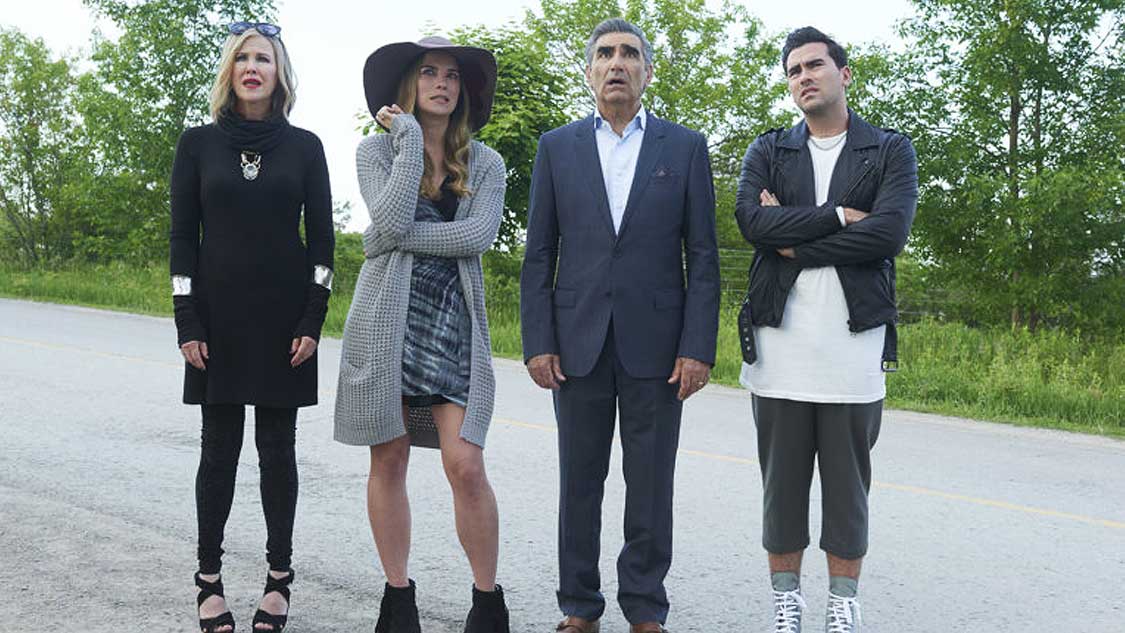 The television show Schitt's Creek took the world by storm. And while most shows are at their peak during their second or third season, Schitt's Creek has risen to fame after closing its sixth and final season.
What many locals don't know is that this show is filmed right here in Ontario. With its rising popularity, the rush to explore and photograph some of the best Schitt's Creek filming locations in Ontario is on.
The sixth season of Schitt's Creek was the show's final run and the show is no longer filming. Because of that, these locations could eventually close down or be demolished. In fact, the iconic Schitt's Creek Motel just recently moved to new ownership.
What Is Schitts Creek Anyway?
If you haven't caught an episode of Schitt's Creek yet, what are you waiting for? This show, created by SCTV and American Pie comedy legend Eugene Levy and his son Daniel lit up the airwaves for 6 seasons on CBC.
This cult hit tells the story of a wealthy family forced into bankruptcy. They move to a tiny, blue-collar town with the unfortunate name of Schitt's Creek. From there, shenanigan's erupted.
Schitt's Creek developed a large following among both Canadian and American Audiences before it received a rush of attention after sweeping a record-breaking nine Emmy wins in 2020. The most in a single season for a comedy.
Since then, Schitt's Creek has gained worldwide fame, and interest in the Schitt's Creek filming locations in Ontario is exploding. And these days, thanks in part to the COVID-19 pandemic, only locals have the opportunity to discover these Ontario Schitt's Creek locations.
Schitt's Creek Filming Locations In Toronto
It's no surprise that "Hollywood North," AKA, Toronto holds a number of the Schitt's Creek filming locations. The show is considered a "Toronto" show. Not only does much of the cast and crew hail from the big city, but a good portion of the Schitt's Creek filming happened in the city.
Pinewood Studios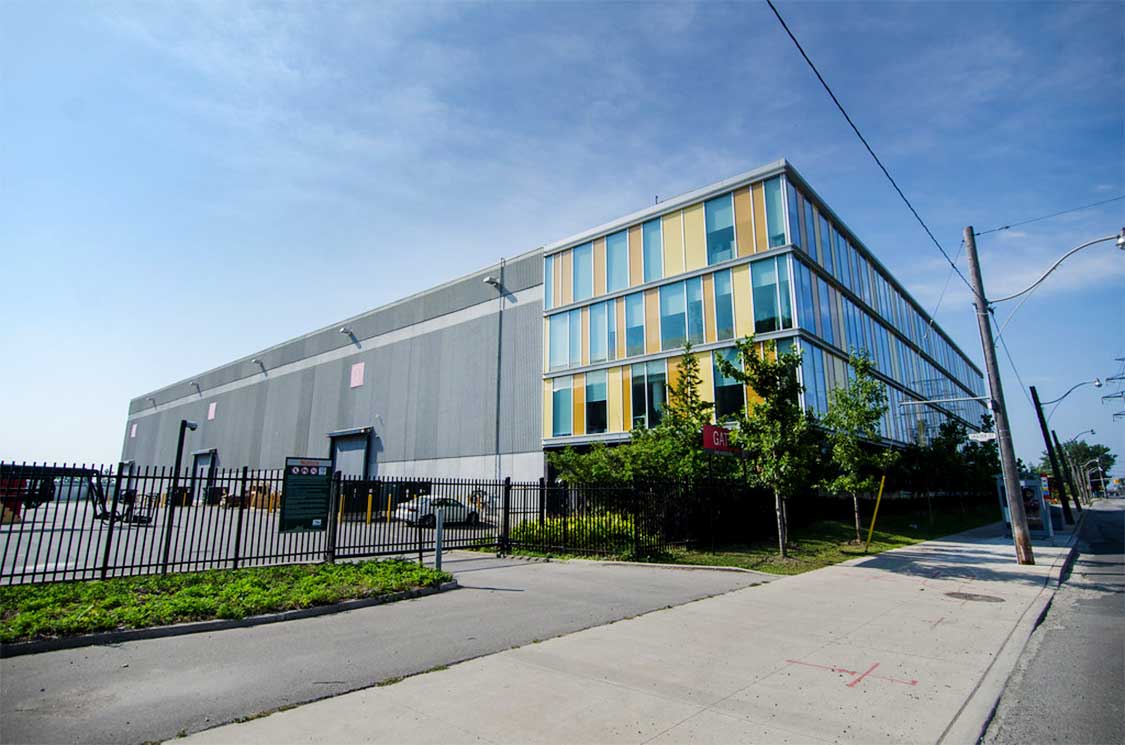 Pinewood Studios in Toronto – Photo Credit: Jeff Hitchcock
For those looking to do a tour of Schitt's Creek locations, much of the interior filming locations for Schitt's Creek were shot at Pinewood's Studios south of Lakeshore Ave. on Commissioner St. This has been the primary filming location since season 3 of Schitt's Creek.
Before season 3, the indoor scenes for Schitt's Creek were filmed further west at Dufferin Gate Studios on Butterick Rd. near Evans Ave just south of the Gardiner Expressway.
Elmbridge Manor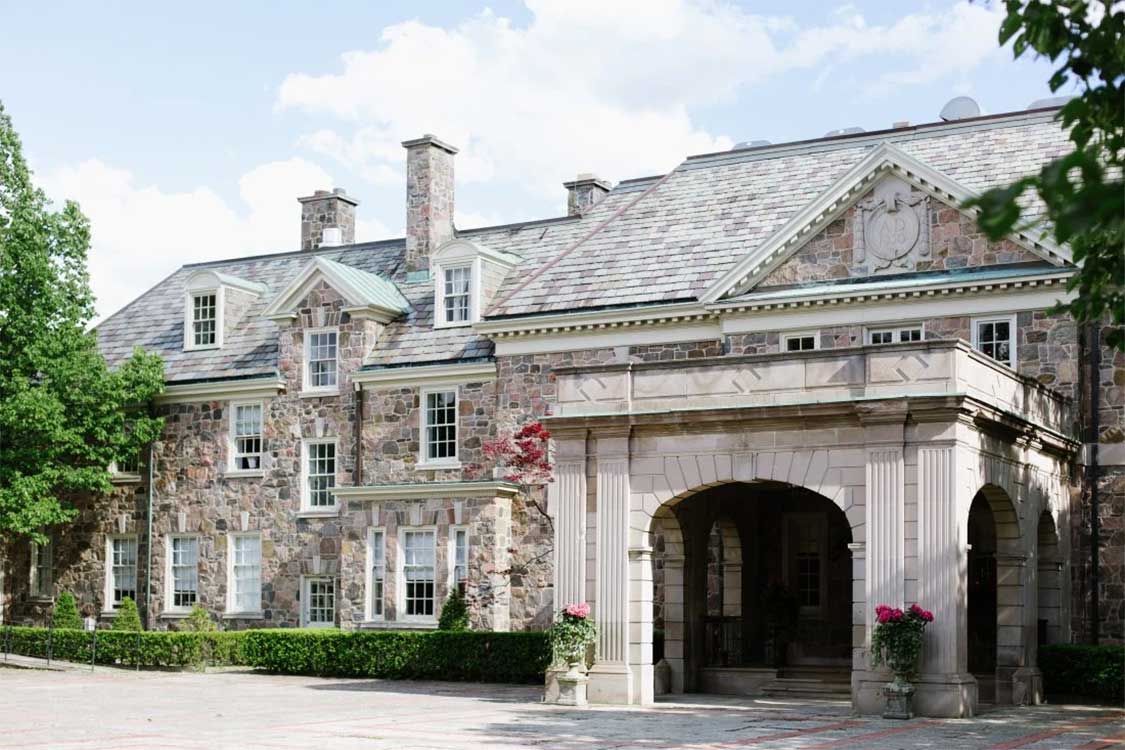 In Season 6, David and Patrick were searching for the perfect wedding venue. During their search, they came across the beautiful Elbridge Manor. This Toronto Schitts Creek filming location was actually Graydon Hall Manor.
This popular Toronto wedding venue on Graydon Hall Dr. near the 401 and Don Valley Parkway is full of gardens, walking paths, and much more.
Other Schitts Creek Filming Locations In Ontario
Toronto isn't the only filming location for Schitt's Creek. There are Schitt's Creek filming locations spread across the GTA and southern Ontario. Here are a few of the most notable ones.
The Rosebud Motel
The absolutely hilariously named Rosebud Motel is the focus of much of the action in Schitt's Creek. This is where the stars of the show, the Rose's, are offered a place to live. It's also where Schitt's Creek staple, Stevie, works.
This, now iconic, motel can be found outside the town of Orangeville on Hockley Road just east of Airport Rd. Check here to find other great things to do in Orangeville while you're there.
The Blouse Barn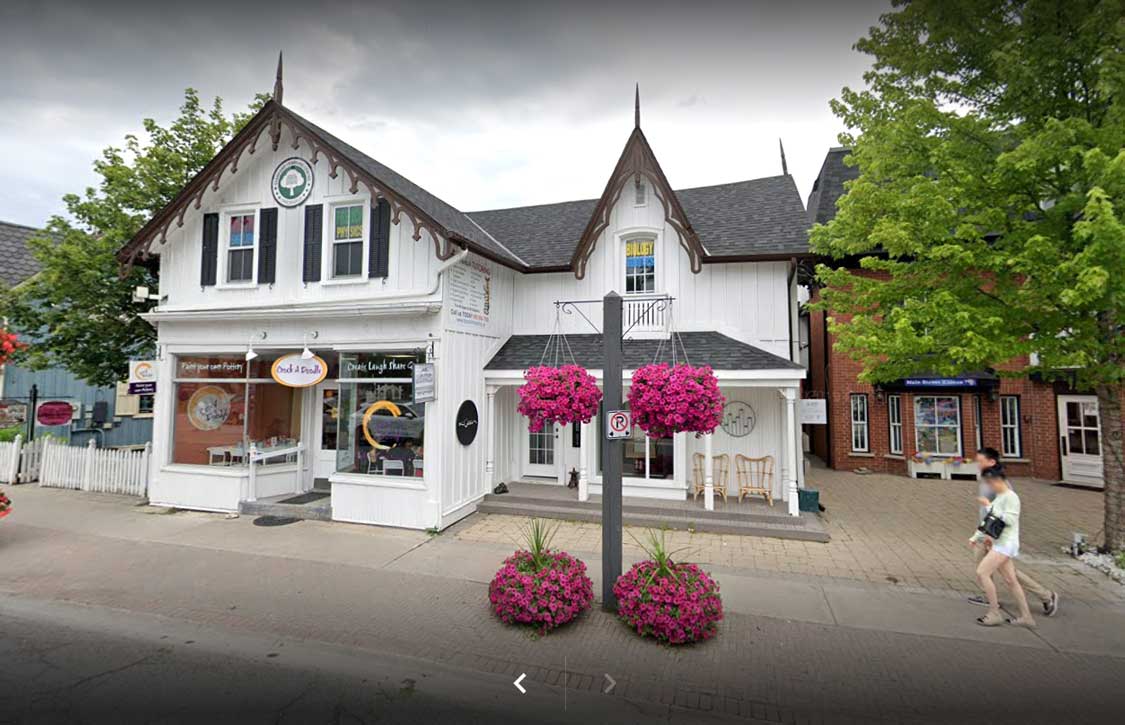 In Schitt's Creek, the Blouse Barn is an "upscale" fashion shop where David (Daniel Levy) worked during season two. This Schitt's Creek store's shooting location is actually a paint-your-own-pottery store on Main St. in Unionville, Ontario, called Crock A Doodle.
Unionville is a fabulous little suburb of Markham, Ontario, and offers plenty for Schitt's Creek sightseers to explore. Make sure to grab an ice cream at the Old Firehall Confectionary while you're there.
Ted's veterinary clinic
Many of the Schitt's Creek filming locations are stand-ins for other types of businesses. Rose's Apothecary is actually a wool shop, the Blouse Barn is actually a craft painting store. But the location for Ted's Veterinary Clinic is actually a veterinary clinic!
Ted is as close to a doctor as there is in the town of Schitt's Creek. The affable Ted and the aloof Alexis have a hot and cold relationship through the six seasons. And much of that action happens at the Thicketwood Veterinary Hospital in the town of Whitchurch-Stouffville.
The Herb Ertlinger Winery
The Herb Ertlinger Winery was a local winery in Schitt's Creek specializing in fruit wines. Moira Rose acted as a spokesperson for the winery during one of the most hilarious episodes of the show. This was the highlight when Moira drunkenly stumbled through her lines in one of the winery's television commercials.
The Herb Etlinger Winery is actually the Applewood Farm and Winery located in Stouffville. You won't be able to buy a bottle of Moira Rose here, but you can enjoy some spring strawberry or fall apple picking and grab a delicious bottle of their fruit wines to go.
Rattlesnake Point Conservation Area
Suppose you're looking for romantic getaways in Ontario. In that case, Schitt's Creek filming locations don't get better than Rattlesnake Point Conservation Area near Milton.
This beautiful wilderness is where David Rose got engaged to Patrick in season 5. In true Schitt's Creek-style, Patrick injured his foot and needed to be carried up the hill by David for the big moment.
Rattlesnake Point is a fantastic place to catch the sunset. It's actually one of our favourite Toronto hiking trails. So if you want to check this out, save it for later in the day when you can see the magical views. The towering cliffs of the Niagara escarpment will have you in awe.
Where Is Schitt's Creek?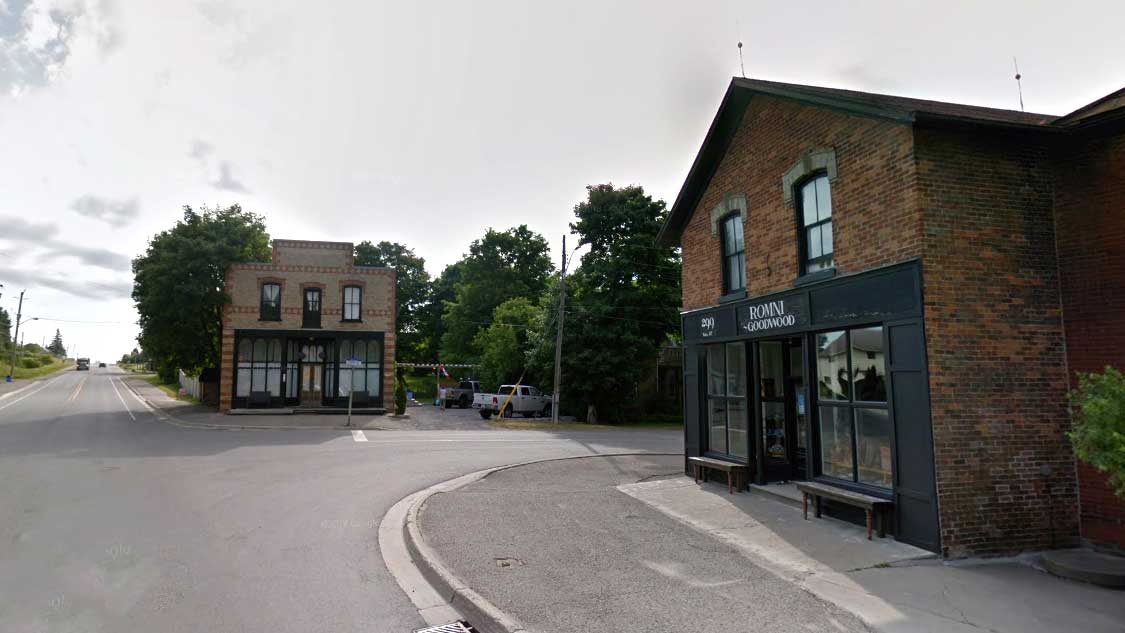 By all accounts, the town of Schitt's Creek is based on the Ontario town of Goodwood, Ontario. This is the Schitt's Creek filming location for most of the exterior shots of the town.
Goodwood is the location of the mayor's house, the town hall, the graveyard, most of the Schitt's Creek stores, and even the street scenes. Walk around Goodwood and you'll find the locations of Cafe Tropical, Bob's Garage, and the Rose Apothecary. You can just imagine how much action there would be in this town of 600 on days when they were filming Schitt's Creek.
In fact, right across the street from most of these locations (they're all on one corner) is Annina's Bakery, which has risen to fame thanks to the publicity of the members of the cast who would eat there while on set.
Goodwood is located west of Uxbridge, Ontario, near Whitechurch Stouffville. The Schitt's Creek scouts checked out over 30 towns before settling on Goodwood.
Remember that some of the Schitt's Creek filming locations are private homes. If you're touring Schitt's Creek set areas, be respectful of personal property and what you photograph.
One area that you can explore a little deeper is Romni Wool's. This stood in for the Rose Apothecary. Pick up some wool or handicrafts and take some time to chat with the owner, who is full of great Schitt's Creek set stories.
How To Plan Your Schitt's Creek Road Trip Through Ontario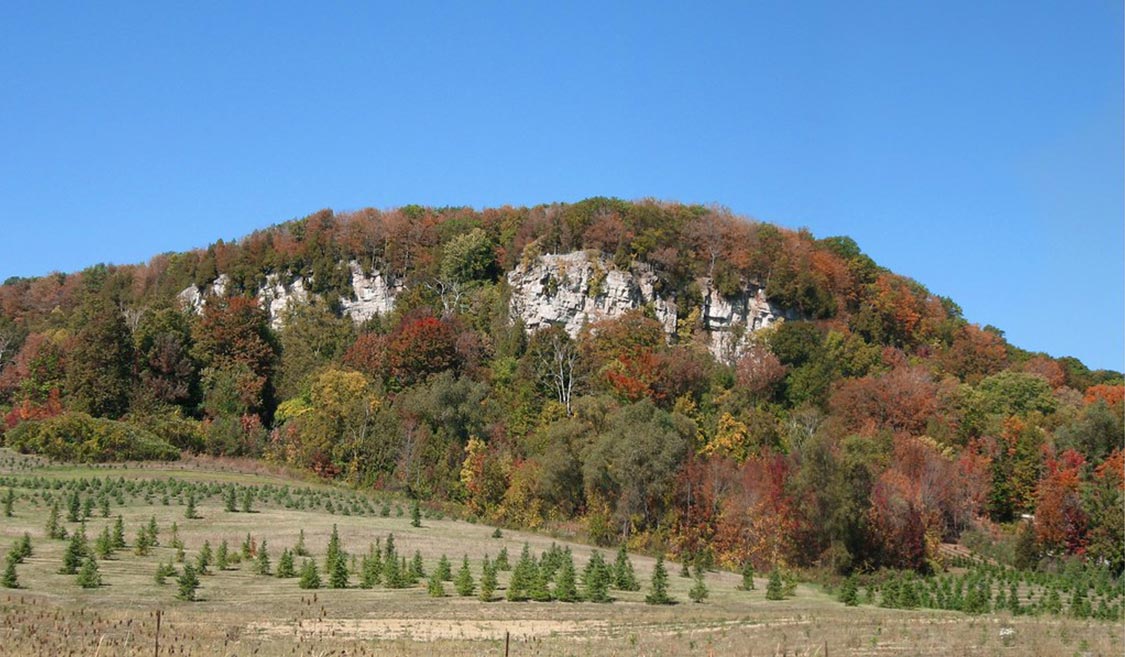 If you'd like to plan your own road trip through the set locations of Schitt's Creek, here's how to plan your day and a few extra things to see along your way.
A local film-set trip makes for a fun Ontario staycation idea. And here's how to plan your Schitt's Creeks road trip.
I'll lay this out based on starting in Toronto. If you're based in Toronto and looking to head in for a fun night in the city, just follow this backward.
Start down at the Toronto waterfront at the Pinewood Toronto Studios. The studio does not regularly do tours, but you might be able to catch a glimpse of some celebs nearby.
From there, make your way up the Don Valley Parkway (An excellent place for fall colours near Toronto if the season is right) and check out the grounds of Graydon Hall Manor. You may want to check ahead of time to see if there are weddings taking place so that you don't interrupt a special day.
Next, you'll follow 404 to HWY 7 across to Unionville to make a stop at Crock A Doodle. Call ahead and reserve your spot for some pottery painting. It's a fun way to break up your Schitt's Creek road trip.
From there, you'll make a shot up HWY 3 and east on 14 to visit Thicketwood Veterinary Services. In the words of the great Bob Barker, "Don't forget to have your pets spayed or neutered."
Next, you'll head up HWY 30 and across 47 to explore Goodwood. Make a stop at Romni Wool and pick up some hand-knit goods. Also, make a stop at Annina's Bakeshop to pick up some snacks for the road.
From here, you'll backtrack along 47 and 3 to HWY 404, which you'll follow up to Newmarket before breaking west towards Orangeville and the classic final stop at the Rosebud Motel.
The final spot on our Schitt's Creek road trip through Toronto is the beautiful Rattlesnake Point Conservation Area near Milton. To get here, you'll head down 10/410 and across the 401 before dodging south towards Rattlesnake Point. Everything you need to know for your Schitt's Creek film set road trip is on the map below.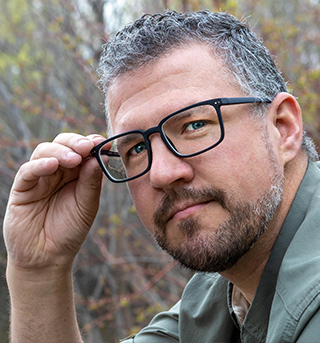 Kevin Wagar is a founder and editor of Ultimate Ontario. He has been working in the travel media industry since 2015 when he founded his family travel website Wandering Wagars – Adventure Family Travel.
Over the years Kevin has developed a deep love for his home province of Ontario and aims to showcase the incredible experiences and amazing small businesses found within it.