Known as "Toronto's Castle," Casa Loma has a fascinating history that matches its elegant architecture. Learn more in our complete guide to Casa Loma.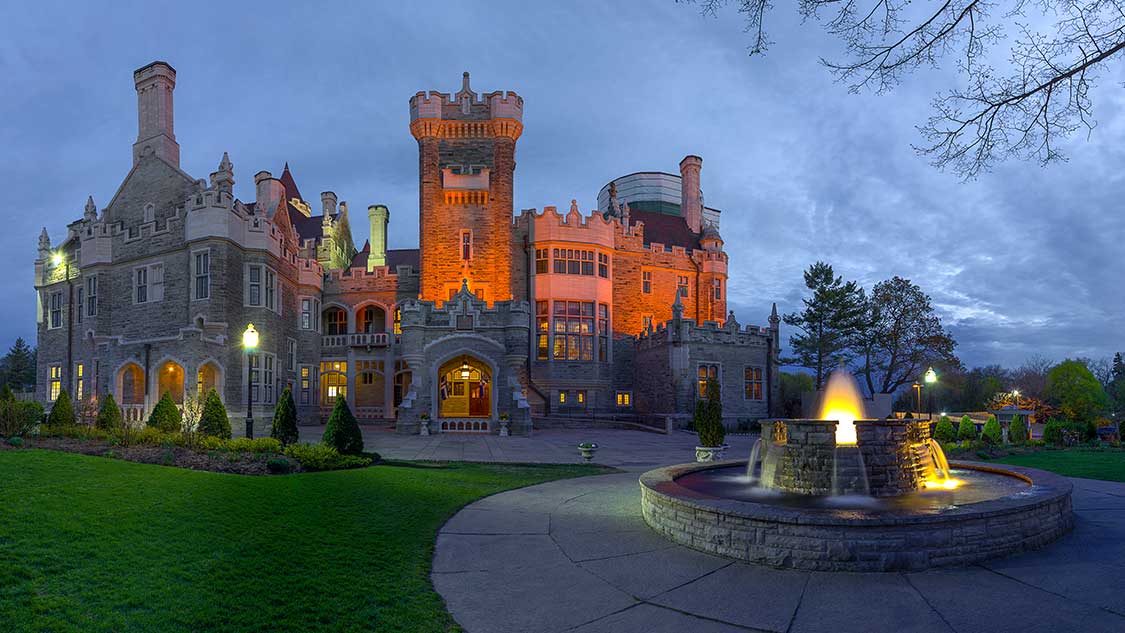 For over a century, "Toronto's castle" has been admired by both locals and visitors alike. Toronto's Casa Loma is a sight that's not to be missed when visiting Ontario's capital. Keep reading to learn more about the history of this brilliant establishment as well as all the fun things to do at Casa Loma!
History of Casa Loma Toronto
Casa Loma is a Gothic Revival-style mansion built at the request of financier Sir Henry Pellat. Using improper Spanish referring to "hill house" or "house on the hill," he commissioned architect E. J. Lennox to design Casa Loma in 1911. It took three years, 299 workers, and $3.5 million to create this architectural masterpiece.
Inside Casa Loma, you'll find an elevator, an oven that could fit an ox, two secret passageways, a pool, and an array of hidden rooms, secret passageways, and architectural wonders.
With 98 rooms that cover 64,700 square feet, it was the largest private residence in Canada. No wonder it's referred to as one of the only true castles in North America!
While Sir Henry Pellatt was a very successful businessman as a full partner in the family business of Pellatt and Pellatt, a stock brokerage firm. Unfortunately, his wealth couldn't keep up with the majestic aspirations of Casa Loma. As Pellatt tried to expand the residence, he fell further into debt. He attempted to use his business prowess to keep things afloat but as Canadians put their money into war bonds instead of spending it on the industries he was involved in, it forced Pellatt and Pellatt into bankruptcy.
With his tax bills piling up, Pellatt was forced to auction off a number of his prized possessions and abandon the beautiful Casa Loma. He and his wife moved to their farm in King Township in 1924 where she passed away a year later and he on March 8, 1939.
In 1925, a year after Sir Henry Pellatt left Casa Loma, architect William Sparling proposed to transform Casa Loma into a Toronto luxury hotel. He was granted a long-term lease and The Casa Loma Hotel was born.
Operating from 1926 until 1929, guests slept soundly as they were encompassed by elegance. Sparling began the process of completing the Great Hall and the Billiard Room during this time – two rooms that Sir Henry Pellatt was unable to finish. Unfortunately, the onset of the Great Depression had other plans and Sparling was forced to abandon his dream hotel – leaving Casa Loma vacant once again.
It was the Kiwanis Club of West Toronto to the rescue. They saw how Casa Loma could be a viable attraction for tourism and began operating it as such in 1937.
This continued for decades, during which time Toronto's castle underwent some upgrades including a $33 million city-funded exterior restoration project from 1997 until 2012. In 2008, a new board of trustees was created to oversee the future of Casa Loma that included seven members from the Kiwanis Club and seven from the City of Toronto. While the agreement was made that the Kiwanis Club would use the mansion's net revenues to help pay for the upgrades, it was used for the club's shortfalls instead and as such, the city resumed responsibility for Casa Loma once again in 2011.
That same year, the Casa Loma Corporation was formed and while the City of Toronto is still the sole owner, Liberty Entertainment Group has signed a long-term lease and operating agreement as of January 2014. They have really transformed Casa Loma into the Toronto attraction you can enjoy today, including over $7 million in upgrades as well as the addition of a fine dining restaurant, Blueblood Steakhouse.
Guide To Casa Loma: Toronto's Castle
Casa Loma has long been one of the best secrets of Toronto. Its existence and fascinating history make up a big section of our Toronto fun facts. Since it was taken over as a tourist attraction, Casa Loma has become a popular destination within Toronto with over 650,000 visitors touring it each year.
Toronto's castle has also become one of the most unique special events venues in the city and it's no stranger to elaborate film sets and photo shoots. Here are some of the top things to do at Casa Loma so you can experience this piece of history to the fullest!
Tour the Castle
Step back in time and check out Casa Loma's 98 rooms, many of which are furnished just as Sir Henry Pellat would have liked. Visitors have access to an audio guide as part of admission which will give you in-depth details about the history of Casa Loma as you wander. If you are in need of an audio guide device, one can be rented from the on-site gift shop.
Explore secret passages and ascend the winding staircase of the majestic tower for an incredible view of Toronto!
Once you're done in the main castle, head underground to the 800-foot-long tunnel that connects to the Hunting Lodge. Be warned though, rumour has it that the tunnel is one of the most haunted places in Ontario, and a ghost has been known to play tricks on those inside!
Casa Loma is proud to preserve its history and share the past to educate visitors. Spend some time with the permanent exhibits like the Dark Side of Toronto photo exhibit and the Classic Car Collection inside the stables. It's also not uncommon to see some special displays highlighting specific periods of Toronto's history as well as Canada's.
Explore the Casa Loma Grounds
Once you're done experiencing the interior of the castle, head outside for some fresh air. Casa Loma sits amongst five acres of beautifully landscaped gardens. Admire gorgeous foliage and plant displays, fountains, and exceptional art installations.
Modelled after an English Gentleman's Garden, there are a number of gravel paths to explore with expertly-crafted parterres featuring vegetable gardens, flowers and fruit trees.
If you're planning to spend the full day enjoying Casa Loma, bring a book along to enjoy as you surround yourself with the natural beauty of the grounds.
Experience Special Events at Casa Loma
Casa Loma hosts a number of special events and experiences throughout the year. For the month of February, the castle comes alive with elegant melodies by candlelight during the Twilight Symphony at the Castle.
Warmer weather brings the orchestra to the outdoors as visitors enjoy Symphony in the Gardens. Something spooky lurks within the walls as you see a darker side of Casa Loma during the month of October with their Legends of Horror and Zombie Apocalypse haunted house.
However, the arrival of the holidays comes with what many think is the most magical time at Casa Loma. Visitors will enjoy an extra level of magic as Christmas at the Castle decks out Toronto's castle with gorgeous decorations including a 40-foot tall tree in the Great Hall! Plus kids will enjoy additional activities such as festive arts and crafts, winter mascots and plenty of photo opportunities.
If you're going to enjoy any Christmas-themed activity in Toronto, it has to be the holiday lights display. Meander through the gardens and tunnels as you're blown away by the brilliant outdoor light displays, spectacular decorations and impressive live performances.
Don't forget to say hi to Santa in his castle workshop! A Casa Loma Christmas is to be experienced at least once in your lifetime.
Try One of The Casa Loma Escape Rooms
Test your logic and observation skills as you unlock your fate with one of the five Casa Loma escape rooms.
Adventure is everywhere as you try to commandeer a bootlegging syndicate, expose the secrets of an underground spy complex, go on a mythical quest to save Avalon's dragons, aid in rescuing a celebrity detective or do your part to end the second world war early.
What sets these apart from other escape rooms is that they feature live actors to take your escape room experience to the next level.
Check Out the Gift Shop
What was meant to be a three-alley bowling lane has been given new life as the Casa Loma gift shop. Here you'll find a number of amazing souvenirs that make the perfect mementos to remember your visit to the castle and Toronto. There are a number of items for all ages so stop in and see what may tickle your fancy!
The Casa Loma gift shop is open Wednesday through Sunday from 9:30 am until 5:00 pm and admission to Casa Loma is required in order to access it.
Grab a Snack at the Liberty Caffé
If you find yourself feeling peckish during your visit to Casa Loma Toronto, pop by the Liberty Caffé. They have a number of tasty options including pressed sandwiches and other mains that are perfect options for lunch. Lighter fare such as savoury pastries, soups and salads are available that pair perfectly with a specialty coffee or juice.
The cafe is open daily from 10:00 am until 4:00 pm. Admission to Casa Loma is required in order to access the Liberty Caffé.
Enjoy a Stellar Meal at Blueblood Steakhouse
Blueblood Steakhouse isn't just one of the best steakhouses in Toronto, it's one of the best restaurants in the city as well.
Settle in for a stellar meal in a one-of-a-kind space as what was once Pellatt's Smoking Room and Billiard Room have been transformed into a beautiful restaurant. The elegant contrast of modern decor with historic architecture certainly adds to the ambiance of your meal.
With a number of delectable dishes on the menu including Wagyu steaks imported straight from Japan, it's certainly a space to celebrate a momentous occasion. However, you can also keep your bank account happy by indulging in some of their less expensive dishes. Whether you pop in for a full meal or to grab a cocktail, reservations are recommended for your visit.
Plan Your Own Visit to Casa Loma
Ready to experience Toronto's castle for yourself? It's certainly not to be missed when visiting Ontario's capital! Here are some of the things to know so you can make the most of your visit to Casa Loma.
When is Casa Loma Open?
Casa Loma is open daily except Christmas Day from 9:30 am until 5:00 pm with the last admittance being 4:30 pm. Some areas may be closed earlier for special events and seasonal displays.
How Much Are Tickets for Casa Loma in Toronto?
Adults are $40 plus tax with a discounted rate of $35 plus tax for seniors 65 years of age or older and youth 14-17 years of age.
Children 4-13 years of age enjoy a discounted rate of $25 while children under 3 are free to visit when accompanied by a ticketed adult.
Guests are entitled to enjoy the Sir Henry Pellatt documentary as well as enjoy the complimentary mobile audio guide app as part of admission.
When is the Best Time to Visit Casa Loma?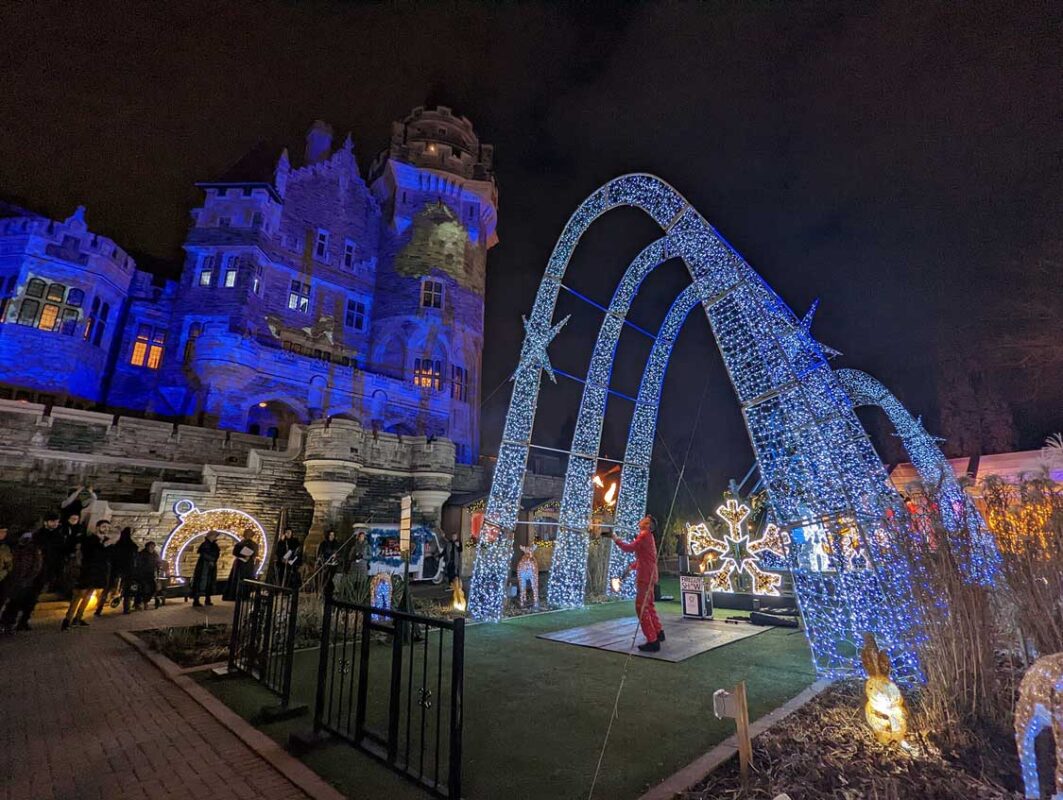 The best time to visit Casa Loma depends on what you're hoping to experience. If you want the full effect of Casa Loma's beautifully manicured grounds without too many crowds, late June and early September are great times to visit. However, a December visit is fantastic as you can then enjoy the beautiful light displays that come with the holidays as well as the additional festive decorations within the castle itself.
If you love a good fascinating history, great stories, and magical architecture, there is no cooler place to visit in Toronto than Casa Loma. This amazing attraction is a perfect date night destination, or bring the kids to one of the castle's fun special events.
Many of these businesses and restaurants are anxious for visitors after a tough year. So let's support local and make the most of your Ontario travel experience.
Do you have a favourite attraction or restaurant in Ontario? Head over to the Ultimate Ontario Facebook Community and join the conversation! You'll find an amazing group of people passionate about Ontario and who love to share their local secrets.
Lindsay Davies is a crazy Canuck who's been bit by the travel bug. Proud to call Ontario home, she loves exploring the province and beyond. As a graphic designer and social media marketer by trade, she travels the world while sharing her adventures to inspire others on her blog, I've Been Bit! When not behind her computer screen, Lindsay is in her natural habitat when she's chasing waterfalls, exploring new trails, frolicking on ice roads (don't knock it until you try it!), and indulging in the odd glass of wine, beer, or cider. Chances are you'll be able to spot her by some funky-coloured hair or a wacky pair of tights she's wearing!