If you're looking to see some of the prettiest towns in Ontario, we've got you covered with our list of the best small towns in Ontario to explore.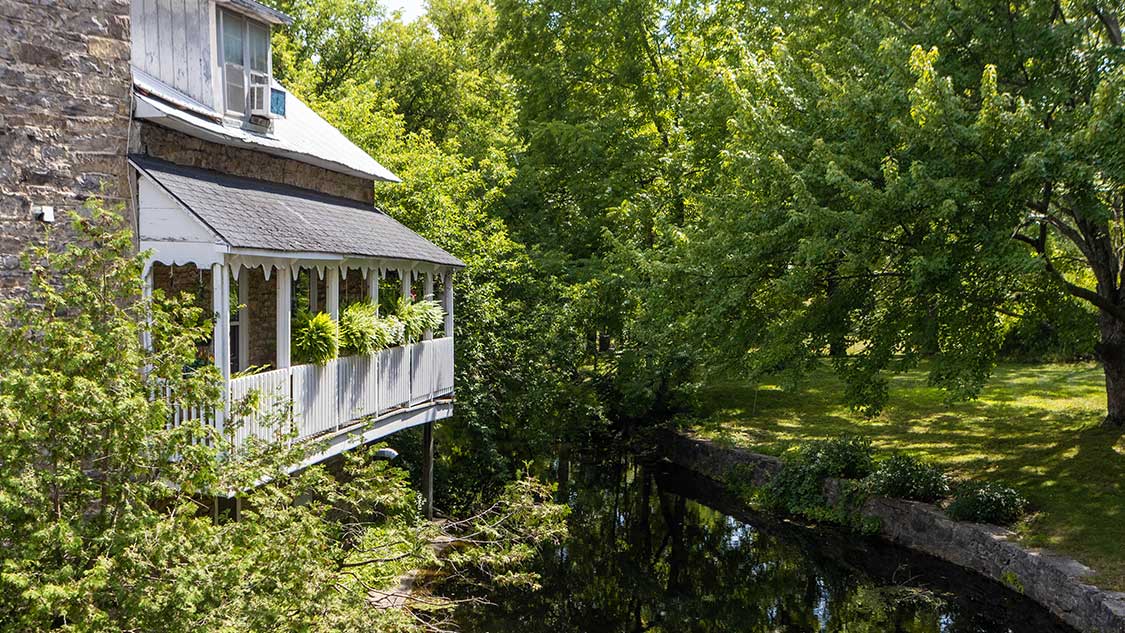 When the weather gets warm, I feel like it's part of my Ontarian DNA to want to escape to some of the prettiest towns in Ontario.
Thankfully, there's no shortage to choose from, and that's why you could have one hundred different people all with a different, valid list for the best small towns in Ontario to go and appreciate.
It is, in short, not a bad problem to have.
In constructing this list, I've tried to ensure that it isn't just a list of beautiful Ontario towns that happen to be near Toronto. Some towns will be near Toronto, of course, but others will be a bit of a hike from the Big Smoke (though I can assure you that they are worth the time).
Whether you're looking to head off on a romantic Ontario getaway with your sweetheart, a ladies trip with a splash of wine, or a place to base yourself to explore the great outdoors, this list of small towns in Ontario has it all.
Cute Towns in Ontario That Are Worth the Drive
I was born and raised in Toronto, but my father is from picturesque Perth, Ontario (not accidentally the featured image for this article). In light of that, I feel I more or less learned to love small-town Ontario right around the time I learned to walk.
When I think of Ontario's small towns, I am returned to the feeling of the sun shining on my face and the sweet scent of fresh butter tarts fresh from the oven. I hear the jovial laughter of passersby, and can almost taste the salty allure of the illustrious Ontario cheese curd.
Okay, before I get too carried away, let's dive in to the my list of best small towns in Ontario.
Please note that, in light of the ongoing Coronavirus pandemic, we at Ultimate Ontario only suggest travel in Ontario when it is deemed publicly safe to do so.
Grand Bend, Ontario
When one of my best friends from high school decided to move right near Grand Bend, I was not upset.
And that's because those who have visited Grand Bend once are always looking for a good excuse to return.
The last time I was there, I certainly got my adrenaline fix by going parasailing in Grand Bend and, in the process, getting some incredible views of Grand Bend Beach and Lake Huron.
The main strip had an unmistakable energy that I hope will again return to Grand Bend when things get moving in Ontario.
With Pinery Provincial Park so close-by, and golfing and accommodation so at the ready at Oakwood Resort, there's no shortage of things to do in Grand Bend.
If you're interested in taking a guided day trip to the beautiful Pinery Provincial Park from Toronto, booking a spot on this tour by Toronto Ecoadventures is a great option.
Port Hope, Ontario
Considering its size, Port Hope punches well above its weight with its tourist offerings.
I know some that swear by Port Hope for its shopping and antiques, while others simply like to get a bite to eat and go for a walk around the quaint downtown.
I'm personally yearning to visit the newly restored Capitol Theatre, one of only two "atmospheric theatres" remaining in Canada.
What ensures that Port Hope is perennially in the conversation for the prettiest towns in Ontario is the way they've preserved their 19th century downtown core.
If it's a sunny day, you'd even be wise to just throw a camera in the backseat of your preferred car, and go to take a few photos.
I would also make a point of popping into Queenie's Bake Shop before you take off. Trust me, you can thank me later.
Elora, Ontario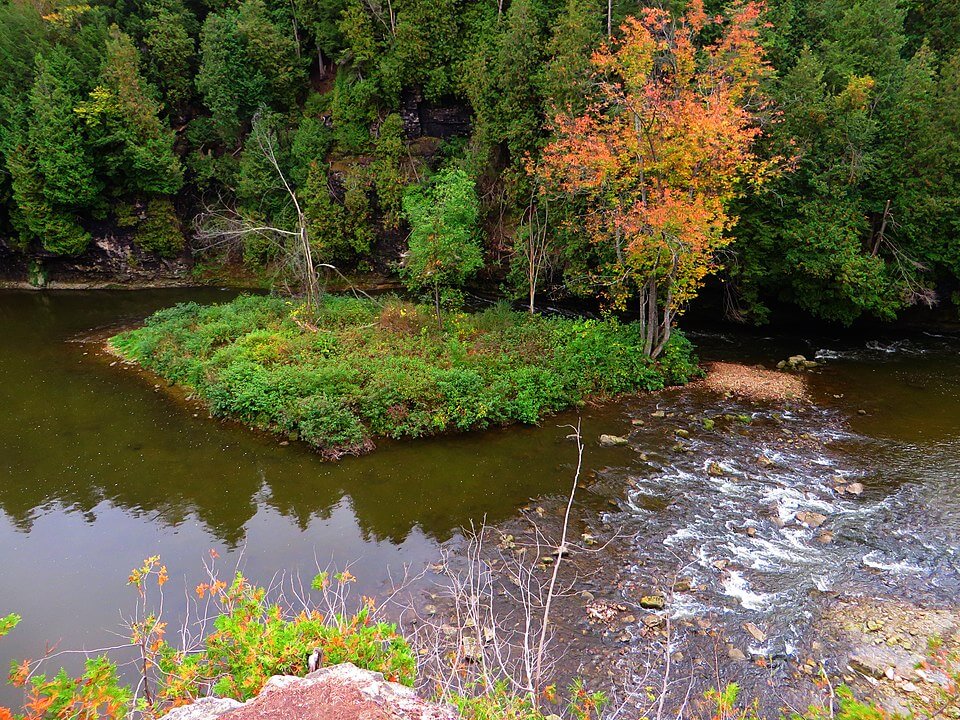 In truth, I'd make the drive to Elora just to grab a pint and a bite at Elora Brewing Company.
Randomly enough, I met some of the fine folks at Elora Brewing through my involvement with the Toronto Garlic Festival. I tasted a few of their beers and some of their cuisine, and I was an instant convert.
The Elora Gorge in particular seems to be a large draw. I'm told it was so popular at one point that they had to limit the number of people who came each day.
If gorgeous gorges (sorry, couldn't resist) aren't your thing, the nearby Wellington County Museum and Archives just might be. It's the earliest surviving example of a "poor house" (now known as "house of industry") in the whole country.
Like everything else on this list, they're currently closed, but the skies are opening slowly towards their reopening. My guess is they'll be some sort of cap to the number of people that can enter at once but eventually, visitors will once again be allowed.
Perth, Ontario
Somebody is going to accuse me of being biased in including my dad's hometown on a list of the most charming small towns in Ontario. But if you've been to Perth, you'll know I'm not biased in the slightest.
I cannot think of a single park in Ontario that I love more than Perth's Stewart Park. I spent my summer's of youth booming down the "rapids," and I think I mistakenly assumed that all towns had a serene park somewhere.
Nope, it turns out Stewart Park is as unique as they come. It was crushing to hear that the famed Stewart Park Festival would be cancelled this year, but I'm going to make a point of attending the festival in the future, and perhaps you should consider it as well.
Beyond that, the main strip, Gore Street, is a treat. Go for a walk up and down the street, and then get yourself a schnitzel at Maximillian's. Finally, since you won't probably won't have room after Max's, get a carrot cake to go from Sunflower Bake Shop.
I unapologetically love this beautiful little Ontario town to the core.
If you have a sweet tooth and are looking for things to do near Perth, consider driving along the Lanark County Chocolate Trail.
Stratford, Ontario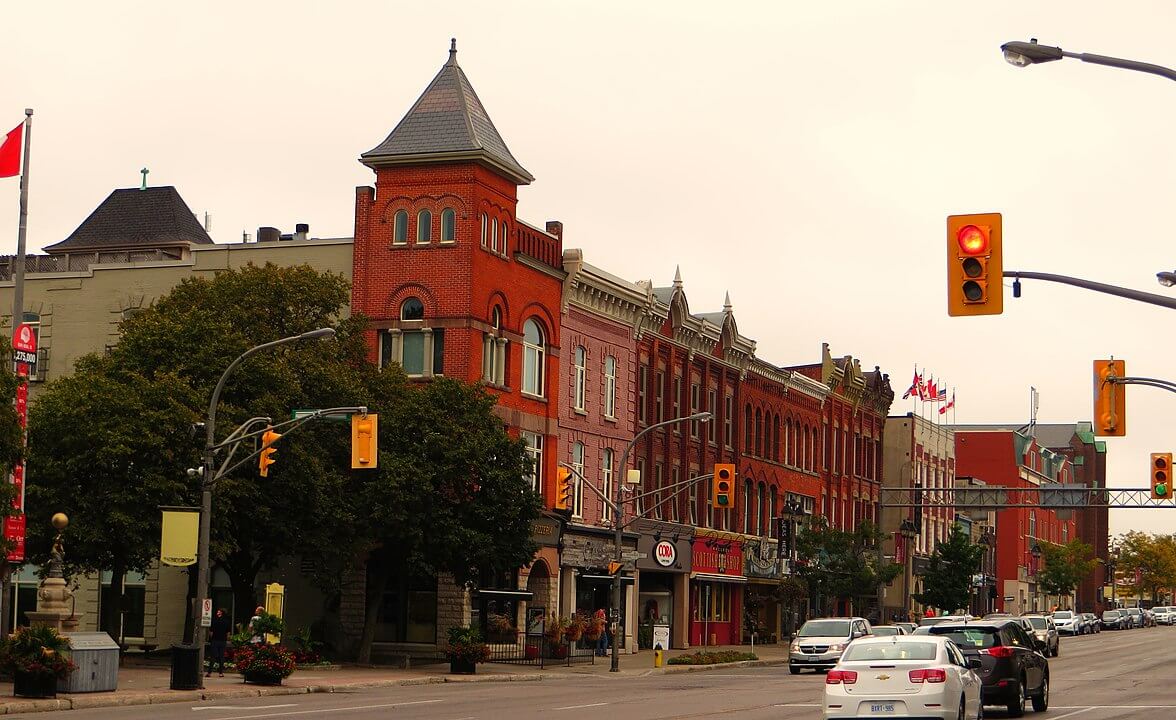 Let's first get something out of the way – Stratford, Ontario is a whole heck of a lot more than Justin Bieber's hometown.
Admittedly, with a population of around thirty thousand, this is really stretching it when we're talking about small towns in Ontario, but it's just so damn charming I had to include it.
The claim to fame that comes to me is, first and foremost, the Stratford Festival.
As on Ontarian, it's something I'm distinctly proud of. Each season they put on more than a dozen productions in a variety of venues, which officially makes it North America's largest classical repertory theatre company.
This season, they're going online with their performances, and you can follow updates on their website.
Stratford itself is also almost painfully pretty. Certainly, much of that is owed to the Avon River, but density of Victorian buildings also doesn't hurt.
It's ideal for those Ontario romantics, or a family outing!
Niagara-on-the-Lake, Ontario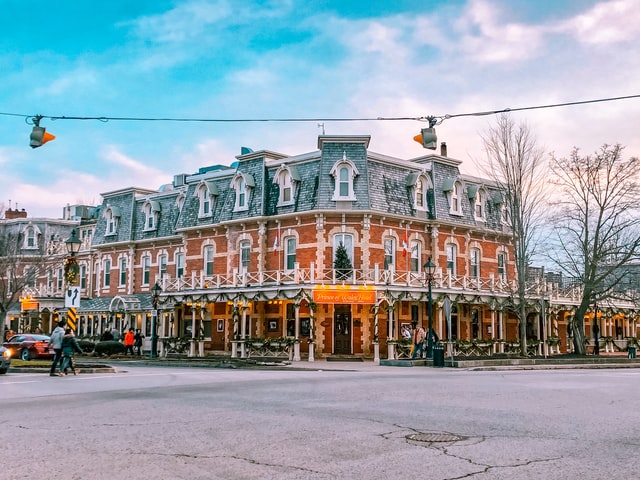 If the wineries in Niagara-on-the-Lake aren't enough of a draw (and they should be), then the scenery ought to be.
Perhaps not surprisingly, this town is perched right on the shores of Lake Ontario, right at the mouth of the mighty Niagara River.
To me, it's one of the prettiest towns in Ontario because it's so vibrant and colourful. It's no surprise that a trip to Niagara-on-the-Lake is one of the best drives in Ontario.
In the summer, the flowers and trees are in full bloom, and when you combine that with views of tastefully restored 19th century buildings, the effect is rather sublime.
My guess is that anyone who has visited Niagara-on-the-Lake is none too surprised that it found its way onto a list concerned with beautiful towns in Ontario.
If you're interested in taking a guided tour of Niagara-on-the-Lake from Toronto, this bus tour takes you to experience this historic town, before exploring Niagara Falls.
Westport, Ontario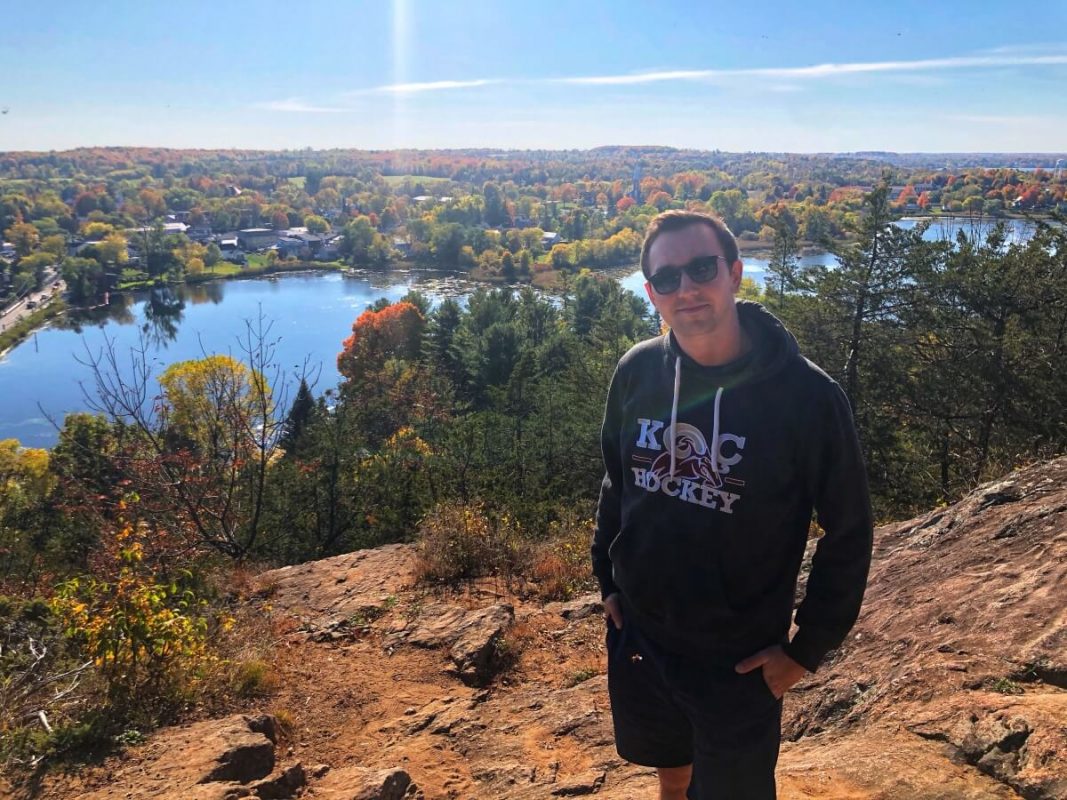 Westport is one of those places that feels like a village during the winter, but a burgeoning town in the summer. Technically, it is a village. Whatever you want to call it – it's as lovely as they come.
Believe it or not, you can ride the Rideau Canal all the way from Westport to Ottawa, which is a whopping 100km away. In fact, many do, and its position at the head of the Rideau affords it a lot of visitors that, like me, are wooed by its quiet charm.
If it's a summer's day, treat yourself to a scoop at Vanilla Bean's Cafe and Creamery. You can cover the town in less than an hour even if you're walking at a very leisurely pace, so feel free to go for a stroll. Trust me, you won't get lost.
My pro-tip is go north on Highway 10 just a touch, and head to Foley Mountain Conservation Area. You can drive up, and the views of Westport from there are astonishing.
There are few views I prefer in the whole province.
Almonte, Ontario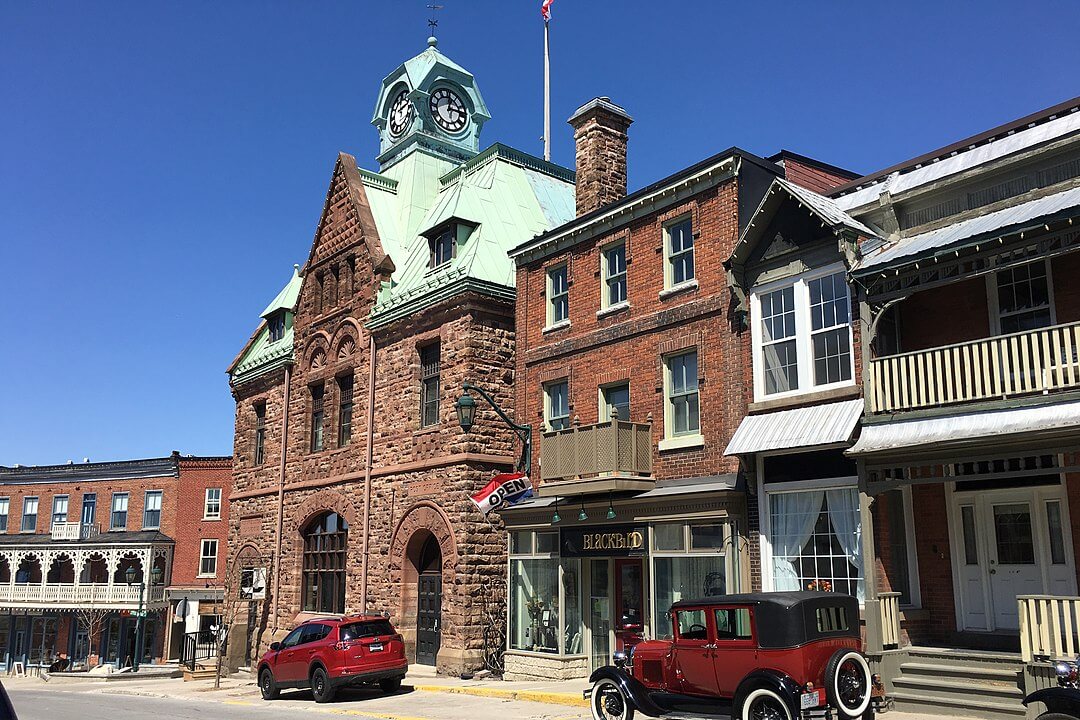 There's something about former mill towns that instantly steal my heart, and Almonte is very much included in that.
A visit to Almonte is particularly doable if you're in the Ottawa region, as it's only roughly 45 minutes from our nation's capital, and even less if you've got a bit of a lead foot while driving.
The Mississippi River runs right through Almonte (no, not the one from The Adventures of Huckleberry Finn), and it adds a definite ambiance to the town.
Most people come to Almonte because the town is a pleasant blend of unique shopping experiences, locals showcasing their work and art, and reputable restaurants and markets.
Port Perry, Ontario
Ladies and gentlemen – Port Perry is on the up and up.
The downtown core has quickly and quietly developed into a genuine tourist attraction. It's one of those cute towns near Toronto that makes for an ideal weekend visit from the big city.
In visiting Port Perry, I'd keep it fairly simple. I would go down to Joe Fowler Park and take in views of Lake Scugog and the marina, then spend some time perusing the downtown core, particularly on Water Street and Queen Street.
If you're looking to grab a bite to eat, I'd strongly recommend Marwan's Global Bistro. Then, take the short walk to Old Flame Brewing Co., and sip on beers from one of Durham Region's most coveted breweries.
What makes Port Perry one of the best small towns in Ontario for a little weekend visit is that you've got options. You could easily choose from a handful of other restaurants that would in all likelihood be just as delicious (Foundry and Port Perry Smokehouse come to mind).
Picton, Ontario
How could we have a list of charming Ontario towns without including this gem from Prince Edward County?
Picton has all the fix-ins of what makes small-town Ontario great – shopping, theatre, well-restored public buildings, and a harbour and marina. It's another stopping point on a few of our favourite Ontario drives as well.
We don't quite know what tourism will look like at the moment, but Picton's Main Street used to be so busy in the summer that it was often better to explore King Street or Mary Street.
My guess is that this summer it'll be less busy, and you should have no problem responsibly exploring and appreciating Picton while social distancing.
Many people recommend going for a picnic lunch at the parkette with views of Picton Harbour, and that's still very much something you can do during these times.
Last time I was in Picton, I also popped into Parsons Brewing Company, and they do a good job, especially in creating a hip, fun-loving ambiance.
Picton has a lengthy history that stretches back to the early 19th century. Believe it or not, our first prime minister, none other than John A. himself, managed a law office here for his cousin back in the day.
Port Stanley, Ontario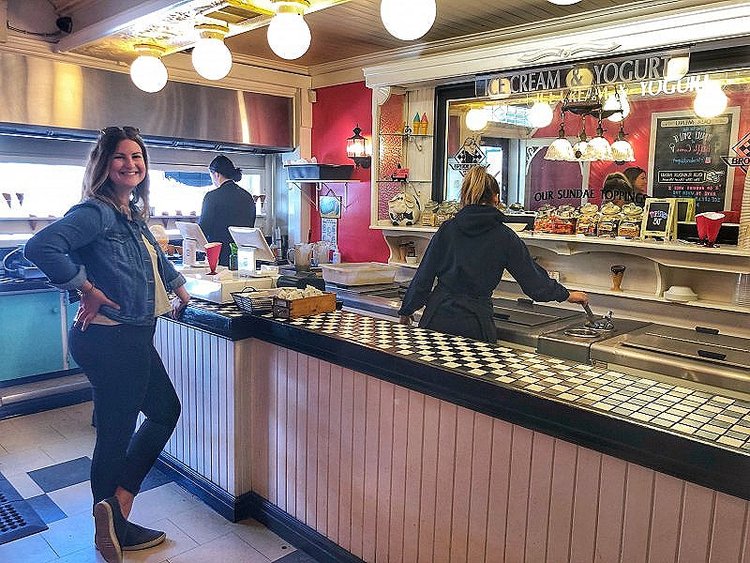 I'm grateful that I've explored all the different things to do in Port Stanley rather extensively.
There's Port Stanley Beach, Port Stanley Pier and Lighthouse, and then a whole collection of restaurants and shops worth a visit.
Personally, I wouldn't leave Port Stanley without a proper visit to Broderick's Ice Cream! If you want to spend a bit of time in Port Stanley, go for a walk (or bike ride), then eat some lunch at the Kettle Creek Inn, and finish with ice cream!
Sounds pretty good, right?
Especially in the warmer months, the vibe of Port Stanley ensures that you wouldn't rather be anywhere else in the province. Port Stanley is one of those beautiful towns in Ontario that should be on more people's radar!
Paris, Ontario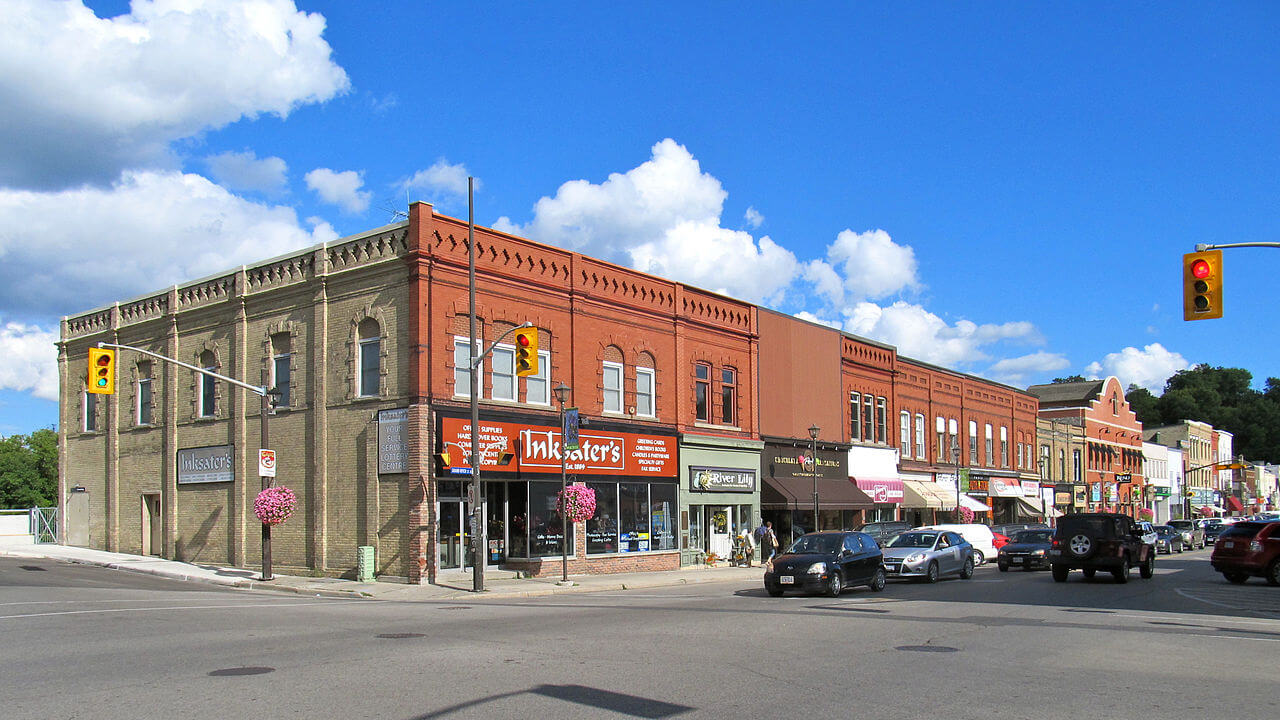 It turns out that Paris, France isn't the only pretty Paris around. In fact, Harrowsmith Magazine actually crowned Paris, "the prettiest little town in Canada" recently.
Paris is located in Brant County, right where the Grand and Nith Rivers converge.
The town and region are particularly popular for viewing fall colours, but it's worth the visit year-round. Downtown Paris smells pleasantly of Ontario baked goods. There are plenty of spots to get your hands on some local cheese curd!
As with a handful of other Ontario towns on this list, there are no shortage of quality restaurants, shopping, and unique shopping and accommodation options.
Paris, France is overrated. Paris, Ontario, however, is not.
What Are Some Other Beautiful Ontario Towns to Consider Visiting?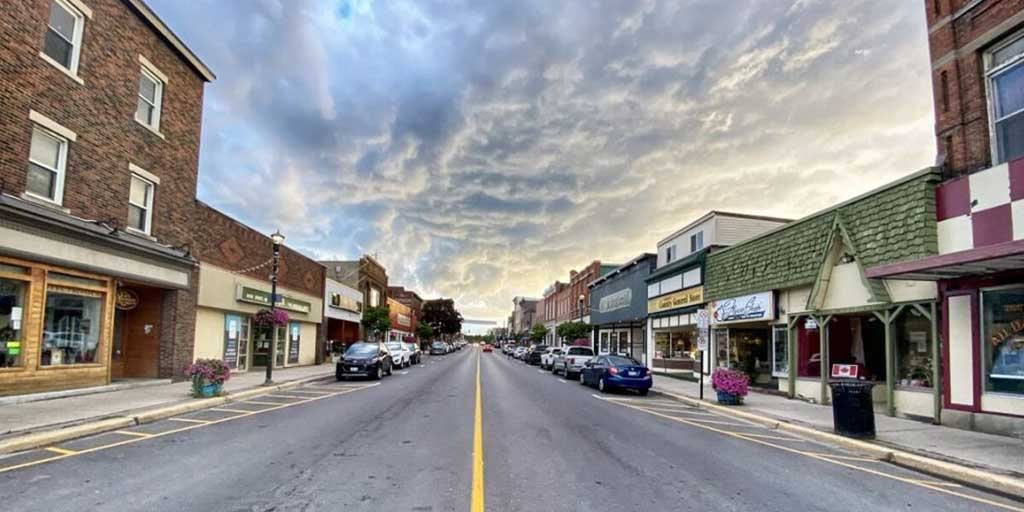 Collingwoood, Ontario: Collingwood is located in the southern part of Georgian Bay, and is only about 150 kilometres north of Toronto, which makes it a popular tourist destination amongst Ontarians. The town is surrounded by the stunning Blue Mountains, which offer plenty of outdoor recreational activities, including skiing, snowboarding, hiking, and biking. Not to mention, access to Georgian Bay also provides some opportunities for swimming, boating, and fishing. Don't miss out on the historic downtown area either, complete with some well-preserved Victorian buildings!
Ganonoque, Ontario: You'll find Ganonoque in the Thousand Islands region of southeastern Ontario, Canada. The town is situated on the banks of the St. Lawrence River, about 250 kilometers east of Toronto and 150 kilometers southwest of Ottawa. Besides having some great restaurants, the main attraction is access to the Thousand Islands, and particularly taking scenic boat tours, or getting out on the water. The town has a lovely historic core as well – we'd recommend seeing if there's anything on at the Thousands Islands Playhouse while you're there!
Bayfield, Ontario: Bayfield is located about 80 clicks northeast of London. . The town is situated on the shores of Lake Huron, which offers plenty of opportunities for swimming, boating, and fishing.The town hosts many festivals and events throughout the year, including the Bayfield Apple Festival, which celebrates the town's apple harvest, and the Bayfield Art Walk, which showcases the work of local artists.
Huntsville, Ontario: This, in many ways, is the base for Muskoka exploration, which of course is known for its stunning scenery, with countless lakes, forests, and waterfalls. The town is home to many galleries, theatres, and music venues, and it hosts many festivals and events throughout the year, including the Huntsville Festival of the Arts, the Muskoka Novel Marathon, and the Muskoka Arts and Crafts Show.
Fort Frances, Ontario: Fort Frances is situated on the Rainy River (we love that name), which separates Ontario from Minnesota. Fishing and the outdoors are the big draw, but Fort Frances is also known for its historic attractions, including the Fort Frances Museum, which showcases the town's history and heritage, and the Seven Oaks Museum, which is located on the site of a historic battle between the Métis people and the Canadian government in 1816.
Wawa, Ontario: Lake Superior, the world's largest freshwater lake, is the big draw here. Wawa is also known for its unique landmarks, including the Wawa Goose, a large statue of a Canada goose that stands at the entrance to the town. The statue is a popular photo spot for tourists and has become a symbol of the town's identity. Wawa is also home to the Wawa Motor Inn, which is shaped like a giant teepee and is another popular landmark in the area.
And Those Are Some of the Prettiest Towns in Ontario
In Ontario, I think our small towns are a well kept secret. Tourists and travellers often overlook the quiet charm of our small towns for the pace and shine of Toronto, or the regal streets of Ottawa.
And yet, when I'm halfway around the world and a touch homesick, more often than not, my mind wanders towards a visit to a small brewery in an even smaller town. Or I miss the squeak of cheese curds that were made just down the road.
In my humble opinion, now is the time when we're going to realize what a punch Ontario truly packs.
Now is the time where we're going to realize that places like those listed above aren't just places to spend a pleasant afternoon, but rather the beating heart of a proud province that's only beginning to come into its own.
Christopher Mitchell is the Cofounder of Ultimate Ontario. He's visited over 80 countries, and has lived on 4 continents, but now has his eyes set squarely on exploring this incredible province, and helping others do the same.