Don't look now, but wineries in Ontario are starting to get some worldwide attention, and it's about time. Here are some of the top Ontario wineries to check out!
When we sat down to craft an article on the best wineries in Ontario, we were almost overwhelmed by the sheer volume of wineries that could conceivably make the list.
We decided that we'd do what we did for some of our other popular Ontario food and drink guides, and tap an incredible array of Ontario based travel writers and bloggers on the shoulder to share their opinion.
The response from our readers on our previous articles on the best Ontario breweries, and best Ontario cideries was such that we knew we needed to do this for Ontario wineries as well!
Here Are Some of the Best Wineries in Ontario!
Below, we've got wineries mentioned that span the province, as they should. There are many wine regions in Ontario that deserve recognition. Some, such as Niagara and Prince Edward County are more established, while regions like Norfolk are more up-and-coming.
Karlo Estates
Carolyn Ray from JourneyWoman:
There's nothing more I enjoy than discovering women-owned businesses when I travel, so a wine tasting at Sherry Karlo's Karlo Estates in Prince Edward was a must-visit on my most recent trip two years ago.
After a delicious wine tasting in the salon in the historic 1805 barn, complete with dairy-free cheeses and plant-based charcuterie, I wandered outside to tour the vineyard. Strolling through the grapes, I spied a beautiful stone bridge in the distance, arching over a small creek. This bridge is special – made with 45 tones of limestone, it is one of the largest mortarless bridges of its kind in North America, constructed of carefully interlocking stones. As I walked up to its highest arch, scarf whipping in the warm breeze, I imagined myself transported to the English countryside. (Okay, maybe that part was the wine.)
Karlo's vision is to promote sustainability and show that it is possible to be respectful of the planet while producing award-winning wines. With the first certified vegan wine in the world, Karlo applies traditional methods and an artisanal approach for natural wine making. Everything is hand-harvested, with extensive natural ferments and minimal intervention.
Recently, Karlo Estates was honoured with VineRoute's "Top 20 Wineries of Ontario" and listed on their "Top Ten Wines of Ontario". While waiting for provincial restrictions to lift, the winery offers virtual wine tastings and is planning outdoor events across its 93 acres with social distancing and COVID protocols in place for Spring 2021. For something eclectic and memorable, I suggest the Triumvurate, a blend of three Bordeaux grape varieties: Merlot, Cabernet Franc and Cabernet Sauvignon.
Go for the wine, stay for the experience.
Sandbanks Estate Winery
Kathryn Dickson from Kathryn Anywhere:
Prince Edward County has been widely known as a wine-producing region in Southern Ontario for the past 10-15 years, but some of us locals know that there are the original and amazing wineries that made the area designated as a VQA in 2007. Growing up in the area, I never dreamed that I would make repeated return trips see my family and also just to pick up wine for my dining room!
Sandbanks Estate Winery, just outside of Wellington, has been in operation since 2001, getting its start with just seven vines on the property. Two years later, those seven vines had produced 150 cases of Baco Noir that went on to be served and sold exclusively in the area winning the hearts and tastebuds of the locals. Now, the winery has grown to many acres of vines and is known for the Baco Noir, Cabernet Franc, Riesling, Pinot Noir, Vidal and small batches of others. Due to the climate of the area, many Prince Edward County wineries excel with hearty grapes that make up the Baco Noirs and Cabernet Francs.
The ones that grown and are harvested at Sandbanks Estate Winery are some of my favourites that I have found within all of Ontario. Hot tip: Smugglers and Pinot Grigio are also pretty outstanding.
When it's safe and visitors from outside Hastings and Prince Edward County are allowed to visit, Sandbanks Estate Winery has a huge tasting room and beautiful grounds that can accommodate groups for tasting flights.
13th Street Winery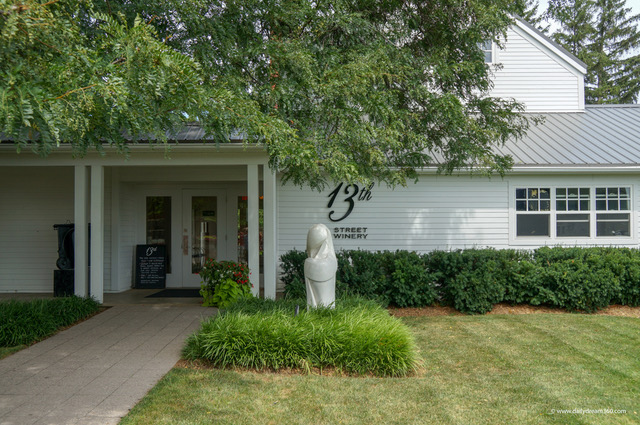 Sharon Mendelaoui from Daily Dream 360:
One of my favourite wineries in Ontario is the 13th Street Winery, located in Ontario's Twenty Valley region. It's not just a winery but an art gallery and a local bakery all in one. Enjoy a sampling of their wines which include sparkling, white, red and rose varieties. While enjoying a taste, be sure to walk through the gallery room in the bakery farmhouse and explore their sculpture gardens. Finally, you have to visit the 13th Street Bakery Farmhouse, where you can pick up some excellent baked goods or grab a bite from their casual dining menu. You can also stock up on local groceries which include other gourmet eats and cheeses.
New at the winery, you can now book a stay on the property at their Farmhouse or Vineyard cottage. The Farmhouse is located down the road from the main winery, with a private driveway and yard. This 4-bedroom luxury home equipped with a kitchen, three and a 1/2 bathrooms, and a beautiful outdoor patio is the perfect place for a relaxing wine country vacation.
The Vineyard cottage sleeps eight people and, like the Farmhouse, is located down the road from the winery with a private driveway. The luxury cottage is three bedrooms, with a living space, kitchen and outdoor patio to sit back and enjoy 13th Street wines.
The 13th Street Winery is located close to both St. Catharines and the Town of Jordan, Ontario making it an excellent place to visit. There are lots of beautiful shops, galleries, restaurants, and course wineries to visit in the region and the 13th Street Winery is my favourite place to start!
Hinterland Wine Company
Kateryna Topol from Paths to Travel:
Located in Prince Edward County (PEC), Hinterland focuses on sparkling and natural wines. The sparkling wines are made using one of three classic methods: traditional in-bottle fermentation, Charmat method which double ferments the wine in a stainless steel tank, and ancestral method, controlled temperature technique discovered by monks in the early 15th century.
Their second stream of wines is the L'Imparfait a collection of natural wines that offers a unique take on very familiar grapes. Négociant Famille Pinot, for example, is a blend of equal parts Pinot Noir, Pinot Meunier, Pinot Gris, and Gewürztraminer. What you get in the bottle is pinkish-red wine with layered fruit complexity and visible sediment that rests at the bottom of the glass – a side effect of low-intervention wine. L'Imparfait lineup also has some lovely orange wine (Négociant La Soupe Populaire), Joe Beef's David McMillan collaboration bottle (L'Imparfait Macération), and two new Chardonnay releases.
The winery is a really lovely space to visit: their patio overlooks a vineyard, indoor space is minimally but thoughtfully decorated, and there is a small farm on-site with chickens and ducks roaming in the field. During the visit, guests are invited to try a series of curated tastings or order a la carte. Hinterland offers free shipping across Ontario, so even if you cannot yet visit you can bring a taste of PEC home.
Waupoos Winery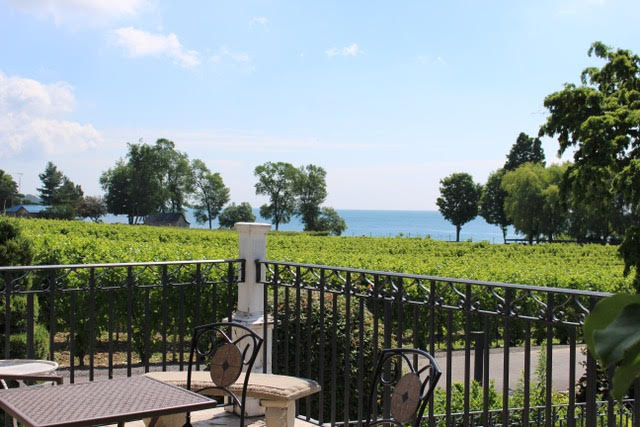 Gregory George from followsummer:
A wine tasting and lunch at Waupoos Winery, the oldest and very first established winery in Prince Edward County, is a must-do. Waupoos, which in Ojibway means running rabbit, began operations and plantings in 1993 when Ed Neuser and Riata Kaimins took one look at the apple orchard and rocky, undulating 100 acres they had just purchased, and decided to plant grapes instead. Flash forward to 2001 and their first vintage. Today, winemaker Amy and husband, General Manager Kyle Baldwin, produce 18 different varietals, over 7 different vineyard plots on the estate and is the largest in the region producing hearty reds such as Cabernet Sauvignon, Cabernet Franc, Gamay Noir, Baco Noir and refreshing bottles of whites including Vidal, Seyval, Chardonnay, Pinot Riesling, and Gewurztraminer
Kyle flashes a smile and adds, "But Pinot Gris is our most popular."
Vines supposedly like to work hard; they produce a better product. And they like it arid. After Ontario's unusually hot, dry summer, Amy and Kyle are anticipating a bumper harvest. Terroir is an oft-used term in describing wine production in The County, and Amy confirms it's importance:
"Much like the Burgundy region of France, the broken up, natural limestone base of The County encourages both spreading and a deeper root system and of course adds that minerality we crave in the final tasting."
Both are proud of their VQA status. "We meet 100 percent match of our list of grapes and usage," Amy explains. "Others typically reach 85 per cent."
Business has expanded to include a more experiential winery: a guest house, petting zoo, hard cider tastings in their general store, and an art gallery. Our 'Good Friends, Good Wine Weekend' continues in the beautiful, sunlit Gazebo Restaurant where we enjoyed lunch and sample some of the best food, wine, craft beer, and incredible views The County and Waupoos has to offer.
Inniskillin Wines
Casandra Karpiak from Karpiak Caravan:
Located just outside of Niagara Falls, Inniskillin produces some of the best wines in Canada. They are known for producing award-winning wines such as the Inniskillin Icewine, which is one of the best selling grape wines in Canada as well as their Riesling. The location of Inniskillin on the Niagara Escarpment also gives it a unique terroir, which is one of many factors that give their wines an "Inniskillin" flavour. Inniskillin also has a winery located in the Okanagan region of BC which was established in 1994. A variety of wines are still produced under the original label "Dark Horse Vineyard" which reflects the native history of their BC winery.
Besides being one of Canada's most prominent wine producers, Inniskillin is also credited for sparking a renewed interest in Ontario wine amongst Canadians during the 1980s when they were distributed nationally via an agreement with the LCBO (Liquor Control Board of Ontario). The co-founder of Inniskillin, Donald Ziraldo helped establish the VQA (Vintner Quality Alliance) which now guarantees the high quality and authenticity of origin for Canadian wines made under that system in British Columbia and Ontario.
The grounds of Inniskillin's Niagara winery are stunning and offer a perfect place to stop and have a picnic while you sample wines. The winery is expansive with a large tasting room and endless rows of vineyards to stroll through and get that picture perfect shot for instagram.
Paglione Estate Winery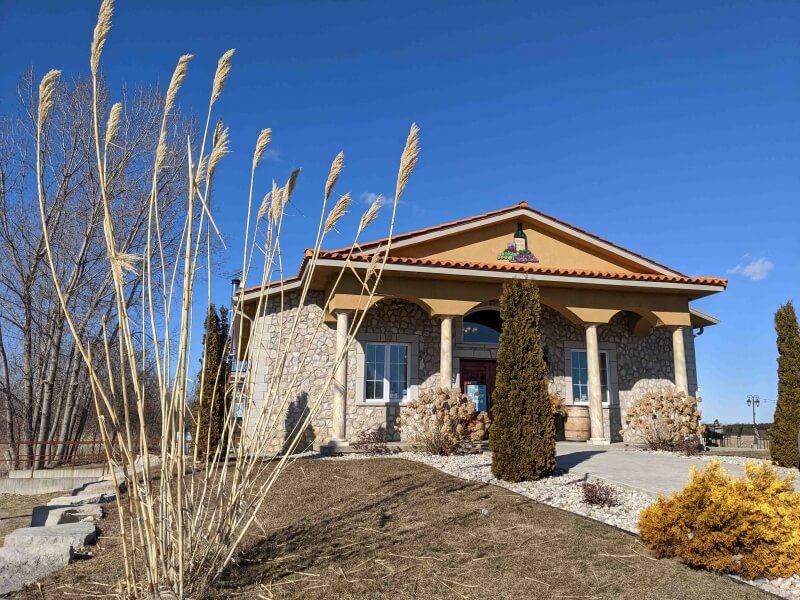 Erin Elizabeth from Pina Travels:
About 4 hours from Toronto and just 1 hour from Windsor is Essex County, an emerging wine region known as the Essex Pelee Island Coast (EPIC). The area is home to many family owned and operated wineries that rest along the North Shore of Lake Erie. Although there are several wineries to choose from while in Essex County, Paglione Estate Winery is a personal favourite! I love it's Italian charm, cozy vibes, and natural wines.

The winery's founder Santino Paglione was born in Italy, but immigrated to Canada as a child. He made wines all his life, and it was his dream to open his own winery. He finally achieved his dream in 2013, when he opened Paglione Estate Winery. The estate is over 40 acres, with 10 acres of vineyards. The winery pays homage to Paglione's Italian heritage by making high quality, small batch wines and serving a menu of antipasti platters, pizza, and handmade gelato.
Paglione Estate Winery is the perfect spot to enjoy a glass of wine made in the old-world style. The winery has indoor seating as well as a beautiful outdoor patio where you can taste their wines with views of the vineyards. Taste their full-bodied cabernet franc, or try a glass of their Josephine Sparkling, an extra dry, light golden sparkling that's modelled after prosecco. Be sure to order one of Paglione's delicious pizzas, cooked in their wood-fired ovens, and purchase a bottle of wine (or 2!) so that you can bring the taste of EPIC back home with you.
Domaine Queylus Winery
Kateryna Topol from Paths to Travel:
Domaine Queylus is a small batch winery located off the beaten path on the Niagara wine route and it is definitely worth the small detour. Low intervention Pinot Noir and Chardonnay are their signature wines and you could purchase a signature pack showcasing releases from multiple years. In addition to signature bottles, Queylus also produce a selection of refined CabernetCabarnet Francs, Merlots, a proprietary red blend called Droite, and most recently a dry Rose.
The small selection of varietals was carefully chosen to suit the cool microclimate and complex soils of the area. The grapes are sourced from three nearby vineyards where the growers follow a carefully defined set of standards for organic growth and sustainable viticulture. These grapes are hand-harvested and hand-grown, much like their hand-crafted wine.
Queylus visitor space is a beautifully renovated, two-story cabin with a newly built modern sunlit tasting room on the side of the house. The backyard patio spans from the deck into the field. Here, guests can gather around a table or rest in one of their shaded cabanas, overlooking a small pond and an open field. The tasting menu also has some really lovely food offerings including a neatly packed pizza box charcuterie
Three Dog Winery
Sherri Telenko from Dog Trotting:
Like me, Three Dog Winery has a pandemic puppy – Harvest, a Golden Retriever joined the winery in the eye of the 2020 storm much to the chagrin of Bacchus, also a Retriever, who's the remaining of three namesake pups. Yes, when Three Dog Winery in Picton, Ontario (920 Fish Lake Road) was established in 2014, three dogs roamed the vineyards.
Now, the pet-friendly site is a backyard oasis overlooking acres of grape vines on one side and an outdoor wine bar on the other. Groupings of mixed chairs and picnic tables create casual conversational clusters surrounding a central fire pit, lit when temperatures drop.
Come. Sit and stay thanks to the outdoor kitchen specializing in wood fired pizza, charcuterie and/or cheese boards. Didn't bring a dog? No problem, Bacchus will gladly join you with his ball until your wine flight arrives.
The bohemian vibe is enhanced with live bands on select weekends, and you can stay overnight at The Vineyard Loft above the yoga studio for a minimum two-night stay.
And the wine? Excellent in the under $25 price-point. The three 'house' varieties – Dog House Red, Dog House White and Dog House Rose – are the most popular, and you can enjoy all of them by the flight, glass or bottle. The rich fruity 2016 Bacchus was my choice when I stopped in late 2020 on my way to Napanee to meet my new puppy. In 2021, Unleashed Chardonnay is the winery's newest release and Cabernet Franc is the latest reserve.
Pelee Island Winery & Vineyards
Britt K. from Shed Happens:
With more than 150 years of winemaking history, Pelee Island Winery & Vineyards isn't new to the wine scene. This 700+ acre benefits from being located at the southernmost tip of Canada. Why? The winery is located in the warmest grape growing region in Canada. The Windsor-Region where this winery is located actually shares the same latitude as northern California!
Recognizing how long Pelee Island has been in the wine making game, it should come as no surprise that they have a long tradition of wining awards.
There are a variety of cheaper wine varieties from Pelee Island Wintery & Vineyards available at the LCBO, but they are no match to the wide variety of wines available at the winery itself. For those that are unsure of wear to start, a wine tour can provide a lot of insight or you can order an EPIC Staycation Sampler for a mystery pack of 6 or 10 wines from the Essex Pelee Island Coast Wineries.
Recently, Pelee Island has announced a heart-warming collaboration with the Windsor/Essex County Humane Society. Simply log onto their website and upload a picture of your pet(s) and you can have wine delivered straight to your door featuring your pets on the label. You can even give your wine a cute name or simply name it after your furry best friend. A portion of the proceeds for all personalized 'Pet Pic' wines will be donated to the humane society to care for pets in need.
Roost Winery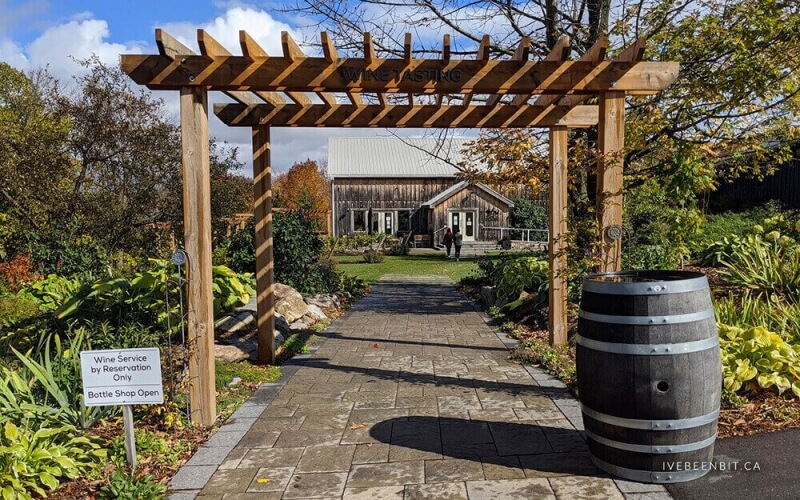 Lindsay Davies from I've Been Bit:
Nestled in the picturesque Beaver Valley, Roost Wine Company is easily one of the most scenic wineries in the entire province of Ontario. Settle in for a glass or treat yourself to a flight as you admire the incredible rolling hills of Grey County that surround the property. Roost Wine Company focuses on cold-climate wine varieties that are sustainably farmed on the property. To quote their website, Roost "work[s] with the land, instead of making the land work for us."

Roost Wine Company is constantly innovating, as is seen with their recent Small Batch Series. Limited runs like this allow for winemakers Michael and Jessica Maish to tinker and experiment which is exactly what happened here. I'm already eyeing their orange wine for the next time I find myself in the area… I just hope it lasts that long! Though I have to say, I am impartial to their flagship red wine, the Marquette with notes of tart cherries and red currants.

While Grey County is better known for its incredible hiking trails and brilliant south Georgian Bay views, this budding wine region is not to be overlooked. Next time you're in the area, plan a visit to Roost Wine Company and see for yourself!
Rosehall Run Vineyards
Tara McAndrew from Travel with TMc:
There's a magical place in Prince Edward County where spirits happily roam the countryside. Luckily for us mortals, their effervescent energy is bottled into exquisite elixirs. Where is this place?
Tucked at the end of a country road in Wellington, Ontario you'll find Rosehall Run Vineyard. Be sure to ask for a tasting (nay, a bottle) of their Pixie sparkling rosé. It is perfection for a hot summer day, so much so that when it finally arrived on LCBO shelves, I purchased every bottle in stock. Of course, you can also purchase from the source, when a trip is safe. If rosé is not your preferred glass, never fear for the creators at Rosehall Run are far from a one-hit wonder.
In fact, their wine has been topping up their award wall since 2006 with recognition after recognition from around the world, including being selected for official Royal visits! For the red wine drinkers in the crowd, try their Pinot Noir. I tend to prefer white wine, but I found it quite pleasing. If white wine is your go-to, check out the JCR Chardonnay for a popular podium finisher. Cider enthusiasts are even covered with 2020's Pet-Nat Cider+Wine. I haven't tried it yet, but it's on my summer to-sip list.
And, if you choose wine based on label design (no judgement – that's definitely a thing), return to the Pixie because it really is lovely inside and out. Last, if you can't make up your mind where to start, sign up for the Vintner's Choice Subscription Box and then let's compare notes – or shall I say memories, since that's what makes wine magical after all?
Big Head Wines
Davindra Ramnarine from Goat Roti Chronicles:
Whenever you have a business owner with an interesting story it somehow makes their products so much better. Regardless of the business they're in, the more interesting the story, the better the product.
To prove this theory, one just has to look at Andrez Lipinski, owner of Big Head Wines in Niagara On The Lake. With all the awards that his wines have won you'd think that he was born into the wine business, but this couldn't be further from the truth. In fact Andrez, a mechanic by trade, got his first taste of wine making when he started working at Vineland Estate Winery. His first job at the winery was in construction helping them rebuild after a fire. He eventually worked his way to the wine cellar where he learned his winemaking skills and finally got the opportunity to make his first wine in 1998. That wine was entered into an international wine competition in Verona, Italy, and came away with a Double Gold Award.
After that big win Andrez worked with quite a few other Niagara wineries like The Foreign Affair, Organized Crime and Burning Kiln before opening the doors to Big Head Wines in April 2015. The winery isn't large and flashy like some of the other ones in Niagara, in fact, it's quite easy to miss if you're driving by.
Andrez is known for his appassimento style of wines which produces wines that are rich and bold. His top level wines can be found in his Raw series which are aged in concrete vats, instead of the traditional wood or stainless steel, and are bottled unfiltered. The techniques they use for their Raw series creates wines that are complex and develop unique flavours over time. They also have some of the coolest labels you'll ever see, so if you're ever in Niagara visiting wineries, make sure and stop by Big Head Wines.
Peller Estates
Lindsay Davies from Eat Local Ontario:
Niagara-on-the-Lake is premiere wine country in Ontario – maybe even in all of Canada. Thousands flock each year to taste this sweet nectar of the gods in the region. However, with over fifty wineries to choose from, it can be overwhelming to know where to go. Peller Estates is one of the big players on the Niagara wine scene – and there's a reason.
For four generations, Peller Estates has been devoted to crafting top-quality Canadian wine. They've garnered 17 awards across a number of their vintages on both national and international stages. Whether you enjoy reds, whites, rosés or icewine, it's certain you'll find a vintage that blows you away. As someone who almost always drinks a Riesling or Gewurztraminer, my favourite wine of theirs is the Private Reserve Gamay Noir.
What really sets Peller Estates apart is their dedication to the full experience. Not only do they have the only ice lounge in the region, 10Below, but the on-site restaurant is impeccable. Chef Jeff Parsons works with Winemaker Katie Dickieson to create a menu where the food and wine are meant for each other. This leads to uniquely specific flavour profiles, making Peller Estates one of the best winery restaurants in the Niagara Region.
Burning Kiln Winery
Christopher Mitchell from travelingmitch:
Located in St. Williams in Norfolk County, Burning Kiln is a former tobacco farm that's been converted into remarkable Ontario winery.
Burning Kiln has been recognized for its agricultural innovation in utilizing the old tobacco kilns to make some of the best wine in Ontario. This isn't just conjecture, either – they literally use the tobacco kilns to dry out the grapes and create an appissimento style of wine.
I'm admittedly a sucker for bold reds, and that's why the Kiln Hanger Cabernet Franc is my favourite red wine in the province. It, not surprisngly, was the Ontario Wine Gold Medal Winner for the appassimento red category. It's a bit pricey (around 50 bucks a bottle), but the richness of the flavour, in my opinion, makes it all worth it.
Beyond just the wine, which is excellent, the property is stunning. It's wonderful to walk around and appreciate, and they've also got an excellent restaurant on site.
Since 2011, they've been a catalyst in letting Ontario know that Norfolk may have been know for tobacco in the past, but Norfolk's wineries and breweries are making a name for themselves in the present.
Reif Estate Winery
Jo Biyani from Told by Jo:
Reif Estate Winery offers one of the most intimate wine tasting experiences that I've had the pleasure of enjoying in Ontario. It is located in southern Ontario, in the town of Niagara-on-the-Lake, known for its wineries. The winery features a Sensory Garden with a gorgeous view of the vineyard which is situated at the front of the winery. It is divided into sections which feature a variety of aromas and characteristics of wines produced throughout the Niagara region. The garden always makes me feel like I'm on vacation visiting a quaint winery somewhere in Italy! One of my favourite things about Reif Estate Winery is that it has a number of spots for taking Instagram-worthy photos including a wine barrel fountain.
Unlike other wineries I've visited in the Niagara region, the wine tasting experience isn't solely centered around a group tour of the winery. This truly allows guests to enjoy the ambiance and atmosphere while tasting the wine selection at their own pace in the garden. If you do prefer guided tours, there are acres of beautifully manicured vines to explore.
Apart from the Sensory Garden, Reif Estate also stands out by producing some of the richest wines in the region and for being one of the oldest family founded wineries in the Niagara region.
What Other Ontario Wineries Should You Have On Your Radar?
The list of wineries we have above covers some of the top spots in the province, but there are a few more that we want to add to the list before wrapping up this article.
Leaning Post Winery in Stoney Creek, Ontario
The Foreign Affair Winery in Vineland Station, Ontario
North 42 Degrees Estate Winery in Harrow, Ontario
TerraCello Winery in Bloomfield, Ontario
Thirty Bench Wine Makers in Beamsville, Ontario
Wayne Gretsky Estates in Niagara-on-the-Lake, Ontario
Closson Chase Vineyards Inc. in Hillier, Ontario
Fielding Estate Winery in Beamsville, Ontario
Konzelmann Estate Winery in Niagara-on-the-Lake, Ontario
Windrush Estate Winery in Palgrave, Ontario
Hinterbrook Estate Winery in Niaragra-on-the-Lake, Ontario
Adamo Estate Winery in Orangeville, Ontario
Megalomaniac Winery in Vineland, Ontario
Trius Winery in Niagara-on-the-lake, Ontario
Cave Spring Vineyard in Jordan Station, Ontario
Kacaba Vineyards in Vineland, Ontario
Back 10 Cellars in Beamsville, Ontario
Coffin Ridge Vineyard and Winery in Annan, Ontario
Jackson-Triggs Winery in Niagara-on-the-Lake, Ontario
Tawse Winery in Vineland, Ontario
Domaine Perrault in Navan, Ontario
Stratus Vineyards in Niagara-on-the-Lake, Ontario
---
If we've missed an Ontario winery that you think deserves to be on this list, please let us know below in the comments. You can also always post in are supportive, growing Ultimate Ontario Facebook community.
Christopher Mitchell is the Cofounder of Ultimate Ontario. He's visited over 80 countries, and has lived on 4 continents, but now has his eyes set squarely on exploring this incredible province, and helping others do the same.