Tyrone Mills, near Bowmanville, is a great place to revisit Canada's history, while appreciating how this community hub continues to have big plans for the future
Ontario's history is all around us if we know where to look. Thankfully, it feels like once we start looking, we find it almost everywhere.
When I arrived at Tyrone Mill, now known as "Tyrone Mills Limited," I immediately wondered if it was a place that I had driven past before without stopping to understand its significance. Did I simply write it off as a local grocery store with just the right amount of wood panelling? Did I come close to grasping that this was a traditional water-powered mill built around 150 years ago that is a coveted historical site for this province and nation?
Hypothetical questions only get you so far I've learned, so I decided to dive a little deeper, and catch up with Robert Shafer, the man who, alongside his family, has been running Tyrone Mills Ltd. for nearly 45 years. He's carrying on a long tradition, and ensuring that this historic Ontario site remains a focal point of the surrounding community.
As he said when we spoke, "I would hate for the community to lose this place. It deserves to be here for another 100 years."
Naturally, we couldn't agree more. That's why we put eyes on places like this, the Clocktower Inn, or even just pointing people towards Ontario's small towns, which each contain a treasure trove of stories worth reading in their own right.
The History of the Tyrone Mill
In Tyrone, Ontario (not far from Bowmanville) is, fittingly, where you'll find the Tyrone Mill.
In the beginning, most of Tyrone was owned by a man by the name of John Gray. His relatives, which he wrote letters to rather frequently, were from Tyrone County, Ireland, and that's how this region (and mill) ended up with the same name.
The Tyrone Mill was built in 1846 by Gray himself, as well as a man by the name of James McFeeters. As you might imagine, the start date makes Tyrone Mill one of Canada's oldest water powered grist mills. When I visited the second floor, I was able to see all the connected belts and pulleys that are still functioning today, and with little modern intervention at that.
Robert Shafer, for his part, has made efforts to keep as much of the mill's interior intact in its original form as possible. It's the sort of place that if you arrived on a school trip as a child, you'd walk around and immediately understand why this was worth learning about. You'd understand that this place has meant many different things to many different people across the decades.
In the late 1840s until the 60s, mills in Ontario were shipping enormous amounts of flour, but that business started to get concentrated elsewhere. Eventually, Tyrone Mill became a feed mill to survive.
In the late 1950's Robert's predecessor bought the mill, and he added the sawmill and woodworking shop, and ensured the place could continue on. He concentrated on selling lumber at a time when lumber was in demand.
"One of the reasons this place has existed is because whoever owned it adapted to the economic climate," Robert told me. He insinuated that each owner focused on what they needed to do to survive. Robert's journey has been no different, and he's had to adapt to the times.
"When I bought it, lumber was 99 percent of what we sold, now it's probably 40 percent"
What he's "selling" now to fill that 60 percent is genuinely interesting, and it's turned the Tyrone Mill from a place solely focused on production to a place focused on community and interaction.
The Evolution of Tyrone Mills Ltd.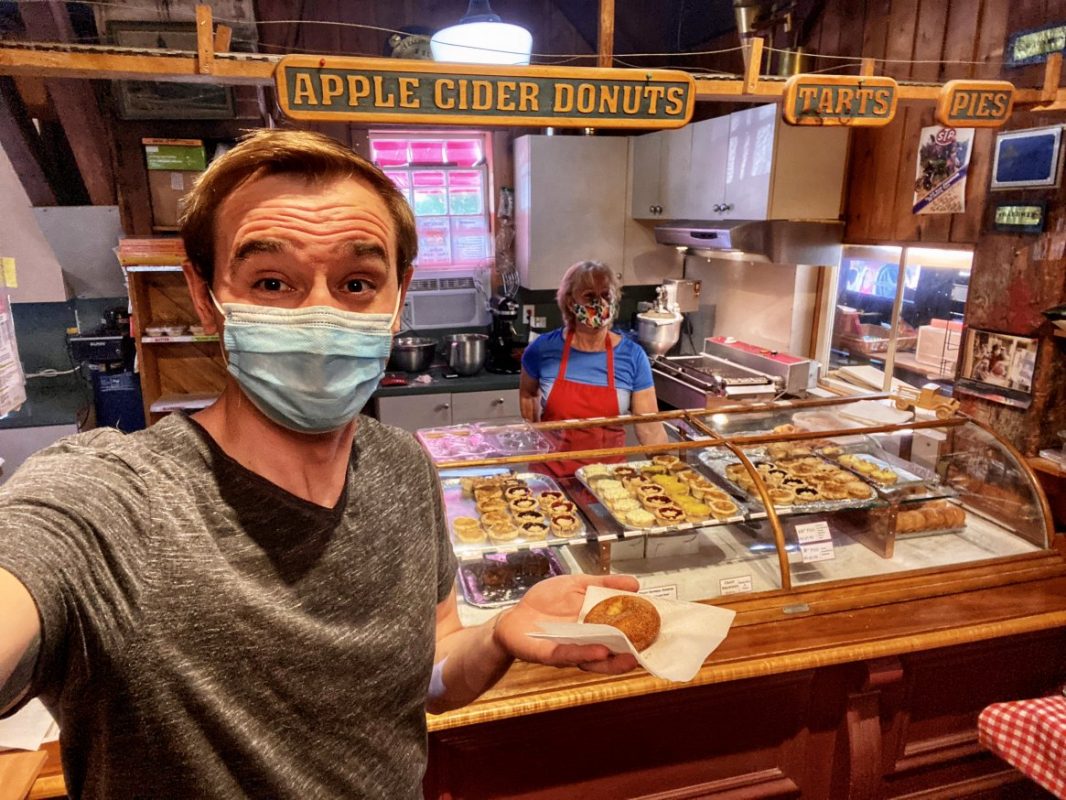 Robert wasn't scared to put his own twist on the Tyrone Mill's history. They did wood working, they pressed their own apple cider, they reinstalled mill stones and started to make flour, they created a sitting area for the dam up above so people could go watch the geese, and the list goes on and on.
They aren't still pressing the cider now, but looking back, Robert reflected, "when we started pressing the cider, that really opened up things to the public. It brought in other people than just a guy looking for a 2 by 4."
It was when they put in the donut machine that the idea of the Tyrone Mill as a "store" began to set in. When I visited, his wife was busily making apple cider donuts, which I swear tasted like heaven itself. I took a bite, and I'm quite sure he could instantly see that I'd found a newfound love. I immediately bought a dozen to bring home to Bri, knowing she too would melt at first taste. Spoiler alert – she did.
"Putting in that donut machine was the best darn thing we ever did," he said.
On a phone call before the visit, he spoke candidly about his wife and the incredible amount of hard work she put into this – the unwavering support they've had for each other.
"I couldn't have done this without my wife. We wouldn't have survived."
The Tyrone Mill Today
Right now, the space is in transition. They have it set up so that you can walk in the front and go into the right half to the store. That's where you can buy their donuts, as well as some other products, many of which are from local brands and businesses. I should note that there's a lovely outdoor space out front where you can enjoy your donut or what have you. When I first arrived, I saw a group of cyclists doing just that, and it's an idea I think I may have to copy.
Ultimately, I'd no no qualms biking all the way there from Toronto for those donuts.
The second floor, where the woodworking and so forth is done, is looking to be reopened to the public in the coming months. I know that York Durham Headwaters will have a video coming out down the line to focus on this aspect of the mill's history, and how it can be best enjoyed by the public. I'll link to that in this article with its live, rest assured.
Robert talked a lot to me about how important it was to him that Tyrone Mill was thought of as a space that was serving the community. When there is a need, it seems like Tyrone Mills Limited piques their ears. For example, during the pandemic, they sold huge amounts of flour, as the community was doing a lot more baking.
All of this adjustment and pivoting continues to provide an excuse for the community to come on by. Robert told me that people walk into the mill who first came as kids, and now they're bringing their kids or grandkids. "I used to watch the apples being pressed by hand, and eat your donuts," they'll say.
Perhaps unsurprisingly Rob made of a point of stopping and noting, "I enjoy meeting with and talking to the people. When I bought it, it was just getting the lumber out of the door. Now the general public comes all the time"
Tyrone Mills Limited now has eyes for the future, and Robert and his family continue to think of ways to innovate. They've got plans to make pizza in cast iron stoves, which they first saw being done during their honeymoon in the Gaspé in Quebec. I haven't tried it personally just yet, but if it's 1/100th as good as their donuts, then we're all in for a treat.
At the end of our conversation, I asked Rob about the legacy of a place like the Tyrone Mill, and what he felt his role is and could be in that story. "I just keep trying to do something new and different to bring this place further along," he said.
"I'm not going to be here forever, but I want to leave this place in such a shape that it can keep going. It's a part of Canadian history."
---
We want to thank York Durham Headwaters and the Tyrone Mill for hosting us as media for our visit. All opinions are our own. If you want to stay up to date on their upcoming plans, you should follow their Facebook Page, which is updated regularly.
Christopher Mitchell is the Cofounder of Ultimate Ontario. He's visited over 80 countries, and has lived on 4 continents, but now has his eyes set squarely on exploring this incredible province, and helping others do the same.