Wheelers Maple, in Mcdonalds Corners, Ontario, has been a staple in the Lanark Highlands for decades. They offer fantastic homemade breakfast, museums worth popping into, and ample opportunities to explore nature. If we're lucky (and it sure looks like we are) the Wheeler family will be running this place for decades more.
---
I remember that every summer we'd arrive at my cottage (not far from Perth, which, not surprisingly, we noted as one of the most charming towns in Ontario), and my family would decide which morning we were going to go to Wheelers.
We knew that going to Wheelers didn't just mean pancakes – it meant that we could play around outside for a while on the playground before we ate, that we could walk around the grounds and check out the museums, and most importantly that we could eat all the maple syrup and maple products we wanted, and bring home enough syrup to keep our cupboards stocked until the next visit.
I'm a little older now, so my parents and I don't share the same roof, but I can guarantee you that my parents, my brother, and I always have some Wheelers syrup in our respective houses. In my family's humble opinion, there's syrup, and then there's Wheelers.
And, of course, our visit was also about the pancakes in a lot of ways, too. My gosh I love that breakfast. I don't think the menu has changed since I was a kid, and I hope it never changes. For folks that haven't been, I'll be going over what is on offer below, but for now, know that it's a classic homemade Canadian breakfast, complete with all the fresh syrup you can handle.
I love this place, plain and simple. Being able to write about a spot like Wheelers, is one of the main reasons I wanted to start a site like Ultimate Ontario in the first place.
A Little More About Wheelers Maple
For starters, you can find Wheelers Maple at 1001 Highland Line in McDonalds Corners, Ontario. You should be able to navigate to it fairly easily just by typing in Wheelers on your preferred navigation device, but if you have any trouble finding the spot, you can always give them at shout at (613) 278-2090. You can check their hours on their site, but typically they're open Saturday and Sunday 9-3pm with curb-side maple pick up offered Monday-Friday.
The origin of Wheelers Maple can be traced back to Vernon Wheeler who, as legend has it, began working in the sugar bush at the tender age of 6. In 1978, Vernon and his wife Judy tapped their first trees at this very location, and the rest is history.
They collected sap from a little under 2500 taps that first year, and as their family grew, so did the amount of taps! In fact, these days Wheelers Sugar Bush is now one of the largest producers in Ontario with over 20,000 trees tapped.
As Wheelers was growing, people came from far and wide to check out the operation. Apparently, hungry from their journey, and seeing all the delicious maple syrup at the ready, people began requesting pancakes. By 1996, the Pancake House was born, and built from recycled cedar and freshly harvested spruce trees from their own property, no less.
The Maple Museum came to fruition in 2000, largely because the family had amassed so many antique maple related items. Fun fact – Vernon Wheeler actually holds the Guinness World Record for "Largest Collection of Maple Syrup Artifacts."
If you take a stroll through the woods on your visit (and you should), you'll see trees tapped as far as the eye can see. Over 300 kilometres of pipeline is used to transport the maple sap to their Sugar Camp where, of course, it's boiled into pure maple syrup.
I wanted to include this last section directly from their website because it perfectly encapsulates what Wheelers is all about:
"Along with his love for making maple syrup, Vernon always had a goal of building an operation that the whole family could be involved in. At any time there is sure to be several family members working in the pancake house or somewhere on the property. The whole family loves working together and honour the opportunity of welcoming visitors to share in the great Canadian tradition of Maple Sugarin'."
What's on the Wheelers Pancake House Menu?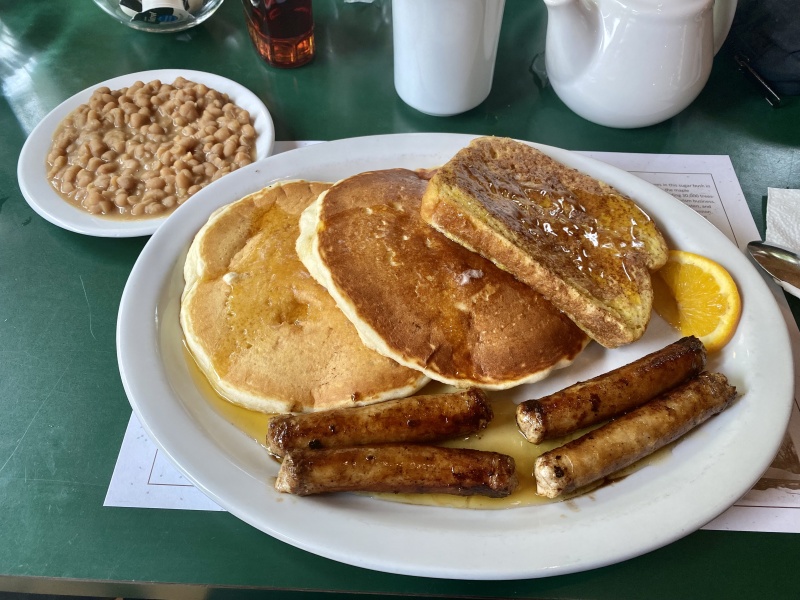 I'll run through the highlights below (as well as what I order), but know that you can see the full menu right here.
The pancakes are all made from scratch and they're massive, which might have something to do with the fact that Wheelers is my favourite spot for pancakes in the province.
Similarly, their maple sausages are made right on the property with their own syrup and seasonings. As with their pancakes, it's hard to think of a maple sausage I have a greater love for.
Here are their main meals, and do note that pancakes may be substituted for french toast if that's more your thing (and meals without sausage are available).
Little Bear: 1 pancake & 1 sausage

Highlander: 1 pancake & 3 sausages

Sugar Bush: 2 pancakes & 3 sausages

French Toast Special: 2 pieces of french toast & 3 sausages

Canadian: 1 pancake, 1 piece of french toast & 3 sausages

Lanark County: 3 pancakes & 4 sausages
When I go, I usually get the Lanark County with a side of Maple Baked Beans and a cup of coffee (though pictured above you'll see the "Canadian"). You will not find me without a smile for the entirety of the meal, I can guarantee you that.
By the way, If you're keen to learn more about maple syrup (how Wheelers makes it, how to properly store it etc.), they've got a whole page dedicated to all that on their site.
What Else Should You Do on Your Visit to Wheelers Maple?
A visit to Wheelers, as I mentioned above, is about more than just breakfast. I always like to have a little time before and after to stretch my legs and explore a bit.
Not to mention, after I take down the Lanark County, I typically need a few minutes to walk it off!
Check Out the Museums
There are two museums on the property, the Maple Heritage Museum and the Forest and Farm Museum.
The Maple Heritage Museum is where you'll find all the maple syrup artifacts, and where you'll learn a lot about what making maple syrup was like back in the day, how far it has come, and how Wheelers has been a part of all that.
The Forest and Farm Museum is a place to see more chainsaws and farming tools than you've ever seen in your life. I honestly didn't even know there were that many different saws. If you want to know what kind of scale I'm talking about here, Vernon Wheeler amassed over 600 different antique chainsaws!
Note the Kid Friendly Activities
The whole Wheelers experience is kid friendly as far as I'm concerned, but there are a couple things in particular to take note of.
Firstly, the playground, which used to have a pretty epic zip-line that my brother, any visiting friends, and I would barrel down.
I'd also recommend popping over to the Wheelers Barn where you'll find some fuzzy friends. It'll depend on the season, but there are usually some sheep, alpacas, pigs, horses, chickens and turkeys. I distinctly remember one year of my youth where I got a little too excited about petting the sheep, and I had to dodge a bite. I would not recommend that approach!
Make Use of the Hiking Trails
Bri and I always go for a walk either before or after eating (it mostly just depends how hungry we are!). I personally like the idea of going for a quick hike before because I find that you appreciate your food and the syrup more after you've spent time amongst the tapped trees.
Please make sure that if you're headed out here for a hike that you're respecting the woods. Stay on the marked trails, and ensure you're not littering.
Take only memories, leave only footprints.
Here's are some brief trail descriptions if you're keen for a hike while you're visiting Wheelers. You'll find maps as well at the start of certain paths, as well as arrows noting which trail is headed where. It's really quite easy and straightforward, even for novice hikers.
The Ridge Trail: This is the most popular trail, as it's just 1 kilometres in length, and it goes right through the sugar bush. This is what I'd recommend for most people.

The Sugar Bush Lane: A 1.4 kilometre trail along a gravel road that goes past the barn and right on into the sugar bush. It's easy walking and wheelchair and stroller accessible.

The Woksis Run: If you're looking to really acquaint yourself with the sugar bush, then this 3.5 kilometre trail is your ticket. You'll pass by swamps, beaver ponds, sheltered areas of evergreens and so much more.

The Short Cut Pass: This little half a kilometre trail connects the Woksis Run Trail to Sugar Bush Lane.

The Maple Trail: This is the trail for more serious or experienced hikers. If you're going to tackle this trail, you should ask if it's accessible as sometimes it's not if it's been a rainy season prior. It's more generally used by the family to access the sugar bush, as opposed to being a trail recommended for leisure.
If you're hiking or walking around the property, keep your eyes open. There are numerous outdoor displays, signs and plaques which share insightful information.
Pop Into the Blacksmith
Tim Wheeler makes some pretty remarkable stuff for homes, gardens and so much more. If you can dream it, he can probably make it. He opened up the shop in 2004, and since then has been using his coal-fired forge to make both functional and artistic pieces.
You can see if he's there when you visit, but know that you can also always reach him at [email protected]
---
It may seem like a lot to cover in one day, but honestly, most of the fun of Wheelers is arriving, taking your time, and letting the day unfold. Other than planning a hike, I wouldn't be too rigid in how you spend your time. Let your instincts and your interests guide you, and you'll find that you more or less accidentally cover much of what I've listed above.
Make Wheelers a Part of Your Family Tradition
Perhaps it's clear by now just how much this place meant to me growing up, and how much it continues to mean to me. Every time my partner Briana and I come here, all those feelings of nostalgia come rushing back. I swear she has to almost pull me away from the playground!
I love the idea that this historic, family operated business continues to provide a place for Ontarians to come and create memories. The breakfast is phenomenal, the family is welcoming, and the property will steal your heart.
Wheelers Pancake House is a microcosm for what makes Ontario travel so rich and worthwhile. It's a story and history that continue to the present day, and it's worth diving into – one bite at time.
---
If you appreciated this article, you'll love our newsletter, as well as our Facebook group! Feel free to join, all are welcome.
Christopher Mitchell is the Cofounder of Ultimate Ontario. He's visited over 80 countries, and has lived on 4 continents, but now has his eyes set squarely on exploring this incredible province, and helping others do the same.