Your one-stop-shop for information on craft beer delivery in Toronto, so you can ensure that you're supporting local Toronto craft breweries.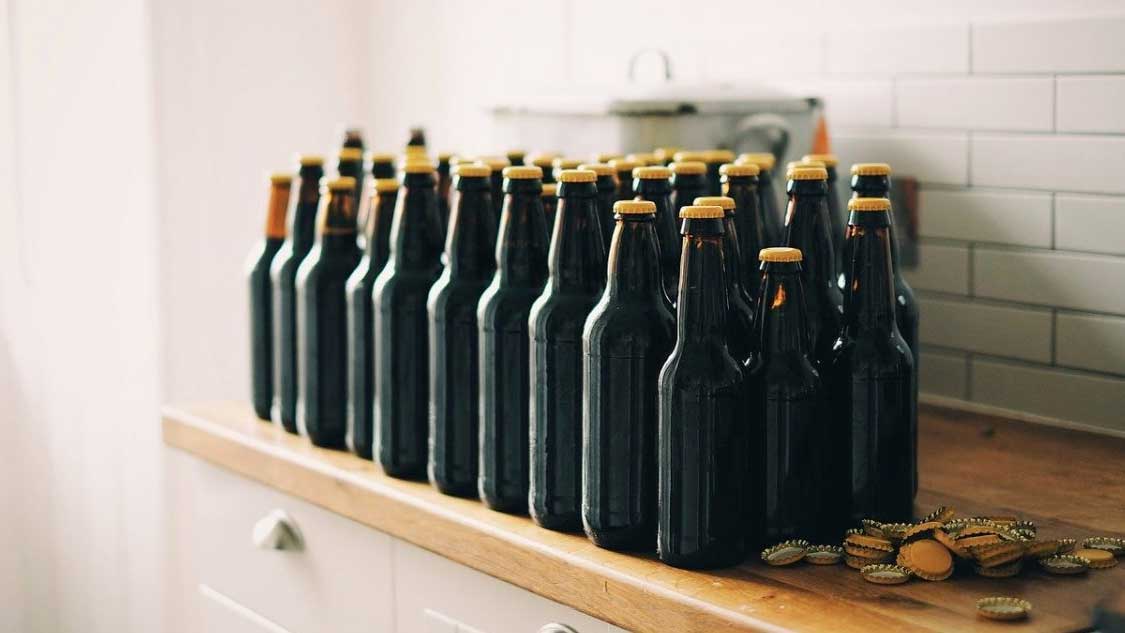 A lot has been closed to the public in recent months, breweries included. The call for delicious Ontario wine, spirits, and beer delivery in Toronto has been on the rise during these unprecedented times.
Let's talk about everything you need to know about craft beer delivery in Toronto at this moment.
These government-sanctioned closures are necessary to #flattenthecurve. That being said, you can still enjoy a Toronto craft brewery tour in the comfort of your own home.
We are lucky to have so much good craft beer in Ontario. Toronto has many of its own fantastic craft breweries.
It would be a shame to let those beers sit quietly after so much heart and soul has been poured (see what I did there?) into brewing them.
To all the parents who are home with their kids.
To all the partners living and working in small shared quarters.
To everyone finding their way by enjoying time away from the crowds on the Ontario hiking trails or road trips through the province.
To all the beer-lovers of Toronto:
Here is how you can treat yourself to some delicious Toronto craft beer from the comfort of your own home during social distancing. Think of it as a Toronto beer tour without leaving the house.
Who Is Offering Craft Beer Delivery in Toronto?
I'm glad you asked.
With over 50 breweries in Toronto alone, many are delivering their beer right now. All of the craft breweries on this list are offering delivery in Toronto.
Some Toronto craft breweries have a smaller area of the city than others that they're delivering to. Several of these breweries require you to spend a minimum amount of money as well.
But if we'll be in this situation for a while longer (as it seems we might be), then there's no better time than now to bring a Toronto beer tour home to you.
What To Consider When You Order Beer Delivery in Toronto
Be flexible.
Many of these breweries are running their delivery service internally. Brewery employees are making their rounds of the city, bringing the beer to you themselves.
While the breweries' beer delivery routines are pretty well planned at this point, it's hard for a brewery to tell you an exact time they'll make the delivery. For the essential workers reading this, it's something to consider.
Typically, after placing your beer delivery order online, you'll receive an email with that date of the expected delivery date.
Some of these breweries are offering free same-day beer delivery in Toronto, while others will likely have your beer delivered in Toronto within two days.
Think long term.
As I mentioned before, many of the craft breweries offering beer delivery in Toronto require you to spend a minimum amount.
During uncertain times like these, it can feel a little daunting to drop $75-$150 on 24-48 tall cans of beer.
That being said, how much would you usually spend on a night out in Toronto (or even a couple hours out)?
I am by no means encouraging anyone to spend money they don't have during this time.
BUT, if you're able to spend the money now, then larger-ticketed items at checkout typically mean more savings long-term on a per-drink basis.
If you're planning on having your own Toronto beer tour, prices are typically less expensive when ordering in larger quantities from a brewery.
Remember, you're supporting a small(er) business.
One of the things that has made Ontario special in recent years is how we've reframed our consumer habits to support and nurture small businesses in Ontario.
Many Ontario-and Toronto- based breweries haven't even been open for five years. Some on this list, though, are more established.
When you're ordering beer delivery in Toronto from craft breweries, you're sending the message that you support small businesses.
Anyone in the brewery business will be the first to tell you a brewery is expensive to run.
Whether they can put that money towards their operating costs, keeping their employees on their payroll or whatever else, if you were loyal to these Toronto craft breweries before social distancing, they'll really appreciate your continued loyalty during these difficult times.
Moreover, several of these Toronto craft breweries have been creating initiatives to support their local communities during this pandemic. I've mentioned some of these in this article.
How to Choose the Best Brewery for Your Toronto Beer Tour
Taste and Preference. (Obviously.)
Before social restrictions were put on the city, many Toronto beer lovers had their "go-to" craft breweries, with their own brews in the city.
The brewery you select for beer delivery in Toronto should remain true to your tastes and preferences.
If you were sipping on sours day and night before this happened, seek out that same sour to bring home for your Toronto beer tour.
If a stout or a lager is more your speed, find the breweries you like in the city and bring those home for your Toronto beer tour.
Community-Based Initiatives.
In addition to many Toronto craft breweries needing to get inventive during this period of physical distancing, several are doing so for a good cause.
Many Toronto breweries are community beacons. A local watering hole of sorts, where they typically host community events or build partnerships in their local area.
Check to see if your local or favourite brewery has created any community-based initiatives in response to the pandemic.
Some breweries are giving the proceeds of a particular brew to a local food bank when you order beer delivery in Toronto from them.
Some are partnering with other small businesses to support and build one another up during these uncertain times.
If you do your research, you may be more inclined to support a brewery with a more selfless approach to their business model.
Location, location, location.
As I mentioned earlier, many of these Toronto breweries are operating internally to coordinate their deliveries.
It will be easier for them (and faster for you) if you order beer delivery from a Toronto brewery that's close to you.
The list below has been organized by Toronto breweries in the East and West sides of the city that offer beer delivery in Toronto. The divide of the city is split at Yonge Street.
Some of these breweries are also delivering outside of Toronto either for free or at a cost.
Read the specifics to find more, but if you're seeking a personal Toronto beer tour from outside the city, you are in luck.
Beer Delivery in Toronto: East End
Black Lab Brewing
Black Lab is offering a small selection of beers for either delivery or pickup.
Unlike several of the breweries on this list, they're offering free delivery on orders over $50 within the GTA.
If you live within the 427, Major Mackenzie Drive, and Brock Road boundaries, then you qualify.
Just so you know, orders under $50 or outside of these boundaries will be charged $15 for delivery.
Brunswick Bierworks
At Brunswick Bierworks, they're doing curbside deliveries in the city of Toronto.
They're delivering to postal codes ranging from M2 to M6 within Toronto. Delivery is $10 for orders under $50, or free for orders over $50.
If you need some convincing, Brunswick Bierworks is also making generous donations within their community.
They recently donated five thousand dollars to The Michael Garron Hospital's Emergency Response Fund. The funds were from portions of sales of their beer.
They promise to donate $20 for every future order over $50 to the same fund.
You can arrange for deliveries by messaging them on Facebook or Instagram. You can also email [email protected] or call them at 647-567-9459 to place an order.
Godspeed Brewery
Godspeed Brewery is offering a wide selection of their beer for delivery in Toronto.
They're offering free same-day delivery on orders of $50 to the M4-M6 postal codes.
If you live outside of this area, they charge a $15 flat rate for delivery per case of 24 cans to anywhere in Ontario.
You can also purchase glasses, gift cards, or merch from their online shop.
Left Field Brewery
Left Field Brewery has a variety of 4-packs available for online beer delivery.
Left Field is offering free delivery within Toronto for orders over $50. They're charging a $10 fee for free shipping across Ontario through Canada Post.
If you feel like adding a sweet snack to your order, Left Field is offering Girl Guide Cookies on their online store.
Before placing your order, it's worth considering that Left Field's beer is packaged in 355mL cans, so plan accordingly. Some of the other breweries on this list sell their beer in tall cans.
Muddy York Brewing Co.
Muddy York is offering a variety of beer and merch on their online shop.
In response to the COVID-19 pandemic, they're offering free delivery on local orders when you spend over $100 before taxes.
If you live within the borders of McCowan Rd., Lawrence Ave., Parkside Dr. /Keele St. / Weston Rd. / Black Creek Dr. and Lake Ontario, your delivery will be free. Make sure you use the promo code: FREETO at checkout.
If your spending is below the minimum amount for an order, you'll be charged a $10 fee for beer delivery in Toronto.
Rorschach Brewing Company
At Rorschach, they're offering both their cans of beer and select growlers for beer delivery in Toronto.
If you're looking for free beer delivery, you're in luck. If you live in Toronto and live from M1-16 and M8-9 postal codes, you'll get it for free on orders of $50 or more. Just use the code "TorontoFree" at checkout.
If you plan on ordering a growler, make sure you drink it within 5 days.
Beer Delivery in Toronto: West End
Bandit Brewery
Bandit is offering free delivery on several of their beers and merchandise.
They're offering free beer delivery to Toronto and Mississauga. If you live between the M2-M9 postal codes, you can also get free local delivery on orders over $50.
If you plan on ordering less than that amount, you'll be charged a $10 flat rate for shipping.
To get same-day delivery, you must place your order before 11am. If you miss that window, your order will be delivered the next day.
Bellwoods Brewery
Although their stipulations are a little more specific than many breweries on this list, Bellwoods is still offering beer delivery in Toronto.
Their online shop is updated every Friday, and they'll deliver directly to your doorstep.
The only catch is that unlike all the other breweries on this list, they charge a flat shipping rate of $10 for all orders. This includes Toronto and across Ontario.
Unfortunately, there is no way to get the beer for free. In that case, I'd recommend making the order worth your while!
They have a very detailed schedule in terms of how and when their deliveries go out, but you can find all the details you need here.
Blood Brothers Brewing
At Blood Brothers, they have several different unique beers to add to your tour of craft brewery Toronto beers.
Right now, they're offering free local delivery on orders over $50. You can get this free beer delivery in Toronto by entering "LOCAL50" at checkout.
You qualify for free local delivery if you have a postal code between M2 and M9. They're delivering from Tuesday to Sunday.
If you live outside of these postal codes and still want a beer, Blood Brothers charges a $10 flat rate for delivery across the province. If you order over $100 from Blood Brothers, your delivery will be free across Ontario.
Henderson Brewing Co.
At Henderson, they're offering a variety of different ways for you to order the beer to your door.
Henderson is offering free next-day home beer delivery in Toronto on any order of $50 or more.
If you live within the region of Sherway Gardens to Victoria Park and Eglinton to Lake Ontario, then you're good to go for the free delivery.
Henderson is also actively involved in their community. They had a promotion where the proceeds of all their "Ides of April" beer would go to charity. As a result, they made a donation to the tune of $6000 to Parkdale Community Food Bank.
During difficult times like these, think about where the money from your order for beer delivery in Toronto goes. Initiatives like this one are worth investing in.
Junction Craft Brewery
Junction Craft Brewery is offering free same-day beer delivery in Toronto if you order before 11am and you're local.
You fall into their "local" distinction if you live within their 427, the 401, Victoria Park Ave limits, and Lakeshore Blvd.
Your delivery will also be free if you order 12 or more cans. Just enter the code "WEWANTBEER" at checkout.
If you live in other parts of Toronto or somewhere else in Ontario, you'll get free beer delivered to your door if you spend over $75.
If you're looking to get your beer quickly, you can select "Pick Up" at checkout, and they'll have it ready within an hour.
Halo Brewery
Located in the Junction Triangle, the intimate Halo Brewery is offering free beery delivery across Ontario right now.
If you live in Toronto with an M2-M9 postal code, ordering before noon on a delivery day (Mondays, Wednesdays, and Fridays), your delivery will arrive that night.
You'll need to be home during your delivery window and provide proof of age. To get free beer delivery, you'll also need to ensure you have a multiple of 12 bottles in your order.
The good news is that if you're reading this from outside Toronto, Halo is also doing free delivery across Ontario. If you're outside the Toronto area and love craft beer, this is a good one.
Enjoying Your Beer Delivery in Toronto
These days, it can be hard to take a moment to appreciate the small things. I know that I'm having some days where I feel inspired and other days I have a hard time getting out of bed.
One of the things I'm trying to relish during the COVID-19 panic is the fact that I am appreciating so many things much more than I used to at home right now.
Before the pandemic, my stock of beer at home was pretty minimal, and my liquor cabinet didn't get much use. I really enjoyed (and still look forward to the day) when we can all go out and drink together again in the breweries listed above.
But for now, just enjoy the fact that you can enjoy a Toronto beer tour of craft breweries from the comfort of your couch, and with sweatpants on, at that.
Bri is an Ontario native who has spent many years living abroad, but has been happily reconnected with Ontario for the past three years.
She loves writing about travel experiences in our beautiful province including all things nature, food and culture.
You can find her canoeing and swimming across Ontario with a craft brew in her hand in the summer, and snowshoeing or curling up with a good book and an Ontarian Pinot Noir in the winter.