Drive-in movie theatres are making a comeback! These Ontario drive-in theatres near Toronto and across Ontario offer the perfect summer entertainment.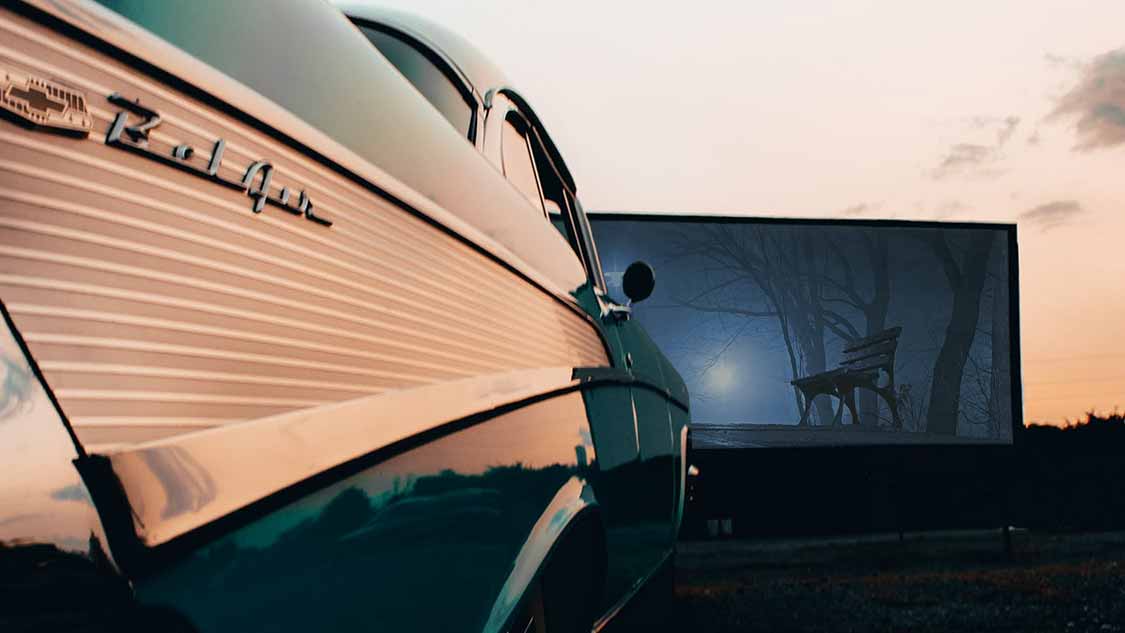 It wasn't long ago that the age of the drive-in movie theatre seemed over. Nearly all of the drive-in theatres in the Greater Toronto Area had closed. And there were no more than a handful of drive-ins in Ontario that remained.
With the onslaught of Covid-19 came a renaissance. As locals became desperate for entertainment but cognisant of the need for social distancing, the owners of many local drive-in movie theatres near Toronto began to consider re-opening.
In May, the provincial government gave the green light for Ontario drive-in theatres to re-open. And with that blessing came a resurgence in interest for the public. And now, at the end of their first month of operation, Toronto-area drive-ins have never been more popular.
It's possible to enjoy that wholesome family night out, or that private, Ontario romantic escape once again. Many of these Ontario drive-in theatres have food delivery, accessible washrooms, and all the amenities for that perfect summer night out.
While the only drive-in movie theatre in Toronto, The Docks, shuttered in 2018, it's still possible to find fantastic drive-ins near Toronto and throughout Ontario.
Drive-In Movie Theatres in Ontario
Drive-In Movie Theatres in Ontario
Currently, 15 drive-ins are operating within Ontario. However, with the growth of popularity, previously shuttered operations are considering relaunching.
Until recently, there were few, if any, Toronto-area drive-ins operating in Ontario. But new ones are opening, and will likely continue until the interest has peaked. The list of Toronto-area drive-in theatres is growing. And there could be one near you that you haven't heard of yet.
Ontario is the furthest south of all of the Canadian provinces. This location makes it ideal for drive-in movie theatres. Our nights aren't quite as short as those up north, so Ontario outdoor movie theatres can usually have movies rolling by 9 pm.
Drive-In Movie Theatres Near Toronto
Now that Ontario's warm summer nights are in full swing, it's the perfect time to head out to a drive-in movie. And these drive-in movie theatres near Toronto have everything that you need for that classic retro-style ambiance.
Port Hope Drive-In in Cobourg
Situated on the conveniently named 'Theatre Rd.' in Cobourg, Ontario, the Port Hope Drive-in is an Ontario classic. Established back in 1947, this Ontario drive-in theatre has triple features and offers carload pricing on Sundays.
The Port Hope drive-in theatre is also pet-friendly. So feel free to bring Fido along to the latest feature. Just don't forget to poop and scoop. For more information, you can contact them at 905-434-8233.
The 5 Drive-In in Oakville
Opened in 1964, The 5 Drive-in is a triple-screen drive-in movie theatre close to Toronto. The 5 Drive-In operates 7-days a week. And the show goes on rain or shine. This drive-in is part of the Premiere Group of Ontario drive-in theatres that includes several on this list.
All tickets to this Toronto-area drive-in is good for a double-feature, so make sure to stock up on popcorn. And don't forget that Thursdays at the 5 Drive-In features one price for a carload. You can contact them at 905-257-8272.
Mustang Drive-In in Guelph
There are three Mustang drive-in movie theatres in Ontario. The closest Mustang outdoor movie theatre to Toronto is in Guelph, Ontario, on Baseline Rd. in Guelph.
This classic Ontario drive-in opened in 1961. It has a single screen and hits capacity at about 350 vehicles. You can contact them at (519) 824-5431
Sunset Barrie Drive-In in Shanty Bay
Another of the Premier Ontario drive-in theatre group is the Sunset Barrie outdoor theatre in Barrie. The Sunset Barrie drive-in is located on 4 Line South in Shanty Bay.
Make sure you check out their Groovy Cheap Tuesdays and Carload Thursdays to get the most bang for your buck at this GTA drive-in theatre. You can contact them at 705-487-3758.
Stardust Drive-In Theatre In Newmarket
This Toronto-area drive-in movie theatre is just a short drive north of the city on Mt Albert Rd. in the town of Sharon. The Stardust Drive-In is just outside of Newmarket, and easily accessible from those in the north end of the GTA.
The Stardust is another Ontario drive-in theatre in the Premier Group, so it has cheapo Tuesdays and carload Thursdays. You can contact them at (905) 836-4444.
Starlite Theatre in Hamilton
This three-screen drive-in theatre in Hamilton is another popular GTA-area drive-in movie theatre. This Premiere Group outdoor theatre in Ontario features cheapo Tuesdays and Carload Thursdays.
Starlite Theatre is located at 59 Green Mountain Rd E in Stoney Creek just outside of Hamilton. You can contact them at (905) 662-4800.
Other Ontario Drive-In Movie Theatres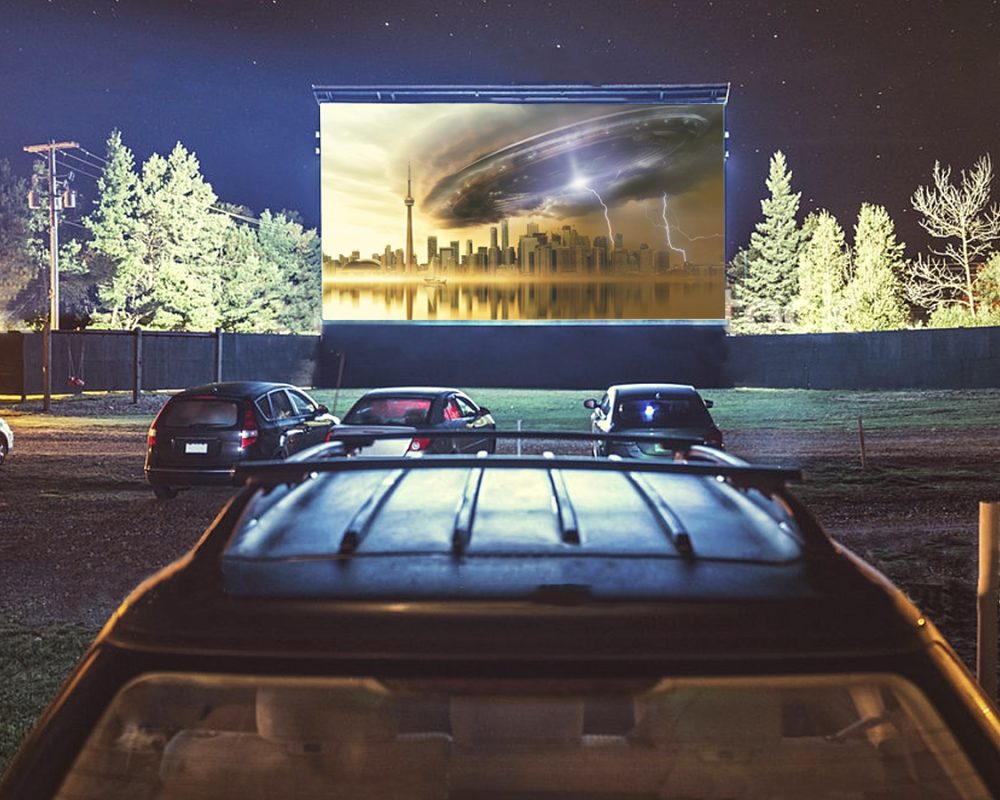 Other Ontario Drive-In Movie Theatres
Finding the best drive-in movies Ontario has to offer isn't just for those in the GTA. There are incredible outdoor theatres scattered across Ontario. Here are a few of them.
Mustang Drive-In in London
Another of the Mustang group of Ontario drive-in theatres, this two-screen outdoor theatre, was opened way back in 1950. They feature groovy cheap Tuesdays and carload Sundays. You can reach them at (519) 644-1160.
The Boonies Drive-In Movie Theatre in Tilbury
The Boonies Drive-In is one of the newest Ontario drive-in theatres. The Boonies is a single screen venue featuring first-run movies. And every night is a double feature. It's a pet-friendly (leashed only) venue.
The Boonies Ontario drive-in is located at 4625 Richardson Side Rd in Tilbury. It's about 50 km from the city of Windsor. You can contact them at (519) 682-1010.
Lindsay Twin Drive-In Movie Theatre in Lindsay
The Lindsay Twin outdoor movie theatre is just an hour and a half from Toronto in Pigeon Lake. This Central Ontario drive-in has double-features of first-run movies on their two-screen theatre property. You can contact them at (705) 340-6666.
Hanover Drive-In
For those who love to binge, the Hanover Drive-In is one of the few Ontario drive-in movie theatres that show the occasional quadruple feature. This single-screen Ontario drive-in is located on County Road 28 in Hanover. You can reach them at (519) 364-2066.
Muskoka Drive-In Movie Theatre in Gravenhurst
For those up in cottage-country, the Muskoka Drive-In Movie Theatre is a perfect way to relax before a night of Ontario stargazing. This two-screen outdoor theatre is has changed its operating days, so contact them to see if they are showing their double features when you visit at (705) 687-4880.
Can View Drive-In Movie Theatre Near Niagara Falls
If you're looking for a nice break after one of Ontario's most beautiful drives, swing over to the Can View Drive-in movie theatre in Fonthill. This massive Ontario drive-in can hold up to 2,000 cars. You can reach them at (905) 892-1155.
Midland Drive-In Movie Theatre
With carload Thursdays, and Feature Nights with quadruple features, the Midland drive-in offers one of the best values in Ontario. This Ontario drive-in is located at 1299 The Angela Schmidt Foster Rd. You can contact them at (705) 526-2411.
Mustang Drive-In Theatre in Picton, Prince Edward County
Those enjoying the beauty of 'The County' can enjoy some drive-in entertainment in Ontario's most charming towns. The Mustang drive-in in Picton.
This pet-friendly Ontario outdoor theatre is located on County Rd 1 in Bloomfield. You can reach them at (613) 393-2006.
Starlite Drive-In Theatre in Grand Bend
The Starlite Theatre in Grand Bend is another one of Ontario's heritage drive-ins. With 50-years of outdoor movie theatre history, this small Ontario drive-in theatre is perfect for a summer night out. They feature carload Sundays, and you can reach them at (519) 238-8344
Drive-In Movie Theatre Etiquette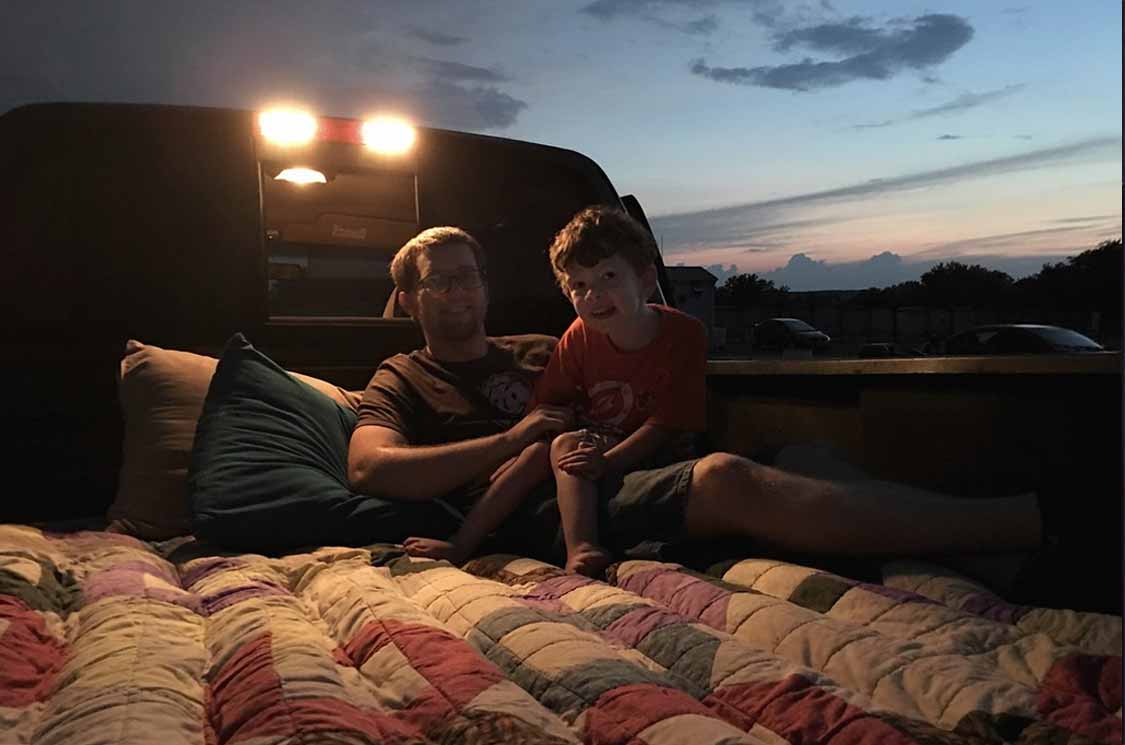 Whether you're new to drive-in movies or a veteran at packing the car with school chums, there are a few things you should keep in mind to make your Ontario drive-in experience as pleasant as possible.
Remember, it's not just you enjoying the movie, but sometimes hundreds, or even thousands of other patrons. The key to any great night out is making it fun for everyone.
Payment
Nearly all the drive-in movie theatres near Toronto and across Ontario are cash only. Some may have ATMs onsite. But it's rare for these Ontario attractions to accept debit or credit cards.
Outside Food and Drink
It is rare for outside food or drink to be allowed within Toronto-area drive-ins and even more rare for smaller Ontario towns. Most movie theatres earn most of their income through concession sales, and visitors should respect this.
Parking
Most Ontario outdoor movie theatres offer designated parking. Small vehicles are generally in the front, while larger vehicles, such as vans, trucks, and SUVs, are further back.
Many visitors like to enjoy the movie from the trunk of their hatchback. It is considered polite, and sometimes as a rule that the hatch should not be raised over the height of the roof of the vehicle.
Make sure to turn off your headlights and running lights to make the movie experience pleasant for everyone. If your car is running, lift the handbrake to turn off your daytime running lights.
Movie Soundtracks
Movie soundtracks are broadcast through a preset radiofrequency. It's recommended that you have a car stereo or battery-powered radio. Some Ontario drive-ins rent radios for those who might not have one.
What To Bring To A Drive-In Movie in Ontario
Like most things to do in Ontario during the summer, you'll want to be comfortable while enjoying your theatre experience. The following is a list of recommended items to bring to a drive-in movie.
Pillows
Blankets
Bug spray
A working radio
Camping chairs
Do you know of any new Toronto-area drive-in movie theatres or Ontario drive-ins that we haven't mentioned? Send us an email or visit our awesome Ultimate Ontario Facebook community and share the details!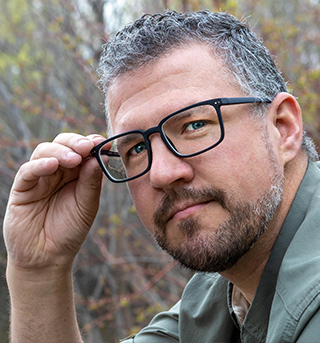 Kevin Wagar is a founder and editor of Ultimate Ontario. He has been working in the travel media industry since 2015 when he founded his family travel website Wandering Wagars – Adventure Family Travel.
Over the years Kevin has developed a deep love for his home province of Ontario and aims to showcase the incredible experiences and amazing small businesses found within it.