Look no further for the best places for stargazing in Ontario. From north to south, we share Ontario's Dark Sky Preserves and communities for nighttime fun.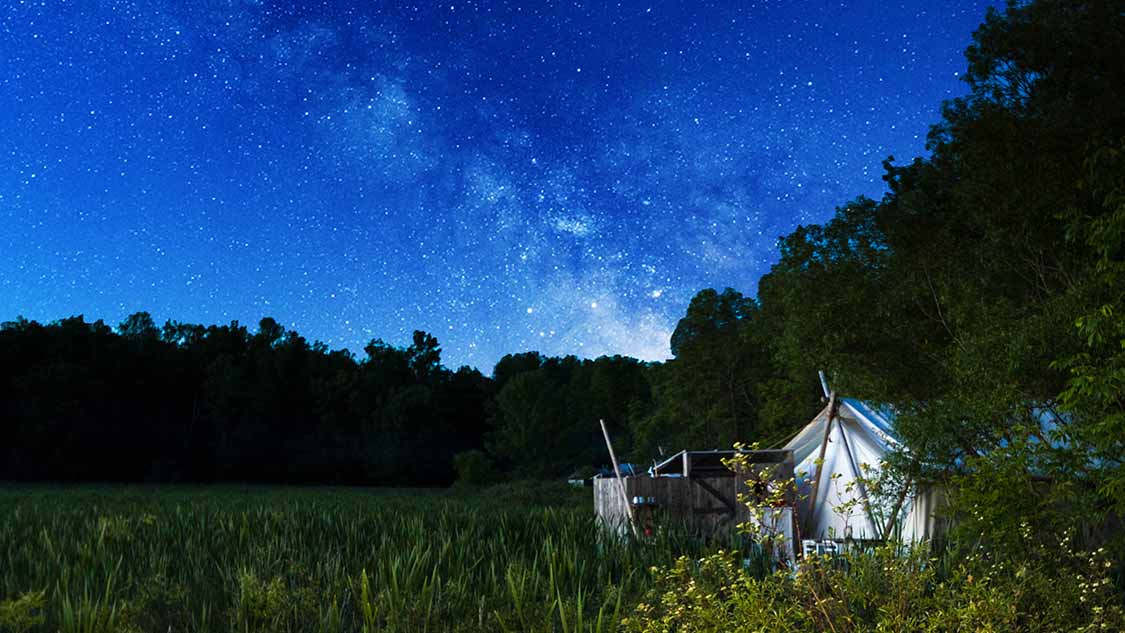 Few things capture the imagination more than staring up at the night sky. The view of the stars glimmering endlessly into the distance is awe-inspiring. Luckily for those in this province, stargazing in Ontario is booming.
New Ontario dark sky preserves are popping up around the province a couple of times per decade. With the newest dark sky preserve in Ontario, opening up in Lake Superior Provincial Park in 2019, Ontario is now home to eight of the world's 80 official dark sky-reserves.
The best stargazing in Ontario happens in the darkest places in the province. It would help if you moved away from the big cities and into the province's hidden corners. It might seem like a lot of work. But when the darkness falls, and you're staring up at a carpet of twinkling gems, that effort is well worth it.
To help you find Ontario's best stargazing spots, here is a list of the top destinations to see stars in the province.
Torrance Barrens Dark-Sky Preserve
The closest Ontario dark sky preserve to Toronto is Torrance Barrens Dark Sky Preserve. Not only is Torrance Barrens one of the best places for stargazing in Ontario, but, having been established in 1999, it's also the first dark sky preserve in all of Canada.
Torrance Barrens is located right in the heart of cottage country. It's hard to believe that just two-hours from the bright lights of Toronto is an Ontario stargazing park where the Milky Way can be seen in all its glory.
This 1900-hectare preserve sits just west of the popular town of Gravenhurst. It features several hiking trails. And the fact that it's surrounded by protected and undeveloped land makes it one of the darkest places in Ontario.
Torrance Barrens is one of the few stargazing spots in Ontario where you can see the Milky Way, Andromeda Galaxy, and even when the situation is just right, it's one of the best places in Ontario to see the northern lights.
The Muskoka region is already one of the most romantic places in Ontario, so why not grab your partner and spend a night under the stars in Torrance Barrens.
Point Pelee National Park
Not only is Point Pelee National Park one of the most unique places in Ontario, but it's also one of the official Ontario dark sky preserves. This park, which sits at Canada's southernmost point, is a paradise for outdoor-lovers, especially those who want to follow the spring bird and butterfly migrations.
On moonless nights when the skies are clear, some of the best stargazing destinations in Ontario. It's these nights when Point Pelee NP extends its hours to midnight to allow park visitors the chance to gaze at the twinkling gems in the sky.
If you get lucky enough to visit on a day where those two things come together and are blessed with a relatively windless day, you may get the chance to see the stars reflected perfectly on Lake Erie's black waters.
To get a list of the scheduled dark sky activities at Point Pelee National Park, you can check out their website here. You can also avoid the crowds by enjoying the dark skies of a Point Pelee winter visit.
Gordon's Park Dark Sky Preserve
Sitting on the eastern end of Manitoulin Island sits one of Ontario's only privately run dark sky preserves. Gordon's Park was designated an Ontario Dark Sky Preserve in 2008. And the wide-open fields and incredible staff help this park to be one of the best places for stargazing in Ontario.
This Manitoulin Island dark sky preserve is open from May till September. And on a night with a lot of Aurora activity, it may be one of the best places in Ontario to see the Northern Lights. It's one of the few places in Ontario that has virtually zero light pollution.
Gordon's Park has plenty of on-site camping. You can even rent a room in one of their tepees or cabins for a truly unique stay. I highly recommend timing your visit with one of the local indigenous pow wows to truly taste what makes Manitoulin Island so special.
Visitors don't have to be staying inside the park to take advantage of Gordon's Park education programs. Activities such as astronomy nights, wildlife, and more are on offer on Thursday nights during July and August.
Bruce Peninsula National Park and Fathom Five National Marine Park
Just a short (and beautiful) ferry ride across Lake Huron from Manitoulin Island are another two of Ontario's Dark Sky Preserves. Bruce Peninsula National Park and Fathom Five National Marine Park are two Ontario national parks that offer far more than meets the eye.
The Bruce region includes some of the best drives in Ontario, but this gorgeous part of Ontario's cottage country has some of the best night skies in the province. The unique combination of the emerald waters of Georgian Bay and the towering cliffs of the Niagara Escarpment combine for an absolutely breathtaking foreground for astrophotographers.
The lack of large cities means there is very little light pollution on the Bruce Peninsula. And if you can get out to the islands such as the magical Flowerpot Island for some overnight camping, those nights will be even darker.
The towns around the Bruce Peninsula banded together in 2004 to declare themselves a Dark Sky Community, which means that they all work together to limit the light pollution in each small town and region. Now that's Ontario spirit!
Visit the town of Lions Head on Friday and Saturday nights from Canada Day through Labour Day to take part in Bayside Astronomy Nights. These evenings visitors and locals can meet at the Lions Head Marina and take borrow telescopes for a social visit through the night sky.
If you'd like to take a day trip from Toronto to Bruce Peninsula, this tour is a great one to book.
Blue Water Outdoor Education Centre in Wiarton
Another great Ontario stargazing location is Blue Water Outdoor Education Centre. This easy to access stargazing spot in Ontario sits just outside of the town of Wiarton and not far from the vast sands of Sauble Beach.
You won't find a ton of amenities or camping at Blue Water dark sky preserve, but you will find the 28-inch Webster telescope. The site also hosts many night sky viewing programs throughout the year.
You can set up your telescope or tripod in the fields and enjoy the dark skies with other astronomy-lovers.
Lake Superior Provincial Park Dark Sky Preserve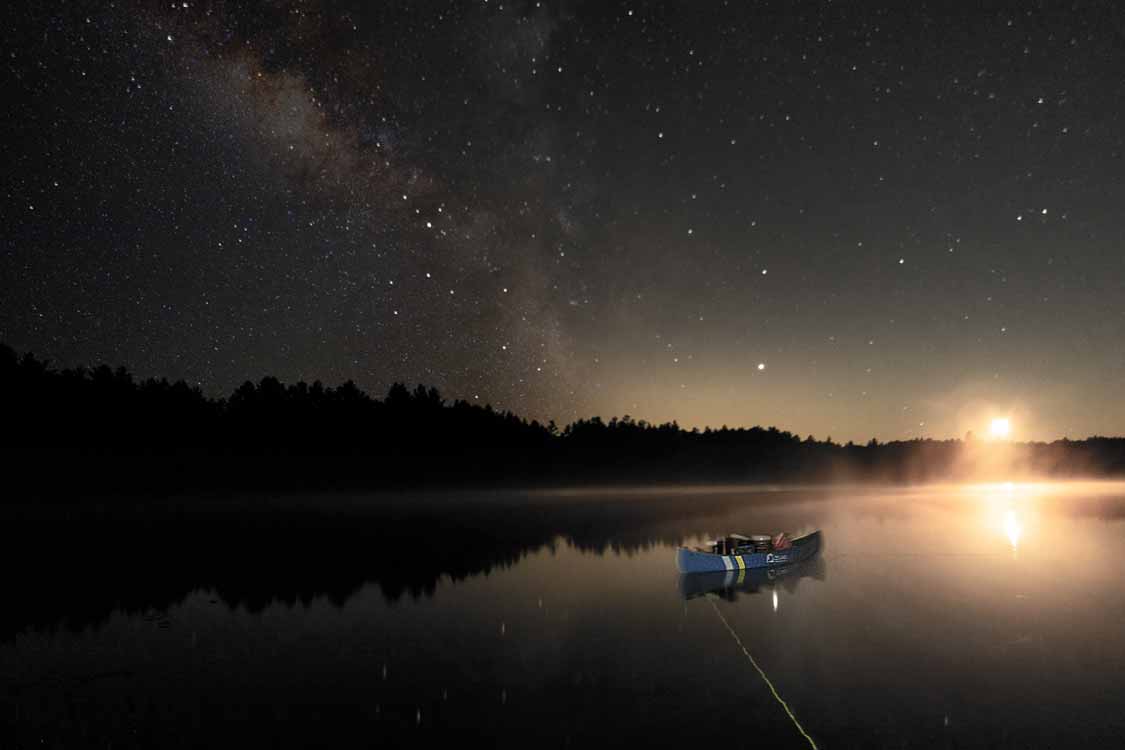 One of Ontario's newest dark sky preserves, established in 2018, is the remote and spectacular Lake Superior Provincial Park in Algoma County. Those who make the trek out to this Northern Ontario beauty won't just get the chance to see one of the best beaches in the province, but they'll also get to experience some of Ontario's darkest skies.
Lake Superior Provincial Park is considered to have one of the darkest skies on Earth due to its remote location. And with breathtaking landscapes that include 600 metre high cliffs, indigenous pictographs, and the magical Canadian shield, it's a photographers' dream. Its northern location means Ontario stargazers will have one of the best chances of seeing the northern lights.
There is a designated area for Lake Superior stargazing on the beach of the Agawa Bay campground near the LSPP visitor centre. You can get amazing views of the sky from the North, South, and West. You can book camping and check on local activities at Lake Superior Provincial Park here.
North Frontenac Dark Sky Preserve
Similar to Torrance Barrens, the North Frontenac Dark Sky Preserve is another very accessible spot for stargazing in Ontario for those located around Toronto and Ottawa.
This incredible place, just 120 km from Kingston, and not far from Bon Echo Provincial Park, has everything you need to make a long night of Ontario stargazing comfortable. The park boasts a levelled observation pad, washrooms and electrical hookups for those with campers or RVs.
The park is incredibly popular for those from the city and professional and amateur astronomers from around the province often make a pilgrimage here for events such as the Perseid meteor shower.
Recognized as a dark sky preserve in 2013, Frontenac County is one of the best places for stargazing in Ontario.
Lennox and Addington Dark Sky Viewing Area
Not far from North Frontenac is another fantastic place for Ontario stargazing. The Lennox and Addington Dark Sky Viewing Area was established in 2012. It's easy to access major cities such as Toronto, Montreal, and Ottawa, making it very popular for weekend stargazing in Ontario.
Stargazers will find picnic benches, a concrete observation pad and plenty of parking at Lennox and Addington Dark Sky reserve. And the park is open from dusk till dawn every day to maximize your night sky viewing.
Lennox and Addington is full of its own great experiences to enjoy during the daytime as well. So make a long weekend out of your Ontario stargazing adventure.
Quetico Provincial Park
Ontario Parks announced in February 2021 that Quetico Provincial Park had been given the coveted International Dark Sky Park certification by the Dark-Sky Association. This designation cements the park as one of the best places for stargazing in Ontario. It also marks the 3rd publicly-owned land in the region to achieve Dark Sky stats.
Quetico, which borders Minnesota west of the shores of Lake Superior has long been a favorite destination for those looking to experience the magic of northern Ontario. And this offers another enticing reason to visit.
Tips For Photographing The Stars
Are you dreaming of one of those magical shots of the milky way pouring across the sky? There are some tricks involved in getting the perfect night sky photograph. Here are a few pro tips that will help you out.
Your eye can see the stars much better than your camera can. This is because your eyes act more like a video camera than a photo camera. In order to brighten the stars up, you may need to take a long-exposure on your camera. Ensure that your camera has a "manual" or "night" mode that will allow you to keep your shutter open for at least a few seconds.
Use a tripod and set it on a solid surface to get your shot. This will ensure that wind, hand, and even breathing don't make your photo blurry.
If you have a manual camera, set your shutter speed (how long your camera's lens is open) to between 8-15 seconds and your iso (your film or sensor sensitivity) to around 800-1600. Because the earth is rotating, a longer shutter speed may result in "star trails" where the stars appear to be blurry lines rather than shiny points.
Use a manual camera release (remote) or an on-camera countdown timer to ensure you aren't touching the camera when the picture is taken. That can cause shake or blurriness.
If your camera allows for manual focus, set your camera's focal length to infinity (∞). If your camera only has automatic focus, try to set it to the sky and ensure that it isn't trying to focus on objects in the foreground.
Do you have a favourite stargazing location that you'd love to share? Head over to the Ultimate Ontario Facebook Community and join in the conversation.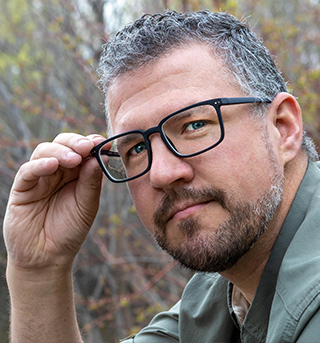 Kevin Wagar is a founder and editor of Ultimate Ontario. He has been working in the travel media industry since 2015 when he founded his family travel website Wandering Wagars – Adventure Family Travel.
Over the years Kevin has developed a deep love for his home province of Ontario and aims to showcase the incredible experiences and amazing small businesses found within it.