These Niagara Falls restaurants offer up an amazing selection of mouthwatering food. Whether you're looking for home cooking or fine dining, here are the best restaurants in Niagara Falls, Ontario.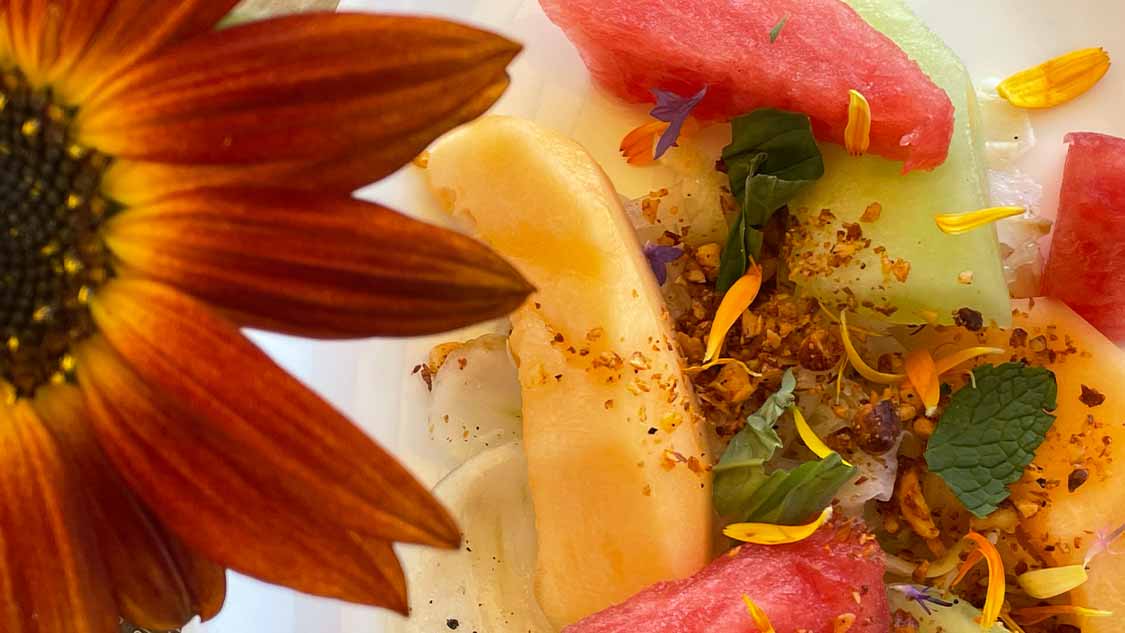 Niagara Falls, Ontario is one of the most popular cities in Ontario. Not only has this border city cemented itself as the "honeymoon capital of the world" thanks to a wealth of incredible hotels, gorgeous scenery, and incredible Niagara Falls attractions, but it's also home to some of the most sensational restaurants in all of Canada.
While only a select few of the restaurants in Niagara Falls, Ontario have those awe-inspiring views of the world's most powerful waterfall, there are no shortage of scrumptious dining options for those who are willing to forego the waterfall and take in some of the other epic views within the city.
Whether you're in the mood for fine dining, casual food with an authentic Canadian twist, or something to enjoy on a business trip or family gathering, these Niagara Falls restaurants are sure to serve up mouthwatering meals that will leave you forgetting all about that famous curtain of water.
Niagara Falls culinary experiences offer some of the best ways to put a cap on all of the incredible things to do in Niagara Falls both along the river and away from the falls. So unbuckle those belts and put on your stretchy pants. We're about to eat our way through Niagara Falls, Ontario!
Amazing Niagara Falls Restaurants That You Shouldn't Miss
Let's get down to the best restaurants in Niagara Falls, Ontario. Be prepared, because the wide range of culinary delights in Niagara Falls means that these dining establishments run the gamut from high-end cuisine to creative fusion and beyond. And all of these incredible restaurants are located within easy reach of the white water walks along the Niagara Gorge.
You'll find everything from Brazilian barbecue and Thai fusion joints to some of the best fine dining in Ontario. There are Niagara Falls restaurants to fit nearly every price range. Whether you're a local looking to explore your hometown, taking a break from doing a Niagara wine tour, or if you're stopping through on a visit south of the border, make sure to take some time and enjoy these Niagara Falls restaurants.
Table Rock Restaurant – The Best Views Of Niagara Falls
If you're looking for a restaurant with the best view of Niagara Falls, look no further than Table Rock Restaurant.
This restaurant is quite literally perched on the brink of the great waterfall and boasts such majestic views that it is worth dining here for the view alone.
But a restaurant won't make Ultimate Ontario's list of the best restaurants in Niagara Falls without some excellent dishes on the menu. And Table Rock delivers, serving up a fine menu of Canadian classics such as veal tenderloin, St. Davids roasted red pepper dip, and Butternut Squash & Goat Cheese Bauletti Pasta.
If you time your visit at dusk, you can catch the awesome light show that sets the falls aglow till midnight.
Table Rock is run by the Niagara Parks Commission, the same organization that runs many Niagara Falls attractions including the brand new show "Currents" at the Power generating station.
You can find the full menu for Table Rock right here.
Weinkeller
At Ultimate Ontario, we are a little bit obsessed with Ontario wineries and Ontario breweries. It seems that there is always a distinct difference between each experience. Well, Weinkeller uniquely combines the two atmospheres by bringing the brewpub concept to the world of wine.
Weinkeller crafts six wines directly within the brick-walled restaurant. Three reds and three whites. Each is designed to pair well with the menu of seasonal dishes crafted from high-quality local ingredients.
Diners are invited to dine on a customizable menu that allows them to choose the unique preparation style of each dish. For example, those choosing Pacific smoked salmon can choose to have it prepared on a cedar plank, pan-seared and blackened, with a fresh caper Hollandaise sauce, or panned with lemon and fresh herbs.
The ambiance of Weinkeller is among my favourite of all of the restaurants in Niagara Falls. You can find their current menu here.
Flour Mill Restaurant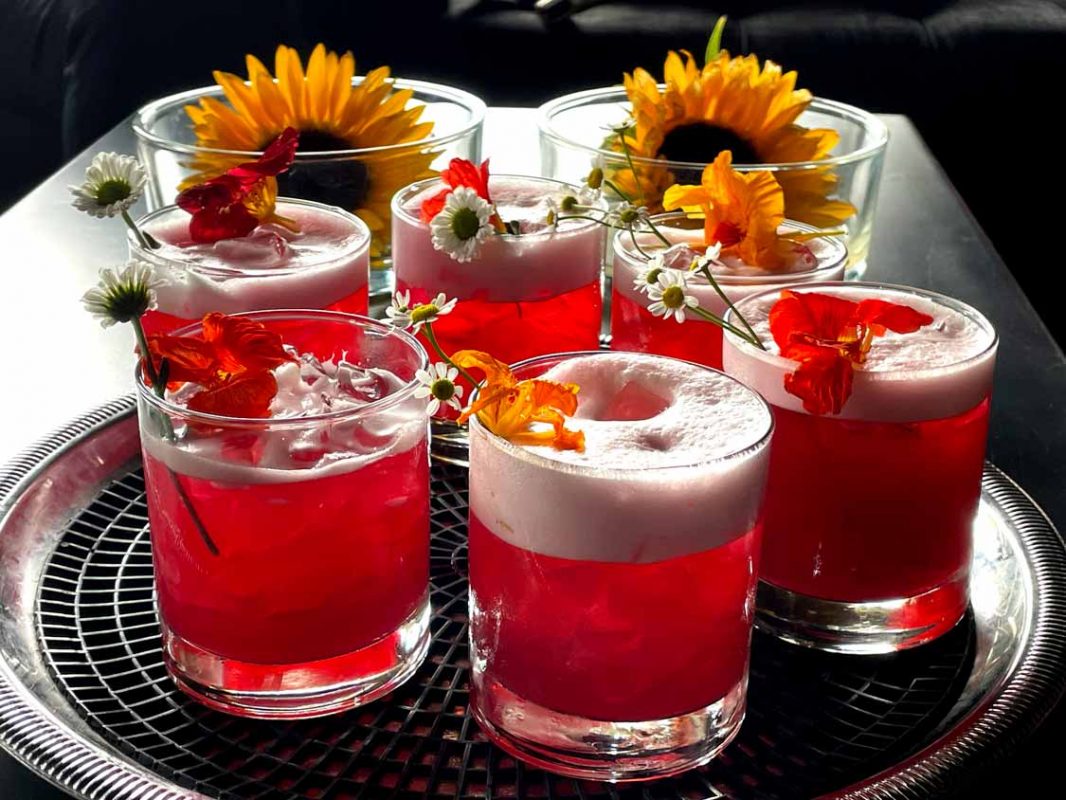 Situated in one of the oldest remaining buildings in Niagara Falls, Flour Mill Restaurant is a must-visit restaurant in Niagara for those who love fine dining.
Flour Mill Restaurant, which is tucked into the original walls of one of the original mills, which has now been converted into the Olde Stone Inn, one of Niagara Falls best boutique hotels, magnificently combines the romantic stone and wood ambiance of the original building into an elegant and comfortable dining establishment.
This restaurant is all about quality ingredients and meticulous preparation. There are no microwaves or heat lamps on site. Every dish is made-to-order from fresh ingredients with a strong leaning towards local products.
Their stuffed duck with mushroom stuffing simply melts in your mouth and their grilled boar with cider vinegar gastric is something your must experience at least once. And don't even think about leaving until you've tasted some of their signature cocktails. These delights are as beautiful as they are delicious.
The Flour Mill restaurant boasts a rotating, seasonally-focused menu. You can find their current offerings here.
Niagara Brewing Company
From a winery with a brewpub atmosphere to a brewery with a … brewpub atmosphere. Our next stop exploring where to eat in Niagara Falls is Niagara Falls Brewing Company.
Conveniently located on Clifton Hill just a short walk from Table Rock Centre, Niagara Brewing Company offers a casual atmosphere in a spacious, industrial theme where visitors can dine on comfort foods prepped with care.
On a street known for gaudy, theme-park-esque attractions such as arcades, haunted walks, and mirror mazes, Niagara Brewing Company stands out as a beacon of sanity. The large windows are placed in a way to block off the excess of the nearby attractions and let you focus on a quality meal you can share with friends or business partners.
Enjoy a flight of Canadian craft beers, or sip on some of the unique craft brews such as their 'Niagara Red Ale', while listening to one of the many live musicians that rotate through their lineups. Don't miss their smoky 'Olde York kettle chips as an appy.
You can find their current menu here.
Queen Charlotte Tea Room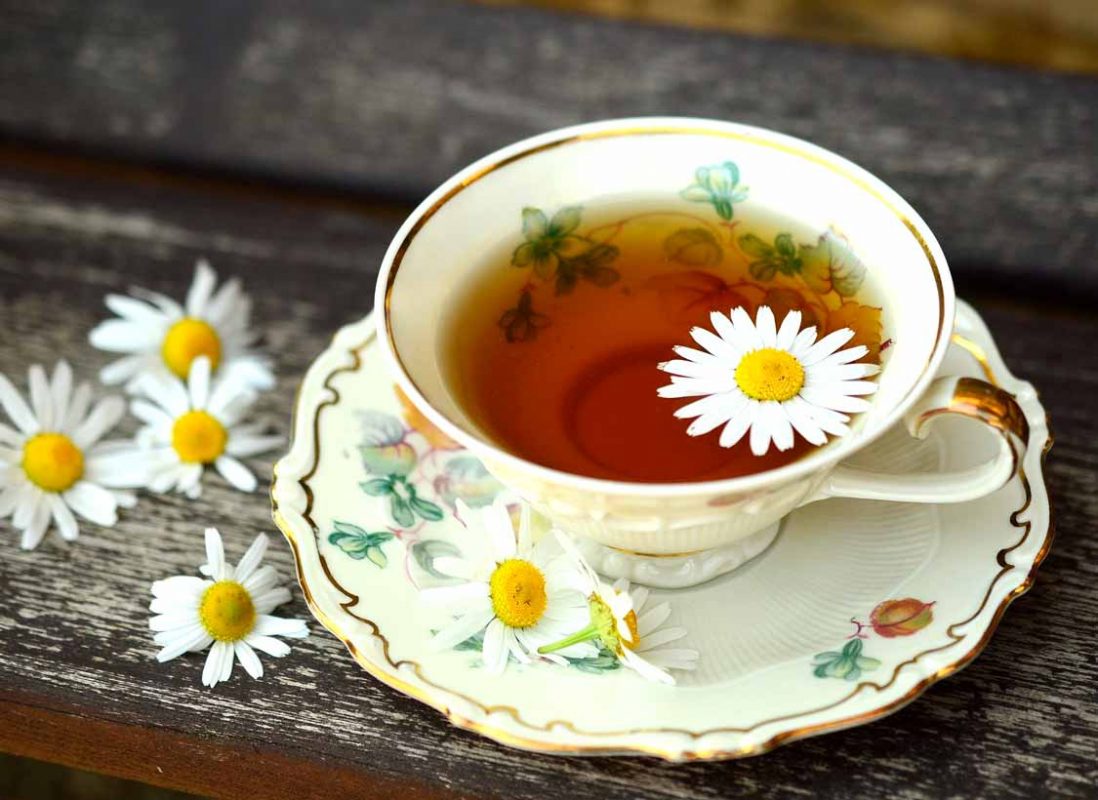 Offering a little bit of 'British' elegance in Ontario, Queen Charlotte Tea Room is the spot for those looking for an idyllic high tea experience in Niagara Falls.
Owned and managed by British expats Linda and Roger Ellis, this Niagara Falls tea room provides diners with British dining at it its core. On the menu, you'll find classics including fish and chips, bangers and mash, steak and kidney pie, and Yorkshire pudding.
It wouldn't be high tea without, well, some tea. So to enjoy your afternoon tipper, choose from a wide selection of loose-leaf and specialty teas. You can also book ahead for the full 'traditional' high tea experience that includes scones with Devonshire cream, and cucumber and cream cheese sandwiches.
You can book your high tea in Niagara Falls here.
AG Inspired Cuisine
Farm-to-table cuisine is the focus on the cutting-edge menu of AG Inspired Cuisine, located in the basement of Sterling Inn and Spa in Niagara Falls. In fact, most ingredients come directly from AG farms and are brought to the kitchen directly from the fields each morning.
Chef Cory Linkson puts his expertise in French cooking techniques to deliver mouthwatering plates including Birch Syrup and Cider Braised Pork Belly and Juniper Roasted Loin of Red Deer. The menu is in constant rotation based on the availability of fresh ingredients. And, each dish is masterfully and creatively presented. If you're able to time your visit to Friday and Saturday evenings, you'll be delighted by the live music presentations.
You can find their current menu here.
The Tide and Vine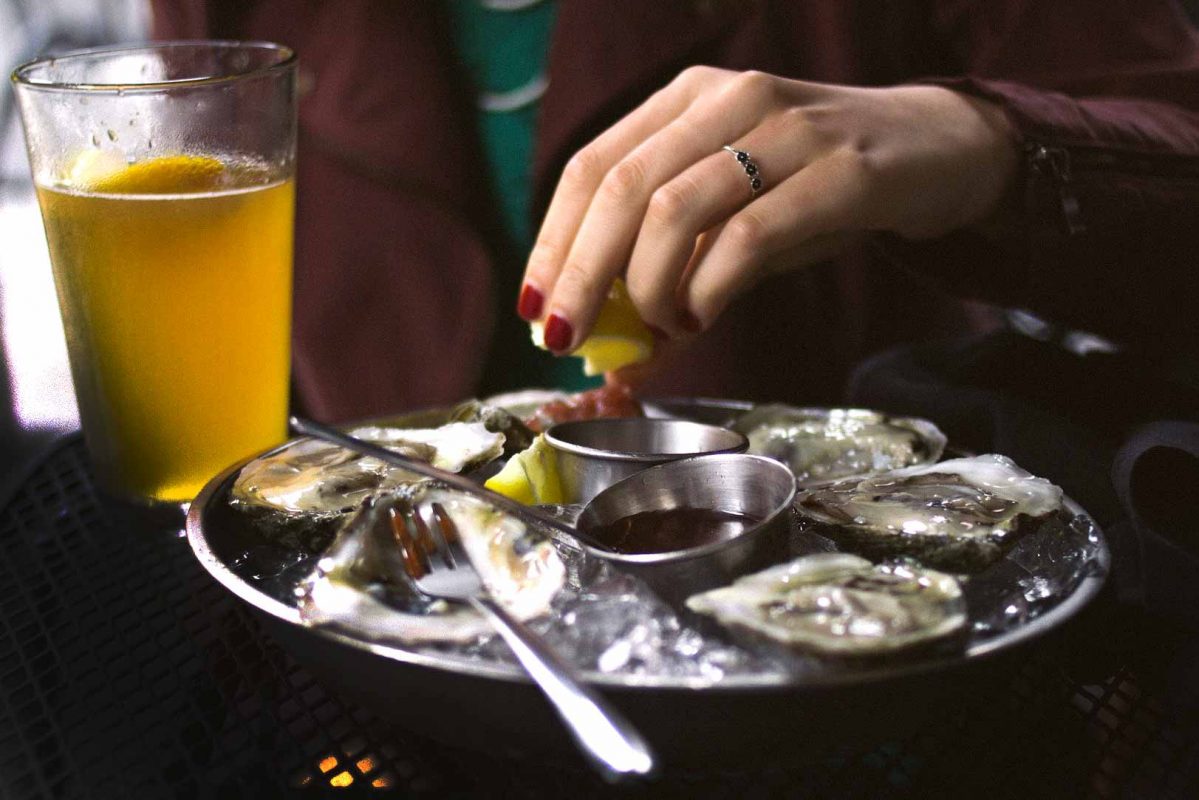 There is simply no better oyster bar in Niagara Falls than The Tide and Vine. If you love fresh seafood that pairs scrumptious dishes with an all-star selection of local Ontario wine, this is the place for you.
Everything on the menu is produced straight from the kitchen. Chefs' specialties such as seafood chowder and lobster rolls pair magically alongside signature oyster dishes that include mignonette and Scotch bonnet hot sauce.
The cozy atmosphere means that this Niagara Falls seafood restaurant only seats 24, so ensure you get your reservation in ahead of time in order to avoid missing out.
You can connect with The Tide and Vine here.
The Blue Line
*Note – The Blue Line Diner has temporarily closed while they relocate to better accommodate new health regulations.
Launched in 2012 by Hockey Hall of Fame inductee Marcel Dionne, this American-style diner embraces the hockey heritage of Niagara Falls right down to its menu.
This popular Niagara Falls diner serves up delicious comfort food in large portions, perfect for those after-hockey calories, or just a simple family breakfast. You might even find the legend himself on-hand to regale visitors with stories from his on-ice days.
The Blue Line is casual comfort food at its best. The staff will greet you with a smile and the portions will leave you wondering if you should have worn your stretchy pants.
You can find the full menu here.
Now It's Time For Your to Enjoy These Awesome Restaurants in Niagara Falls, Ontario
If you're planning a visit to Niagara Falls, you'll have plenty of variety to choose from that make up the best restaurants in Niagara.
Many of these businesses and restaurants are anxious for visitors after a tough year. So let's support local and make the most of your Ontario travel experience.
Do you have a favourite attraction or restaurant in Ontario? Head over to the Ultimate Ontario Facebook Community and join the conversation! You'll find an amazing group of people passionate about Ontario and who love to share their local secrets.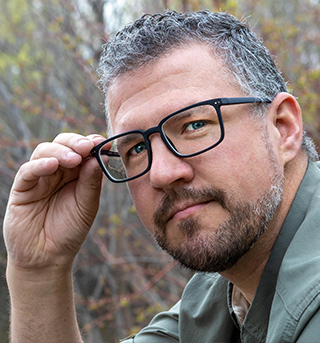 Kevin Wagar is a founder and editor of Ultimate Ontario. He has been working in the travel media industry since 2015 when he founded his family travel website Wandering Wagars – Adventure Family Travel.
Over the years Kevin has developed a deep love for his home province of Ontario and aims to showcase the incredible experiences and amazing small businesses found within it.