BUSL Cider is located in Mallorytown, Ontario. It's an Ontario cidery that does things a little differently and makes a mean Ontario cider.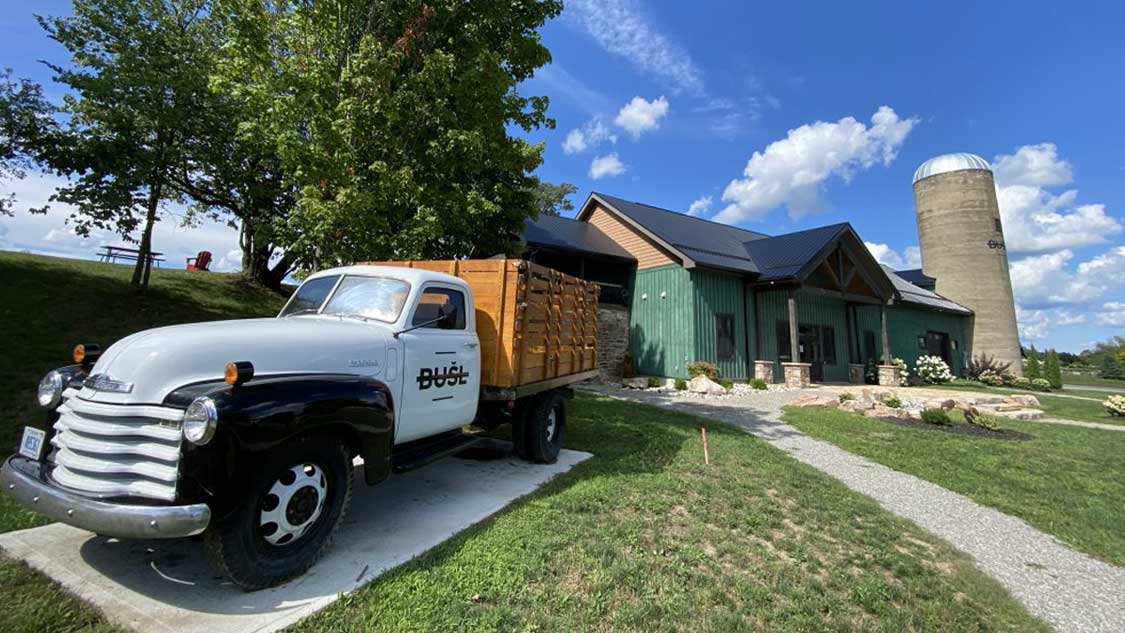 Ontario has made leaps and bounds in the past few decades in its wineries and breweries. But did you know the next beverage craze is forecasted to be cider tasting?
The Ontario cidery market has a lot to offer. There are several small craft cideries popping up across the province. BUSL Cider in Mallorytown, Ontario is looking to up the ante in the Ontario craft cider sphere with their inventive range of ciders.
One of our favourite things to do on Ultimate Ontario is highlight special places to visit in Ontario. If you're in the area of Mallorytown, consider driving northwest to discover the Lanark County Chocolate Trail and pumpkin or sunflower fields at Scotch Line Farm. We also love highlighting small businesses with a lot of heart. If you're keen on more write-ups like this one, check out our write-up on this independent restaurant with a lot of heart: MJ's Roadhouse.
BUSL Cider is located on a private, family-owned property. It sits at the front end of 280 acres, on which they have a 10 acre apple orchard and several other fruit crops.
When you first pull up to BUSL, you'll instantly notice the restored vintage Chevy truck out front. Both it and the vintage Ford tractor inside are in pristine condition and working order. They definitely help to remind you that you're on a family farm, if you'd somehow forgotten.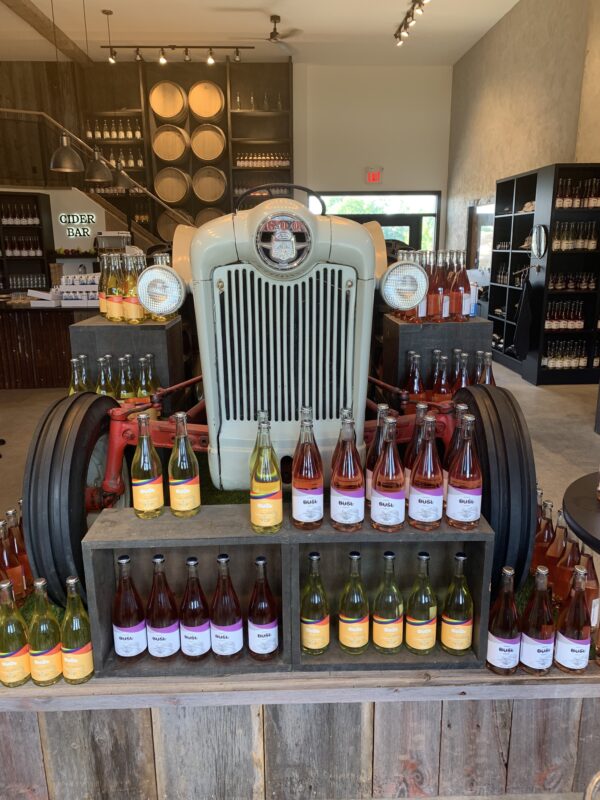 Getting to BUSL Cider
Adding to the farm theme, there is also an interesting story about how to pronounce the unique name of this cider bar. It is actually spelled "BUŠL". It uses the Czech caron accent above the "s" to create the "sh" sound. So the pronunciation of this craft cider house sounds just like the English word "bushel", like a bushel of apples. It's clever, right?
A visit to BUSL Cider is easy. If you're travelling along the 401, Mallorytown, Ontario is more or less between Gananoque to the west and Brockville to the east.
From the 401, exit at Mallorytown Road and head north. You'll get to this Ontario cidery in less than five minutes from the highway. You can't miss it if you keep your eyes open for the vintage Chevy truck.
An Inventive Ontario Cider Tasting at the BUSL Cider Bar
When you stop by for a fruit cider tasting at BUSL cider, make sure you check which day you're stopping by. This Ontario cidery is currently open Mondays to Wednesdays from 9am to 5pm by appointment (so make sure you call in advance), and Thursdays to Sundays at any time between 9am to 5pm. This could change, so please do check before heading to BUSL.
When you arrive, head inside to the cider bar (and don't forget your mask!). The interior of this craft cidery is beautifully designed, feeling fresh and modern, with the perfect touches of rustic finishes.
At the cider bar, you'll learn that the fruit ciders at BUSL are packaged in 750ml bottles. You have the option of getting a 12oz glass or ordering a flight of four fruit ciders for your cider tasting.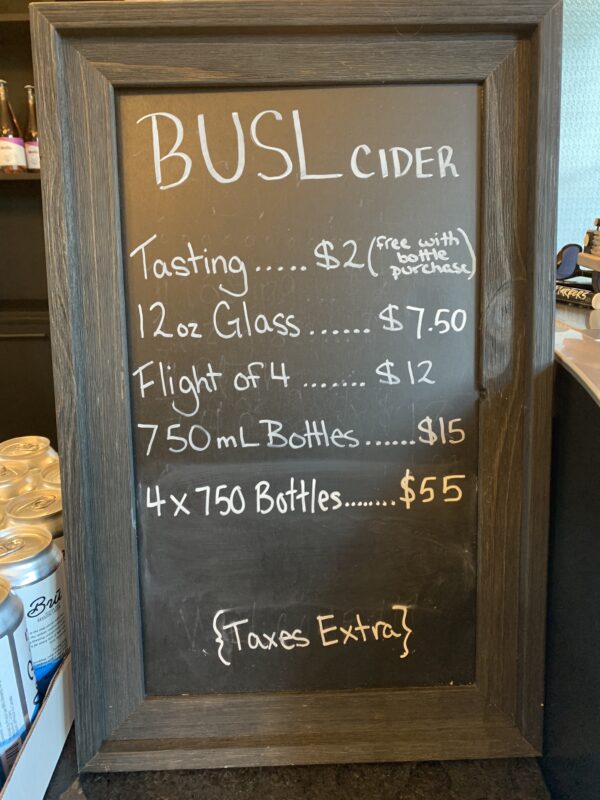 At BUSL cider, they have an interesting selection of fruit ciders to choose from. Make sure you sample their classic "Aurum" cider, which is their premium apple cider.
From there, feel free to get creative with your choices. It will be easy to do! Here's a list of all the fruit ciders you can currently try:
"Aurum" – Premium Apple Cider
"Pirum" – Pear Cider
"Cerasus" – Cherry Cider
"Baca" – Blueberry & Beet Cider
"Haskap" – Plum, Pomegranate, Guava & Fresh Berry Cider
"Ma Cherie" – Chocolate Cherry Cider
When I visited, my favourites were the Aurum, Pirum and Cerasus. They were delicious. One of the nice things about these ciders is they're quite dry, and not overpowering or overly sweet in their flavour.
If you're more of a beer fan than a cider fan, then you're in luck. Despite being a craft Ontario cidery, BUSL also offers two of their own beers, brewed in house. They're called ArBrū Premium Beer, and they offer them in both a lager and a dark amber.
Once you grab your cider tasting flight or glass, head out to their scenic backyard patio area. It's a pretty special place.
Ontario Craft Cider with a View
While the interior of this Ontario cidery is beautiful, the back patio area at BUSL Cider is simply stunning. It's a pleasant surprise to find this kind of atmosphere in their own backyard.
You have a few different options for where you can sip and enjoy your cider tasting outside. They have a great covered patio with rustic bar-height barrel tables. They're great for sitting with a small group.
Better yet, on their "lawn with a lookout" as I like to call it, you can sit at your choice of a picnic table or a Muskoka chair. This area sits on a large, raised rock, leaving you with a beautiful birds-eye view of the area. Looking onto their fields and the surrounding rural landscape creates the peaceful moment for reflection you didn't know you needed.
When you're finally able to peel yourself away from this view, make sure you grab a few bottles of their fruit cider to take with you. If you haven't had enough of the natural beauty, make sure you keep reading for ideas of what to do in the area after your visit.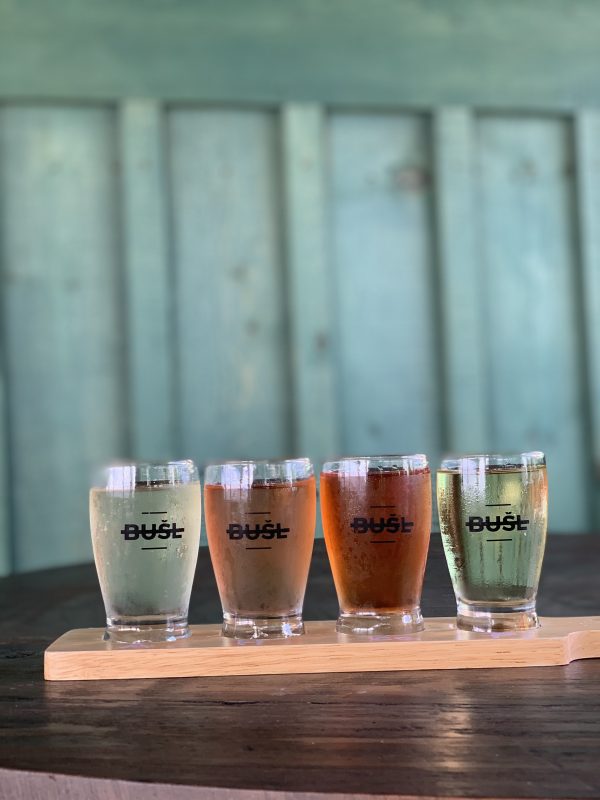 Things to Do Near this Ontario Cidery
If you've stopped at BUSL Cider on your way elsewhere, it would be a shame to hop back on the highway without seeing a few local sights.
Picnic at Mallorytown Landing
If you haven't had enough of the tranquil natural surroundings at the end of your visit, then make sure you head south to the St. Lawrence at Mallorytown Landing. It's less than a 10 minute drive, and it offers beautiful views of the river.
Since Mallorytown Landing is part of the 1000 Islands National Park, you'll need to pay a small entrance fee if you plan on staying for a picnic. This goes towards maintaining the beauty of this space, and ensuring it's properly cared for.
From the parking lot, head down to the lookout area. For the history fans, you'll be excited that this area was settled in 1784. It has beautiful peninsular views of the St. Lawrence and some of the surrounding 1000 Islands. It also has many picnic tables with stunning views, making it the perfect stop to bring a packed lunch or picnic.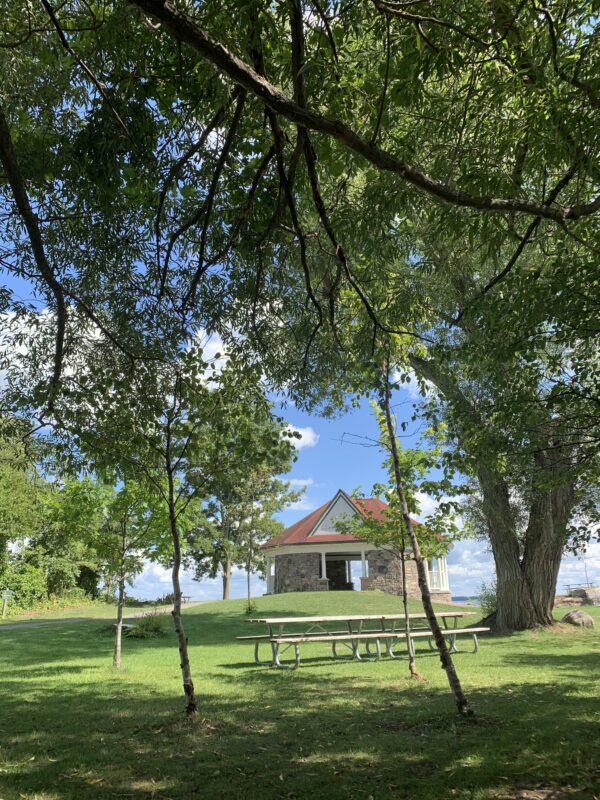 Take a Nature Walk through Jones Creek Trails
Jones Creek Trails is a series of walking paths and moderate hiking trails within the 1000 Islands National Park. It's located just down the Thousand Islands Parkway from Mallorytown Landing, and it's only a 10 minute drive from BUSL Cider.
Where Mallorytown Landing brings you great views of the St. Lawrence, Jones Creek Trails offers you the chance to explore more inland.
There are several trail loops within this section of the park. Some are several kilometres long, while others are much smaller, easier walks. Make sure you consult the map at the entrance to choose your path.
Regardless of which path you choose to take, these trails offer great opportunities to get up close and personal with nature. There are wetlands, hills and forested areas in this section of the park, offering a great range of choices for you depending on what type of nature walk you're looking for.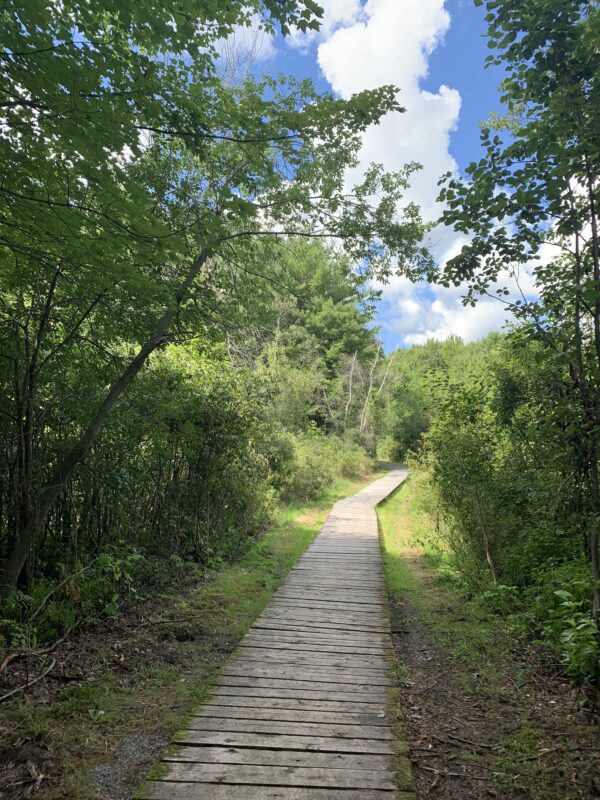 However you choose to experience BUSL, we wish you all the best, and hope we can continue to help you make the most of our beautiful province.
Disclaimer: I want to thank 1000 Islands Tourism for hosting me as media for this experience. Please note, my views and words are completely my own.
Bri was born and raised in Ontario. She spent many years living abroad, but returned to Ontario a few years ago, and is very happy to be back exploring.
She loves writing about travel experiences in our beautiful province, including unique accommodations, memorable meals and adventurous activities.
You can find her canoeing and swimming across Ontario with a craft brew in her hand in the summer, and snowshoeing or curling up with a good book and an Ontarian Pinot Noir in the winter.