In sunflower season, you'll want to visit as many sunflower fields in Ontario as possible. We rundown the best sunflower fields and farms in Ontario!
The end of July can bring mixed emotions. "Where has July gone?!", "The days are getting shorter!", "I think I need a sweater tonight!"; "SUMMER IS ALMOST OVER!"
Fear not. Just as the days are beginning to get a little shorter, the happiest and sunniest of flowers comes out to shine bright. That's right, I'm talking about sunflower season!
All kidding aside, growing sunflowers in Ontario is a pretty serious business. In fact, there are many giant sunflower fields in Ontario that spend most of their year carefully curating coveted patches of sunflowers.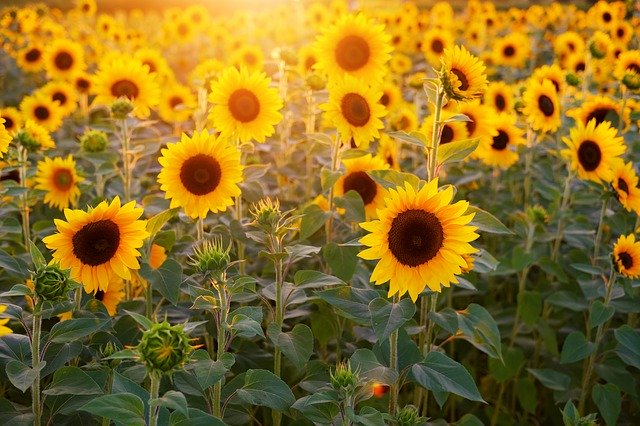 This time of year, we're all looking for an excuse to feel a little more excited about the great outdoors. Whether that means taking a road trip from Toronto, trying out different golf courses in Ontario or finding the best places for stargazing, being outdoors is so important, especially this summer.
Peak sunflower season begins during late July or early August, and lasts until mid-August. And this, folks, is why you need to carve out some time to visit some giant sunflower fields in Ontario this August.
Instagram best friends, boyfriends, girlfriends, life partners, husbands and wives–consider yourselves warned.
5 Fun Facts About Giant Sunflowers
From giant sunflowers to expansive sunflower fields, Ontario has these happy flowers in abundance.
When you head out to find sunflowers in the province, knowing a few facts about growing sunflowers in Ontario can help you make the most out of your visit.
Sunflowers are native to North America.
Specifically, Mexico. If you've ever seen a giant sunflower field in Spain or Italy, know that they were originally brought over to Europe by the Spanish Conquistadors in the 1500s.

They chase the sun throughout the day.
Consider this when you're timing your visit to sunflower fields in Ontario. The time of day will determine how upward facing you'll find them.

Any time from late morning to early afternoon makes for optimal photos of sunflowers. During peak season, dusk can also be pretty dreamy.

Sunflowers can grow up to nearly 10 metres tall at their tallest.
This is specific depending on the varietal of the sunflower, but still–these giant sunflowers are pretty impressive up close and personal.

A few of the sunflower fields in Ontario from this list have giant sunflowers, that are especially tall. Keep an eye out for these as you read through.

Sunflowers need at least 6 to 8 hours of sunshine a day to reach their full potential.
This means the sunnier the season, the stronger and more vibrant these little (or big) beauties will be.
The Do's, Dont's and Shoulds of Visiting Sunflower Farms in Ontario this Summer
During a summer like this one, it's especially important to follow all of the protocols these sunflower farms in Ontario have in place.
Make sure you read the signs and rules, and leave the farm better than you found it, so everyone has the chance to see these bright and giant sunflowers flowers in action.
DO'S
Take pictures. Take ALL the pictures.

Plan your visit in advance. Check the details of the sunflower farm in Ontario on their website, and potentially call ahead. Make sure that you understand entrance fees, the path to take, accessibility needs and rules and regulations before you arrive.

Follow the posted or discussed rules of the farm.

Physically distance. Leave space between you and other guests.

Bring a mask. In the event that there are more guests at the farm than you anticipated and physically distancing isn't possible, bring a mask just in case.

Check the weather. If there's a lack of sun, rain or a storm, it can affect the direction and openness of the sunflowers.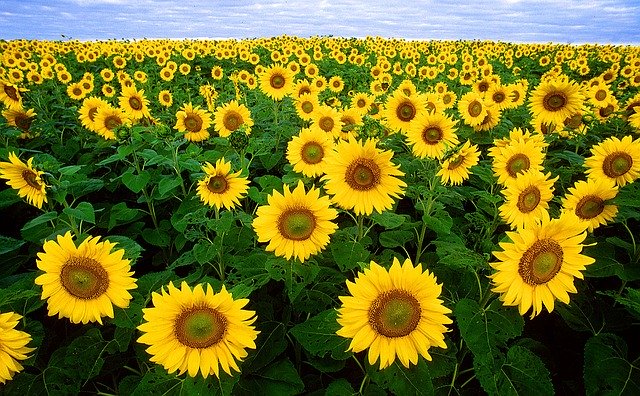 DON'TS
Step into the flower patches or beyond the marked paths. These are temperamental flowers that are easily bent and damaged. This can't be stressed enough!

Sunflower farmers depend on harvesting their giant sunflowers and making use of them, or for future guests to enjoy. Like the motto with provincial parks, remember to: "Leave the sunflower patch better than you found it".

Disregard signs and rules. They're posted and created for a reason. Be respectful of the fact that this is someone else's business (and personal property–some private residences are on these farms), and you're their guest.

Stop at the side of the road for a picture. This is two-fold: most importantly, you're putting yourself at risk by being on the road. Secondly, you are both damaging and interfering with a farmer's business, private property and crop without their consent.

Swat at the bees! Bumble bees love sunflowers. If they are feasting, then they want nothing to do with you. Be kind to the bees and, like the farm owners, respect that you're in their space.

(There's even a really cute "Bee & Bee" and centre you can visit in Orono, inspired by these fantastic little critters.)

If you have an allergy to bees, it isn't recommended that you visit a sunflower patch.

Wear sandals or flip-flops. This is advisable for all visits to farms (pick your own produce, lavender farms, etc.).

The terrain is typically rough, the ground can be covered in high grasses (hello, tick season!) and your feet can get dirty and dusty pretty quickly! You may be able to edit the dirty feet out of your photos, but your toes will definitely feel gross after.
SHOULDS
Make sure there's space on your phone or camera. This sounds like a no-brainer, but you never know…

Wear a fun outfit or colourful shirt! It will stand out in the photos you take. Better yet, bring a hat. They can be fun for photos and for beating the heat.

Bring your own water and snacks, just in case. It can get hot out there, especially during peak viewing hours for fields.

Consider nearby parks, conservation areas or green spaces to make a day of it and plan a picnic or small hike.
A List of Giant Sunflower Fields in Ontario
If you find yourself needing to search up "where to find sunflowers near me?", let us take the lead on that. Here's a list of some pretty amazing giant sunflower fields in Ontario.
Make sure you read through our "Do's, Don'ts and Shoulds" before planning your visit. Sunflower field etiquette is the real deal.
The Sunflower Farm – Beaverton
This farm just opened up this year! They're excited to welcome guests for their first official sunflower season in business.
You can head to their website to learn more about being the first 10-acre sunflower farm in during region, and discover how you can plan your visit.
Sunnydale Farms – Picton
*03/08/2020 – UPDATE: Sunnydale has announced that their field is now closed for the season, but they look forward to next year!*
This seven generation farm has deep, deep roots in Prince Edward County. A lot like the name indicates, you know you'll be coming across a giant sunflower field when you arrive.
They're typically open from 11am to 8pm, but check ahead before you arrange a visit.
Campbell's Cross Farm – Caledon
Campbell's has been closed to the public due to COVID, but they are opening back up for their beloved sunflower season.
They anticipate reopening their sunflower field sometime between the first and second week of August. Check their website to make sure you have the dates and times right.
Andrew's Farm – Milton
Andrew's is a large, scenic farm with a lot to enjoy on its premises. They also offer a few different ways for you to enjoy sunflower season in Ontario this year.
Their Pick-Your-Own sunflower fields are open already, with excellent picking conditions. Better yet, in late August they will open up their "Sunflower Kingdom".
Aptly named, the kingdom section of the farm is dedicated to their taller-growing, giant sunflowers, which you can roam around through. It's very impressive.
Terre Bleu Lavender Farm – Milton
Yes, you read it right! The well-known lavender farm Terre Bleu also has sunflower fields available to explore on their farm.
Most of their sunflowers are dwarf sunflowers, so they're exactly what you'd think: they're small. This makes them ideal for visiting with families and small children.
Bear in mind that the price of admission to see this sunflower farm in Ontario (and the other fields on site) is on the pricier side compared to others on this list.
Davis Family Farm – Caledon
*03/08/2020 – UPDATE: Davis decided to stay closed this year, but they "can't wait for next summer!"*
At Davis Family Farm, it is just that–a family farm. In fact, the Davis family lives right on site.
They boast a giant sunflower farm, with 35 acres of sunflowers to admire. Their breathtaking fields are open between the last week of July and the second week of August, depending on the season.
Be sure to check their website or call in advance to make sure you have the right information, and to ensure you're seeing this giant sunflower field in Ontario at the right time.
Pingle's Farm Market – Hampton
Pingle's is a well-established farm in Clarington, but this is the first year they've planted sunflowers on their farm. They are opening up a Sunflower Experience this year, where you can book a time slot online to take a wagon to their field.
Make sure you head to their website to learn how you can visit, before you arrive.
Kusterman's Berry Farm – Mount Brydges
This large family farm is similar to some other sunflower farms in Ontario from this list. They offer pick-your-own berries and produce in some parts of the farm and several animals and kid-friendly exhibits.
Of course, they also have a large sunflower patch to check out! Kusterman's tends to open their giant sunflower field around mid-August, but double check their website to make sure you have the right information.
Makkink's Flower Farm – Tillsonburg
Makkink's is home to a lot more than just sunflowers. They offer pick-your-own flowers and sunflowers experiences in their fields.
They have some wonderful measures in place for proper physical distancing. You can head to their website to reserve your time to pick your own from their giant sunflower field.
While you're in Norfolk County at Makkink's, make sure you check out one of their famous wineries or breweries.
Hanes Sunflower Maze – Dundas
Known for their corn maze and bakery shop, The Hanes Sunflower Maze opened last year and was a huge success, so they're doing it again.
If you're looking for a bit of a different spin on your visit to a giant sunflower field near Toronto this year, then a sunflower maze is the perfect plan. It's 5 acres in total, which is a pretty sizeable plot of land for a sunflower maze of its kind.
Sunflower Fields – Picton
The sunflowers are currently in full bloom at this charming spot in Prince Edward County. You can come for an ice cream in the evening (maybe even around sunset for a moody moment), and then roam through their giant sunflower fields as you enjoy your cone.
Make sure you check their website and safety information to ensure you know and understand what is expected of you on arrival. This memorable sunflower field in Ontario is not to be missed.
Scotch Line Farm – Perth
This charming farm is family owned and run, and sits in the heart of Lanark County. It has a giant sunflower field which you can visit by booking a spot online from their website.
Scotch Line will most definitely be worth the safety measures and booking online. You won't be disappointed by this sunflower field in Ontario.
While you're in the area, you should take a walk through Stewart Park and the historical centre of Perth. This beautiful town made our list of the most charming small towns in Ontario.
Final Thoughts on Visiting Giant Sunflower Fields in Ontario
Whether you're looking for a good excuse to get outside and safely physically distance, or if you're hoping to find that perfect sunflower bouquet to bring home and put in a vase, this list of giant sunflower farms in Ontario will help you do just that!
Are there any sunflower farms, fields or places that you've visited before that you'd like to see on this list? Let us know in the comments!
Bri was born and raised in Ontario. She spent many years living abroad, but returned to Ontario a few years ago, and is very happy to be back exploring.
She loves writing about travel experiences in our beautiful province, including unique accommodations, memorable meals and adventurous activities.
You can find her canoeing and swimming across Ontario with a craft brew in her hand in the summer, and snowshoeing or curling up with a good book and an Ontarian Pinot Noir in the winter.