Kivi Park can aptly be described as an outdoor adventure playground aiming to showcase (and preserve) what makes Northern Ontario so special. It's open year-round, and it aims to remind folks that the fun certainly does not stop after the first snowfall. In fact, quite the opposite.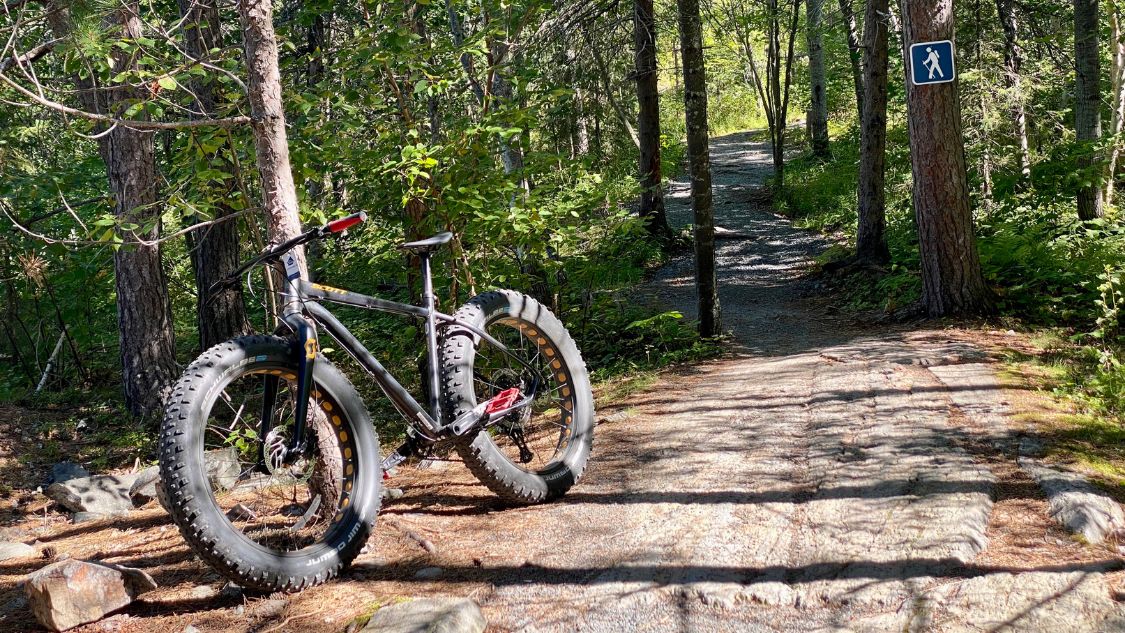 ---
Kivi Park, located just south of the core of central Sudbury, is all about providing people a place for adventure in all four seasons – and for the entire family.
It's actually set up as a not-for-profit, which is rather unique in the world of Ontario outdoors, and their ultimate goal is to "inspire people of all ages and abilities to engage with nature, get active and come together as a community to sustain and preserve the gift that is Kivi Park."
Not dissimilar from downhill skiing, Kivi Park is set up with day passes and annual passes (though with free admission to kids 10 and under). You can get full details on that here, but for reference sake it costs roughly $25 or a Family Day Pass, and $250 for the Annual Family Pass.
The funds collected go towards grooming and maintaining trails (for hiking, fat biking, mountain biking, snowshoeing, cross-country skiing, skating and more), offering top notch amenities and services, education and community-building, and to ensure that this whole operation remains sustainable.
A Brief History of Kivi Park
Before we get into the story, we think it's worth noting the name itself. "Kivi" means rock in Finnish, and the name pays homage to the fact that the park is situated in the heart of the Canadian Shield.
300 acres of this land that we now know and love was actually donated by Lily Fielding, a humble local philanthropist who called nearby Long Lake home for many years. Even more exceptional, the land was donated in the 100th year of her life.
We want to share a brief excerpt from Kivi Park themselves on this story:
"Lily's vision for the park also reflects her view of the Greater Sudbury community, which is the gateway to Northern Ontario, and the most significant social, cultural and economic hub north of Toronto. Kivi Park clearly plays its part. In the few short years since opening, the Park has played host to numerous local and provincial sporting and cultural events and has been the chosen location for numerous philanthropic events and activities supporting local charities and organizations. It is also the only Para-Nordic training centre in Ontario and the training ground for countless other athletes."
Kivi Park aims to honour Lily's devotion to community by creating a space for all to enjoy. Accessibility, regardless of age, skill, physical ability or another other factor, is paramount to the identity of Kivi Park.
The Highlights of this Greater Sudbury Area Gem
Variety is the name of the game here. We'll walk through what you want you may want to prioritize, but it's worth knowing that beyond just nature, Kivi Park can simply be thought of as a place to be active. We say that because besides the trails and lake access, there's also a disc golf course, basketball courts, playgrounds and a soccer field.
It's as much an "outdoor activity complex," as much as anything else, and that's precisely why it's popular amongst active families in and around the Greater Sudbury Area.
Kivi Park Trails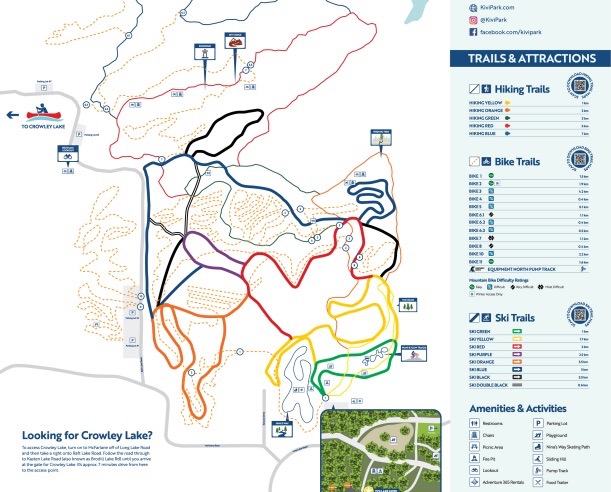 It's fair to say that the trail network is the big draw at Kivi Park, and that's because they maintain almost 56 kilometres of trails – whether you're biking, hiking, or skate cross-country skiing. Personally, we took a fat bike out on the trails, and it was a blast because you could kind of go with the flow. I'd plan to do one trail, then spot a small diversion which I could see on my map connected to another trail, and launch down that.
Especially once I was loosely familiar with the Park, I felt comfortable not even consulting my trail map, and literally just being as present as possible, especially since I knew the trails were well-marked and maintained.
There are also a few attractions that you should check out at Kivi Park, the most famous being the Wishing Tree. The old saying was to make a wish once you've sat on the tree, but it was cordoned off when I visited, likely because it was probably getting damaged over time. So now you can still go to the Wishing Tree, but just make your wish beside it as opposed to upon it.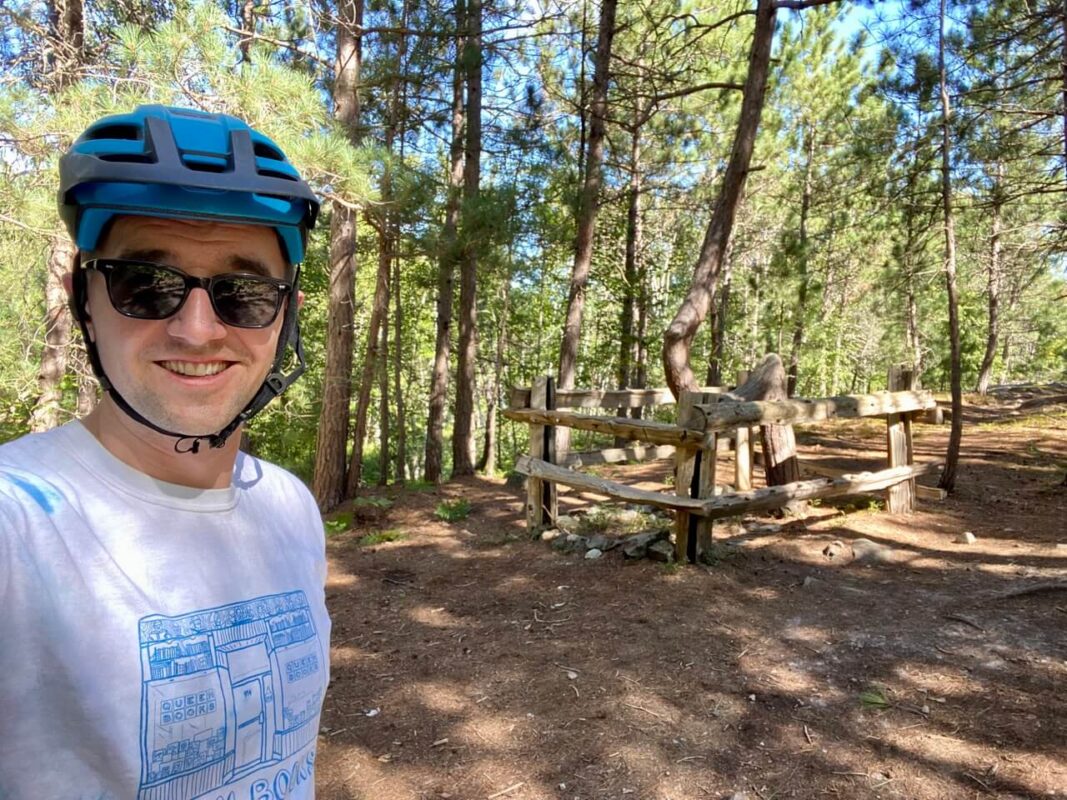 Other more natural attractions include The Cedars, Kivi Ridge, and Inukshuk, and they're marked on the Kivi Park general map.
If you're looking to crank things up a notch, you can also bring your mountain bike to the Pump & Flow Tracks, essentially a set of mounds and turns where can pick up some speed and air on your bike. I definitely took the fat bike for a spin on this and, admittedly, was definitely shown up by some kids who had some genuine talent for that course.
There are separate maps that you can download for hiking, biking, and skiing & skating, but the main thing to note here is that all activities are organized by length and difficulty, so there's always going to be something for the expert, and something for someone who is just getting started.
Nina's Way
Nina's Way is Kivi Park's winter attraction that keeps people coming from near and far. It's a 1.3 kilometre skating path that winds through a stunning array of birch trees.
It's open daily in the winter from 11am – 8pm, and what we love about this experience is that once it's dark (and we know it gets dark early in winter in Ontario), they turn on LED lights for "twinkling evening skates" and they even play music along the path.
Talk about a chance to create some new winter memories!
One quick note – they've got rentals for most other things, but they don'y offer skate rentals onsite, so you will need to bring your own skates.
Crowley Lake
Crowley Lake is where members can head if they're keen to get out on the water and take part in some fishing, canoeing, kayaking, stand-up paddleboarding, or to hike near a lake. It's worth knowing that, understandably, this experience is up and running from June to October, but not during the winter months.
It's not immediately located near the main parking area (near where the rentals are etc.). Rather "to access Crowley Lake, turn on to McFarlane off of Long Lake Road and then take a right onto Raft Lake Road. Follow the road through to Kasten Lake Road (also known as Brodill Lake Rd) until you arrive at the gate for Crowley Lake. It is about an 11-minute drive from Lake Road to the access point."
What Else is Worth Noting About Kivi Park?
If you're looking for a hot chocolate on a winter's day or a cold beverage on a summer's day, you'll be happy to know about Kivi Cafe (also located near the rentals and parking). They also offer a variety of snacks so that you can refuel and keep doing what you love.
There's an Outdoor Lounge, and of course you know that means there's a Muskoka chair or two, and a fire-pit!
If you're planning on spending a full day at Kivi, then it's worth knowing that there's a Picnic Area. That means you can come in the late morning, have lunch there, and then continue on from there. Throw a cooler in your car with a pre-made lunch, and you're good to go.
If you're looking to pay it forward, you can make a donation to help someone get their own pass. Almost 1000 park passes have been funded this way. All funds raised through this program will be matched up to $100,000, which makes this fund one of the most notable in both the province and the country at large.
If you can imagine using it, there's likely a way for you to rent it either on-site or near to Kivi Park through their partnerships. You can find out the full details here.
If you want to stay in the know about the comings and goings of Kivi Park, they have a newsletter.
That's a wrap from our side, but we sincerely hope you have a wonderful time if you're visiting. It's a unique place with a unique setup, and everyone we talked to mentioned that they felt they were part of something worth preserving and appreciating, and having visited, we can completely understand why.
---
We want to humbly thank Discovery Sudbury for hosting us as media. All opinions are completely our own.
If you appreciated this article, you'll love our newsletter, as well as our Facebook group! Feel free to join, all are welcome.
Christopher Mitchell is the Cofounder of Ultimate Ontario. He's visited over 80 countries, and has lived on 4 continents, but now has his eyes set squarely on exploring this incredible province, and helping others do the same.