Lakefield, Ontario has a lot going on considering its population and size. It makes sense when you consider all that's around it (Peterborough and Trent University, first and foremost), but that doesn't stop Lakefield from having its own vibe and charm that's well worth coming to appreciate.
---
Ultimate Ontario has always been about diving a little deeper, and exploring regions in full. That means that we feel that travellers in this province shouldn't just be visiting tourist staples like Peterborough, but also the destinations in and around cities like Peterborough.
When we recently had the chance to cycle around Peterborough & the Kawarthas, teaming up with our fine friends at Wild Rock Outfitters, we spent some time in the quaint village of Lakefield, and we feel that, especially if you've got a bike and want to take a quick, easy trip, this is a place that should be on your Ontario travel radar.
A Brief History of Lakefield, Ontario
Lakefield is a small, vibrant community located in Peterborough & the Kawarthas (a region very much worth exploring in more depth if you haven't just yet!). It's popular amongst Ontarians who are lovers of the outdoors, largely because it's close to rivers, lakes, forests, and trails that are some of the province's finest.
The name "Lakefield" comes into the mix in the early to mid 1800s when a sawmill was established along the Otonabee River. Over the next 50 years, Lakefield grew, and achieved a designation as a village.
In many ways (and particularly culturally), Lakefield has been growing since inception. Now, it's not just the outdoor enthusiasts who have an eye for the community, it's also people who want a comfortable place to spend the night, to have a great meal, go out for a pint, or attend a festival.
We'll go through everything you need to have on your radar, so you can plan your perfect visit to Lakefield.
*Please note that this article may contain affiliate links. Simply put, that just means that we may get a small commission from some of our recommendations at absolutely zero extra cost to you.
What to Do in Lakefield When You Visit
This list will include Lakefield proper, and some easy drives from Lakefield in case you're looking to get a feel for what's around the village.
Stay in the Heart of Lakefield
When we visited Lakefield, we wanted to be in the heart of the action, and that's what led us to The Village Inn.
They've been around for about 20 years, and describe themselves quite accurately as "a charming country inn in the heart of the Kawarthas."
There are 30 different rooms on offer, as well as two luxury suites for those who are looking to perhaps double down on a romantic getaway. The hotel is only 15 minutes outside Peterborough, and is only about a 90 minute drive from Toronto, in fact.
They offer a historic feel, with modern amenities, "all presented in an atmosphere of country charm, with a pleasant variety of local attractions."
Pop by the Lakefield Farmers' Market
Generally speaking, the Lakefield Farmers' Market runs from late spring until early fall. In 2023, for example, it's been running every Thursday from May 18th, and will run until October 5th.
Coming to the Farmers' Market is your excuse to visit nearby spots like the Trent-Severn Waterway, Isabel Morris Park, Lakefield Marina, and the Lakefield Millennium Trail, and you can reach it by car, by foot, or by boat!
The market is a hub for local farmers offering produce from the surrounding areas, skilled artisans displaying their creativity, and diverse food vendors preparing delicious offerings using locally sourced ingredients.
Start Your Day at the Nutty Bean Cafe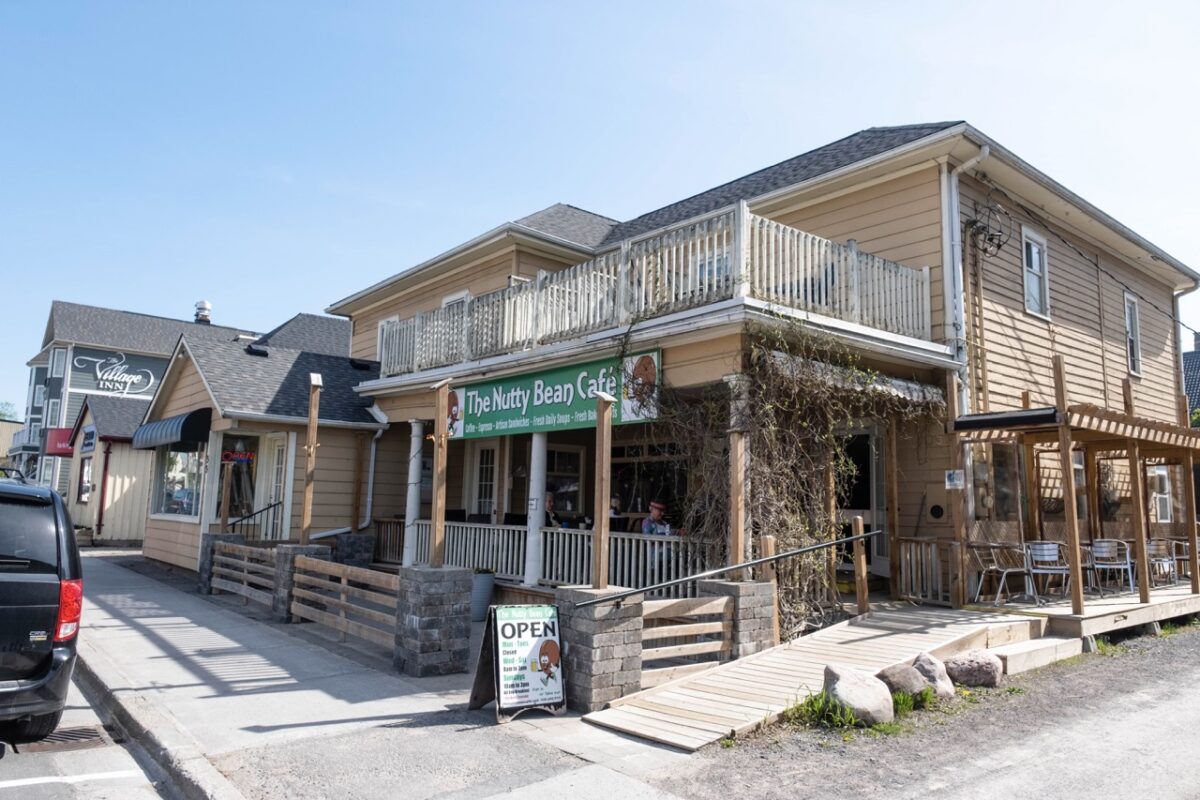 The Nutty Bean Cafe has been serving Lakefield (and its visitors) since 2003, and they proudly note that they are home to "the best verandah in town."
From experience, we can also tell you that they serve a mean cup of coffee, and have some fantastic breakfast and lunch options. Think fresh baking, house-made soups, market salads, and shade grown coffee.
We typically head here for breakfast, as a lovely way to ease into the day, but they're very popular as a lunch option as well because of their sandwiches, so there's no right or wrong way to fit this into your Lakefield visit – but it should be on your list!
Shakers Diner is also a popular breakfast joint.
Have Dinner at Canoe & Paddle
The Canoe & Paddle, an English pub and restaurant founded in 2014, is situated in the heart of Lakefield, Ontario, within the historic Hamblin's building by the river. It's a very short walk from The Village Inn.
This is your classic style pub that all Ontarians appreciate after a day of exploration. You've got all your traditional pub favourites, crisp cold Ontario craft beer, and even some live music if you time it right. We've also found that their staff is excellent, and you very quickly feel like family.
It's a great place to go and feel like a part of the community. They make a delicious poutine (which you can add pulled pork to, we might add) if you want to go in that wondrous direction, but you can also eat healthy here, as they've got a much more built out salad menu than some other small town pubs. That being said, you're not going to go wrong with something like a burger or fish & chips here.
If you're in Lakefield for multiple nights and want to switch things up a bit, then consider Cassis Bistro and The Loon Lakefield as well.
Hop on the Lakefield Trail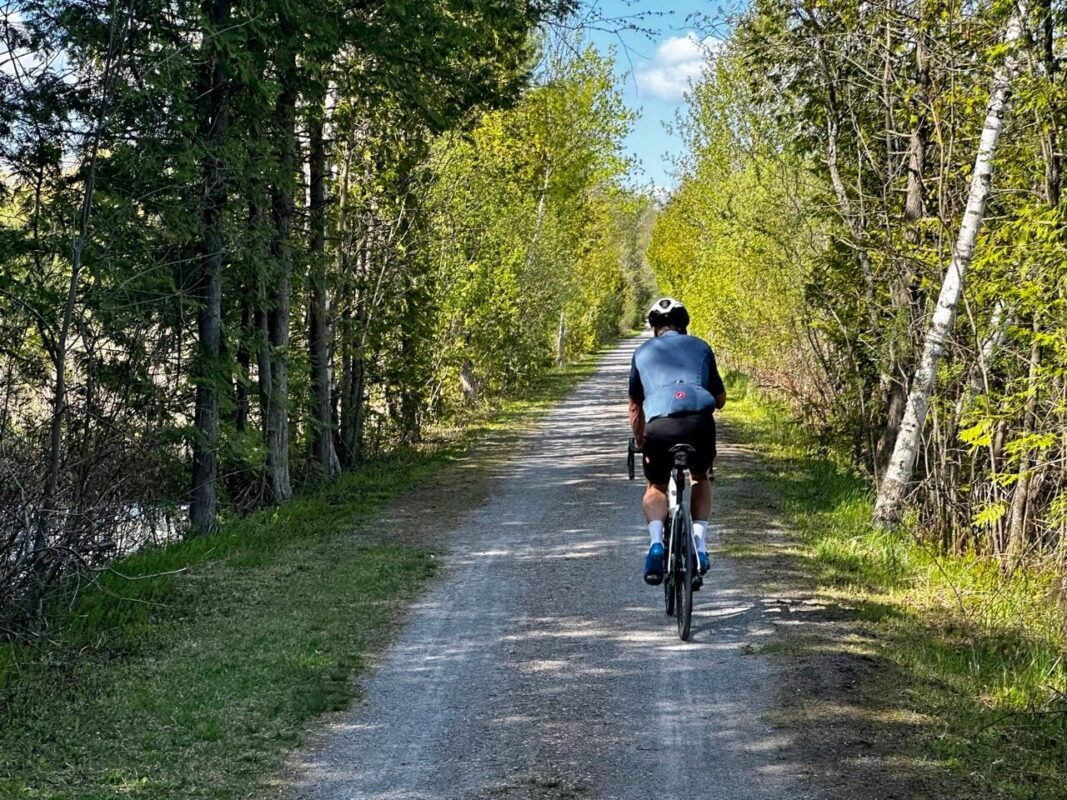 The Lakefield Trail was established in 2000, and it's been a hit with locals and visitors ever since. The trail is about 8.5 kilometres long and cuts through Lakefield, but connects to the Trans-Canada Trail via the Peterborough County Rotary Trail.
The multi-use trail is entirely accessible and features informative historical signs that transport you through time, narrating Lakefield's significant literary history and canoe crafting heritage.
Here's an interactive map to show you the exact location of the trail (you can see the west portion of the trail along the Otonabee River, for example) in case you want to do a little planning. Since it's a multi-use trail, you can decide if you want to go for a run, hop on a bike, or simply take a leisurely stroll.
The map can be used to find all the interpretive signs, so you can get both your nature and your history fix. We're a fan of these signs in particular because of the way they showcase Lakefield's literary pioneers.
Set Aside Some Time to Peruse Lakefield's Shops!
This will happen pretty much organically if you allot some time to walk up and down Lakefield's main street, but we want to highlight a few spots that you may want to have on your radar.
If sweets are your thing, then you'll want to visit Chocolate Rabbit Shop, where they do a lot more than just chocolate, but also do chocolate very well. If you're on a sweets rampage, then Enticing Cakes could also be an option! If you want savoury, but not too sweet, then Lakefield Bakery on Queen is a good bet.
If you're looking for a trinket to walk out of Lakefield with, then Stuff Store, Trinkets and Treasures are a good bet.
In the mood for some flowers? Then how about Lakefield Flowers & Gifts.
You also need to have Tragically Hipp Fashion Gallery on your radar. They've quickly become a beloved part of Lakefield.
There's also Happenstance Books & Yarns, Cottage Toys, Stuff'd Ice Cream, The Art Shop, and The Cheesy Fromage if you want to do a full tour!
Beside Tragically Hipp is Christ Church Community Museum, and photographers should know that this is one of the most photogenic buildings in Lakefield. It functions as a museum, but is also still a quiet place for prayer or meditation to anyone walking by. Typically during summer months, they're open for a few hours in the afternoon (around 1-4pm).
After your done shopping, consider heading down to the Lakefield Marina and getting a better view of Gordonstoun Island and Prince Andrew Island.
Take Note of Lakefield's Festivals and Events
There are three festivals which we want to draw to your attention:
Lakefield Literary Festival: The Lakefield Literary Festival is an annual celebration dedicated to Canadian literature that typically takes place in the middle of July, and with its literary heritage, this is a fitting place for such a estival. It's a platform for both emerging and established local and national authors to share their works through readings, workshops, and discussions as well. Attendees have the opportunity to immerse themselves in the world of literature, gain insights into the writing process, and interact with authors during book signings.
Lakefield Jazz, Art & Craft Festival: This event usually takes place right before the Literary Festival, in early July (July is clearly a good time to visit!). It's am event that brings together a fusion of live jazz music, captivating art displays, and a diverse range of craft vendors. This festival showcases the talents of both local and renowned jazz musicians. Of course, there's also a ton of craft vendors showing off what they've made!
The Lakefield Fair: This annual event happens in late July, and has been running for something like 165 years! It's hosted by the Lakefield Agricultural Society. It's all about showcasing what a fine region this is for growing, and celebrating the agricultural achievements of local farmers. There are usually livestock shows and exhibits, but also lots of rides, games and attractions for kids.
Explore Nearby Conservation Areas:
Based on where Lakefield is situated, there are ample nature opportunities nearby. Here are a few conservation areas to consider:
Warsaw Caves Conservation Area: Located approximately 20 minutes northwest of Lakefield, the Warsaw Caves Conservation Area is famous for its limestone caves and unique geological formations. Visitors can explore the caves on guided tours, hike through the surrounding forests and trails, and enjoy picnicking and swimming in the designated areas. It's a great place for both educational experiences and outdoor adventures.
Selwyn Beach Conservation Area: Situated on the shores of Chemong Lake, the Selwyn Beach Conservation Area offers a sandy beach, swimming area, and a picturesque setting for picnics and relaxation. The area provides opportunities for boating, fishing, and enjoying the lakeside scenery. It's a popular spot for families and individuals looking to unwind by the water.
Harold Town Conservation Area: Just a short drive from Lakefield, the Harold Town Conservation Area is known for its diverse trails, scenic landscapes, and birdwatching opportunities. The area features trails suitable for hiking, birding, cross-country skiing, and snowshoeing in the winter months. The terrain ranges from forests to wetlands, providing a varied outdoor experience.
Lakefield Awaits!
If you know that you're going to be heading to Peterborough & the Kawarthas anyhow, then why not add Lakefield to your list? It's got a lovely main strip filled with shops, restaurants and a quaint accommodation option, plus some fantastic access to the great outdoors.
It's not a village on enough itineraries for Ontario travellers, and we hope this article has urged to consider when you'll put a pin in the map beside Lakefield and come explore!
Christopher Mitchell is the Cofounder of Ultimate Ontario. He's visited over 80 countries, and has lived on 4 continents, but now has his eyes set squarely on exploring this incredible province, and helping others do the same.