High tea at the Chateau Laurier is an Ottawa experience like no other! It's perfect activity to add to your Ontario bucket-list.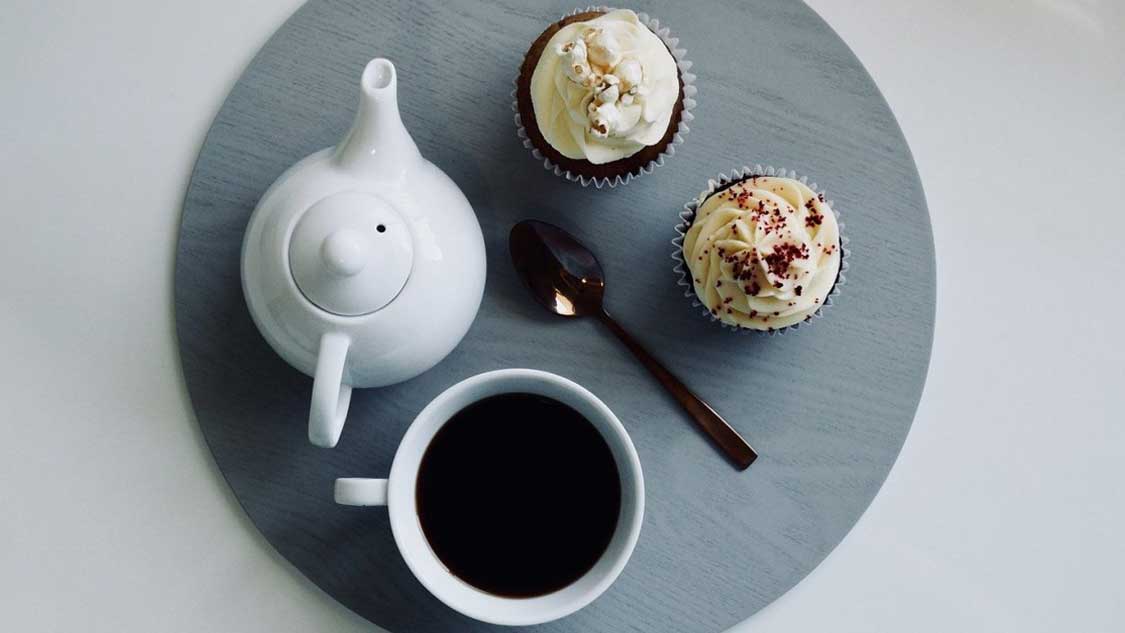 The Chateau Laurier is one of the most iconic places to visit in downtown Ottawa. While they are mostly known for their luxurious accommodations and outdoor terrace, a lesser-known indulgence is having high tea at the Chateau Laurier.
High tea at the Chateau Laurier is an elegant affair. Not only are there sandwiches, treats and teas delicious, but their attention to detail and presentation is equally as impressive.
If you're already in Ottawa to check out one of their farmer's markets or go apple picking, then you'll happily top the afternoon off with a Chateau Laurier high tea. There are so many things to do in Ottawa, but this experience is like no other.
A Brief History of High Tea
High tea started in the 1700's in Britain. It was traditionally a meal that was served between three and four o'clock in the afternoon. It was named "high" tea, since working men would have it either standing up or sitting at high chairs.
Nowadays, high tea is far from the "working man experience" that it was centuries ago. These days, it's meant for an opportunity to indulge in the finer things.
A Chateau Laurier high tea experience is a great way to feel like you're in Europe while staying in Ontario. High tea at the Chateau Laurier is served in their swanky restaurant and lounge, Zoe's Lounge. This Ottawa afternoon tea experience feels like you've stepped right into a London tea room.
Zoe's Lounge at the Chateau Laurier
Zoe's Lounge is located in the front of the Chateau Laurier. It was named after Sir Wilfrid Laurier's wife, Lady Zoe. Up until the 1980's, it was used as a concert hall, but since then it's been converted to a luxurious and relaxed lounge.
If you're staying for more than a Chateau Laurier high tea, Zoe's also has a lot of great food and cocktail options. It's the perfect place to meet up for a drink with a friend when we're able, or get some work done while indulging in something delicious.
Once you're finished with your high tea, it's definitely worth it to relax at Zoe's and order one of their signature cocktails. Their infamous "Statesman" cocktail is whisky based, and served in a memorable box full of cedar smoke. It's a showstopper when it comes to your table.
You can read more about Zoe's here.
Preparing for an Ottawa Afternoon Tea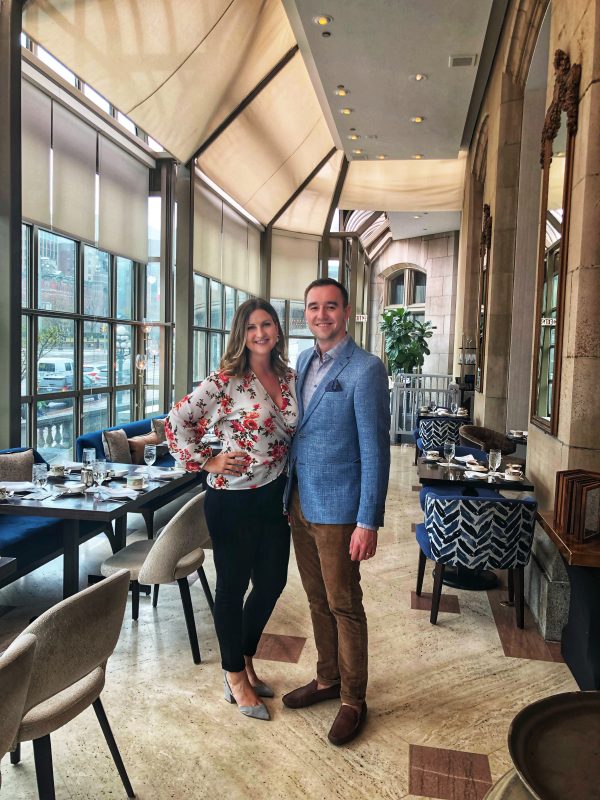 Start by making a reservation for afternoon tea at the Chateau Laurier. Afternoon tea is served from Friday to Sunday from 1pm onwards. You can either call the hotel, or reserve a place by booking through their reservations website.*
High tea at the Chateau Laurier is a cause for celebration. While there isn't a dress code in effect, high tea is most definitely the perfect opportunity to dress up. Think lavish British outfits suited for the races, or decadent clothing for strolling through a garden on a sunny summer's day.
Floral prints, lace trim, fascinator baubles–it's all fair game for a Chateau Laurier high tea! With pinkies raised, you're set to enjoy a decadent afternoon with friends or family.
*When in-person dining is permitted, be prepared for a limit of people per table (in late 2020, the limit was 4).
Beginning High Tea at the Chateau Laurier
Once you're brought to your table at Zoe's Lounge, your Chateau Laurier high tea experience begins with your server sharing an impressive selection of their specialty Lot 35 loose leaf teas.
The Lot 35 brand teas are specific to Fairmont Hotels. We love fun facts about Ottawa, but how about this one? There are over 20 different types of tea to choose from for this high tea in Ottawa. Make sure you take the opportunity to step outside of your comfort zone and try a tea that's new to you.
If you're in the mood for a little "more" to drink at your high tea in Ottawa, then ordering a specialty cocktail from their menu is a great idea. They also have several bougie brunch cocktails with sparkling wine or champagne to mark the occasion.
Dining at a Chateau Laurier High Tea
Shortly after selecting your drinks, an iconic three-tier stand filled with brightly coloured plates and treats is served to your table. Typically, two orders of sandwiches and sweets are on one plate tower for you to share with another guest.
The Chateau Laurier high tea experience is known for pushing the envelope on delectable and delicious sandwiches and pastries. In fact, their head chef, Louis Simard, is actually a certified tea sommelier and knows a thing or two about decadent high tea delicacies.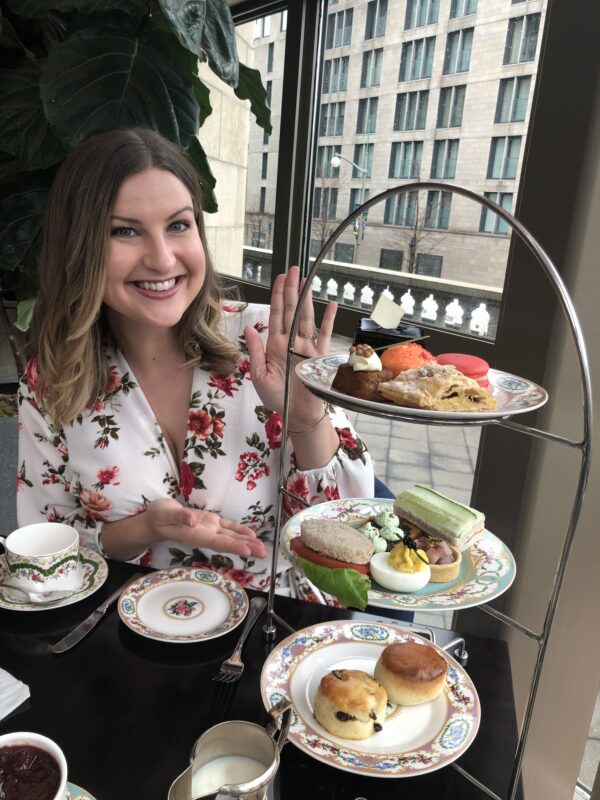 The array of goodies at a Chateau Laurier high tea is like few other high tea experiences. These are not your run-of-the-mill cucumber and cream cheese party sandwiches.
Some of the delicacies you'll be greeted with during your high tea occasion might include:
Their Signature Chateau Laurier High Tea scones (original or cherry)
Mascarpone Cream
House Made Strawberry Jam
Cucumber sandwiches
Mascarpone & Tomato Relish sandwiches
Smoked Salmon sandwiches
Dill Cream Cheese sandwiches
Roasted Mushroom Barquette sandwiches
Goat Cheese Seared Ahi Tuna sandwiches
Sweet & Sour Carrot sandwiches
Daikon Slaw sandwiches
Cilantro Egg sandwiches
Avocado Salad sandwiches
Caramel Apple Tartlet
Pumpkin Mousse
Autumn Spiced White Chocolate macaroons
Red Wine macaroons
Toasted Honey Marshmallow Matcha shortbread
Black Sesame Shortbread
Yuzu Glaze Rum Soaked Butter Cake
If you aren't drooling after reading through this list, then I invite you to do a little soul searching. Depending on the time of year, seasonal ingredients and menu items will rotate.
Either way, this is a list of the standard of fare you'll be offered. Each bite is an exciting and adventurous delight during at Zoe's Lounge.
High Tea at the Chateau Laurier During COVID-19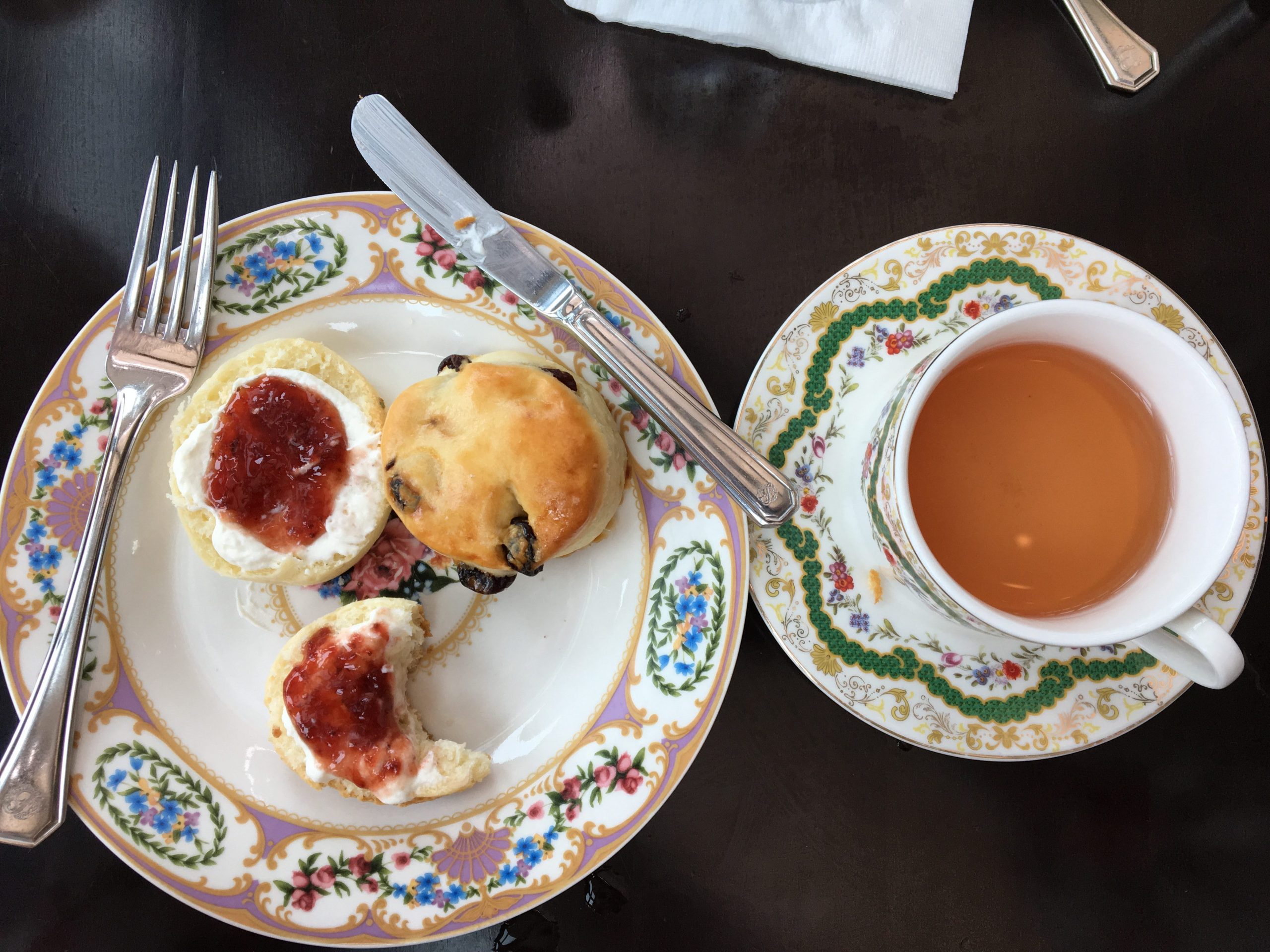 Like all restaurants, Zoe's Lounge is getting creative during the pandemic. Despite changing restrictions on indoor dining options, there is a way to bring the Chateau Laurier high tea home to you.
They've made it very easy to bring this afternoon tea experience home. You'll want to plan to head to their takeout website to place your order. While there aren't delivery options, it gives you an excuse to visit the hotel for pick up.
Currently, they're offering this service on Saturdays and Sundays. Normally, they would offer afternoon tea 7 days a week but, of course, they are currently contending with different circumstances.
With the exception of the hotel's expert plate presentation, the food and teas will be exactly the same. Ordering a Chateau Laurier high tea at home can be an excuse to add a bottle of wine to your order, bring out your best plates, cutlery and table cloth, buy yourself some local flowers and enjoy the decadence of the high tea experience at home.
Remember to join our newsletter or our growing Facebook community for more of the best of Ontario.
Bri was born and raised in Ontario. She spent many years living abroad, but returned to Ontario a few years ago, and is very happy to be back exploring.
She loves writing about travel experiences in our beautiful province, including unique accommodations, memorable meals and adventurous activities.
You can find her canoeing and swimming across Ontario with a craft brew in her hand in the summer, and snowshoeing or curling up with a good book and an Ontarian Pinot Noir in the winter.