Collingwood, Ontario is a beautiful city that sits on the south shores of Georgian Bay bordering the Blue Mountains. With fantastic restaurants and gorgeous attractions, discover the best things to do in Collingwood, Ontario.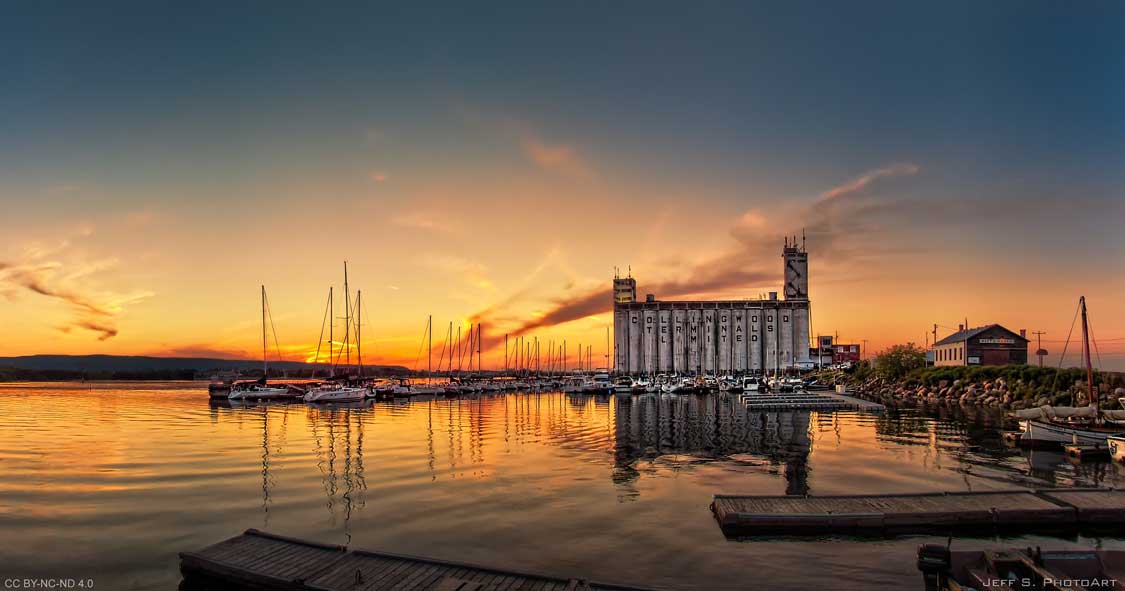 The town of Collingwood, Ontario is a beautiful Ontario city located on the shorelines of one of the most beautiful bodies of water in Ontario. Although Collingwood is known primarily as an industrial town, the volume and quality of attractions in Collingwood often surprise visitors.
The city is often overshadowed in the tourism industry by the nearby region of Blue Mountains, Ontario. But, for those who use Collingwood as a base to explore the shores of South Georgian Bay, there is a treasure trove of experience at the ready.
Feature photo credit: Jeff S. PhotoArt. Used under Creative Commons CC BY-NC-ND 2.0 license.
A Little About Collingwood, Ontario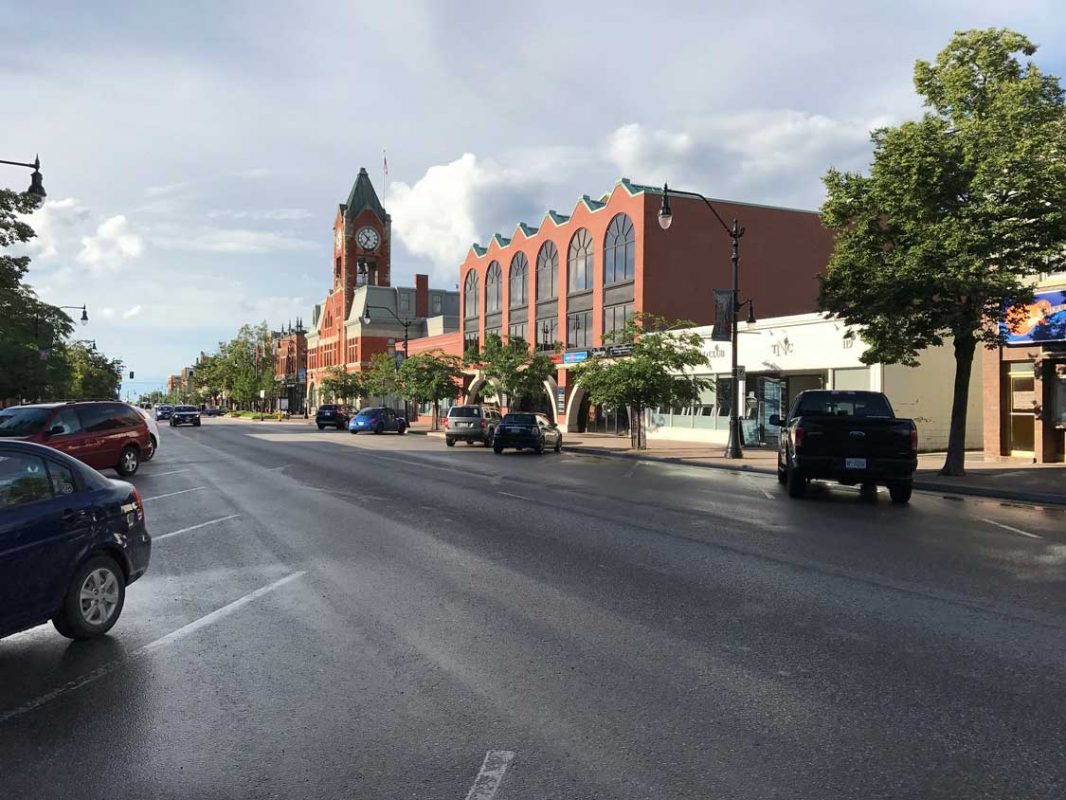 The area that is now known as Collingwood has a rich history dating back thousands of years. For ages it was the home of the Petun Nation of Indigenous Peoples before they were forced out by the Iroquois Nation in 1650. But that reign didn't last long.
In the mid 1800s, European settlers and African Freepeople escaping American slavery settled the region. It quickly began to prosper, and was recognized as a town in 1858.
Since then, Collingwood was linked to the Canadian Rail network. The towns prime position on the shores of Georgian Bay made it an important shipping port, and by proxy, one of the most important shipbuilding and repair ports in Ontario.
Although industry has remained a large portion of the economy of Collingwood, tourism has increased year over year as visitors and locals discover the range of natural beauty, hiking trails, skiing, and world-class restaurants that can be found both in and around Collingwood.
What To Do In Collingwood
Each time I visit Collingwood I'm introduced to new and exciting things to do in the city. It's astounding how this town can be situated so close to tourist meccas such as Blue Mountains and the Bruce Peninsula yet still have so many things that have yet to be uncovered by the masses.
Similar to cities such as Hamilton, Collingwood is an industrial-focused city that is surrounded by some of the most beautiful landscapes in the province. But there are many more things to do in Collingwood than just explore the outdoors.
Here are a few of my favourites.
Eat Your Way Through The Collingwood Food Scene
The sheer awesomeness of the Collingwood food scene astounds me each time I visit. Each time I visit, I try to explore new restaurants and eateries. But there are a few that keep drawing me back in to try again and again.
The Smoke BBQ House is one of my favorite restaurants in Collingwood. This unassuming location (as all the best bbq houses seem to be) on First St. led by chef Cam Dyment serves up some of the best smoked meat in the province.
If you're looking for the best breakfast in Collingwood, it's never a bad idea to swing by Duncans Cafe on Hurontario for some classic fare. Or grab a delicious organic breakfast burrito at Press Market on Keith Ave.
Sip On Some Collingwood Craft Beers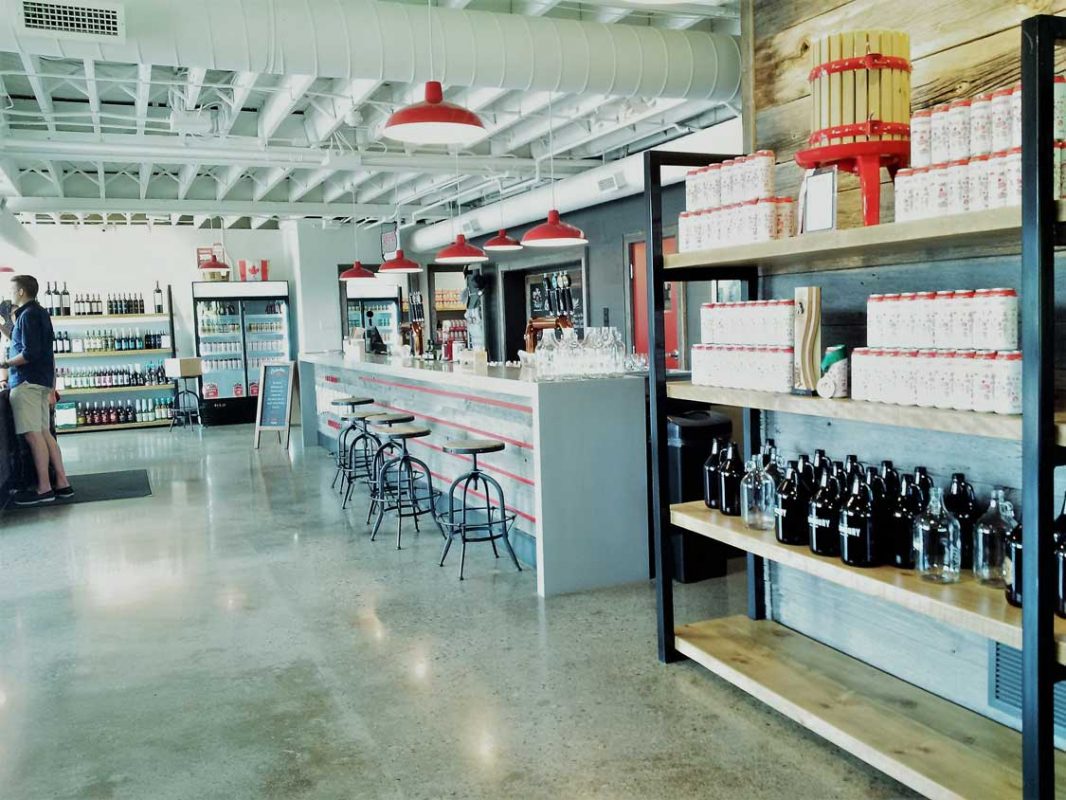 We've made no secret of our love for Ontario craft breweries here in Ontario. From Manitoulin Island to Windsor, we've shared some of our favourites time and time again.
Collingwood has its own booming craft beer scene. In fact, there are too many brewhouses in the city to mention here. So I'll share a few of my favourites for now and come back to outline even more.
Northwinds Brewery on First St. is one to check out. They have a location in Blue Mountain Village as well and serve up a wide range of ales and IPAs. But personally, it's their Milk Run Coffee Stout that keeps me coming back.
With a bottle shop open every day from 12-6, Black Bellows Brewery is a central downtown craft brewery featuring a small, but flavourful collection of brews. Their Baltic Porter is a rich beer that's perfect for enjoying after a day of skiing. But their White Witbier is the perfect summertime refreshment.
And, of course, if wine is your thing, just north of Collingwood is one of Ontario's emerging wine regions.
Take A Hike Along The Collingwood Shoreline
The shoreline and woods surrounding Collingwood are an absolute heaven for hiking and outdoor enthusiasts. The city is just an hour from Awenda Provincial Park, where you can find one of the most beautiful hikes in Ontario.
But within Collingwood, there are plenty of great trails to enjoy as well. The Loree Forest Loop, which is a 5.3 km moderate loop that starts off of 21st sideroad offers sweeping views of Georgian Bay and the shoreline.
The Harbourview Path is an easy shoreline trail that takes you from Optimist Harbourview Park for 3.7 km along a series of trails. It can get washed out when the water is high, but it offers amazing sunset views.
And you simply can't mention hiking in Collingwood without mentioning the 33.8 km Georgian Trail. This stunning waterfront trail begins in Collingwood and winds northwards towards the town of Meaford. Here it links with the Tom Thompson Trail up towards Owen Sound.
Hit The Historic Sites in Collingwood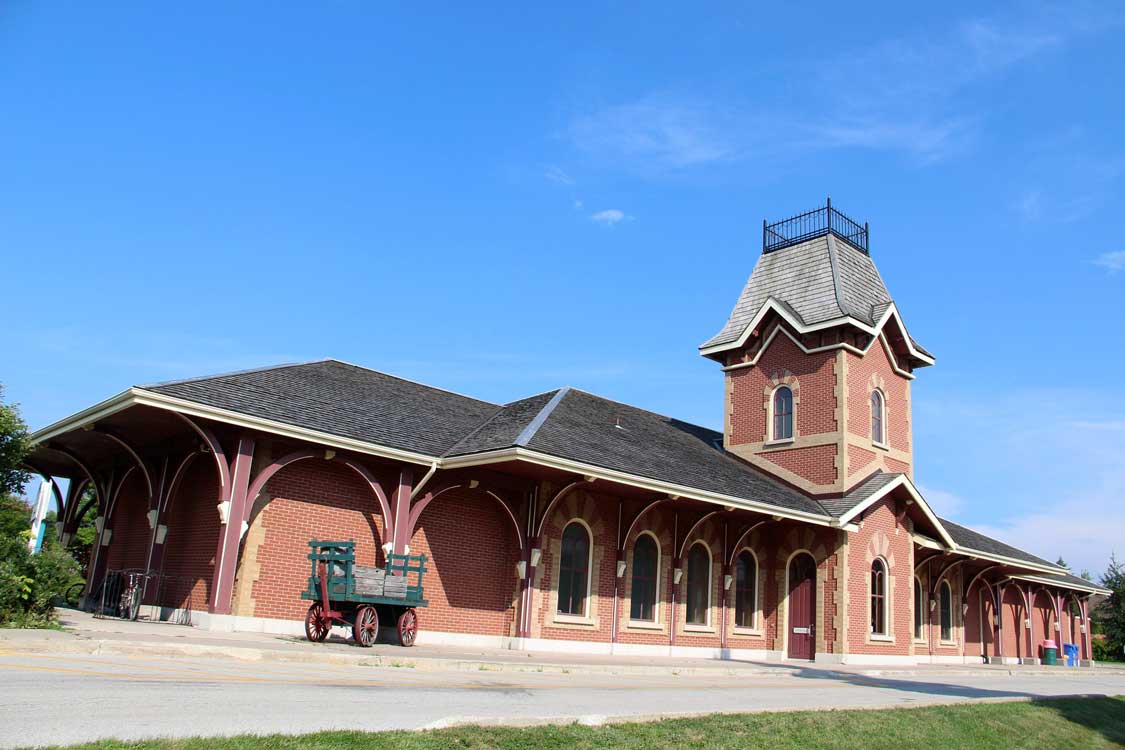 There's a lot of history in Collingwood. And visitors to the city would be missing out if a little bit of time wasn't put aside for these incredible places to visit in Collingwood.
St. Mary's Catholic Church dates back to the city's origin, having been built in 1858. There's not a lot to check out. But its classic style and beautiful stained glass are a treat to behold.
The Collingwood Museum on Saint Paul St. is located in the old Collingwood Train Station. The museum offers a glimpse back into the settler life and early history of the town. And there are some wonderful children's programs for those visiting Collingwood with kids.
Explore The Arts At Tremont Studio
This unique art studio workspace offers the general public incredible access to meet the artists as they work. The studio, located in the artistic Simcoe St. area of downtown Collingwood is housed in a former hotel that is not considered a heritage landmark building.
At any time you can find about a dozen working artists crafting their own displays and individual creations. The hallways themselves serve as a gallery where you can see the final products in all of their glory.
You can drop by or book an appointment to enjoy Tremont Studio.
Get a Glimpse of the Nottawasaga Lighthouse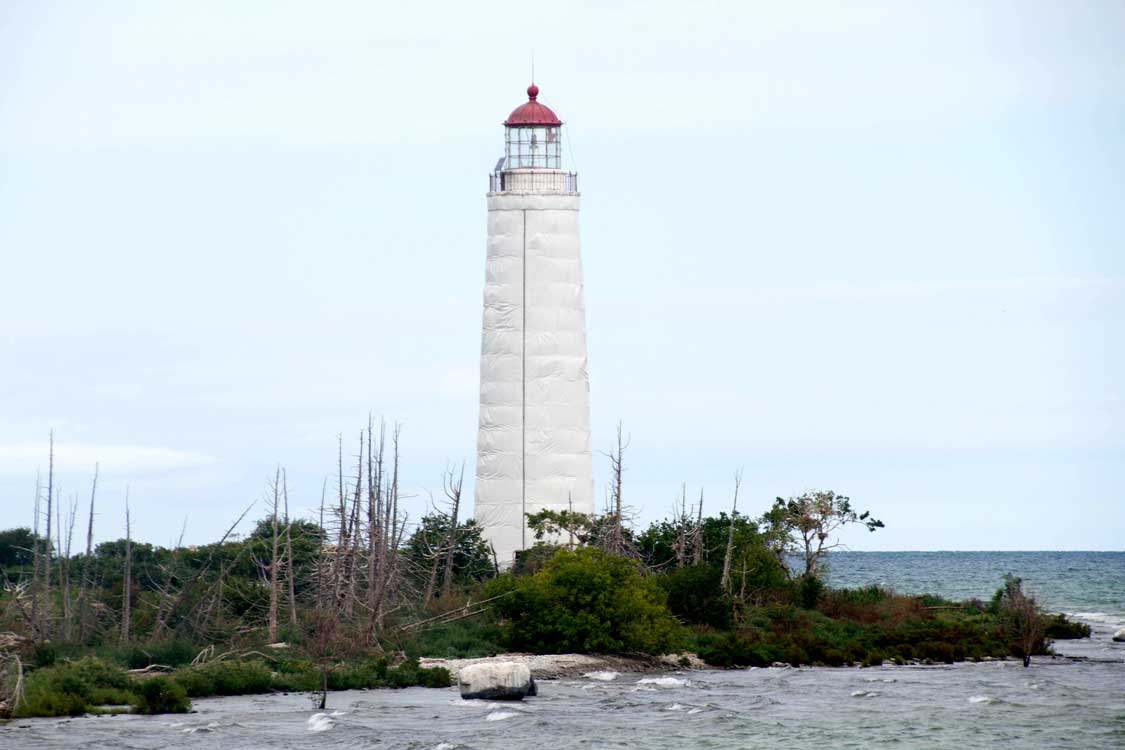 One of the most iconic structures in Collingwood lies just off-shore on Nottawasaga Island. It can be seen from many waterfront areas in the city, and from nearby trails including the bluff trails at Scenic Caves.
Constructed between 1856 and 1858, the Nottawasaga Lighthouse is one of the few remaining symbols of Collingwood's marine heritage. The lighthouse has fallen into disrepair in recent years and there is a preservation society dedicated to maintaining it as part of the city's heritage.
Many visitors like to kayak to the lighthouse from the Collingwood Harbour. It's about a 1-hour trip each way. Keep in mind that Georgian Bay can get windy, so pay attention to water conditions.
Now It's Time to Experience These Things To Do In Collingwood, Ontario For Yourself
There are more things to do in Collingwood, Ontario than meets the eye. From hiking trails to amazing restaurants and everything in between, you can find something for everyone in this beautiful region of Ontario. Many of these businesses and restaurants are anxious for visitors after a tough year. So let's support local and make the most of your Blue Mountains adventure.
Do you have a favourite attraction or restaurant in Ontario? Head over to the Ultimate Ontario Facebook Community and join the conversation! You'll find an amazing group of people passionate about Ontario and who love to share their local secrets.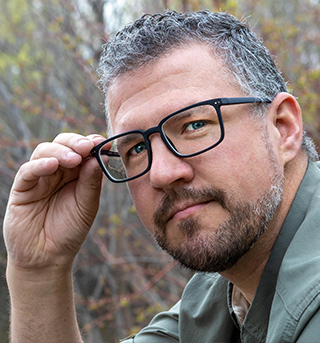 Kevin Wagar is a founder and editor of Ultimate Ontario. He has been working in the travel media industry since 2015 when he founded his family travel website Wandering Wagars – Adventure Family Travel.
Over the years Kevin has developed a deep love for his home province of Ontario and aims to showcase the incredible experiences and amazing small businesses found within it.