Being Canada's capital, there are plenty of fun facts about Ottawa that you might not know about. Here are some fun facts about Ottawa!
With its importance as the capital of Canada, it should come as no surprise that there are so many fun facts about Ottawa. Some of these fun facts are more widely shared than others, but they all have their place on this list.
Ottawa is filled with fun and exciting things to do in the summer, delicious places to visit if you're a foodie, and some great places to visit outside of the city, too.
Whether you're thinking about Ottawa from home and keen to learn more, or planning to head there when the time is right, let's dive into a fantastic list of Ottawa facts!
Our Favourite Fun Facts About Ottawa
The list could go on and on, but we tried to stick to some pretty unique fun facts about Ottawa on this list.
If you're like us and love learning about more fun facts, make sure you check out our fun facts about Toronto article as well. We're on the hunt for more fun facts about other cities in Ontario, too, so stay tuned!
1. It's home to a giant, underground Cold War-era bunker.
In 1959, Prime Minister John Diefenbaker commissioned the building of his own, highly secretive underground bunker. A remote location was found in the rural region of Carp, about 30 kilometres west of downtown Ottawa. The bunker took two years to build, and its depths are extensive and detailed in plans.
Skeptics criticize that the need for a Canadian Prime Minister to build such a bunker was a waste of time and money. When the public learned about it years later, it was said to paint Diefenbaker as a paranoid and frivolous leader.
Hindsight is 20/20, and this incredible bunker was never used. However, it is now cleverly known as the Diefenbunker Museum. Its unused interior leaves behind a perfectly preserved piece of Cold War-era history. It makes for a great place to visit to see the extent of it and learn about the history of the Cold War. It's definitely worth the visit.
2. You can find the largest ice skating rink in the world in Ottawa.
When the Rideau Canal freezes over, this canal becomes the longest skating rink not only in Canada but in the world. It's a freeing feeling to lace up your skates and realize that you can keep skating and skating for what seems like forever.
It's a true Canadian moment to work up an appetite skating along the canal, followed by eating a famous BeaverTail treat.
Depending on the weather, some sections of the canal may be closed off because of unreliable ice. Make sure you double-check local information before you head out!
In the summer, you can also cruise the Rideau Canal via boat!
3. The Parliament Buildings were almost entirely destroyed by a fire.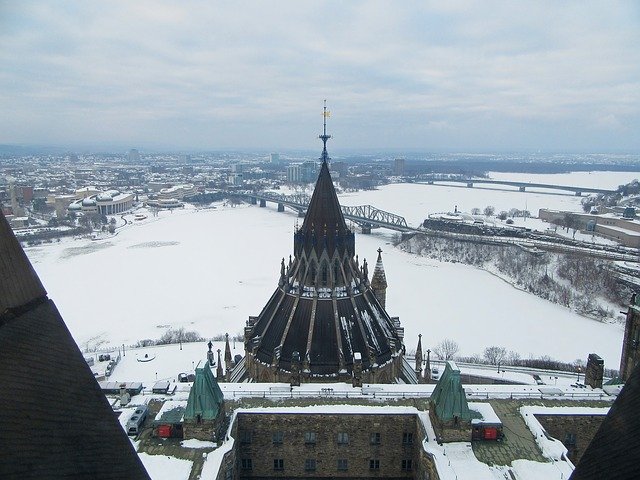 In 1916, there was a huge fire at Parliament. It started because of a fire in a wastepaper basket. Since the buildings were built primarily of wood in 1866, it was an instant inferno.
The Parliamentary Library is the only part that survived. Thanks to a clever librarian who closed the iron fire door, the inspiring library and many important documents inside were saved.
This is why the library looks distinctly older than the rest of the parliament buildings. You'll notice this when you see its circular structure behind Parliament from a distance, or inside on a tour.
4. It's the home of the first now-famous BeaverTails hut.
After being sold at local fairs for a few years, the first BeaverTails hut opened in Ottawa in 1980. Located in the historic Byward Market, today you'll find it crowded with long lines for these delicious pastries.
BeaverTails are essentially Canadian donuts, and they are definitely something everyone should try.
Today, BeaverTail trucks, huts, and shops are located across Canada and even internationally. They're a classic winter-time treat for those skating on the Rideau Canal, but they are delicious any time of the year.
By the way, if food is your thing, don't forget that Ottawa has a year-round Farmers' Market!
5. The sculpture "Maman" is one of seven replicas in the world.
Located outside the National Gallery of Canada is the famous sculpture of "Maman". Created by French sculptor Louise Bourgeois, it depicts a giant mother spider protecting her 32 marble eggs. It was created to symbolize motherhood.
It is one of seven permanent replica sculptures in cities around the world including Tokyo and London, to name a few.
6. It was never planned to be the capital city.
Kingston, Ontario was the original capital of Upper Canada. Upon Canada's official confederation in 1867, several Canadian cities were in the running for the capital city.
Montreal, Toronto, and Kingston were all contenders. All three cities had been more developed at the time, however, Queen Victoria surprisingly chose Ottawa to be the capital city, instead.
Her reasoning was that it was somewhat between Montreal and Toronto, and on the border of English and French-speaking Canada at the time. Plus, it was farther away from the American border than Kingston, making it more strategic in case of potential attacks.
7. Ottawa's original famous tulips were a gift from the Netherlands.
There are approximately 300,000 tulips in Ottawa. At least 20,000 were originally gifted to Ottawa during World War Two when the Crown Princess Juliana of the Netherlands gave birth to her daughter.
In order for a proper heir to the Dutch throne to be born, the grounds where the Princess gave birth needed to be Dutch. The Canadian government declared that the maternity suite would be "extraterritorial" for the birth, in response. This meant that the newborn royal baby was completely Dutch.
Thanks to that gift from the Dutch Royal family, Ottawa has gained a reputation as being a home to many different tulips. Nowadays, Ottawa hosts its annual tulip festival in the spring. You can check out more fun things to do during spring in Ontario here.
8. The Peace Tower was the tallest building in Ottawa until the 1970s.
The tallest building on Parliament Hill is undoubtedly The Peace Tower. The Peace Tower boasts a giant clock, a lookout tower of the surrounding region, and is an iconic site in Ottawa.
The Peace Tower is so iconic that until the 1970s, it was the tallest building in all of Ottawa. There was a hard and fast rule that no building could be taller than it so nothing would distract from it.
That rule was changed about 50 years ago, now. Any taller buildings you see nowadays won't be older than that.
9. Furniture destined for the Chateau Laurier sank on the Titanic.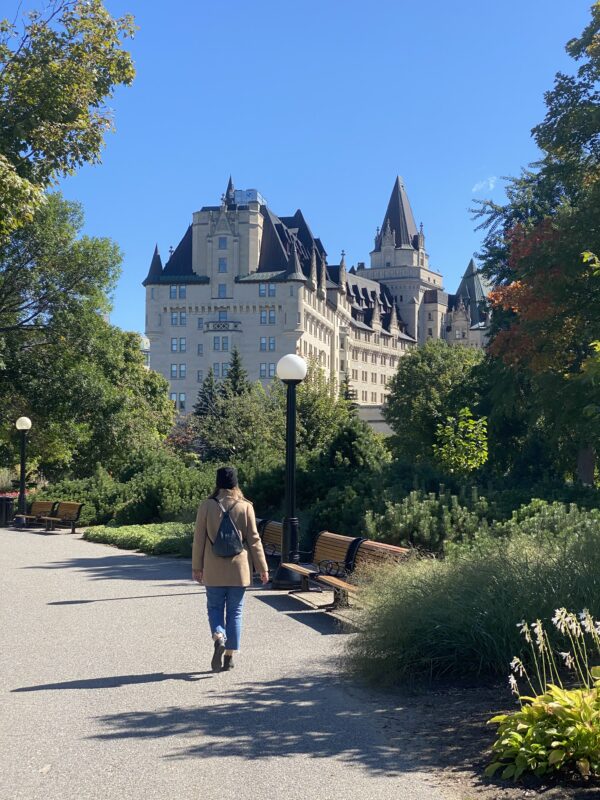 The Chateau Laurier was the brainchild of Charles M. Hays. Hays was the president of Grand Trunk Railway, which was the major railway in Canada. Hays wanted to build the Chateau Laurier to give visitors to Ottawa an exquisite place to stay.
The hotel was built in 1911. After that, Hays travelled to London, England to buy furniture for the dining room of the hotel. The grand opening of the hotel was scheduled for the spring of 1912.
On his way back from London, Hays was offered a spot in a luxurious suite on the Titanic. We all know how that ship sailed.
Unfortunately, Hays went down with the ship in the Atlantic, along with three cases of furniture destined for the dining room of the Chateau Laurier.
10. The Canadian flag on top of the Peace Tower is changed every day, and you can get one for free (in 100 years).
There is a waiting list that is over 100 years long to get one of the flags taken down from the Peace Tower at Parliament. Only one flag is permitted per household, and they're available to anyone who is a Canadian resident.
You can reserve a spot for one of the used flags on the government of Canada's website. If you aren't sure if you'll be around in 100 years, you can reserve one for a younger family member.
This tradition just feels Canadian, which makes it one of our favourite Ottawa fun facts.
11. It's been named twice in its history.
Ottawa was originally called "Bytown". It was named after Colonel John By. By was the English military engineer best known for overseeing the construction of the Rideau Canal, and thus founding Bytown.
Bytown was founded in 1826, as the northernmost point on the Rideau Canal. Later, in the 1850s, the name was changed to "Ottawa", after the Algonquin word "Adawe", which means "to trade". It was named this because its river (now the Ottawa River) had been used for trade purposes from Montreal for over 200 years.
12. The Canadian Foreign Affairs building is shaped like a modern sphinx.
The Lester B. Pearson Building, also known as the headquarters of the Canadian Department of Foreign Affairs, is designed in the shape of a modernist sphinx. Since it was named after former Prime Minister Pearson, its design is based on Canada's role in peacekeeping missions internationally.
Pearson was the Prime Minister who spearheaded Canadian Peacekeeping missions. His forward-thinking efforts led to resolving the Suez Canal Crisis of the 1950s. That's why the Egyptian statues of the sphinx were the inspiration for this building. You can see it for yourself at 125 Sussex Drive.
13. You can whisper to a friend 15 metres away and they'll hear you clearly at the Whispering Wall.
The "Whispering Wall" monument behind the Parliament Buildings is definitely worth checking out.
It was built in 1914 in memory of Robert Baldwin and Louis-Hippolyte Lafontaine, two Canadian Statesmen. It's meant to symbolize the importance of an open and honest democracy and encourage discussion.
If you sit or stand at one side of the monument and whisper against the wall, a friend sitting on the other side will be able to hear you. It sounds like they're sitting right beside you! You can easily have a conversation, completely by whispering.
14. The sun shines on the Tombstone of the Unknown Soldier at 11:11 am on November 11th: Remembrance Day.
The entire Canadian War Museum was designed to align with the sun, so that at 11:11 am on November 11th each year, the sun falls on the Tombstone of the Unknown Soldier in the Hall of Remembrance.
When you visit the Canadian War Museum, which is an incredible museum in its own right, there's actually a line that is built into the floor of the museum that falls along this same line of the sun.
15. It's the seventh coldest capital city in the world.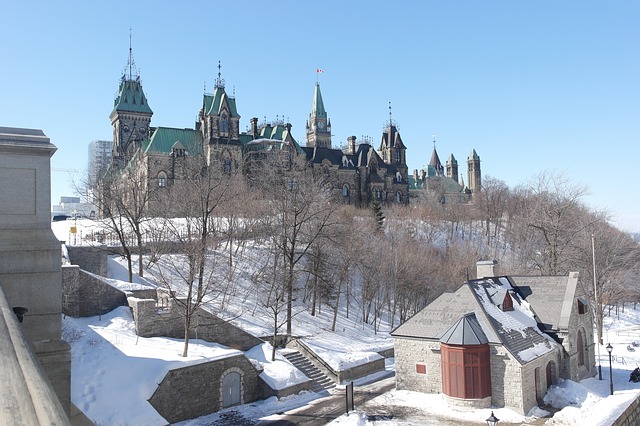 If you haven't spent some time in Ottawa in the winter, you are missing out. Ottawa certainly knows how to do wintertime the right way. Whether you want to go skating, check out a winter light show or take in the annual Winterlude festival, there is so much to do in our cold capital city.
Ottawa is the seventh coldest capital behind Ulaanbaatar, Mongolia; Astana, Kazakhstan; Moscow, Russia; Helsinki, Finland; Reykjavik, Iceland, and Tallin, Estonia.
16. There's an old haunted jail in Ottawa that has been turned into a hostel.
The Carlton County Jail was an operational jail from 1862 to its closure in 1972. It held inmates accused of all sorts of crimes, including murder.
During its heyday, it was known as a cruel place with poor conditions for its inmates, and several public executions took place on its grounds. After it closed and was later purchased, its grounds were excavated to reveal many unmarked graves.
As is the natural next step for old jails, nowadays it operates as a hostel. It's rumoured to be haunted, with many unnerving stories having taken place within its four walls. There used to be a policy that you could stay for free if you could make it through the night in one of the death row cells on the top floor.
If you are staying elsewhere in the city and still want to check out the jail, be sure to take one of the Haunted Walk tours of Ottawa.
17. The Rideau Canal is a UNESCO World Heritage Site.
There are 20 world heritage sites in Canada and only one in Ontario. That heritage site is the Rideau Canal. The Rideau Canal consists of many extensive lock systems, and it connects Ottawa by water all the way to the St. Lawrence River and Lake Ontario.
It's noted for its industrious use of European slackwater canal technology in North America. While it was built for the functionality of connecting Ottawa to Kingston, its uses today offer fantastic activities.
As we mentioned before, you can skate in the winter, and in the warmer months, you can go kayaking or take an overnight chartered boat on a trip along it.
Pretty Good Ottawa Facts, Eh?
We had a lot of fun putting together this article on Ottawa facts, so we hope you appreciated the list that we settled on. However you want to look at it, it's a historic city, and that means there's going to be more than a few fun facts about Ottawa.
If you've got more Ottawa fun facts that you think we missed, or any that you particularly enjoyed, be sure to let us know below.
Remember that we've got a popular newsletter where you get the best of Ontario delivered straight to your inbox! Also, we've got a growing and supportive Facebook group.
Bri was born and raised in Ontario. She spent many years living abroad, but returned to Ontario a few years ago, and is very happy to be back exploring.
She loves writing about travel experiences in our beautiful province, including unique accommodations, memorable meals and adventurous activities.
You can find her canoeing and swimming across Ontario with a craft brew in her hand in the summer, and snowshoeing or curling up with a good book and an Ontarian Pinot Noir in the winter.