iwa Spa in Blue Mountain Village near Collingwood, Ontario is one of the top spas in Ontario, and offers award winning experiences.
With apologies to Julie Andrews and her 1965 classic The Sound of Music, "The hills are alive with the touch of wellness" at Blue Mountain Resort. It's Ontario's largest mountain resort and is about a two-hour drive from Toronto.
Originally established as a ski resort in 1941 by Jozo Weider, Blue Mountain Resort is now a year-round vacation playground featuring a range of accommodation options with almost 50 restaurants, bars and retail outlets in Blue Mountain Village.
Blue Mountain's iwa Spa
iwa Spa is a focal point for wellness in Blue Mountain Village. From the Spa's large panoramic windows, guests can look out to the village pond and Blue Mountain's ski hills and beyond while relaxing with a hot or cold beverage in the lounge area.
Since opening in 2015, iwa Spa has garnered numerous awards and accolades for its innovative and modern take on spa and wellness. In its first year of operation iwa won the Best New Spa in Canada from the Canadian Spa & Wellness Awards and has consistently ranked in the Top 25 Spas in Canada and became 2019's World Luxury Spa Awards winner for Luxury Yoga Experience.
I have visited iwa Spa in all four seasons, sometimes accompanied by my like-minded spa loving partner Sarah, and experienced a variety of treatments designed to rejuvenate and relax the body and mind. Sarah would say "chillin'" comes naturally to me, but I welcome additional assistance from the friendly professionals at iwa Spa, especially in these tumultuous times.
The name says it all – iwa stands for "Inspire. Wellness. Always" and is iwa Spa's raison d'être.
This feeling is captured from the moment a guest enters iwa and a mix of calm but subtle energy flows throughout the wellness sanctuary. Pretentiousness and uppity attitude is shunned here – instead the spa staff exude a sense of youthfulness, passion and take your health and wellness seriously. Their welcoming and personable manner is also reflected in the quirky and eclectic furnishings, decor, and signage.
Experience Ganban Volcanic Rock Therapy at iwa Spa
Searching for a different kind of wellness experience? Why not try Ganban Volcanic Rock Therapy, a distinguishing service feature at iwa Spa?
Ganban is short for "ganbanyoku", a specially designed studio with a warm volcanic rock floor. Gan means rock, ban means board, and yoku means bath – it's a soothing hot stone bath without the water and bubbles!
Ganbanyoku "beds" consist of heated black mineral slabs of black silica and lava rock heated to 40˚C. The rock is heated from boiling water located below the rock floor. When that occurs negative ions and infrared rays are emitted that soothe muscles, eliminate toxins, boost immunity and assist in weight loss. Sign me up! Though very popular in Japan, iwa is one of few spas in North America that offers Ganban rock therapy.
I have been fortunate to experience volcanic rock therapy in two different ways – in a beginner yoga class with Sarah and other participants, and privately in a smaller suite that can accompany up to two people.
First off you need to dress appropriately. Or in my case ditch the street clothes and don a traditional Japanese jimbei provided by iwa Spa. A jimbei set consists of a side-tying, kimono-style patterned top and a similar patterned pair of trousers. It's light and comfortable. Socks and shoes are not required for a rock therapy session. Athletic or yoga wear is also appropriate.
Each Ontario spa does things a little differently. A premiere spa like Ste. Anne's Spa in Northumberland Hills is going to offer something iwa Spa doesn't, and vice versa. Iwa Spa has embraced the unique nature of the Ganban Volcanic Rock Therapy!
Rock n' Sweat
The first time I tried Ganban volcanic rock therapy (pre-COVID) was in a yoga session. Yoga and I have a love-hate relationship. I love the many benefits of yoga, but my body doesn't like to play along with the yoga position playbook. You want me to bend what way?
But slowly as the heat from the rock bed penetrated my walrus body, a path of lesser resistance began to take over. By the time the one hour class was over the muscle tightness had loosened, sweat was dripping from my forehead, and a renewed energy flowed through my body. Despite this, I wasn't prepared yet to join Cirque de Soleil and demonstrate my newfound flexibility.
My private rock therapy session occurred during COVID in the summer. This time it was in their private Ganban suite. The rock floor is thoroughly sanitized between each session. If you receive a spa treatment (body, facial, or massage) iwa Spa will include a 30-minute rock therapy session following the spa service.
For me it always takes a few minutes before my body and mind fully relax. You have the option of listening to their music or you can bring your own. You lie down on your back or can start on your front, turn over after 10-15 minutes and have a few sips of water in between.
My mind wanders for the first few minutes – what a stupid thing Trump said today, remember to buy milk on the way home, need to finish that assignment, pay that bill. Slowly but surely as the body heats up and relaxes my mind succumbs to a reflective, meditative state the Dalai Lama would be proud of.
The Wellness Touch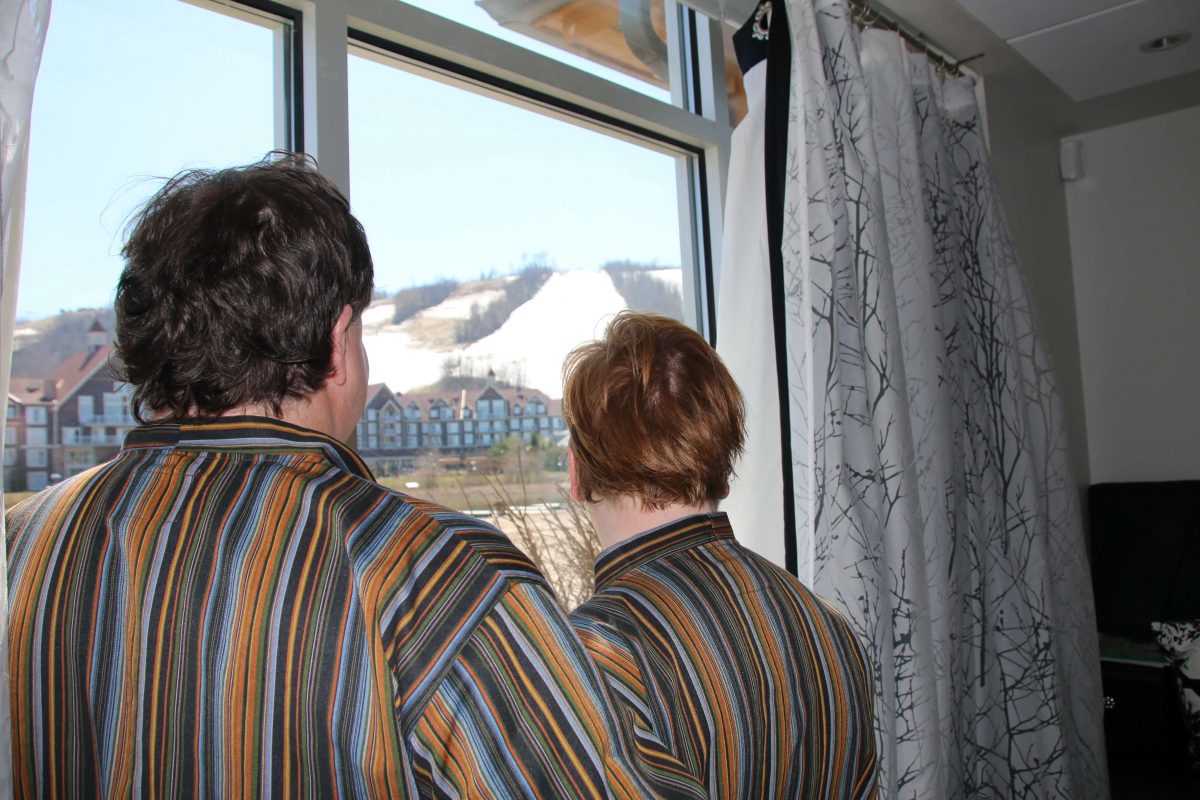 Iwa Spa can't give you the Midas touch but it can provide the wellness touch with its array of spa services including pedicures, facials, massages and body treatments. Spa lovers like myself will find no shortage of treatments all performed by a trained group of estheticians, therapists and RMTs.
For skiers and snowboarders the Sea Salt Honey Pumpkin Rub Foot & Leg Treatment or Big Bare Back Treatment are the perfect tonics to soothe and renew those aching feet, legs and back muscles after a day on the slopes. To capture that perfect selfie decked out in your new ski wear why not indulge in iwa Spa's Fire & Ice Facial? It will brighten, smooth, tighten and hydrate the skin – no photo filters required.
I tend to favour a good old-fashioned deep tissue massage and require an RMT to dig deep into the knotty forest of blockages that have taken up permanent residence in my neck and back. Sarah and I on one visit (pre-COVID) had a couple's massage. Now I love being with her 24/7 but I do have one exception – massage time. It's nice to glance over and see her relaxed and enjoying getting a massage (now not TOO much if it's a cute guy therapist!) but massage time is ME time. I am 100 per cent selfish when I'm getting a treatment. I only want to concern myself with my wellbeing and relaxation. Sorry dear.
Virtual Reality Comes to iwa Spa
I visited iwa Spa during COVID and all the government and health department sanitation and safety protocols were in place. Even with all the additional precautions taken some people may still feel nervous to visit a spa and receive touch-based therapies. Technology to the rescue!
iwa Spa will be launching a Healium VR experience – escape and relax in a comfy lounge chair as you explore with a VR headset exotic and nature based imagery and sounds. I tried out a prototype VR headset where I sat back and was transported to Mother Nature's "best of nature image reel" – rolling waves on a beach, lush green rainforests, cascading waterfalls, and rising to the top of a mountain.
A 2017 study by Psychological Medicine indicated that VR exposure-based treatments can reduce anxiety and increase relaxation. VR stimulates the brain to produce melatonin while at the same time lowering cortisol. This helps in managing stress and produce better quality sleeps.
iwa will offer VR sessions in 5-30 minute intervals. The VR experience can be added to another spa treatment or just booked as a stand-alone treatment. Wellness comes in many forms – even virtually.
Plenty of Activity Options at Blue Mountain Resort
The wonderful thing about iwa Spa is you are just steps away from all the restaurants, cafes, boutiques and accommodation that call Blue Mountain Resort home. No need to cocoon – winter is celebrated here.
Skating is a rite of passage for any Canadian but raise the bar or in this case, the elevation and lace up the skates while gliding through the 1.1 km Woodview Mountaintop Skating trail on Blue Mountain. This forest skating trail not only great exercise, but also offers up spectacular views of the Niagara Escarpment.
Blue Mountain is known for its skiing and has built a stellar reputation for 80 years. With 365 acres of skiable terrain including 43 ski and snowboard trails, 7 glade runs, 3 terrain parks, 7 chairlifts, 4 surface lifts and 360 acres of snowmaking coverage no wonder thousands visit here every year. The three terrain parks – Grove, Badlands and L-Park, with an assortment of jumps and rails cater from beginner to advanced levels.
Other activities include Hike N' Tube, Fat Bike riding trails, snowshoeing, and more. Finish your après-ski or related activities with a wide range of cuisines and Ontario produced beers and wines. Blue Mountain Resort offers accommodation to suit all tastes. For a traditional resort, Westin Trillium House is located right in the village offering all the amenities and room types for couples and families. Mosaic Boutique Suites is located right next to iwa Spa – spa and sleep! Blue Mountain Inn and Village Suites offer suite-style accommodation along with many condos and homes for rent.
One thing for certain – it may be called Blue Mountain but I can guarantee you won't be feeling blue after a day of uplifting village activities and spa treatments.
Beat the winter blues with Blue Mountain wellness at iwa Spa.
***
Note: With the current provincial Stay-at-Home order by the Province of Ontario, Blue Mountain Resort, Blue Mountain Village activities and shops are closed (except for curbside pick-up/delivery). iwa Spa is temporarily closed but you can still make future bookings and has select online product sales. Please check their websites, iwa Spa, Blue Mountain Resort Blue Mountain Village for current status and COVID-19 restrictions before visiting.
Disclosure: I want to thank iwa Spa for hosting my spa visit. Please note, my views and words are wholly my own.
Chris has travelled to the far ends of the earth to more than 80 countries on 6 continents from New Zealand to the Galapagos Islands but equally enjoys exploring Ontario's cultural, historical and scenic treasures. He has written for publications including The Globe & Mail, The Toronto Star, Westjet, Travel Life, Dreamscapes, Travelweek, TravelMarketReport.com, Skift.com, Yahoo, Ensemble Vacations and others. Chris also has a fondness (some say addiction) for spas where he's experienced everything from whiskey pedicures, caviar facials to massages overlooking the Serengeti. His travel motto – Learn, experience and respect the culture.