Ontario snowshoeing is exploding in popularity as locals embrace the outdoors. Discover 10 great snowshoeing locations in Ontario.
There is no better place to be during the winter than exploring the great outdoors. And while many of the best Ontario hiking trails are snowed-over, that doesn't mean the adventures have to come to a stop. Ontario snowshoeing and cross-country-skiing take over when the weather turns frosty. This opens the door to all sorts of amazing winter getaways.
Everything looks different when it's covered with a fresh coating of snow. The world seems brighter and more sparkly, especially out on the trails where the virgin snow is sprinkled on the tree branches above.
With more and more people embracing the outdoors, it's no surprise that skating trails and snowshoeing in Ontario is set to take off this winter. Snowshoes are generally reasonably priced, and you don't need much more than that and some good winter clothes to enjoy a day out on the trails.
Snowshoeing makes for fantastic exercise, and it's a winter activity that can be enjoyed with the whole family or a few friends.
It's not surprising that snowshoeing has been gaining in popularity in Ontario. It takes minimal equipment, it's easy to learn for the whole family and it delivers an incredible physical workout.
There are countless snowshoeing trails in Ontario from north to south, so many that there is no way that we could list them all. From the parks and conservation areas to the adventurous backcountry snowshoeing routes. So, we'll focus on some of the most popular areas for an Ontario snowshoeing adventure.
The Best Snowshoeing Trails in Ontario
Algonquin Provincial Park
It's not surprising that Algonquin Park draws outdoor lovers from across Ontario. This is, after all, one of Canada's most important and popular wilderness areas. Year-round, camping enthusiasts make their way here to enjoy the ample wildlife and pristine natural beauty.
Algonquin Park is at its busiest during the peak of the Ontario fall colour season. But once the leaves have fallen and the snow has covered the Muskoka landscape, crowds thin out and the winter spectacle begins.
The Mew Lake campground at Algonquin Provincial Park is open year-round. And there are both cabins and yurts available for rent for those who prefer not to rough it.
Whether you're making a day trip to Algonquin Park or spending the weekend exploring the park, you'll find amazing Ontario snowshoe trails here. There are several interpretive trails along the famous HWY 60 corridor. Check out the Loggin Museum Trail at km 54.5. This is a gorgeous loop with some nice sloping hills.
A few other Ontario snowshoe trails in Algonquin park to consider are the Hemlock Bluff Trail (3.5 km loop), the Bat Lake Trail (5.8 km loop), and Mizzy Lake Trail (10.8 km loop). All of these trails are considered moderately difficult.
If you wear out the snowshoeing trails in Algonquin Park, consider heading over to the gorgeous Ragged Falls. It has some gorgeous trails with an even prettier backdrop.
Torrance-Barrens Conservation Area in Muskoka
Torrance-Barrens Conservation Area is a truly unique destination in Ontario. This fascinating spot is Ontario's first official Dark Sky Preserve. This means that it has a markedly lower level of light pollution. Because of that fact, Torrance Barrens is one of the best places in Ontario for stargazing. And, it's one of the few places in Central Ontario where you can see the Northern Lights.
During the winter, Torrance Barrens takes on another mantle as one of the best places for Ontario snowshoeing. The Pine Lake Loop is a particular favourite. Park at the Southwood Road lot. The loops are marked with signs in one direction.
The Pine Lake Loop is a 9 km loop trail. But you'll also find some pretty side-trails that are worth exploring. Some of these are unmarked, so make sure you don't attempt them alone.
If you enjoy Ontario snowshoeing under the stars, this is your best option.
Kinsmen Park and the Hiawatha Highlands in Sault Ste. Marie
Sault Ste Marie is where "Northern Ontario" starts to take on a new meaning. During the summer, this Ontario border town is a popular destination for mountain biking and hiking. During the winters, those wild trails get transformed into some of the best cross-country skiing and snowshoeing trails in Ontario.
Kinsmen Park and the Hiawatha Highlands are the go-to spot for snowshoeing in Sault Ste. Marie. Access is via a seasonal pass that you can pick up here. There are 2, 3, and 4-km long trails to explore. And you can even rent snowshoes at the park.
Scenic Caves in the Blue Mountains
Scenic Caves in Collingwood combines great Ontario snowshoeing with jaw-dropping scenery. It's also close to Blue Mountain Village, so you can end your day with one of their magical winter light shows.
Scenic Caves, which is in the Blue Mountains gives visitors the chance to snowshoe across the longest suspension bridge in Southern Ontario. Along the way you'll experience magical views of Georgian Bay from the tops of towering cliffs.
Look out over the city of Collingwood and you'll see the Nottawasaga Lighthouse in the distance. And this is just one of the scenic stops on the 10 kilometres of snowshoeing trails that criss-cross this gorgeous section of the Niagara Escarpment.
For experienced snowshoers, Scenic Caves even boasts an expert trail that offers challenging climbs and reaches areas that most visitors only see in the summer months. Scenic Caves even offers guided night walks to gaze at the blanket of stars that sparkle above the snow.
You can find out more about the Scenic Caves experience here.
Pinery Provincial Park in Grand Bend
During the summer, Pinery Provincial Park, located just outside of Grand Bend, is absolutely teeming with beachgoers and campers. The gorgeous Lake Huron shorelines draw visitors from across the province. After all, Grand Bend is rated as one of the best beaches in Ontario.
But, as the silent beauty of winter takes over, the Old Ausable Channel freezes over and the glistening snow covers lakeside sand dunes. As the winter peace takes over Pinery, the snowy trails become one of the best places for snowshoeing in Ontario.
If you don't have your own snowshoes, the Pinery Visitors Centre has them for rent. Once you're strapped in you can enjoy both cross-country skiing and snowshoeing along 38-km of trails.
For those snowshoeing with kids, you can also spend some time on the Pinery toboggan hill. This fun hill is lit during the even and open daily.
If you want to make a weekend out of it, there are both serviced and un-serviced campsites available year-round. Or for something a little warmer, book one of the on-site yurts that come with BBQs and gas fireplaces. Make sure to book ahead though. The Yurts book up fast.
Christie Lake Conservation Area in Dundas
Dundas is a wonderful spot for those looking for an introduction to Snowshoeing. The trails are gently sloping, well-marked and offer a fantastic selection from 1 km to 10-km loops.
Christie Lake Conservation area is a gorgeous park that feels much more remote than it actually is. It's just a 20-minute drive from Hamilton and only an hour from Toronto.
You won't find amenities or snowshoe rentals at Christie Lake Conservation Area. So make sure you come with everything that you need to enjoy a day out on the trails.
While you're on your Ontario snowshoeing adventure, keep your eyes open for deer and hare that are often wandering through the trees. For something slightly more challenging, you can also head over to the nearby Dundas Valley Trail.
Whirlpool Golf Course in Niagara Falls
Enjoy the crisp air along the Niagara River as you take in the snow-covered grounds of the Whirlpool Golf Course in Niagara Falls. The low-rolling hills give you the chance to enjoy the experience without exhausting yourself.
Head towards the wooded corners of the park for a chance to see deer wandering among the trees. You can rent all the winter gear and snowshoes that you need for a nice getaway from the traditional Niagara falls winter activities.
There are three separate snowshoeing trails here. They range in length from about 30-minutes to about three-hours. So you'll have lots of options to fill your day.
Snowshoeing in Ontario works up a hefty appetite. And unlike many of the more remote Ontario snowshoeing destinations, the Whirlpool can cater to your belly as well. Stop into the on-site restaurant to enjoy an amazing lunch or a hot bevvy.
You can reserve a spot snowshoeing at the Whirlpool golf course here.
Ganaraska Forest Centre in Campbellcroft
The Ganaraska Forest Centre is a popular spot for year-round outdoor fun in Ontario. This gorgeous section of Central Ontario just off HWY 115 near Kirby has everything from ATV trails to hiking routes, mountain biking trails, and, of course, some of the best snowshoeing trails in Ontario.
The beauty of the Ganaraska Forest is spectacular. And you'll find over 35-kilometres of trails and groomed cross-country ski tracks spread throughout. These trails meander through hardwood and pine forest.
Stop by the Ganaraska Forest Centre to pick up your day pass and trail maps to enjoy a day on the trails. You can find their website here.
Rouge National Urban Park in Toronto
Rouge National Urban Park is one of Canada's youngest National Parks. It's also the only National Park in Canada where visitors can access via municipal public transit.
Rouge National Urban Park features eight snowshoe trails ranging from a brisk and fun 500-metre jaunt to a 5-kilometre snowshoe route. These are packed into 80 square kilometres of reclaimed land that stretch from Lake Ontario to the Oak Ridges Moraine.
The Ontario snowshoeing trails at Rouge National Urban Park are rough and rugged, so come prepared for a moderately-difficult trails. But you'll be rewarded with some amazing views and fresh snow.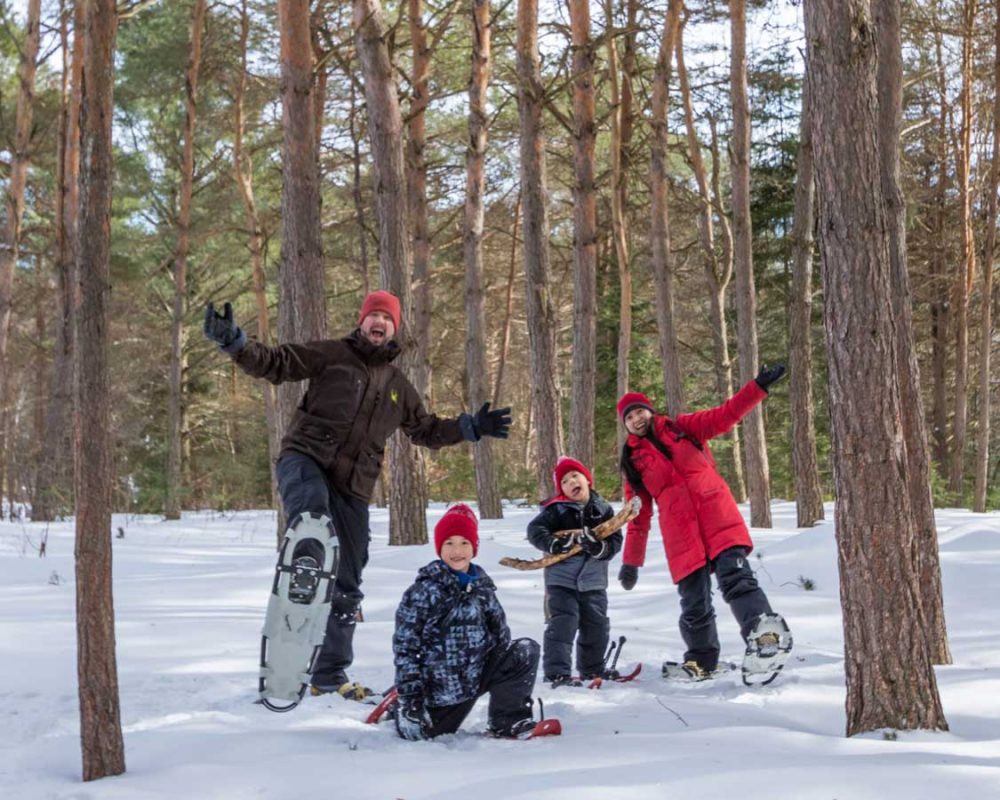 Killarney Provincial Park in Killarney
There are very few landscapes in Ontario that I love more than those among the LaCloche Mountain range on the shores of Lake Huron. The epic wilderness sandwiched between Manitoulin Island and Sudbury holds, in my opinion, the most beautiful hikes in Ontario.
During the winter months, this iconic Canadian wilderness is blanketed with deep snow pushed off of the Great Lakes. This turns Killarney Provincial Park into an absolute winter wonderland for outdoor-lovers.
Not only is this one of the most incredible Provincial Parks in the province, but it also features some of the best Ontario snowshoeing trails around. They wind through mature pine forests, frozen marshlands, and rolling granite outcrops.
Spend a weekend in Killarney to truly appreciate the majesty of one of Ontario's crown jewels. You can tent-it at one of their first-come-first-serve campsites, or relax at one of the six yurts and two cabins that are open all winter, or look into a room at the Sportsman's Inn.
However and wherever you choose to do some snowshoeing, we wish you happy trails!
Do you know of more fantastic snowshoeing destinations in Ontario that we haven't listed here? Drop a comment below, reach out to our Contact US page, or swing over to our amazing Ultimate Ontario Facebook Community to share it with us.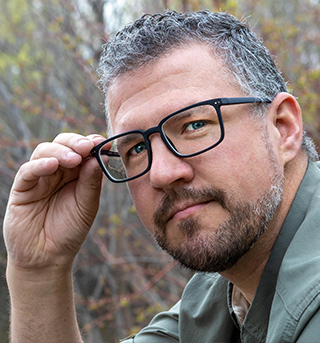 Kevin Wagar is a founder and editor of Ultimate Ontario. He has been working in the travel media industry since 2015 when he founded his family travel website Wandering Wagars – Adventure Family Travel.
Over the years Kevin has developed a deep love for his home province of Ontario and aims to showcase the incredible experiences and amazing small businesses found within it.