Le Boat is Rideau Canal boat rental done right, and they're set on enabling you to fully experience the wonders of our beloved Rideau Canal.
The Rideau Canal has mainly been a winter destination for me where I would lace up the skates with my son and challenge him to a race along the 7.8 km frozen trail (I always lost) and reward our efforts afterward with multiple cinnamon sugar-covered Beavertails.
But when the ice thaws in the spring, the Rideau Canal, a UNESCO World Heritage Site, transforms into a water playground where boaters, kayakers, swimmers, and anglers enjoy its unfrozen attributes.
I had the opportunity to join my friend Tim and another couple, Amy and BJ, on a four-night/five-day Le Boat cruise down the Rideau Canal during the summer. Le Boat has been offering boating holidays for more than 50 years in eight European countries and in 2018 began offering trips along the 202 km Rideau Canal waterways stretching from Ottawa to Kingston.
Le Boat knows boats – I do not. My previous boating experience involved watching The Love Boat TV series or being a disengaged passenger (except when it came to eating and drinking). I know enough to leave navigation and other tasks to the experienced crew.
There were some remnants of nautical ancestry. My father was a lieutenant in the Royal Canadian Navy in his 20s, but his skill set was more focused on securing enough rum for naval crew parties when they reached port!
All Aboard Le Boat's Horizon 3
Le Boat's base is in Smith Falls, a small Ontario town previously known for being the headquarters of the enormous Hershey Factory (which has since been taken over by Canopy Growth Corporation). Since Le Boat arrived they have built a special pier just for the fleet of 20 premier Horizon cruisers. These are not the box-like, cumbersome houseboats you can still see puttering along on Canadian lakes and rivers.
The Horizon series features sleek cruisers accommodating two to twelve passengers ideal. They're ideal for a couple wanting privacy, or for a family or a group of friends travelling together safely and comfortably. Le Boat has been recently awarded the World Travel & Tourism Council's 'Safe Travels Stamp' recognizing the company for upholding the highest standards of health and safety protocols.
We chose the Horizon 3 cruiser which can sleep up to seven. There are three separate cabins plus a convertible settee in the saloon that sleeps one. Amy and BJ stayed in the larger bow forward cabin and Tim and I each had our own cabins. No snoring complaints on this cruise! All cabins are equipped with double or twin bed options, USB ports, and an ensuite bathroom with a toilet, sink, and shower.
Boating can build up an appetite – at least in our minds. We all agreed beforehand this wasn't a Weightwatchers cruise, but rather a Weight Gainers Cruise. Reaching the daily 10,000 steps on the Fitbit proved impossible despite the many drink and food runs I did from the kitchen to the upper deck and back. Multiple bags of flavoured potato chips, snack bars, and chocolate were consumed along with calorie-heavy meals of spaghetti Bolognese, burgers, sausages, hot dogs, sandwiches, and rolls. I do vaguely remember there were sightings of vegetables and fruits.
I wasn't expecting all the home kitchen conveniences on the boat but Le Boat made cooking easy – even Martha Stewart would be impressed. A stove, microwave, oven, sink, and fridge come standard with all the plates, glasses and utensils supplied. A large table and seating area with windows to peer out as you dine unless we preferred al fresco dining then headed to the upper deck featuring cushy seating, lounge area, and sundeck. There was a plancha to sear and cook burgers, steaks, and other foods needing some sizzle.
The Horizon 3 was the perfect size for our group – enough space for all of us to enjoy each other's company by playing cards or sharing a meal while still providing areas to find some solitude, read a book, or just relax and observe the breathe easy life along the waterways.
Charting a Course along the Rideau Canal
Before departing their Smiths Falls base, Le Boat conducts a comprehensive briefing on how to operate the boat, what to do in an emergency or if something breaks down boat features and amenities, and rules of the water. Depending on the experience you can practice manoeuvring in and out of the pier. Links are provided to online materials on boating procedures and safety when you book your boat.
Owing to my utter lack of boating knowledge I read up before our trip. Tim and I knew our boating talents were extremely limited on chart reading and tying knots. A bowline knot – what's that? Fortunately for us both, BJ, a recently retired firefighter, and Amy had previous boating experience. We were comforted also by the fact BJ was a firefighter and possessed the skills necessary to rescue us if we found ourselves screaming SOS.
Le Boat provides each cruiser with a nautical chartbook detailing the Canal's water depth, shoals, navigational hazards, buoy symbol meanings, and different types of boat horns. Finally, it was time to sink or swim – or this case cruise on the Rideau Canal!
Without any debate, BJ would lead us out of Smiths Falls. We tested our knot tying skills soon after at Poonamalie Lock 32. Amy schooled the rest of us on how to tie a proper knot. Onward and southward towards Kingston we stopped for dinner at popular CC's on the Rideau restaurant at Rideau Ferry for a delightful first evening meal of palate-pleasing food and drink. We docked for the night, happy we made it through at least the first day without a boating incident.
Parks Canada – a Guiding Light through the Rideau Canal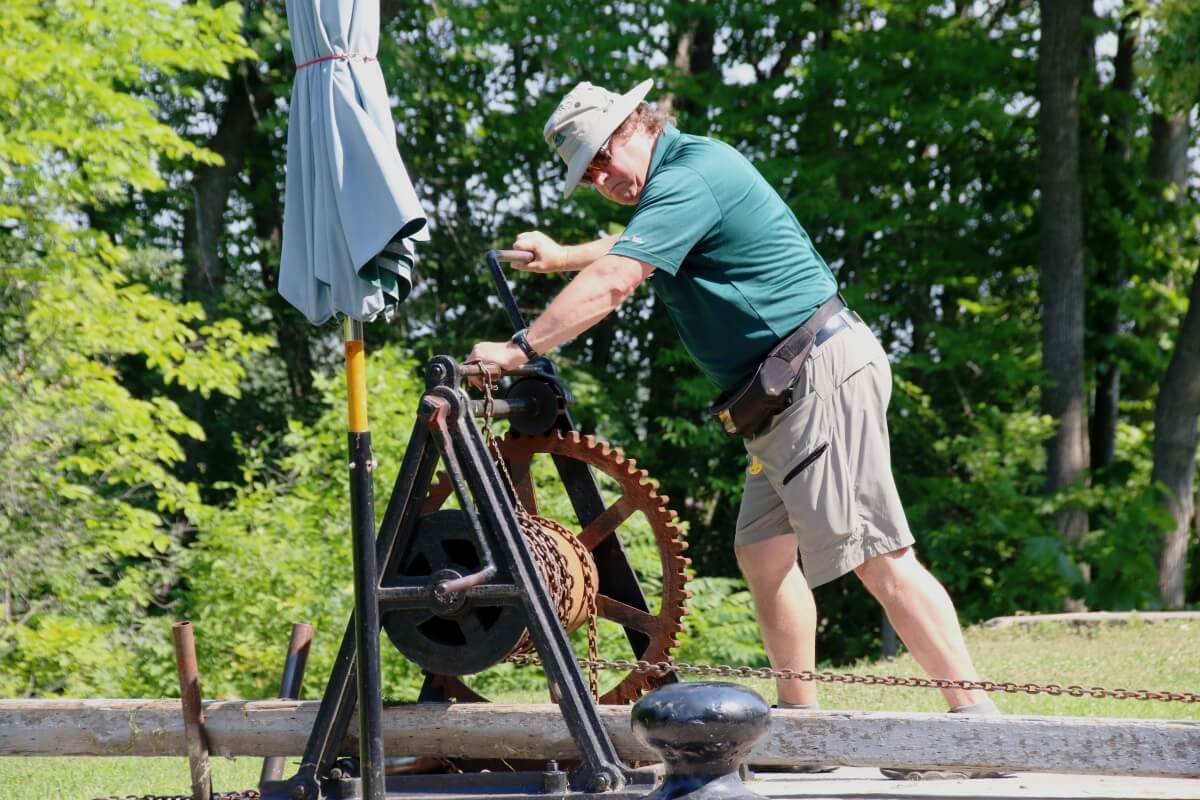 One of the joys of boating is the friendly folks you meet along the way – and that includes the incredibly personable and helpful Parks Canada lock station staff. They must also possess an unlimited supply of patience and the ability not to yell out, "you idiot," as yet another boater crashes into the side of the lock or, worse, another boat.
This is why standing at the helm with a firm grip on the wheel of the 44-foot long vessel, a tidal wave of panic would come over me (and yes Tim too) when we would approach a lock. Smarter heads prevailed and we yelled for "BJ" to take over as captain.
The Horizon boats, in reality, are easier to manoeuvre compared to other boats due to side thrusters which help control the boat. Still, with my name on the damage waiver, I thought it was better to be safe than broke.
At the Poonamalie lock, we had a wonderful chat with Don the lockmaster. He's been with Parks Canada for 39 years. Operating the locks is only part of his job. Lock staff are a great resource on what to do in the area, what's open/closed, how far it is to the next lock, where to moor, and the best places to get supplies. When I heard foreigners heap constant praise on Parks Canada staff it made me feel so proud to be a Canadian and grateful for this talented team.
Le Boat to the Rescue
Cruising at about 10 knots (Miami Vice boat speeds these aren't and for good reason), Tim and I alternate taking the helm in the more expansive waters of Big Rideau Lake and Upper Rideau Lake before tying up in Westport, a charming town with cozy cafes and independent boutique shops.
We visit the town's Scheuermannn Vineyard & Winery to sample a few of their Pinots and Chardonnays. On the winery grounds is a funky sculpture garden. Feeling famished after a morning of steering, we stayed and ordered their wood-oven-fired pizzas. Wine, pizza, and fresh country air – we hit the vacation jackpot.
Appetite satisfied, we returned to the boat. Ready to head off to our next destination, we couldn't find the all-important chartbook. It had magically disappeared. Even after multiple boat searches that would make even the most thorough FBI investigator proud we came up empty. To continue cruising when we didn't have the chartbook would be too risky as we would be unaware of potential hazards, shoals, and sandbars and could get stuck or even damage the hull.
We contacted Le Boat and thankfully they met us at the next town with another chartbook. We breathed a sigh of relief.
Where that chartbook disappeared will remain a mystery.
Cultural and Tasty Delights Along the Rideau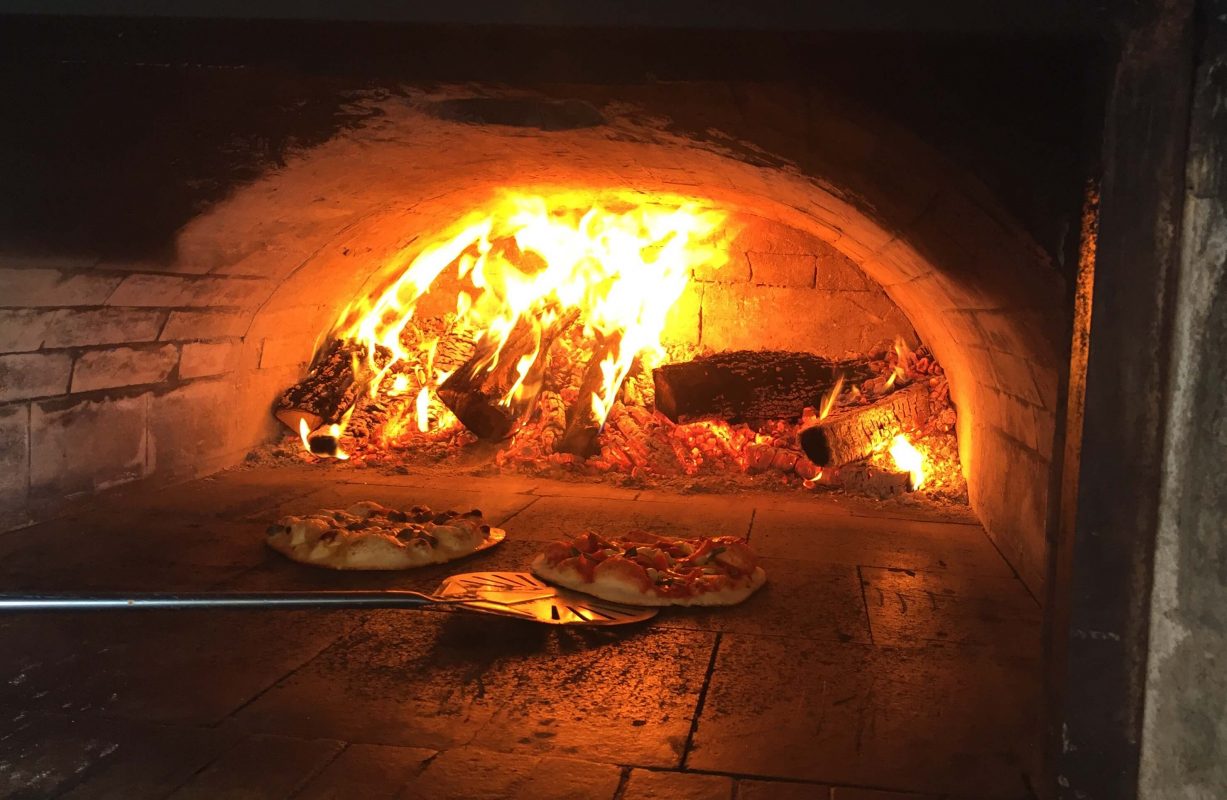 Boating gives you control over the pace and type of activity – or in our case lack thereof. Days were filled with casual conversations, card games, picturesque views, and friendly waves from other boaters. Life easily flowed upstream or down.
Occasionally our interests would direct us onshore to the numerous towns on the shoreline's edge. Newboro, a favourite spot for anglers, is also home to a historic and eclectic store – Kilborn's on the Rideau. The rocking chairs on the porch welcome you into a store with a collection of country furniture and fun and funky gift and decor items.
Further south is Chaffey's Lock station where you can explore the Lockmaster's House Museum and the Cataraqui Trail.
The most popular is a visit to The Opinicon Resort, considered the Grand Old Dame of the Rideau. First built in the 1870s as a private residence it opened as a resort in 1921 and was the place for vacationers and boaters. One of the resort's traditions is a visit to the Ice Cream Shop – count Tim and me in! Wandering the resort's grounds, ice cream tickling our taste buds, the sun shining down, boating life is certainly agreeing with us – just not our waistline.
For those more active there are a variety of activities you can do offshore or even while on the boat. Paddleboards and kayaks can be rented and taken on the boat or outfitters can be found in select towns. Numerous hiking trails abound including Rock Dunder Hiking Trail near Jones Falls which offers up spectacular views of the Rideau waterway.
The Rideau Canal – Built for Protection, Now Used for Vacation
The Rideau Canal was constructed in 1824 and completed in 1832 so that crucial supply routes from Kingston could be maintained and provide protection from American invasion. The name "Rideau" comes from the French word for curtains and is derived from the curtain-like appearance of the waterfall where the Rideau and Ottawa Rivers connect.
The Rideau Canal is actually a waterway with a series of rivers and lakes with 24 lock stations and 47 locks – only 10 percent of the Canal is man-made. It is the oldest continuously operated canal system in North America.
Today the Rideau Canal waterway is a historic and cultural treasure to be explored under, in, and over water. Le Boat provides an accessible way for novice boaters like me to take the helm and set a course for fun and relaxation in one of Canada's best water playgrounds.
I'm happy to tie the knot again with Le Boat and The Rideau Canal, though I might still have BJ and Amy on standby.
"Fair Winds and Following Seas," – a traditional nautical and good luck blessing I was able to experience on my Le Boat journey. Let it be yours.
Disclosure: I want to thank Le Boat for hosting our experience on the Rideau Canal. Please note, that my views and words are wholly my own.
Chris has travelled to the far ends of the earth to more than 80 countries on 6 continents from New Zealand to the Galapagos Islands but equally enjoys exploring Ontario's cultural, historical and scenic treasures. He has written for publications including The Globe & Mail, The Toronto Star, Westjet, Travel Life, Dreamscapes, Travelweek, TravelMarketReport.com, Skift.com, Yahoo, Ensemble Vacations and others. Chris also has a fondness (some say addiction) for spas where he's experienced everything from whiskey pedicures, caviar facials to massages overlooking the Serengeti. His travel motto – Learn, experience and respect the culture.