White River, Ontario, is where the inspiration for Winnie the Pooh was born. There are many things to do in White River if you explore deeper.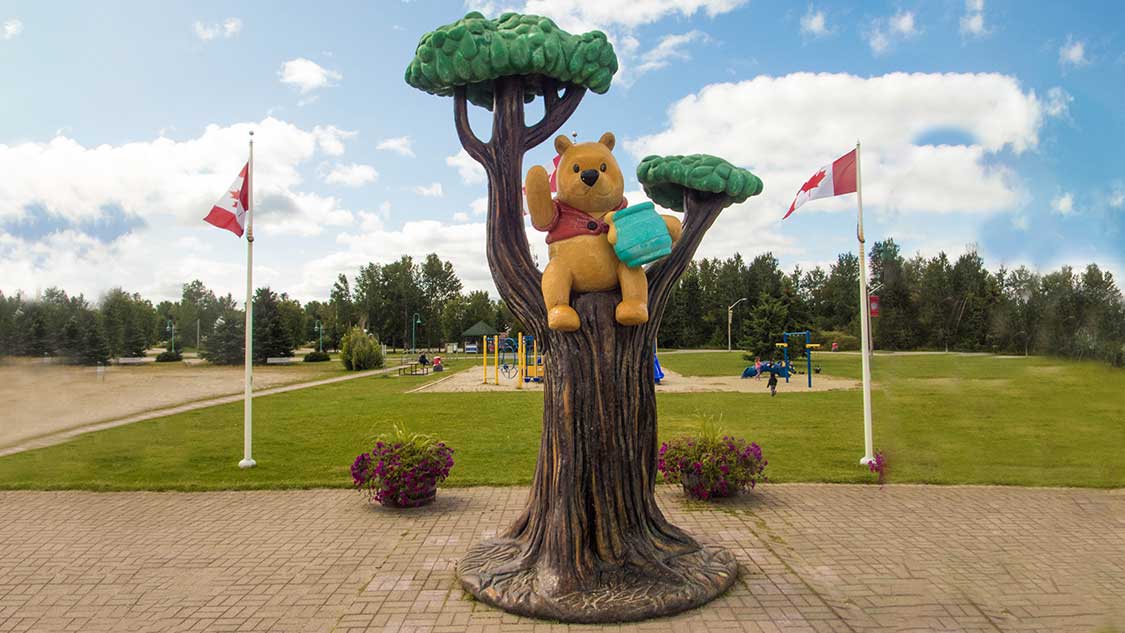 Blink, and you'll miss it.
Parked well back from the Trans-Canada highway within a large park and playground sits a tribute to the greatest celebrity ever sprouted from the lands of White River, Ontario.
The smiling face of Winnie the Pooh perched high in a tree with a dripping jar of honey at his side marks the start of this bear's fascinating journey through Canada and ultimately to Europe to serve his part in the first World War.
Situated among lush boreal forests and dotted by countless sparkling lakes, rivers, and ponds, the tiny White River, Ontario, is a gem for Ontario outdoor lovers. Although thousands of travelers make their way along HWY 17 between Sault Ste. Marie and Thunder Bay pass through this town each and every day, and few take the time to explore it properly.
About White River, Ontario
White River is a town of fewer than 700 residents. It sits on the Trans Canada Highway about three and a half hours north of Sault Ste. Marie, and about four hours east of Thunder Bay.
The town was established in the 1880s when the Canadian Pacific Railway (CPR) established White River as a divisional point for Northern Ontario train routes. By 1886, White River was booming and had excellent hotels, livestock stores, and a station house to house the constant flow of loggers and mine workers that relied on the town.
In 1961, the construction of HWY 17 reached White River. This allowed this tiny rail town to be reached by car and truck. This led to a surge in the lumber industry and the establishment of a lumber mill in the 1970s. This lumber mill continued running up until July 2007. In 2013, the city purchased the mill and re-opened it as White River Forest Products.
Nowadays, White River, Ontario is a hotbed for outdoor tourism in Northern Ontario. Fishing and hunting outfitters have exploded in the surrounding area, including both fly-in fishing and hunting lodges, and train-in fishing and hunting lodges in White River.
White River and Winnie The Pooh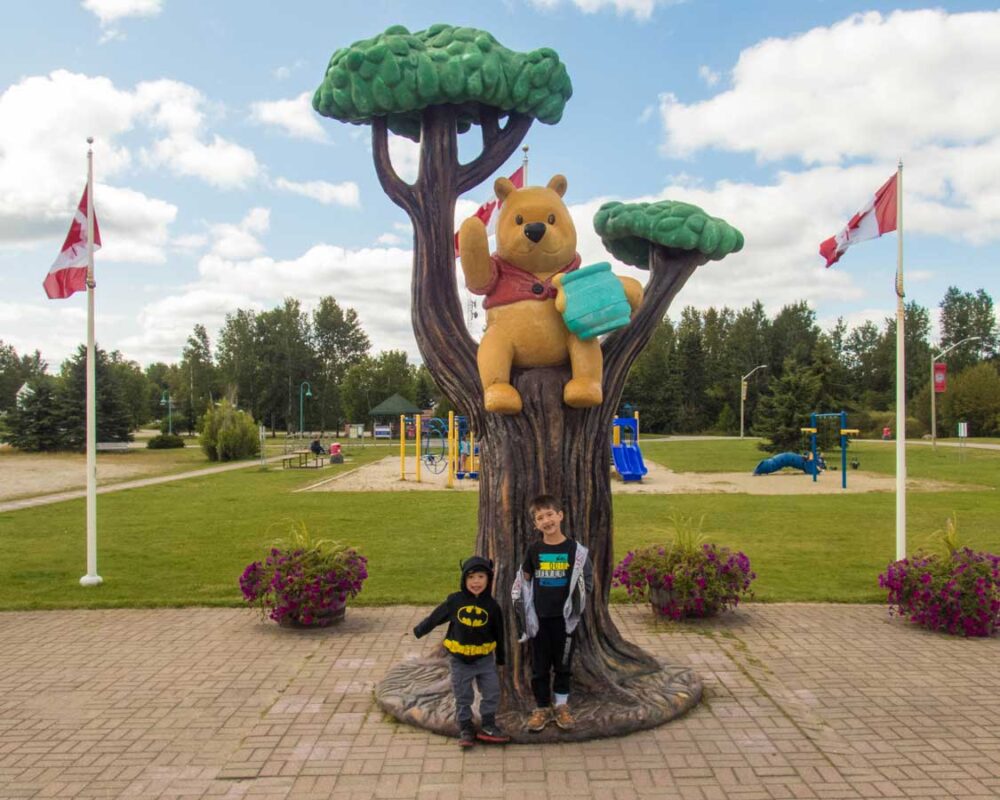 But almost everyone who visits town makes a stop to honour a very special black bear cub who was captured in the area and sold to Captain Harry Colebourn of Winnipeg's 34th Fort Garry Horse Regiment. Colebourn, a veterinarian, made the purchase for $20 from a hunter who had killed the bear's mother. He named the bear "Winnie," short for his adopted home of Winnipeg, Manitoba.
When Capt. Colebourn was sent to Britain, and Winnie came along as a regiment mascot. He eventually found a permanent home at the London Zoo, which cared for Winnie while Capt. Colebourn was in battle. Here, famed author A.A. Milnes made regular visits to the bear. He would bring his son, Christoper Robin along for the visits that would ultimately inspire his stories of "Pooh Bear." And thus, Winnie the Pooh was born.
Each year, White River celebrates a three-day "Winnie's Hometown Festival on the third week of August." The carnival atmosphere draws visitors from near and wide to celebrate through music, shows, and events.
Things To Do In White River, Ontario
White River, Ontario is tiny. But this small town offers some epic-sized adventures. Here are a few of the top things to do in White River, Ontario.
Visit The White River Winnie The Pooh Statue
No visit to White River is complete without saying hello to Winnie the Pooh. A statue of this world-famous bear sits just off of the Trans Canada Highway, greeting visitors as they pass. The statue is complete with a tree and a honey pot. It's a delight to visit for adults and children alike. No Sault Ste Marie to Thunder Bay drive is complete without out.
Fishing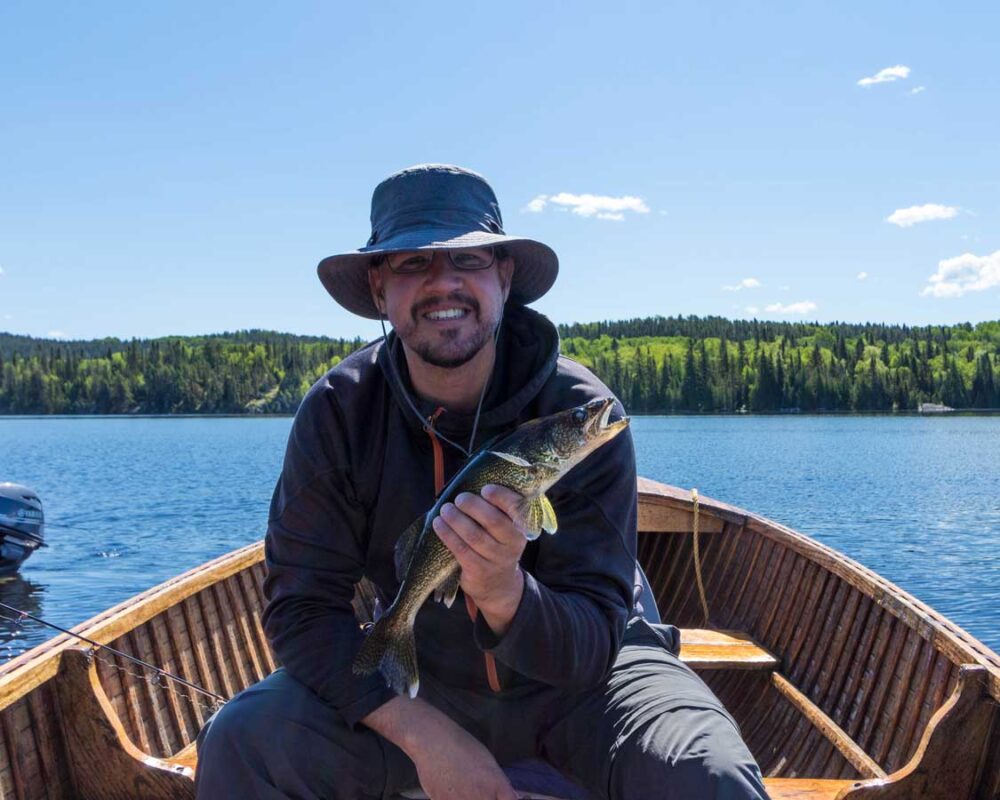 If you're curious as to what drives most visitors to White River, Ontario, you won't be alone. But if you're a fishing enthusiast, you probably already know. Whether your passions lie in Ontario ice fishing or summer jigging, anglers from across North America make the journey to White River for its legendary fishing.
Local outfitters such as White River Air offer White River fly-in fishing expeditions in partnership with local fishing lodges such as Mar Mac Lodge. There are even unique fishing expeditions that combine the historic rail routes, such as the train-in and fly-out fishing expedition that I experienced a few years back.
White River Heritage Museum
White River has a heritage to be proud of. This is a classic remote, blue-collar town where residents have struggled over the years to create a beautiful and thriving community.
Visitors to White River can experience some of that heritage first-hand, along with the importance of the region in both Ontario and Canadian history, through a visit to the White River Heritage Museum.
The museum allows visitors to experience important artifacts from the Canadian Pacific Railway, including silver servers used in the dining cars, restored railway speeders, telegraph systems, and more.
Visitors will also have the chance to see a copy of a painting by famed Group of Seven artist A.J. Casson, the youngest member of this storied Canadian artist guild. It was painted in October 1929 when Casson made a stop in White River.
Take A Helicopter Tour To Dog River
Dog River is a historic and beautiful waterway about 40-km west of the town of Wawa. The river includes the stunning Denison waterfall, which drops through a narrow chute from a height of over 90-metres.
Wilderness Helicopter Tours specializes in exploring the rugged landscape of Northern Ontario. The outfitter runs year-round, including tours to Dog River, where guests can enjoy a river-side picnic followed by a hike along the river and waterfall.
Wilderness Adventure Tours offers fly-in tours for cross-country skiing and snowmobiling during the winter months.
Historic White River Train Station
When Captain Harry Colbourn purchased Winnie the Pooh from a local trapper, he did this at the White River Train Station. This historic building, situated on Winnipeg St. N, still stands as it did more than 100-years earlier.
The station is still fully-functional and acts as an active stop for Northern Ontario rail lines that connect White River to Sudbury and other destinations in the province.
Tukanee Lake
Just a short drive down HWY 631, followed by a left on Tukanee Lake Rd. and you'll be at Tukanee Lake. The gloriously blue waters and surging rapids have made this spot popular for locals to cool off on a hot summer's day.
There is wild camping available. But keep note that the lake is unsupervised. Please follow the leave-no-trace rules and keep this place beautiful for future generations.
White Lake Provincial Park
White Lake Provincial Park is a popular camping and outdoors attraction just 30-minutes from White River, Ontario. The park has three campgrounds and 127 unserviced front-country camping sites and 60 campsites that have electricity.
Join the park staff for the White Lake Provincial Park discovery program or enjoy a wealth of activities, including hiking, cycling, canoeing, swimming, and fishing.
Pukaskwa National Park
Pukaskwa National Park is among the least-known national parks in Ontario, but what this stunning wilderness escape lacks in fame, it more than makes up for in character.
Situated across a sprawling 1,880 square kilometres of Lake Superior shoreline, the rocky shores and vast forests of Pukaskwa are among one of Ontario's greatest hidden gems. In fact, here at Ultimate Ontario, we've listed the coastal hiking trail in Pukaskwa as one of the greatest hikes in Ontario.
Pukaskwa Park is about an hour's drive east of White River near the town of Marathon.
Snowmobile White River
Once dubbed "Canada's coldest town" due to some clever placement of meteorological equipment, it's no surprise that White River, Ontario, is a town that knows how to enjoy winter.
The region experiences over three metres of annual snowfall and has hundreds of miles of groomed and powdered trails for snowmobiling enthusiasts to explore.
And Those Are Some of the Top White River Ontario Attractions!
Some towns in Ontario fly below the radar. They offer an abundance of adventure but without the fanfare of large cities such as Toronto and Ottawa. White River is one of those towns. And as more Ontario travel lovers venture here to support the incredible small businesses, I know that there will be even more exciting things to do in White River and the surrounding area.
We hope you use this list to explore White River and then perhaps consider other spots nearby in Northern Ontario that you may not have explored just yet. In the end, that's what Ultimate Ontario is all about – helping you explore Ontario.
Safe travels and we hope the things to do in Port Perry that we've listed above serve you well on your adventures.
---
Some of these experiences were enjoyed through a partnership with Sault Ste Marie Tourism. Others have come about through my love of road trips through the region.
If you appreciated this article, you'll love our newsletter, as well as our Facebook group! Feel free to join, all are welcome.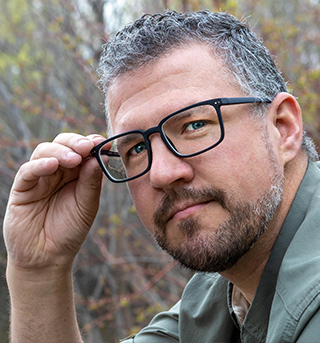 Kevin Wagar is a founder and editor of Ultimate Ontario. He has been working in the travel media industry since 2015 when he founded his family travel website Wandering Wagars – Adventure Family Travel.
Over the years Kevin has developed a deep love for his home province of Ontario and aims to showcase the incredible experiences and amazing small businesses found within it.