The Hive Centre and Stay feels like an Ontario bed and breakfast mixed with an Ontario wellness retreat…but somehow, so much more.
If you listen carefully enough, silence has a sound. The difficulty, it would seem, is actually finding a moment to recognize that.
We're taught from a young age that all knowledge comes from seeking that which is outside ourselves and has already been discovered, but we ultimately need to balance that with a healthy amount of looking inward.
Whether it's turning off your phone and going hiking, going on a long beautiful drive, or doing some Ontario stargazing with the kids, we need to provide ourselves moments of reprieve from the daily grind.
Not long ago, about 10 of us from the Toronto Bloggers Collective, a group of Toronto-based independent media members, were offered such a chance when we were afforded the opportunity to stay at The Hive Centre and Stay.
I'm not sure how else to say it other than to note that the Hive Centre is an immensely special place. It left an indelible mark on me, and it's a place I will surely return.
As Elsii Faria, the Co-Owner and Director of The Hive Centre says so succinctly, it's a location that is "about connecting to yourself and others through nature, creativity, and ancient wisdom."
The Origins of The Hive Centre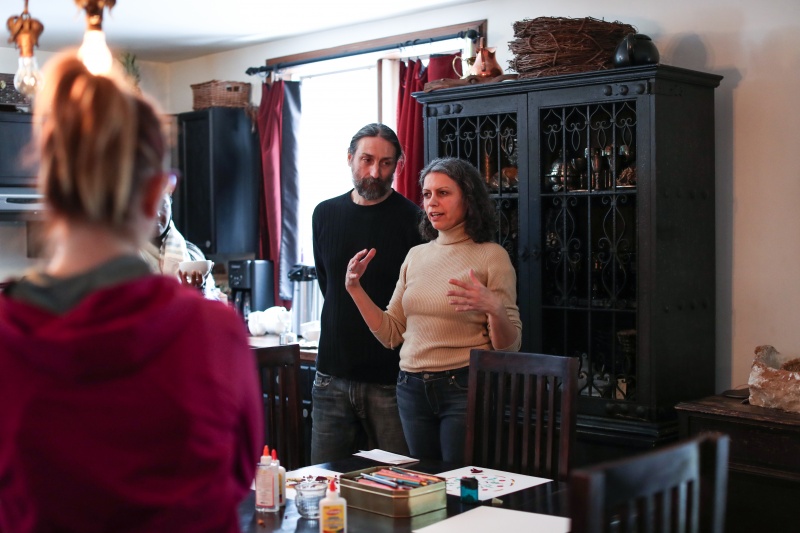 In the year 2000, Elsii purchased a church to convert into a home and art studio. Kevin moved in as a roommate shortly thereafter and, at that time, neither had any intention of laying down roots in this spot near Leskard, Ontario (not far from Orono).
A few years later, they traded the title of "roommate" for "partner," both in life and in business. In fact, after working together to found a marketing and design company, they were able to purchase the house next door in 2008.
And, I should note, It truly became a family affair when their daughter, Kaiya, was born around this time.
Elsii explained, "Our goal then was to prepare the house and outside property as a retreat centre. I wanted to share resources to help others due to my experience with a painful and chronic illness and we wanted to offer
a place to bring awareness to well-being, nature, creativity, and ancient wisdom."
They worked hard to clear out the heavy branches and dead woods on the property to make trails and form the area now known as "The Hive Nature Reserve."
In short order, they opened up the heritage church as the "AYUS Awareness Centre" in 2013, and the house a year later as "The Hive Bed & Breakfast." in 2016, they merged the two as "The Hive Centre and Bee & Bee." For those interested, you can read about the origin of the name here.
And now, to keep you up to date, they've rebranded as "The Hive Centre and Stay."
Kevin and Elsii very much see themselves as stewards, caretakers and protectors of this precious piece of land which is surrounded by the Wilmot Creek Commemorative Forest.
Not Your Average Ontario Bed and Breakfast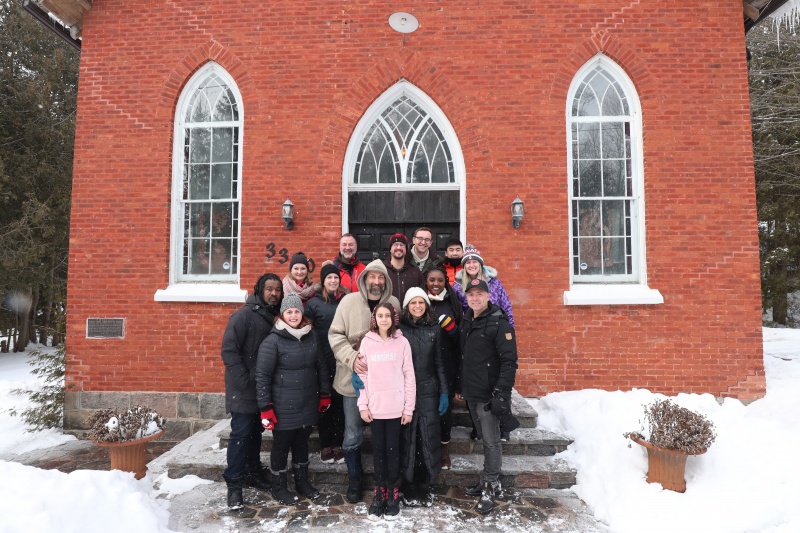 It's funny, but applying a label to all that The Hive Centre is up to doesn't even seem to work. It's certainly not just an B&B in Ontario, but the term "Ontario wellness retreat" doesn't seem to do it justice either.
Upon further reflection, I think that's probably a good thing. Who needs labels, anyhow?
When the Toronto Bloggers Collective went up on a visit during this past winter (on an experience that included ice fishing on Lake Scugog), we took part in all sorts of activities that were both enlightening and relaxing. We did everything from campfires and sharing from the heart to silent forest bathing (Shinrin Yok) and learning about Ontario's flora and fauna.
It was but a taste of what is on offer at the Hive Centre and Stay.
What Activities and Experiences Happen at The Hive?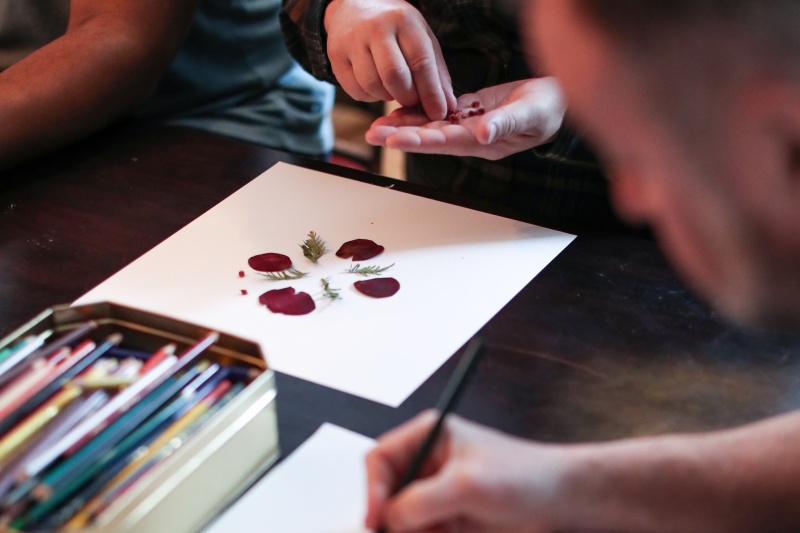 One thing I should note is that I'm quite sure that no two visits would be the same at the Hive. It's all very customizable, and all very much dependent on the way the wind is blowing.
Elsii broke that idea down beautifully when noting, "We feel that we are co-creators of the space. Programming is a fluid process that is based upon our
personal interests and direction from the church and the land. We often say that if the church does not want an activity to run, it will not happen – there is always something that gets in the way.
In other cases, events happen spontaneously. Many Indigenous leaders have been led to share ceremonies, knowledge, and wisdom at The Hive. Our first indigenous ceremony was a last-minute event held by a Shaman from Peru, Jhaimy Alvarez Costa. It was a traditional Despacho Ceremony, intended as a land blessing – an amazing way to begin the journey here."
Some of what you could experience at The Hive might include:
Kevin, also a musician and producer, leading soundscape frequency meditations.
Elsii leading wild food walks and interactive cooking sessions, as well as creative nature workshops. (The Toronto Bloggers Collective actually made little pieces of art from materials from the forest and it was very therapeutic. You can see it pictured above).
Shinrin Yoku/Forest Bathing.
Inipi (sweat lodge) and pipe ceremonies led by Canadian indigenous facilitators such as Bear Standing Tall, Red Medicine Woman and Chief Calvin Pompana.
Local cuisine that is reflective of the community and environment.
The utilization of both buildings, as well as the nature reserve to create a "well-rounded and multi-dimensional experience that is unique to The Hive."
When I asked Elsii further about what experiences and activities they've had and aim to have in the future that are unique to The Hive, she went on to offer this rather diverse list of experiences. As you might have already gathered, we're a big fan of unique Ontario experiences here at Ultimate Ontario.
"Mayan Spiritual Guide, Nan Shuni Giron, joins us at The Hive on an annual basis offering personal readings, workshops and traditional Mayan ceremonies. We have held a Barefoot Walking retreat with Sue Kenney, Wild Food Walks with Karen Stephenson, a Doctrine of Signatures workshop with Joseph Pitawankwat, Lomi Lomi activities with Randy Morrow, Full Moon Drumming Circles with Gayle Ann Crosmaz, and many
other activities.
We are inclusive of many traditions that promote connection to ourselves and the earth. We have not come across other centres that offer the range of facilitators that we have hosted."
The Hive Centre and Stay Today
As with York Durham Headwaters at large, The Hive has had to adjust their strategy in recent times.
At this moment, they'll only be hosting a maximum of 10 people in the house at one time. They've put measures in place in terms of cleaning, social distancing, air flow, food preparation and the prioritization of full house bookings to meet health and safety standards.
They're currently focusing as well on hosting business groups (or small groups) to facilitate sessions that focus on an objective and encourage collaboration, growth, creativity and innovation.
I know they've also got some e-learning initiatives on the horizon, but suffice to say, they want to offer similar experiences, but on a more intimate scale. As far as I understand, they're thinking of themselves more of a boutique accommodation option right now more than a full fledged Ontario bed and breakfast.
You can contact them directly through their site if you want to see how any ideas you may have fit in with how they're currently approaching the present situation.
I'd recommend signing up for their newsletter on their site. Elsii crafts honest, thoughtful, and empowering content that I personally love receiving in my inbox.
Why We Need Places Like The Hive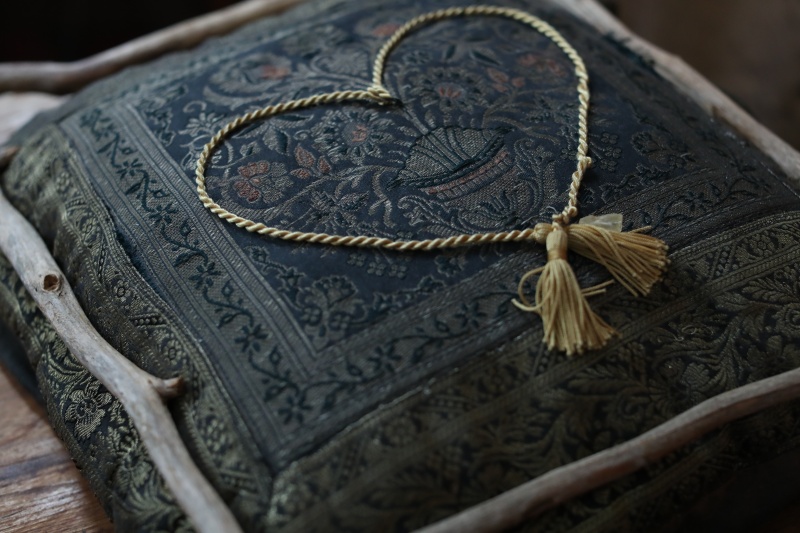 I can't speak for others, but I know that for me, it's important that I'm connected to my underlying goals and intentions. And I'm not talking about self-serving goals here, but rather what I'm trying to do to ensure that I've done my part to make this world of ours better.
It can be easy to forget.
Sometimes it can feel like I've got an engine going 200 kilometres an hour, and though the steering has started to fail, for some reason I don't slow down.
That's when I know it's time to get back into nature, and get back to a place like The Hive.
I appreciate how mission driven and selfless Elsii and Kevin are with this property and the endless projects.
I love what Elsii said at one point during our conversation. "The experience here is everything – it has been extraordinarily difficult and amazingly beautiful. There are many pros and cons of running a business of this nature and enmeshing our personal and business lives. It takes a great deal of personal and financial commitment to maintain and sustain two properties.

That being said, we have benefited enormously from the connections, knowledge and activities here. Even maintaining the property can be a healing activity for us. We are subject to the stresses but also incredibly grateful for the experience and ability to live in such a special place."
If I've learned anything in this life, it's that life isn't always easy, but you can justify the struggle if you're connected to yourself and all that's around you in a meaningful way.
If this sounds up your alley, I'd encourage you to think about how you might be able to visit The Hive and to press pause for a moment on the conveyor belt of life.
To take in a deep breath of air, and slowly, mindfully expel what you may have been holding in for far too long.
Christopher Mitchell is the Cofounder of Ultimate Ontario. He's visited over 80 countries, and has lived on 4 continents, but now has his eyes set squarely on exploring this incredible province, and helping others do the same.