Experience the thrill of tree-top trekking near Toronto in places such as Stouffville, Brampton, and Hamilton. Toronto Treetop Trekking is fun for the whole family.
We here at Ultimate Ontario know that adventure activities are never far away in this province. But sometimes we feel like stepping up our game and getting a little craaaaazy! One of our favourite ways to shake off the every-day is by experiencing one of the great destinations for treetop trekking in Toronto.
After all, Ontario is loaded with towering forests and beautiful woodlands. So why not combine a little natural beauty with nail-biting adventure.
Toronto treetop trekking and zipline course are a popular way to combine both. There are a wealth of treetop adventure courses in Toronto to choose from.
What Is Treetop Trekking?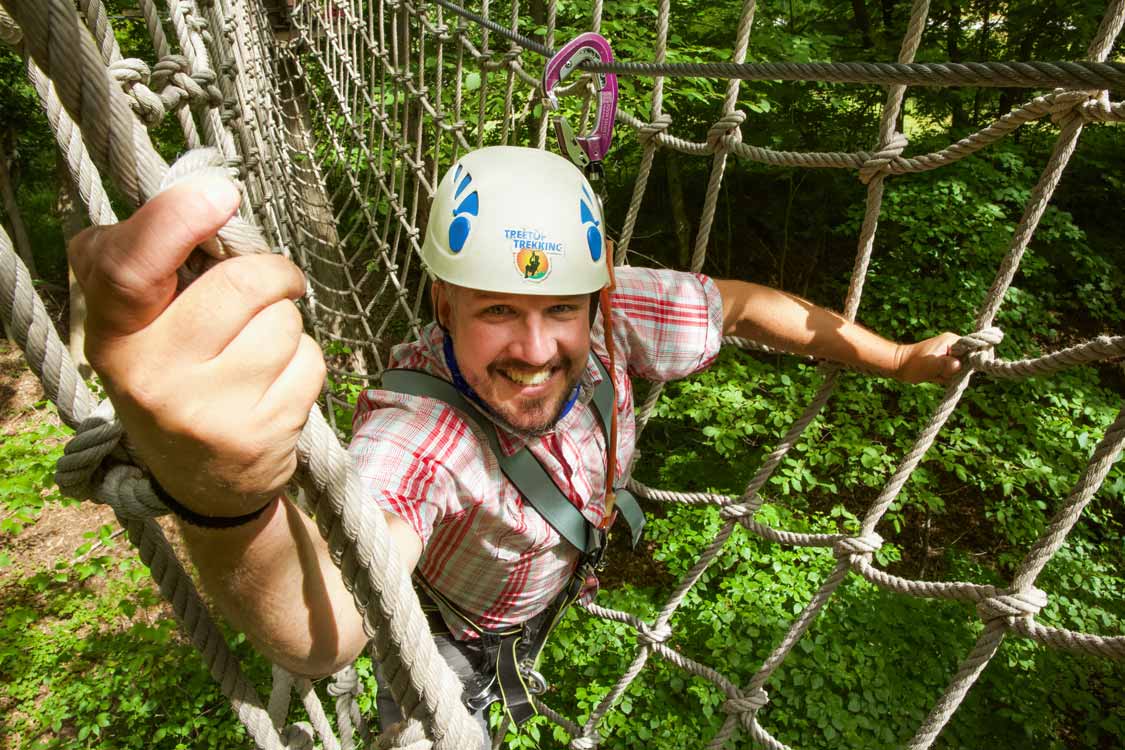 Treetop Trekking is incredible. Especially if you want to remember just how many muscles you have in your body that you rarely use. It's the type of experience that reminds you are alive. Whether from the thrill of jumping between rickety logs dozens of feet off the ground or from the pain you'll feel the next day, your body reminds you that you should have really renewed that gym membership.
Treetop Trekking in Toronto involves getting geared up with a helmet and harness. Once your safety gear is on, you'll spend hours climbing up ladders and exploring the most expansive treehouse you've ever seen. All of this is done while playing a game of "floor is lava," where the floor isn't really lava, but instead a 10-metre drop onto a rocky forest floor. And it's AWESOME!
The variety of GTA-area treetop adventures is almost as vast as the province itself. But most of these treetop trekking activities combine rope bridges, log swings, ziplines, and more into a dynamic obstacle course for all-ages.
What Ages Are Toronto Treetop Trekking Courses For?
Many of the treetop trekking courses near Toronto have multi-tiered levels of difficulty. In fact, some of them have courses made for everyone from toddlers and up. They make for fantastic Ontario staycation ideas for those who want to enjoy a safe outdoor adventure in the province.
I recently made a road trip to the treetop trekking experience in Stouffville, Ontario, with my family. My wife, 9-year-old and I were able to take in the high courses and long ziplines. My 6-year-old, who is typically annoyed anytime he is considered "too young" for one of the big-kid activities, was challenged enough by the youth course that he had no complaints.
Even a course for kids of all ages called the Stouffville Treetop Village. This section is a thrill perfect for very young kids. And it's wild enough that no child (or the parent chasing them through the rope bridges) will ever feel like they aren't challenged.
Treetop Trekking in Toronto isn't just for kids. There were loads of couples, groups, and even a bachelorette party on the courses when my family was there.
Treetop Trekking Courses Near Toronto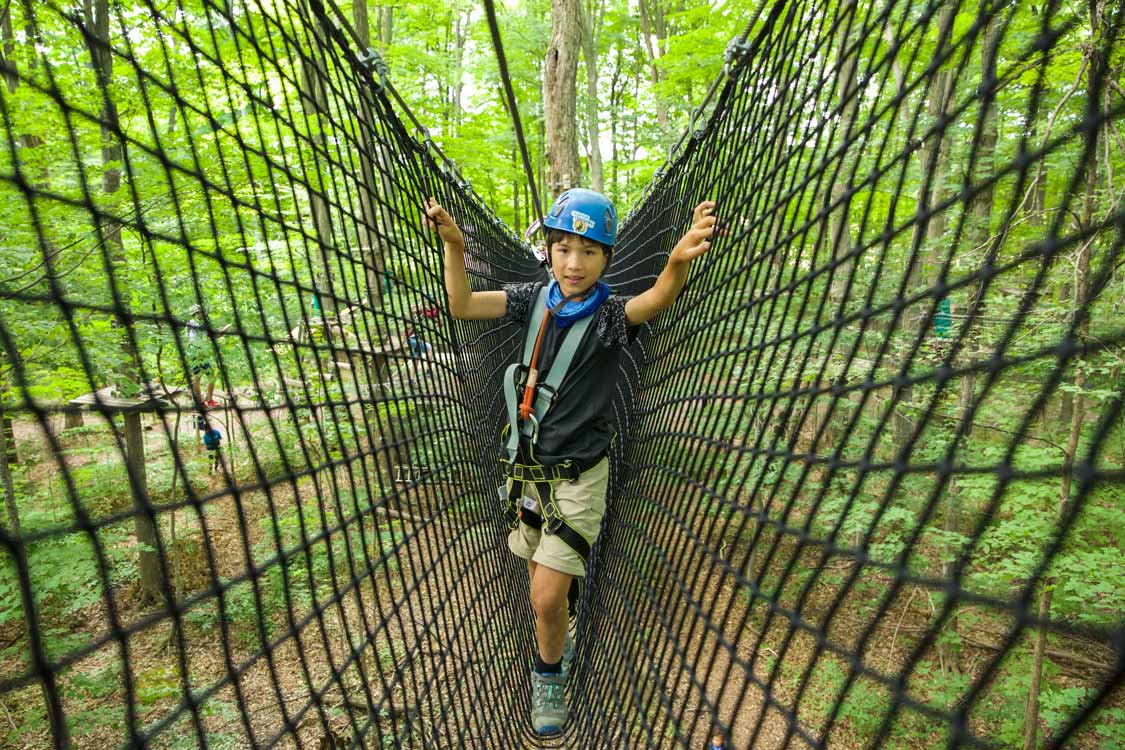 If you're looking for excellent treetop trekking and zip lining in Toronto, you don't have to go too far. There are four treetop courses, just minutes outside the core of the city. And each Toronto treetop walk has a unique setup, so you can visit each one and never feel like you're repeating yourself.
Treetop Trekking And Ziplining Over a Lake In Brampton
Situated in the lovely Heart Lake Conservation Area in Brampton, Treetop Trekking Brampton is just a short drive up HWY 410.
Featuring a long zipline that crosses the sparkling waters of Heart Lake, this Toronto treetop trekking destination is one of the city's most popular. In fact, there are three different aerial courses to choose from. And if you're looking for a little more thrill, you can take on one of the night courses.
Brampton Treetop Trekking has 4 beginner and intermediate courses suitable for those as young as 9-years-old. They have a height requirement of 55″. For those 12 and up, and over 60″ tall, there's an advanced course that will definitely test your mettle.
Heart Lake Conservation area has plenty to offer to fill your time in the park as well. Whether you want to fish in the beautiful heart-shaped lake, mountain bike through the trails, picnic, or cool off in the pool or splash pad, this park has loads.
Treetop Trekking For Thrill-Seekers in Ganaraska
If you don't mind a little drive, the Ganaraska forest near HWY 401 and HWY 115 has one of the most gorgeous treetop trekking courses near Toronto. The tall trees of the Ganaraska forest make this my favourite spot for treetop trekking in the Toronto area.
The Ganaraska treetop course steps it up a level from the Brampton Course. It has 2 beginner and 2 intermediate courses and an advanced course for those looking for a challenge. But, if the advanced course isn't enough for you, this Toronto treetop trekking experience also has an expert course open to those over 12-years-old and 60″ tall.
The Ganaraska forest also has hiking trails, ATV and off-road trails. It is a popular spot for horseback rider and outdoor enthusiasts.
Treetop TrekkingFor The Whole Family in Hamilton and Stouffville
If you're looking for treetop trekking near Toronto that's suitable for the whole family, head out to either the Treetop Trekking in Hamilton or, the closer Treetop Trekking Stouffville.
These two awesome Toronto-area treetop walks both have Treetop villages that are good for all ages and heights. They also include a discovery course for those ages 5 and up who are taller than 45″.
But don't think that these Toronto treetop trekking courses are just for little ones. The Stouffville and Hamilton treetop walks also have beginner and intermediate courses and an advanced course that's perfect for thrill-seekers.
For an added thrill, the Stouffville treetop walk has the 700 metre Monarch zip line that offers all the fun you can handle.
Is Treetop Trekking For You?
I'm not going to sugar coat this. If you haven't done Treetop trekking in Toronto before, you will feel it the next day. It's the type of activity where you discover muscles that you never even knew existed.
But, Toronto treetop trekking is also something that is pretty forgiving to most able-bodied people. It's definitely challenging, and it may have you second guessing your life-choices.
For those with mobility issues, the Hamilton and Stouffville discovery walks may offer more accessibility than some of the more challenging treetop treks in Brampton and Ganaraska.
But, the only way to know for sure if treetop trekking in Toronto is for you is to give it a shot. And remember, adventures like this are better with friends! You can check out these courses and more on the Treetop Trekking website here.
Disclosure: My family was invited out to Stouffville Ontario to experience the newly-opened Treetop Trekking experience by Visit York Durham Headwaters. We were geared up and shown what to do. A photographer then captured our dramatic stumbles but thankfully only kept the shots where we looked super cool.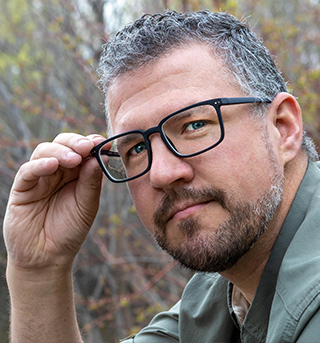 Kevin Wagar is a founder and editor of Ultimate Ontario. He has been working in the travel media industry since 2015 when he founded his family travel website Wandering Wagars – Adventure Family Travel.
Over the years Kevin has developed a deep love for his home province of Ontario and aims to showcase the incredible experiences and amazing small businesses found within it.