The Publican House Brewery, Peterborough combines the perfect mix of local history and scrumptious food to take the Peterborough food scene to a new level.
Many craft breweries in Ontario open with a bang, drawing attention in any way they can in order to drum up business. The Publican House Brewery, which is located in Peterborough Ontario, didn't need to do that.
This Peterborough craft brewery seemed to fill a hole that sat in the city's gastro scene. For many in the city, its opening was more like welcoming an old friend home rather than rushing to see the new show in town.
The Publican House set up shop in 2008 near the corner of Charlotte St. and Rubidge St. next to an empty building that was once one of the most popular and historic pubs in the city. The owners had their arms on the historic building next door and were waiting for their opportunity to move. Within four years, their brewery had expanded to a brewpub that found its forever home in the storied 170-year-old mansion that was once the Peterborough Arms.
The Publican House might only be thirteen years old, but around town, locals talk about it the brewery as if it has always been. The beer that they serve up can even be found on taps and in cans in restaurants, festivals, and stores throughout the city.
The move into their restaurant location simply cemented that local flavor, with The Publican House Restaurant quickly becoming one of the go-to social spots in the city. Even when the pandemic hit in early 2020, husband and wife duo Brad and Katie Watt were able to navigate an ever-changing business environment to keep their staff and customers engaged and in touch.
The Publican House Story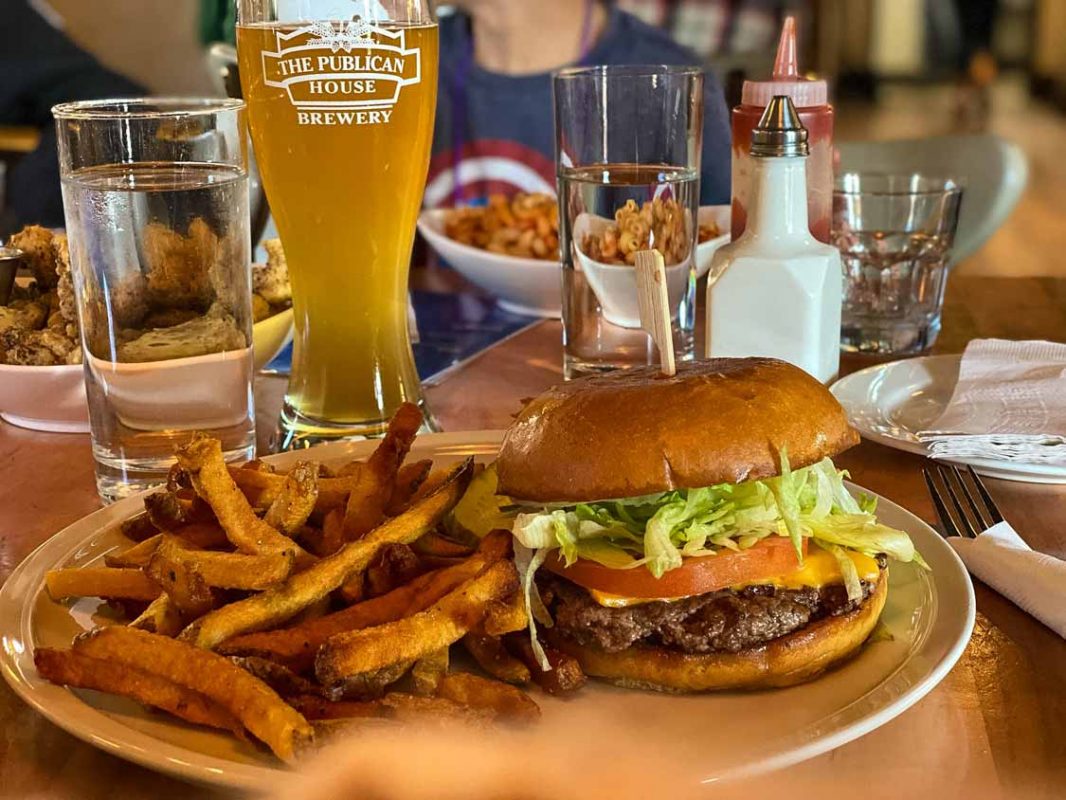 How The Publican House Brewery came to be is similar to many ventures across the province. "A late night and a few pints" led to a realization about a shared love of craft brews and a unified interest in creating something of their own that the two could stand behind.
Brad Watt has a long history in the restaurant industry, including as the owner and operator of one of our favourite restaurants in Peterborough, Rare Grill House on Brock St. Originally from Prince Edward Island, he attended culinary school at Humber College before launching a career in the Toronto food scene.
While returning home for a wedding, he met Katie, who would become his wife and business partner
Brad lived in PEI for 16 years. He's no stranger to small(ish) towns. He left a brief stint to attend Humber College and then work in Toronto, but eventually returned to the Island. It's at a wedding in Charlottetown, where he met his future wife and business partner, Katie. The two eventually settled on Peterborough and the Kawarthas as a home base and would set to work making a major impact on the Peterborough culinary scene.
Katie and Brad partnered with chef Becca Burke to develop the Publican House menu, which has a large focus on locally sourced ingredients. The kitchen of The Publican House adds to the uniqueness of the restaurant. The open-concept design is centered by a beautiful Stefano Ferrara pizza oven brought over from Naples, Italy.
The oven and chef Becca's special touch is the key behind many of the hottest dishes at The Publican House including their flatbreads and pizzas.
The Publican Experience
The Publican House is one of those restaurants that is able to finely balance the world between a daytime family-friendly restaurant and a nighttime hotspot. As a restaurant, the atmosphere centres around the restaurant's main floor where you can find diners often take a moment for a selfie near the kitchen and the popular pizza oven.
The restaurant has a sprawling patio that was put to good use during the pandemic. The wide outdoor space is perfect for three-season dining, while the indoor space offers plenty of room for diners to distance while still enjoying a fun and sociable atmosphere.
At night, revelers often spread to the restaurant's second floor. The large windows offer excellent views of the neighborhood and the ample bar space means there is plenty of space for people to cozy up for their favourite beverage.
While the drink menu has a strong focus on beer, especially those crafted in-house at the Publican House Brewery, diners will also find a great range of mouthwatering dishes to help satisfy their cravings.
I'm a huge fan of their KFC, or 'Kentucky Fried Cauliflower'. These tasty bites have their own blend of herbs and spices that make them a light shareable for small groups. Their Philly Cheesesteak Eggrolls are another favourite. Combining a hand-rolled pastry stuffed full of Irish ale braised beef brisket, sauteed bell peppers, onions, Provolone, and Empire cheese curds and served with a warm queso dip, these hearty bites are enough for a light main.
The Publican House serves up some fantastic sandwiches and burgers (I'm a big fan of the Smash burger myself), however, it's their wood-fired pizzas that truly help this Peterborough restaurant stand out from the crowd. The unique creations include Thai Sweet Potatoe and Chicken Cacciatore along with classics such as Meat Lovers.
Conveniently, each menu item includes a beer pairing recommendation that brings each dish to another level.
Support Local – Dine In At The Publican House Peterborough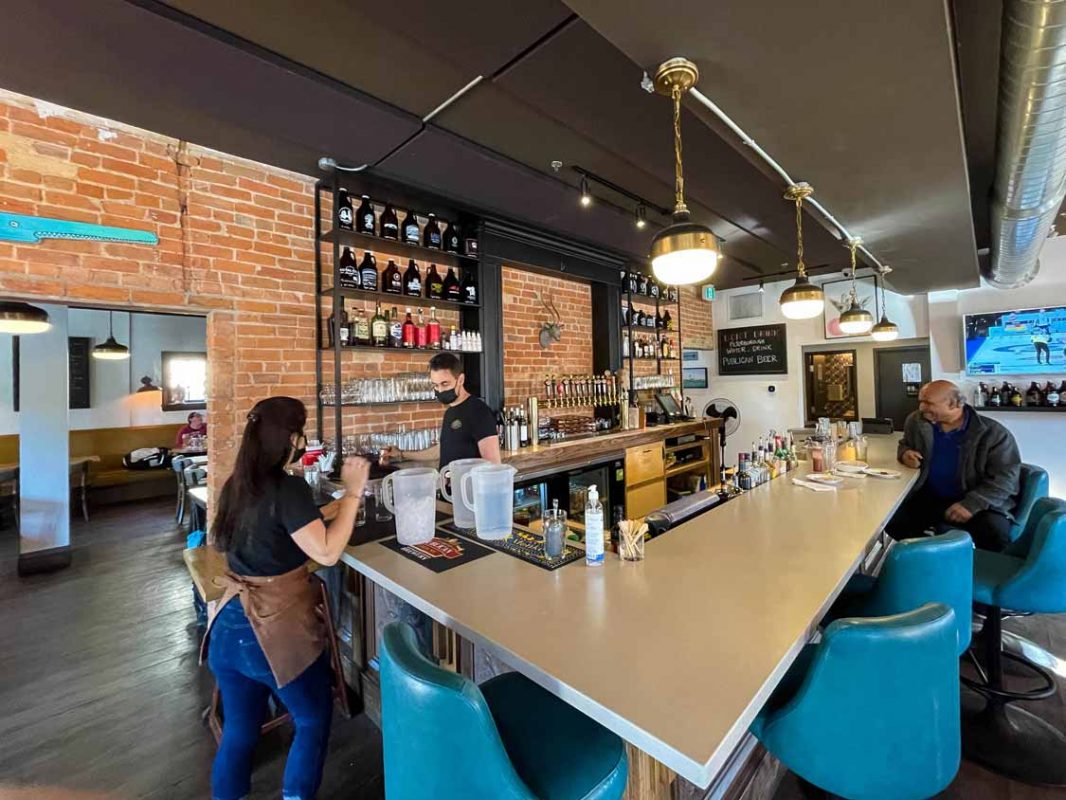 At Ultimate Ontario, we believe that small businesses in Ontario are the key to the diverse and amazing attractions and activities in Ontario. We know how difficult it is for these local businesses to succeed and thrive. We are so pleased to share the story of amazing places such as The Publican House along with other incredible restaurants in Peterborough to get people out to support these hard-working and innovative establishments.
These businesses build and drive energy in their local communities that help to showcase why Ontario is such a special place. So, if you're looking for some entertainment in "the Patch", head to 294 Charlotte St. W., in downtown Peterborough and tell Brad, Katie, and Chef Becca that Ultimate Ontario says "hello".
---
We would like to offer a hearty thank you to Peterborough & the Kawarthas Tourism for welcoming us and sharing these experiences. You can find more about Escape Maze and more on their website. All opinions are our own.
If you appreciated this article, you'll love our newsletter, as well as our Facebook group where Ontario comes together. Feel free to join, all are welcome.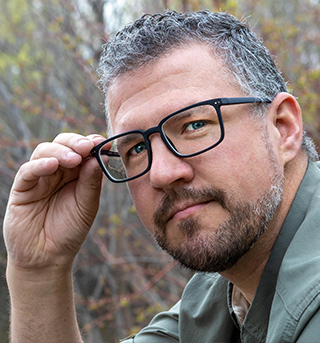 Kevin Wagar is a founder and editor of Ultimate Ontario. He has been working in the travel media industry since 2015 when he founded his family travel website Wandering Wagars – Adventure Family Travel.
Over the years Kevin has developed a deep love for his home province of Ontario and aims to showcase the incredible experiences and amazing small businesses found within it.